Keeping cool on a motorcycle
Published on: 28/07/2018 14:01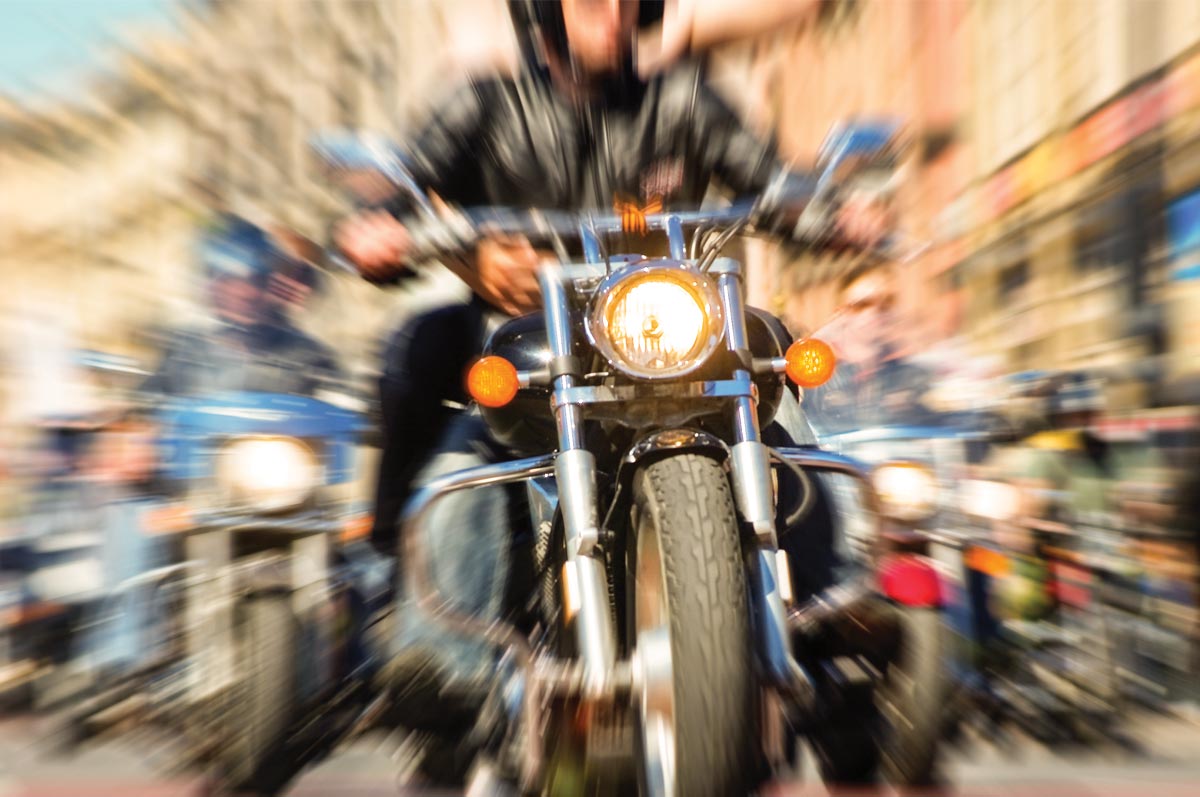 HOW TO KEEP COOL WHEN THE MERCURY IS RISING...
OUR GUIDE TO HOT WEATHER RIDING GEAR

What a fabulous summer we are having. Long may it continue. Now we are not complaining. Motorbikes are made for conditions like this. We've had a great time, and we've done more riding already this summer than we did all last year.
But if you're a commuter, if you do a lot of touring, or if you need to ride for your work, the high temperatures do present a challenge. And that challenge is how to stay cool, whilst remaining sufficiently protected to brave the M25, kamikaze car drivers, traffic jams, road works and the like.
Just the other day, I had to ride into the West End of London from Guildford. It was a last minute decision. It was the middle of the day, and I was not properly attired. In the heavy, afternoon traffic, I was boiling.
I found it difficult to concentrate totally on what was going on around me. Very rarely do I not enjoy a ride, but I was uncomfortable, hot and flustered. I took my jacket off when I arrived, and my button-down shirt was totally covered in sweat. It took me a long time to cool down. I should have been better prepared.
Perhaps the only thing I got right was my pants; I was wearing a pair of Rokker Rokkertech jeans. On the A3, they were great. I felt cool and relaxed. In the heavy traffic, I still got hot but, if you're not moving in these kinds of temperatures, you're always going to be. If I'd worn a proper motorcycle trouser, it would have been worse. In fact, anything with a membrane would have been unbearable. Of course, we love biking jeans here at Motolegends, but I'm glad I wasn't wearing a Kevlar-style lined jean. They would have been horrid. Bottom line; nothing beats a single-layer jean or chino in this heat.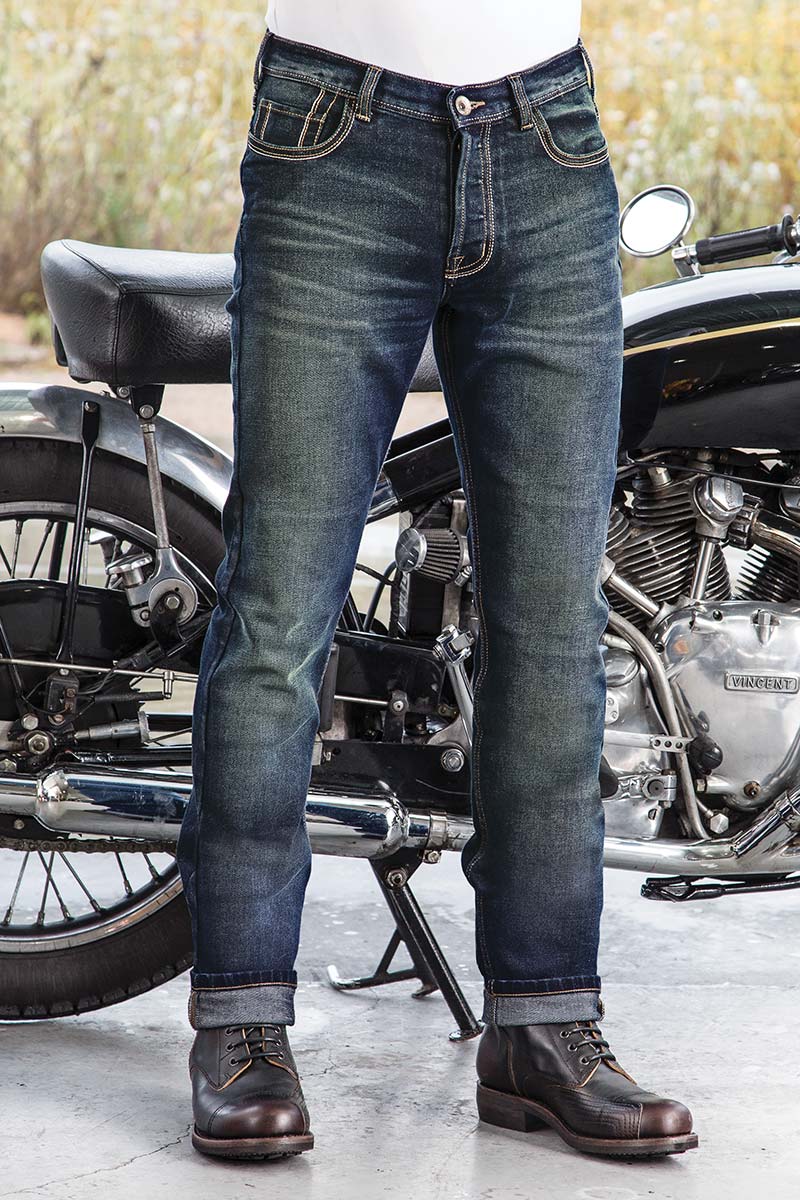 If you're going to be doing big miles in the kind of weather we've been experiencing recently, you need to be wearing a single-layer jean. There are an increasing number of such jeans coming on to the market but, for us, the combination of wearability, styling and protection tends us towards Rokker's phenomenal Rokkertech jeans. You won't find anything cooler to ride in.
The jacket I wore was a lightweight Belstaff Ariel. Nice jacket, but even though some people tout it as a summer jacket, it was totally the wrong thing to wear: a rookie mistake. Wax cotton just doesn't cut it in this heat, whatever weight it is.
What I should have worn was a mesh jacket of some description. Now, there are lots of options here, but you need to work out where you stand on protection levels, because a lot of mesh garments out there fall short when it comes to considerations of safety.
At minimum, you need something with a proper Cordura chassis, but even here you need to realise that, in an accident situation, the mesh panel will normally just rip apart. In truth, that's perhaps an acceptable risk if you're only riding in town, or bimbling about, but you might want to edge things more in your favour if you're making headway, as the Police say.
Our favourite top for these conditions is Rukka's Forsair jacket. it's made from a special Cordura knit called Cordura AFT. It's as strong as woven Cordura, but it flows nearly twice the volume of air. But what is extraordinary about the jacket is that the air flows through every single panel, not just the chest. It's the coolest mesh jacket to ride in, and probably one of the safest.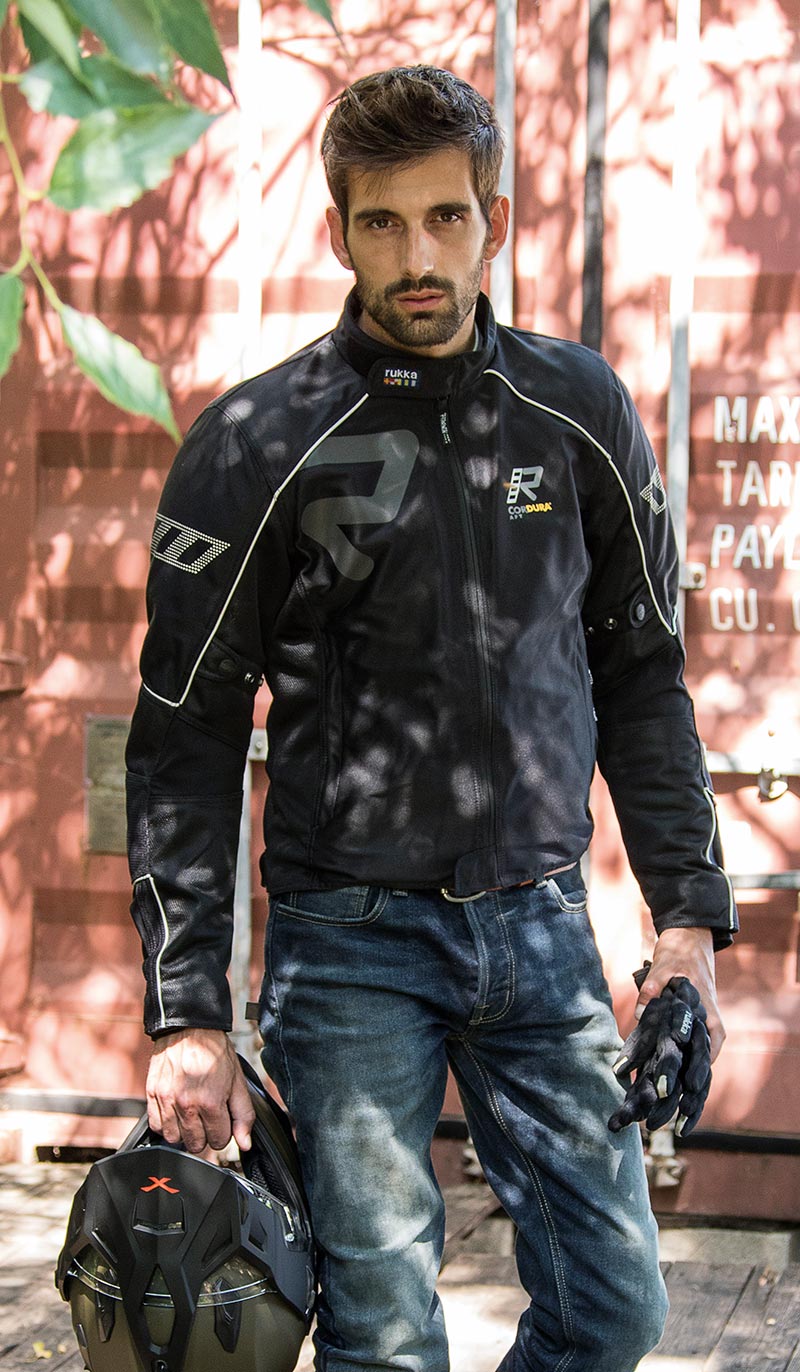 Vented jackets are easy to come by, but you need to know that many offer very little when it comes to abrasion resistance. The Wall from Helstons is better than most. The Flux from Halvarssons gives proper motorcycle jacket levels of protection, albeit with pretty reasonable airflow. But the best jacket money can buy from a combined airflow and protection perspective is the Rukka Forsair (shown above. Click on the image to buy).
The Flux jacket from Halvarssons, however, is an alternative. It's going to be just as protective, perhaps even more so. It's quite a bit cheaper than the Rukka although, in truth, it won't be as cool to ride in.
And that's because, only the front panel will flow air. On the back are two huge zips that will allow air to be efficiently extracted. But, in our view, the Flux is more like a proper bike jacket than most mesh jackets. It's more robust and, in the key areas of vulnerability, the outer material is backed with Hi-Art for added abrasion resistance.
Above, we show the Halvarssons Flux jacket and the Helstons Wall mesh jacket. Click on the images to buy.
We're not saying there's anything wrong with a traditional mesh jacket. They do their job, but you need to be aware of their limitations. We think the ones we do from Helstons are a notch above your average mesh jacket. We also do a couple from Furygan that cover the bases.
Helmet wise, I'm not of the view that there's much difference between most full-face helmets as far as air flow is concerned, although if you've got a drop-down, internal, sun visor, you can at least raise the outer visor, and let some air in.
A flip-lid does allow you to ride in an open-face configuration, at least in town. A Roof Boxer offers full-face as well as proper open-face modes as does, of course, the Shark Evo-One. If I was commuting in this weather, I'd definitely go flip-lid or modular. No two ways about it.
I was actually in an open-face when I rode into London. It was, at least, refreshing, but I wouldn't want to make a habit of riding in an open-face on such trips. I rode home at midnight. It was much cooler, the roads were clear, and I wanted to press on. My Schuberth M1 would not have been my preferred headwear for this ride home.
Above, we show the Roof Boxxer Carbon helmet and the Shark Evo-One 2 helmet. Click on the images to buy.
On my ride into town, I was wearing my favourite Troy Lee leather gloves that I've owned for years. I personally love the feel of these gloves, although they're no longer available. But if staying cool is the aim of the game, we have better options.
Top of the list, in our view, is Rukka's glove that goes by the same name as their mesh jacket: the Forsair. The Forsair glove flows air beautifully. Like the jacket, it's made with AFT Cordura. It's incredibly comfortable, yet commendably well structured, with a full leather palm and hard knuckle protectors.
An alternative might be the Halvarssons Aerate. Some prefer its longer cuff.
Or there's Stadler's new Vent glove. Less vented than the Rukka, almost certainly, but we've not ever come across a safer vented glove. It uses Kevlar, Superfabric and kangaroo leather to give you a feeling of whatever the opposite of vulnerability is. It's an amazing glove.
Of course, there are lots of other lightweight summer gloves that will also do the business. We like the Lee Parks summer gloves and the Shima Calibers, but there are many others. You'll find lots of choice on the website.
Above, we show the Rukka Forsair glove and the Halvarssons Aerate glove. Click on the images to buy.
Above, we show the Stadler Vent glove. Click on the images to buy.
Above, we show the Lee Parks summer glove and the Shima Caliber glove. Click on the images to buy.
Footwear is very personal. I was wearing my Tricker's boots that, again, I love. But some will only ever ride in a tall boot. Personally, I would not be wanting to wear any kind of off-road boot in the temperatures we've been experiencing. A Daytona style touring or commuting boot would be warm, for sure, but if you want to protect your leg up to the knee, then you're going to have to suck it up. This I understand, and fully respect. You can, though, mitigate the situation by wearing a lighter, tall boot like, say, the Daytona Spirit or the Sidi Aria.
For some, the solution will be a shorter, basketball-style motorcycle boot. These will clearly be the coolest and most comfortable boots to wear, but let's not fool ourselves. They may have ankle protectors and so on; they may have a shank in the sole, but they sit at the lower end of the spectrum as far as safety is concerned. You pays your money, you makes your choice!
Above, we show the Daytona Spirit boot, and the Sidi Aria boot. Click on the images to buy.
Above, we show two basketball-style boots: the Rokker City Sneaker and the Helstons Basket C5. Click on the images to buy.
One of the ways I could have made life easier would have been to wear a more technical base layer, although I am obviously aware that wearing a cotton shirt cannot always be avoided. I, for example, went into town for a meeting. But my quick trip into the city drove home the point that cotton really is the worst thing to wear when you're going to be perspiring. I could have wrung my shirt out and filled a small tea cup with my sweat; not a nice image, I know. Clearly the state of my shirt meant that I had not been perspiring in the way I should have been. And if you don't sweat you don't cool down. If I had continued riding, I would just have gotten hotter and hotter, until I over-heated and ran out of energy.
I did this once on a big off-road challenge in Mexico. It was pathetic to watch. I had become totally overheated. If there was a cactus plant, or a large rock, within 20 metres of the trail, I would veer off the track and hit it! I had no control over what I was doing.
The best base layers we do here at Motolegends are the mesh ones from Halvarssons. They do a great job. They cost pennies, and really will help you stay cool. In all honesty, keeping cool could be a life saver.
Above, we show Halvarssons' Mesh sweater and pants. Click on the images to buy.
There's only one other item that I think could make a difference in the conditions we're talking about, although I had never really imagined it being used on UK roads. But these are exceptional times, and so exceptional measures may be called for. The product I'm referring to is the Cooling Vest from Macna. It's a vest that that you fill with cold water, and wear under your jacket. As the water evaporates, it draws heat from the body, and cools you down. It's the kind of thing you would wear if you were crossing Death Valley, but I certainly wish I had been wearing one the other day as I was navigating my way up Park Lane.
Above, we show the Macna Dry Cooling Vest. Click on the images to buy.
So there we have it. We've got the kind of summer we always dreamed about, but never thought we'd get. Well it's here. The problem is that we're perhaps not equipped with the riding gear we need. But it is out there. You just need to find it.
Want some more? Please

click here

to return to our editorial menu.
Share this story