Klim Marrakesh jacket review
Published on: 31/07/2019 16:36
I first came across this lightweight jacket last autumn at the International Motorcycle Trade Fair in Cologne. It was where we first saw Klim's new Hardanger one-piece, over-suit, and when we were on their stand we took a look around to see if there was anything else that we might want to offer our customers. In fact, there were a number of pieces we liked, but the Marrakesh wasn't one of them. I don't know why, but I just didn't get it. It seemed neither one thing nor t'other.
It was only when I met the Klim team at a sales meeting in Austria a few months ago that I experienced a kind of Eureka moment. More accurately, it was kind of a moment when I realised I had simply been a bit dumb!
In the sales meeting, a member of the team spoke to us about how the Marrakesh was his favoured top for high-season touring. He explained how he could wear it on road or off, that if it was cold he wore a base or mid-layer beneath it and that, if it was wet, he simply put on a waterproof over the top of it.
At that point, I realised that this was Klim's equivalent of Rukka's famous Forsair jacket, but with a couple of extra features that the Finnish top doesn't have.
Rukka's famous Forsair Pro high air-flow jacket.
WHAT IT IS AND WHAT IT DOES
The Klim Marrakesh has been designed, first and foremost, to flow air. It is made from a traditional woven Cordura, but to make sure cool air can get in, and hot air can get out, it has no waterproof membrane and only a mesh-style, wicking liner.
Now here, in the interests of balanced reporting, we would have to admit that the Rukka Forsair will flow more air than the Marrakesh. And that it because the Cordura from which the Rukka jacket is made is knitted rather than woven. It is this looser structure that means that the Rukka will flow air much more efficiently.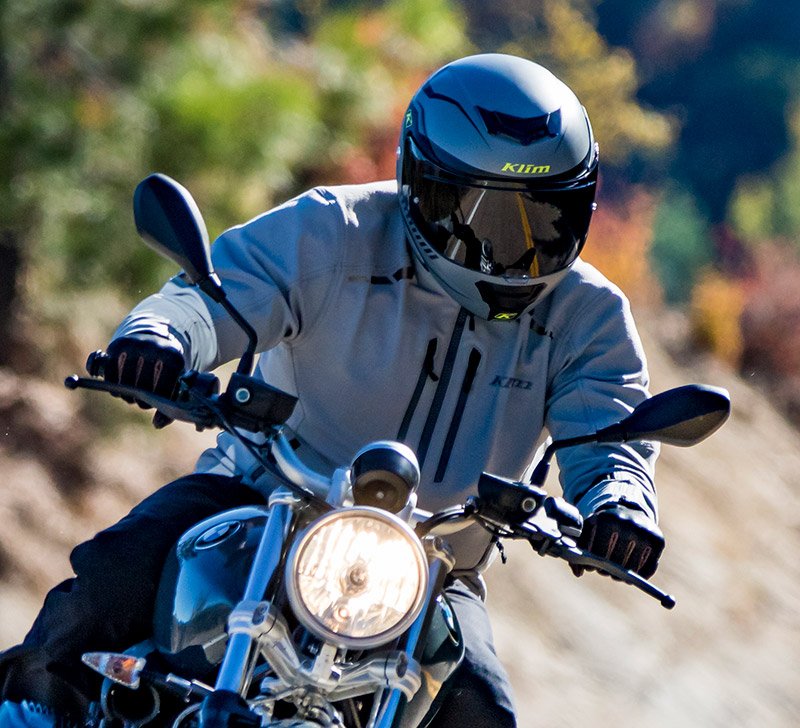 No two ways about it, if the flow of the air is your single most important consideration, to the exclusion of everything else, the Rukka is the one to go for. The Forsair is an amazing bit of kit. But the Klim has a number of other tricks up its sleeve that, for many, will tip the balance in favour of the American top.
Of course, the Klim Marrakesh is still going to flow the air better than almost anything other than the Rukka. Most mesh jackets merely have strategically-positioned, mesh panels through which the air will pass. But, like the Rukka, air will pass through every single panel and every single part of the Klim Marrakesh. It is, without doubt, the coolest jacket for riding in hot weather that you can buy. With the exception of the Rukka!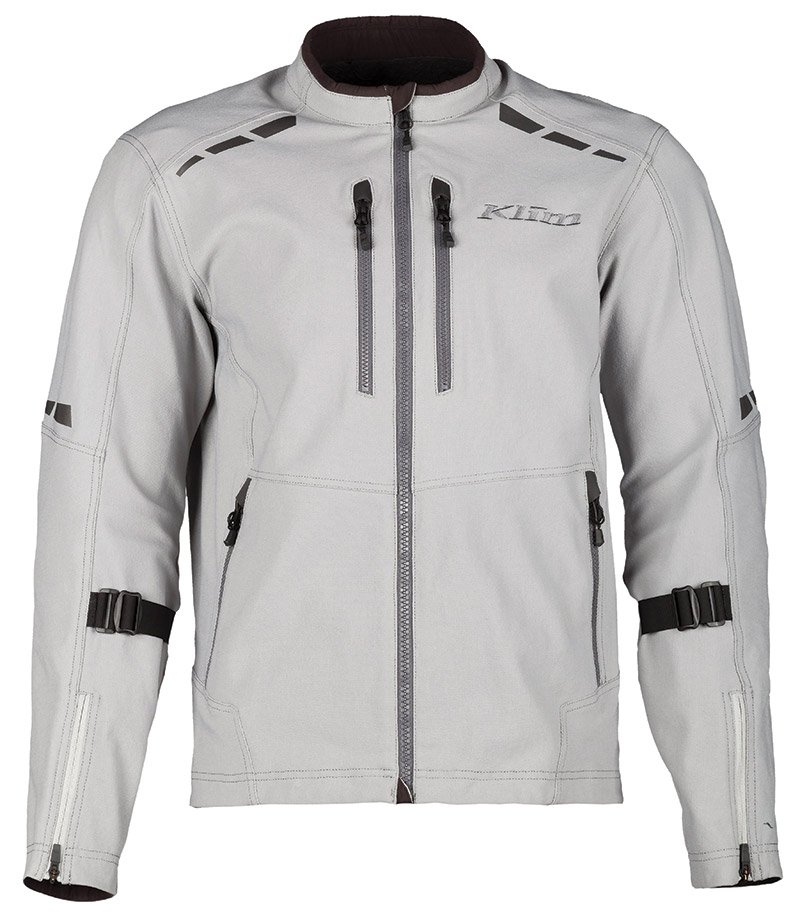 Klim Marrakesh jacket in grey.
But in many, most even, other respects the Klim is more useable, more practical and, dare I say it, a better, option. To wear, the Klim is nicer. With its 4-way stretch, it's more comfortable, and when you walk around in it, it looks more like some kind of sporting fleece than a bike jacket. The Rukka is comfortable, but it fits more loosely. Even though this year's version is an improvement over last year's, it still lacks structure, and sits on the wearer rather than envelopping him. Walk around in the Forsair, and everyone's going to know you're a biker. Nothing wrong with that, but some people prefer to walk around in gear that has more of a casual, non-biking style.
The Rukka is strong and protective. Every panel is Cordura. You get double layers on the shoulders and elbows, and it comes equipped with D30 in the shoulders and elbows. Most mesh jackets will simply tear apart in a slide down the road. The Forsair won't, and we know that from the accidents some of our customers have had. Until now, the Forsair has been the most robust, most protective, mesh-style jacket out there. But the Marrakesh is stronger and even more protective.
And that's probably down to the fact that it's woven from the heaviest-duty, 1000 denier Cordura. That's heavier than the Cordura used on the Forsair. Because the Cordura contains stretch, it doesn't make the Klim less comfortable to wear, but it does make it, in the margin, a safer jacket.
From a technical standpoint the other key differentiation between the two jackets is that the Klim has a waterproof treatment, whereas the Rukka Forsair does not. Now, this treatment is only of a get-you-home nature, at best. It doesn't mean that you'll stay dry in a downpour. And, of course, if you want to keep the jacket water-resistant you will have to re-proof it now and again. In truth, with both jackets you'll need to carry a waterproof outer.
As you may know, we do a brilliant waterproof jacket from Scott. It's stretchy, fits tight to prevent flapping, and is very breathable. With either jacket, get the waterproof on as soon as you smell rain, then when the rain stops and you take it off, your main jacket will be bone dry.
Scott's superlative Ergo Pro DP rainwear.
One other little pointer; with either of these jackets the Scott is a great thing to put on if it's cold, but not wet. And that's because a waterproof layer is also windproof layer. Put it on over either of these jackets on a cold morning, and you'll be amazed at the difference it makes for your body temperature.
Neither jacket, of course, is going to be warm, if worn on its own. The air is going to come flowing in, and if that air is cold you'll be cold too. What does have to be admitted, though, is that on a cool day the Klim is going to be just a tad warmer. And that means that the window of usage, particularly in the UK, will be larger.
If it's really cold, you're always going to need a decent mid-layer underneath either jacket, but what is interesting is that, if you take either one of these jackets, and supplement it with a good waterproof and a top-notch mid-layer, you've got an outfit that can pretty much be worn in all but the very coldest of temperatures.
Personally, with a Scott outer and Rukka Down-X underneath, I'd have no qualms about touring in either jacket. You'd be covered whatever the conditions. Make the base layer a Warm & Safe vest, and you'd really be ready for absolutely anything.
Match the Marrakesh with Rukka's Down-X inner jacket, and you'll be as snug as a bug in a rug.
There's not really a lot more we can tell you about the Klim Marrakesh. It's all detail. But you get four pockets on the outside, and five on the inside. The jacket features the latest 'black' Scotchlite reflectors that you don't notice at all in the day, but that shine bright in the light at night. There's a micro-fleece style lining in the collar and cuffs for comfort, and if you've got a Klim pant, they'll zip into those. Oh, and the jacket comes in grey or black.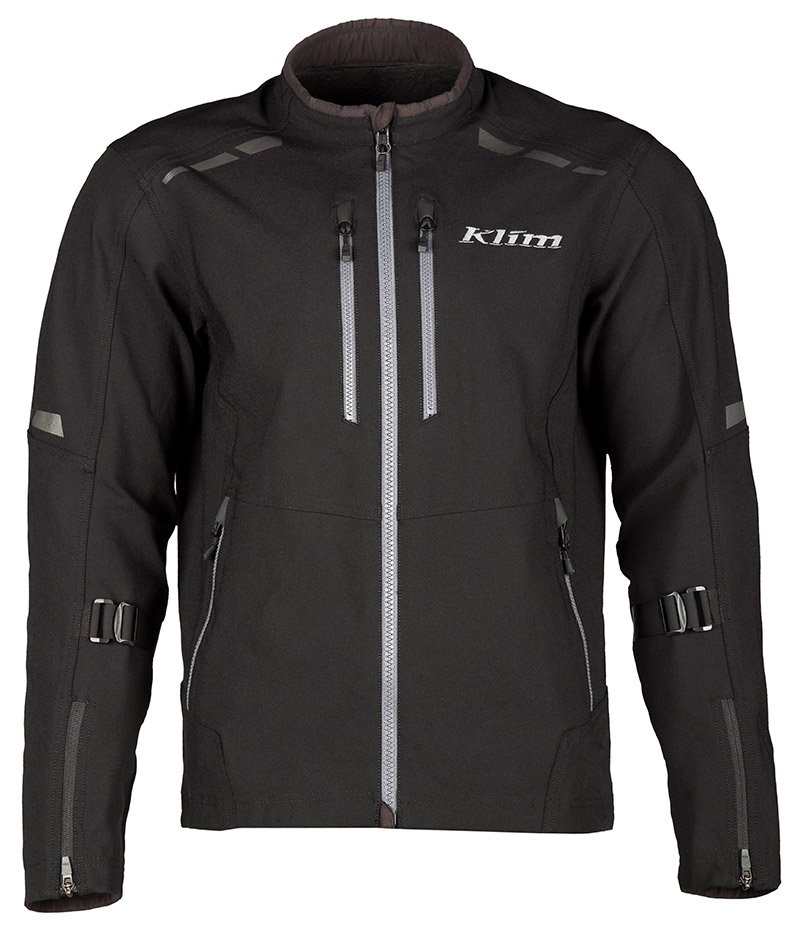 Klim Marrakesh jacket in black.
As you've perhaps gleaned, we come down a little on the side of the Klim because it's more useable and a bit stronger. And we think it wins from a styling and wearability standpoint. But the problem is that we don't commute into a city right through the summer, and we don't regularly tour in hot countries.
If most of our riding was in the UK, and if we weren't commuting into London, we'd go for the Klim, day-in-day-out. If you habitually run hot, travel to steamy climes or commute into the city, and want the very maximum amount of air flow, then I might be persuaded to go for the Rukka.
In terms of price, the Rukka comes in at £399.99, whilst the Klim is £399.00. But the Klim comes with a D30 back protector. Add a Level 1 D30 protector to the Rukka, and the difference will be around £35.
But just one final point. We sold a Rukka Forsair to a chap recently. He emailed us from Mumbai to complain that we had mis-represented its qualities. He went on to explain that it failed to cool him down when riding his bike. We wrote back and enquired about what the temperature was. "In the low forties" was his response. Both of these jackets do a good job of keeping you as cool as possible, but they are jackets, not refrigerators! If it's that hot, put the aircon on and take the car. Better still, stay at home!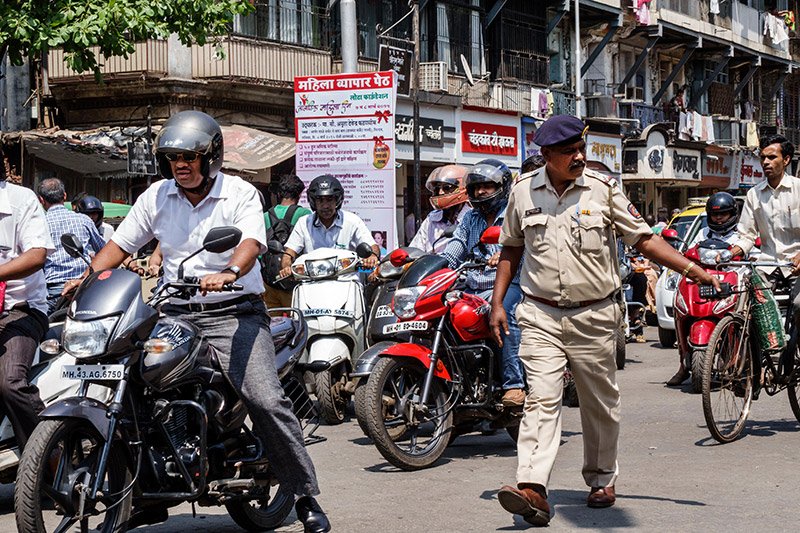 When it's this hot, no jacket is going to help you stay cool. The only thing that will cool you down is Macna's fabulous

Dry Cooling vest

.
---
Want some more? Please click here to return to our editorial menu.

Share this story