Long Way Up clothing
Published on: 30/08/2020 15:24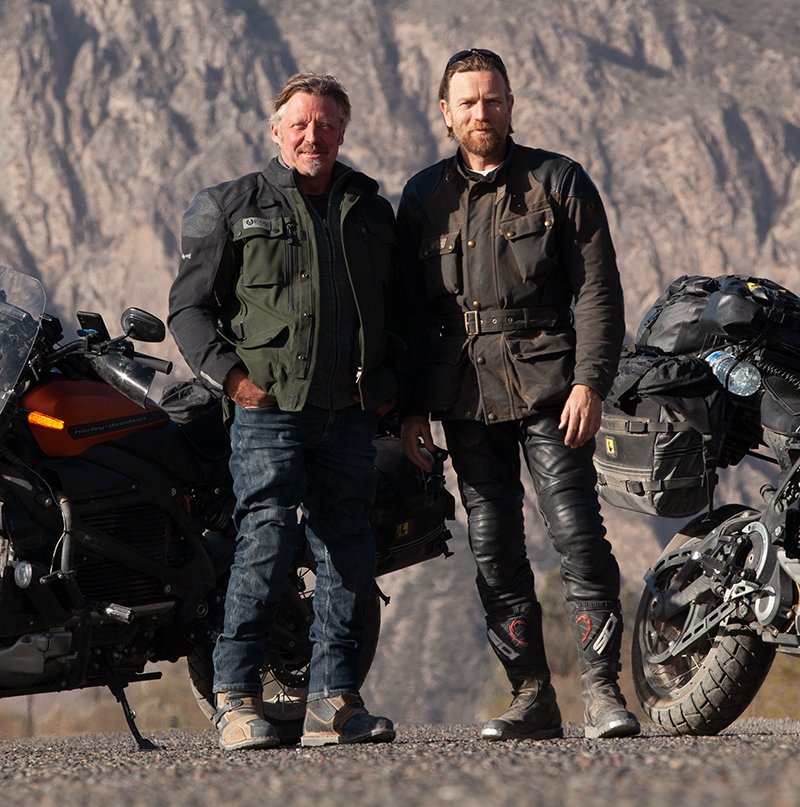 At the end of 2019, Charley Boorman and Ewan McGregor set off from Ushuaia in Patagonia, the southernmost tip of South America, to travel 13,000 miles to Los Angeles. They gave themselves a timeframe of 100 days to complete the journey.
This was, of course, not their first rodeo. They rode around the world in 2004 for their first adventure: the Long Way Round. Some three years later they rode down to Cape Town in South Africa on an odyssey that came to be known as the Long Way Down. No prizes for originality, therefore, goes to the person who decided to call this latest excursion the Long Way Up.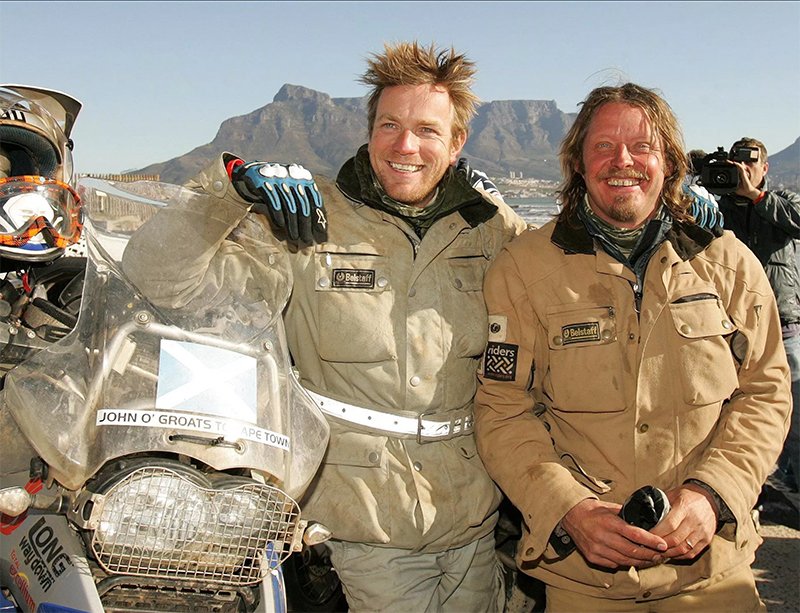 This is Charley and Ewan's third joint venture. Some of the elements for this trip were similar to their previous adventures, but some were very different; in particular the bikes they rode.
But this time round, things were to be different. Instead of riding ever-dependable BMWs, they elected to undertake the journey on Harley Davidsons. But not just any Harley Davidsons. They decided to ride on electric Harley Davidsons; basically a version of the company's LiveWire bike.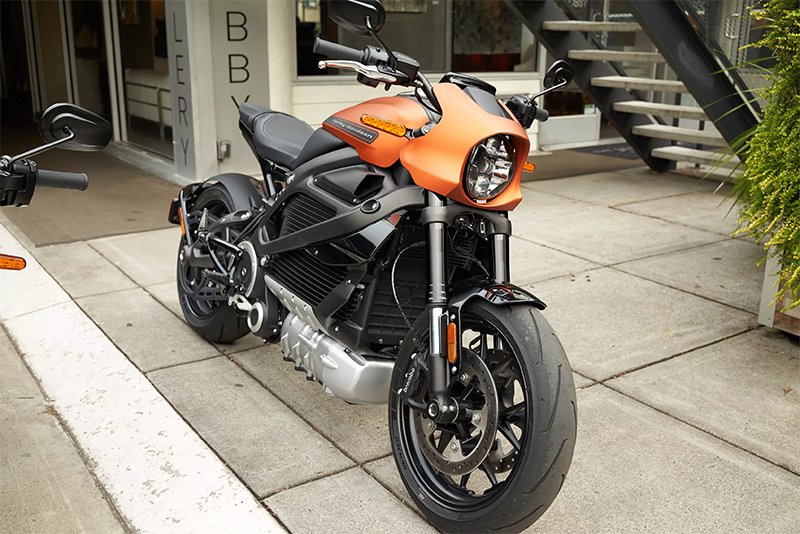 This is the standard version of the bike that Charley and Ewan rode for the Long Way Up. Electric bikes are the future, but it will be interesting to see whether the boys do for electric bikes what they undoubtedly did for the adventure sector.
Long Way Up movie
By now, the TV programme that followed their adventures in South America will have aired on Apple TV.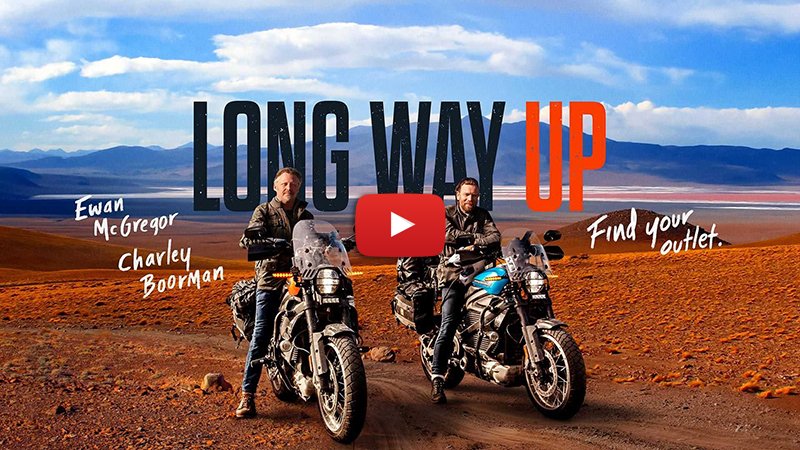 The first three episodes were available on Apple TV on September 18th. Click above to view the trailer.
Now clearly, preparations for the journey began a long time before a single wheel turned in anger. It was in 2017 that Belstaff came to see us here at Motolegends to discuss the design of a new technical suit for Charley. Jim Ratcliffe, himself a mad-keen adventure biker, had recently acquired the company. He had a vision to take Belstaff into a more technical arena. And the Long Way Up was, we were told, to be the first step in this direction. And so Belstaff came to us to discuss our opinions about the elements that would be deemed important to a high-end, technical suit.
Jim Ratcliffe had historically ridden in Klim, and what Belstaff wanted to do was create an outfit that would be a match for the best the market had to offer. We are the UK's largest seller of Klim, as indeed we are of Halvarssons. We are the exclusive importer of Stadler in the UK. We also sell a huge amount of Rukka gear, so it did not surprise us that Belstaff wanted our input.
We showed them, and talked about, suits like the Klim Badlands and Kodiak, the Stadler Supervent, the Nivala and the Kallavesi from Rukka, the Oman and Luxor from Halvarssons. We told them that, even though a real adventure suit does not have a membrane, we felt the benchmark was a suit made with a Gore-Tex, 3-layer Pro Shell. We spoke about venting, armour, the need for multiple adjusters, pockets, thermal layers and a myriad of other minor details.
We had a couple of meetings at our offices, and told Belstaff's design team all the components that we felt would be deemed necessary in a top end, technical suit. We had no input into the design itself, of course, but we felt flattered that Belstaff had gone to the trouble of seeking out our opinions.
It then all went quiet until the EICMA motorcycle trade show in Milan in October of last year, when we saw the pre-production samples. We were enormously impressed with the adventure suit that Belstaff showed us. The company had come a very long way in a very short period of time. The suit looked fantastic, and it appeared to have every feature, every gadget and every gizmo one could possibly have wanted.
We made a couple of observations; some of which were to become incorporated into the final production, some of which failed to make the cut. None of these suggestions made it into the suit that Charley actually wore, because his departure was due to be just a few weeks after the show.
Of course, the technical suit is not the only item of protective wear in Belstaff's Long Way Up collection. Whilst Charley wore the new suit, Ewan elected to go down more of a classic, trials route. He decided to wear, and had a hand in designing, a new wax cotton jacket. He also chose to wear a pair of tight-fitting leather, jean-style pants.
A duvet-style, duck-down thermal jacket, similar to the one created by Rukka for the Nivala jacket, was also produced for the collection, as was a pair of single-layer, protective jeans woven with Dyneema.
This, basically, was the range of clothing created by Belstaff for the trip.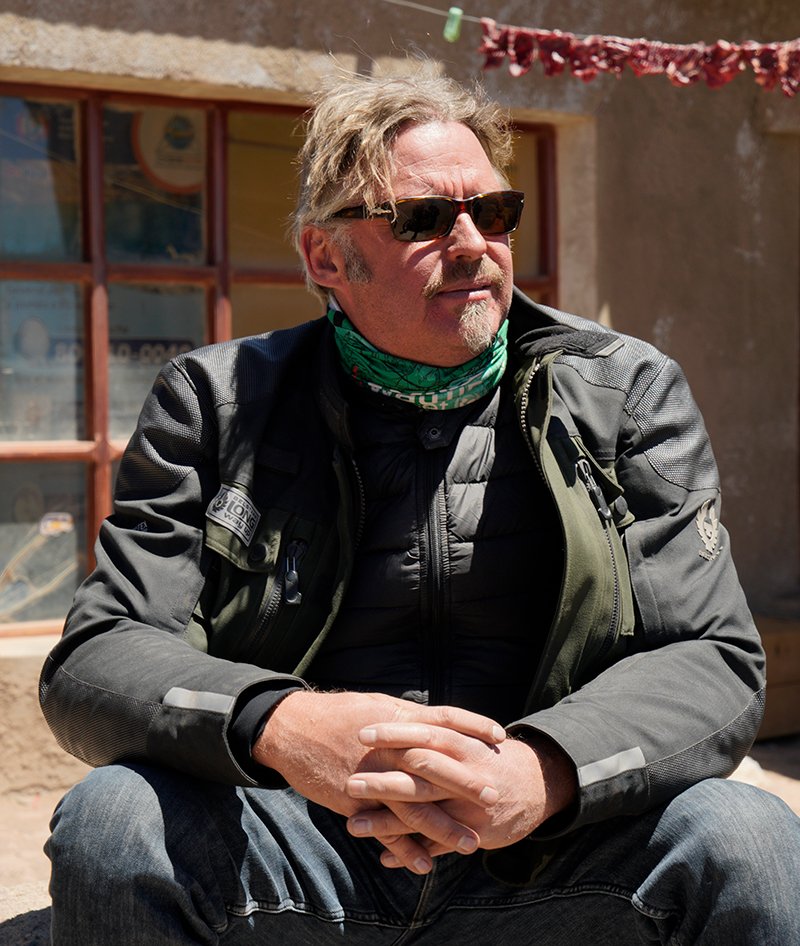 The new Belstaff suit is pretty remarkable; a truly impressive bit of kit; a match for anything out there.
Charley's Belstaff motorcycle clothing
What we know is that Charley wore the new suit for large tracts of the trip. It comes in three colourways, and we have been told that he alternated between the olive and the sand versions. What we would say is that this is a very outstanding bit of kit. Of course, nothing is perfect, and it would have been unrealistic to have expected Belstaff to get every detail perfect at their first attempt. There are some things we would have done differently, but it is nonetheless a truly impressive debut, and for Belstaff to have come so far in such a short space of time is nothing short of remarkable. For a full review of the suit, Long Way Up jacket video review.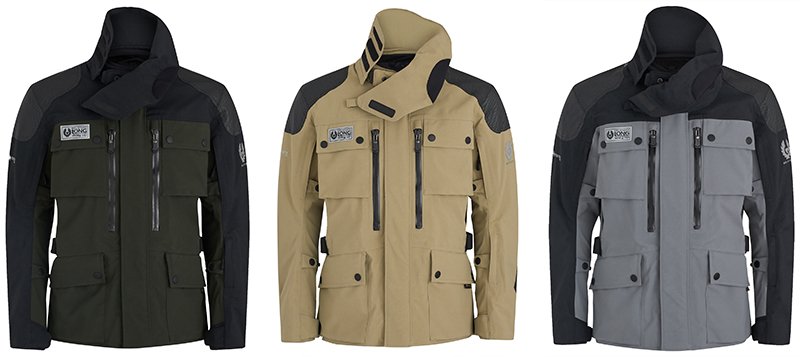 The new Belstaff suit comes in three colours. There are matching pants too, albeit only in one leg length.
What we do know, however, is that when the weather got better, and the temperatures rose, Charley quite sensibly and understandably decided to ride in his single layer jeans. This jean is called the Charley jean. It is, in its own way, as impressive as the new suit. Belstaff has never produced a proper, single-layer jean before, yet here is a jean that bears comparison with Rokker's Rokkertech jeans. As you might anticipate, with single-layer jeans being one of our specialities, we have views. And these you can learn about in our video review. To watch the review, Long Way Up Charley jeans video review.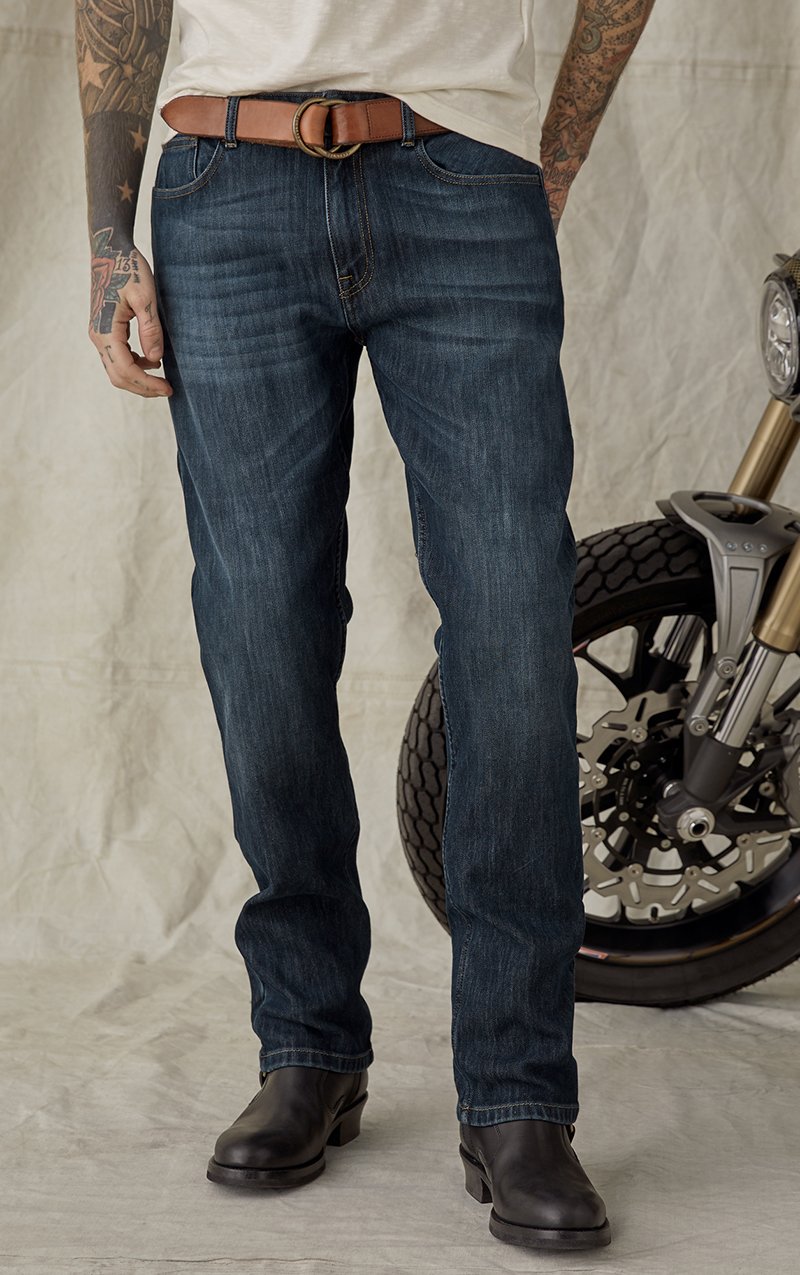 The Charley jean is lovely. It looks great, and even though it has only been certified by Belstaff at the single A level we are pretty confident about ascribing to it a four second slide time.
One item in the collection that we really love is the Belstaff Long Way Up down jacket. Like the Nivala jacket that inspired it, it's made from 90% duckdown with 10% feathers. It's going to be amazingly warm whatever it's worn under. It's a bit longer than the Rukka Down-X jacket, but as a result it probably works better as a street jacket. Both Charley and Ewan often wore the jacket, especially as the cold was, at times on their journey, bitter. To watch our video review on the LWU down jacket, Long Way Up Down jacket video review.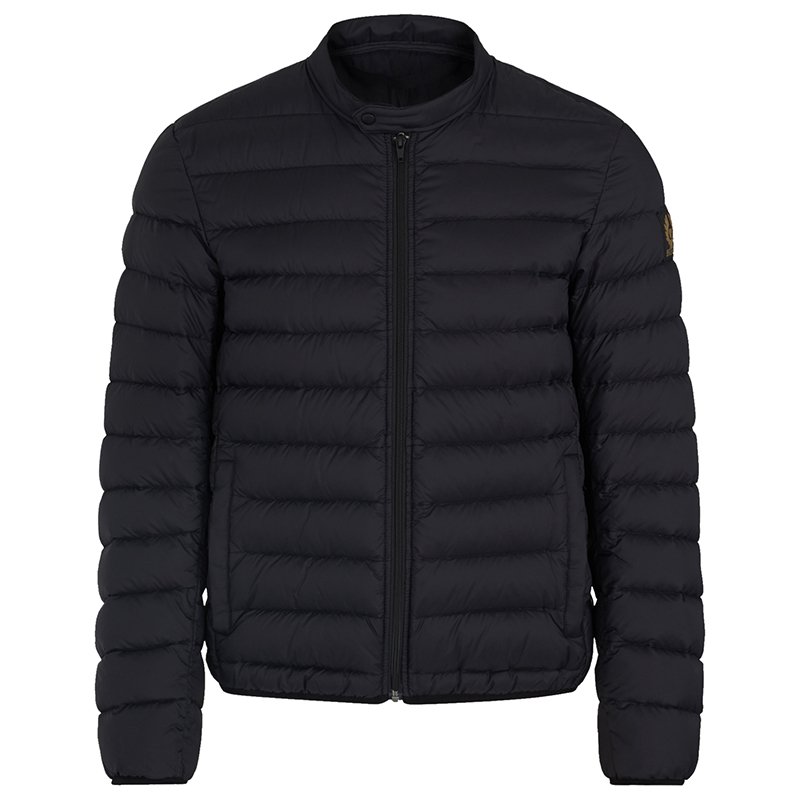 Until now the Rukka Down-X has set the benchmark as far a thermal layering is concerned. The new Belstaff jacket is going to be just as warm. But we reckon it's probably even better as a street jacket.
Ewan McGregor's Belstaff motorcycle clothing
As we have suggested, Ewan went down a different route to Charley as far as dressing for the adventure was concerned. Now we can only think that this was partly because, as a Hollywood A-lister, Ewan always has to be aware of his image and how he looks. And, from what we have seen of the series, he succeeds in always looking the part; the look of a quintessentially, unflusterd and unflappable Scottish explorer out on an adventure of great derring-do.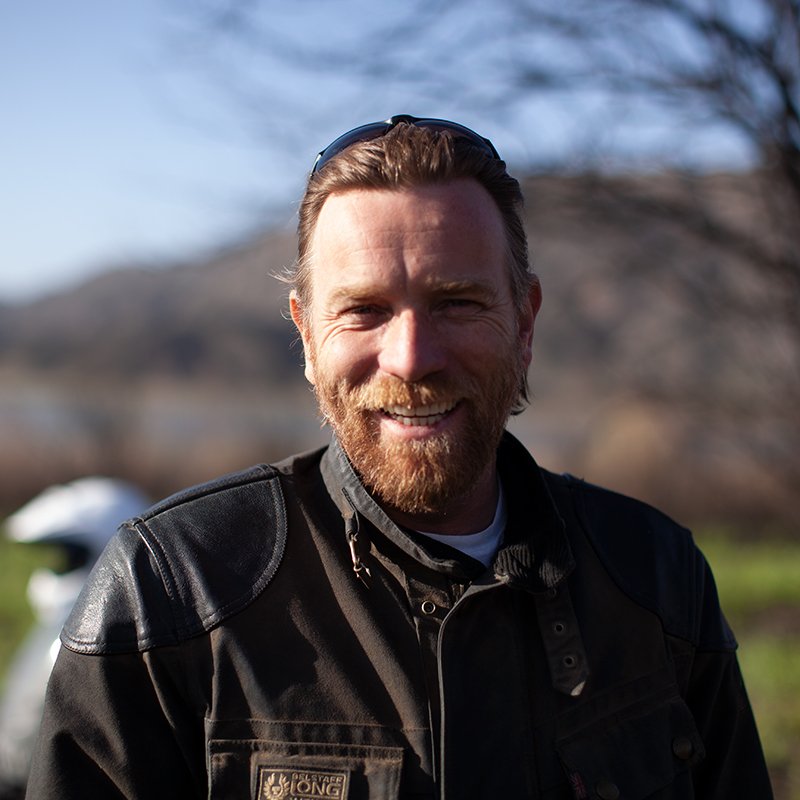 Ewan is a film star. He always looks like a film star, and that may account for why he chose to undertake this adventure in a wax cotton jacket. This would not have been our choice, but at times you have to suffer for your art. Whether or not he did, he always looked super cool!
But we would have to say that a heavy wax cotton jacket, like the Belstaff McGregor Pro wax cotton jacket that he wore, would not have been our first choice. Wax cotton, when backed with a membrane, is very, very waterproof. But it doesn't breathe well, making it difficult for the body to use perspiration as a means of cooling itself down. However, from what we have gleaned, it was very cold for much of the first part of the journey. And in these conditions, the McGregor Pro would have worked fine. For a full review of the Belstaff McGregor Pro, Long Way Up McGregor Pro jacket.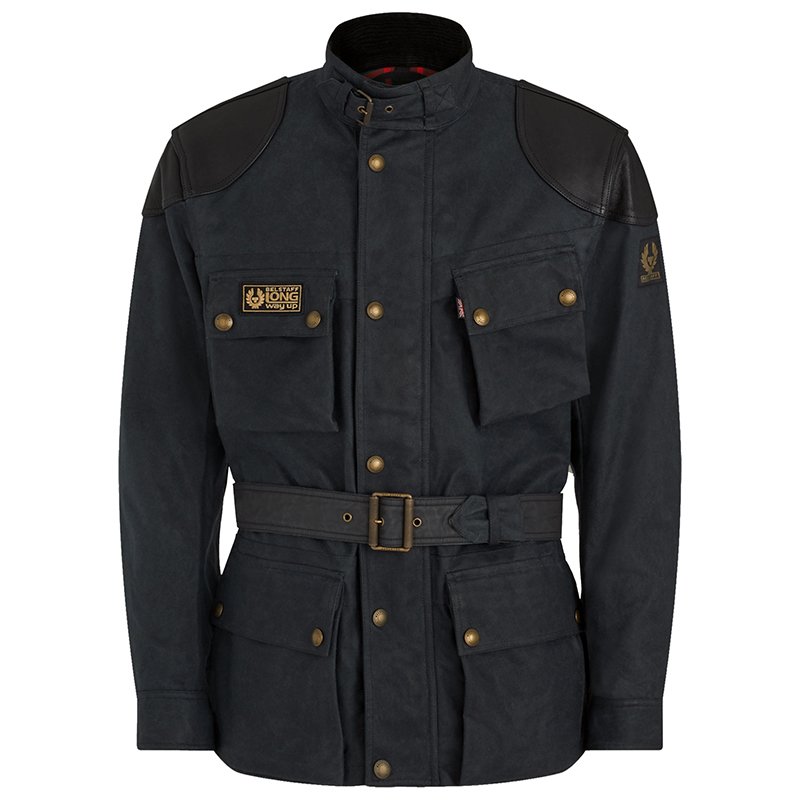 Ewan had a hand in designing his Long Way Up jacket, which goes under the name of the McGregor Pro. It comes with a McGregor tartan lining and leather patches on the elbows and shoulders.
In fact, when the going got hot, Ewan often wore a mesh jacket called the Belstaff Temple, as indeed did Charley. It's a great mesh jacket; and certainly one of the best looking. If you would like to read our review of the Belstaff Temple, Belstaff Temple jacket.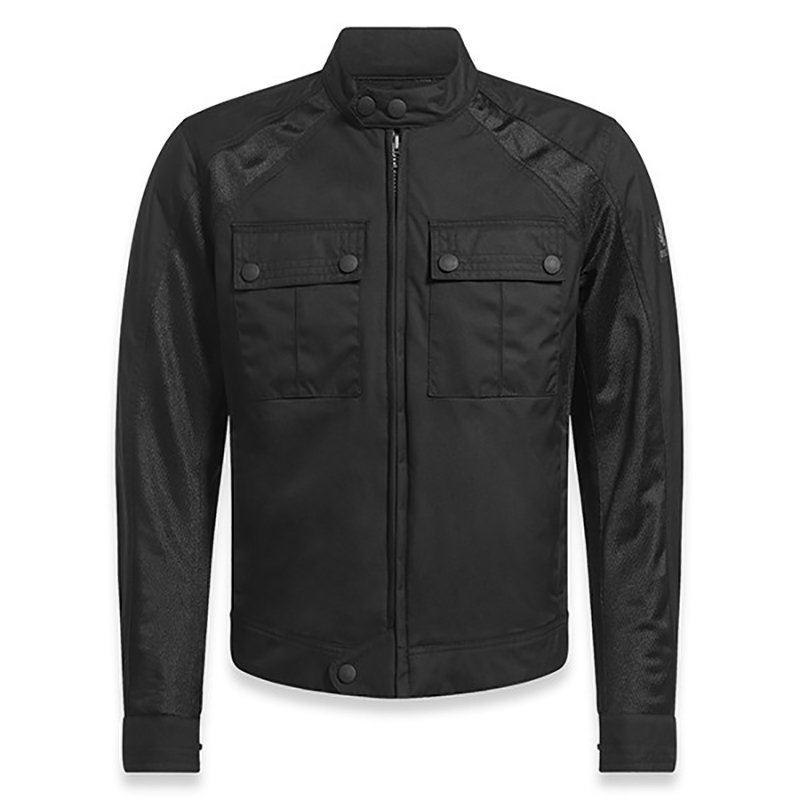 Charley's technical jacket would have breathed and vented far better than Ewan's, but what we have learned is that, when it started to get really hot, both boys often rode in the Belstaff Temple jacket.
The other half, the lower half, of Ewan's outfit was a pair of leather pants. Again, we would assume that the look formed part of his decision to go with leather. There's nothing wrong with leather pants, but not in a million years would we have undertaken a journey like this in leather trousers. Leather is fantastic. It looks amazing, it's comfortable, and it's highly abrasion resistant. But leather is useless in the rain, it doesn't breathe well when it's hot, and it offers little in the way of thermal protection. In fact, we have been told that when the boys reached that part of the continent where the temperatures started to soar, Ewan was provided with a pair of leather pants with extra perforated panels to help him keep cool. But don't get us wrong. These leather pants are great. Indeed, for some time we have been looking for a classic, leather riding jeans just like these. They're very rock 'n' roll. But we still wouldn't have picked them for a ride like the one the boys embarked upon. For our full video of the Belstaff Long Way Up McGregor leather pant Long Way Up McGregor trousers.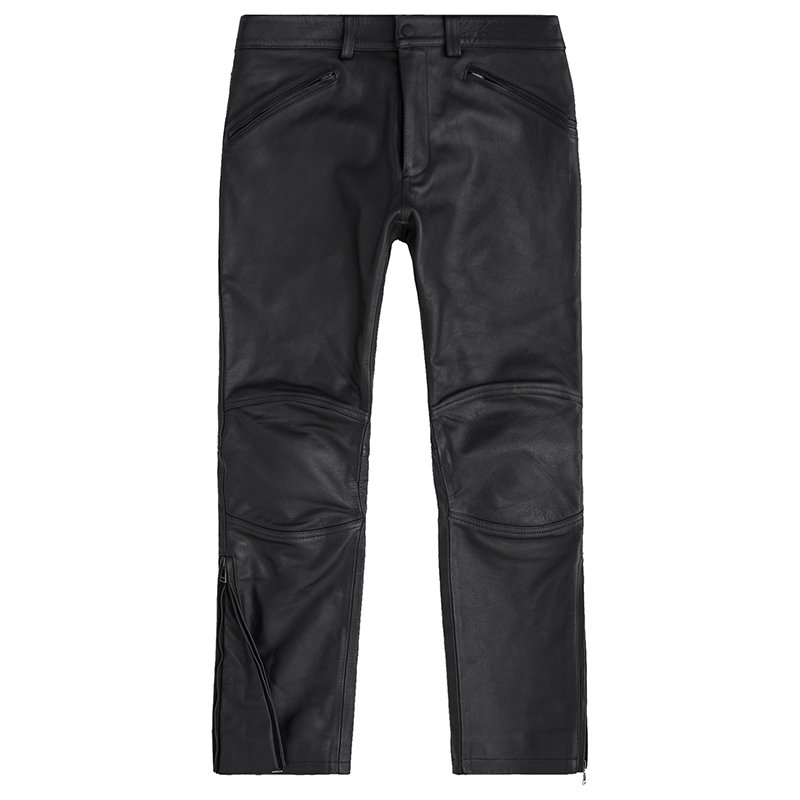 Ewan's look was completed with a pair of leather pants. Again this would not have been our first choice, but this is actually a great pant. It's exactly the kind of leather riding trouser we've been looking for.
In terms of other gear and equipment, the boys both wore Arai Tour-X4 helmets; Ewan a silver one; Charley a white one.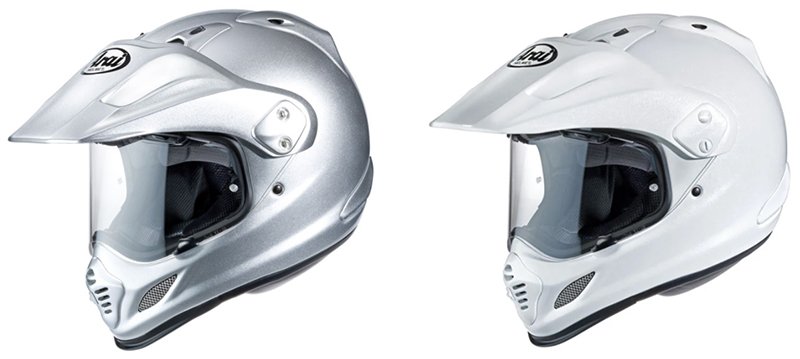 Both Charley and Ewan rode in the Arai Tour-X4. In fact they've worn the Arai on all their trips.
For the trip, Ewan wore a pair of old Sidi boots. It's a boot that is no longer in the Sidi range. Charley, from the footage we have seen, often wore the pair of boots that he bought from our shop. It's the Terra Evo Low boot from Forma. It's a shortened version of the company's full-height adventure boot.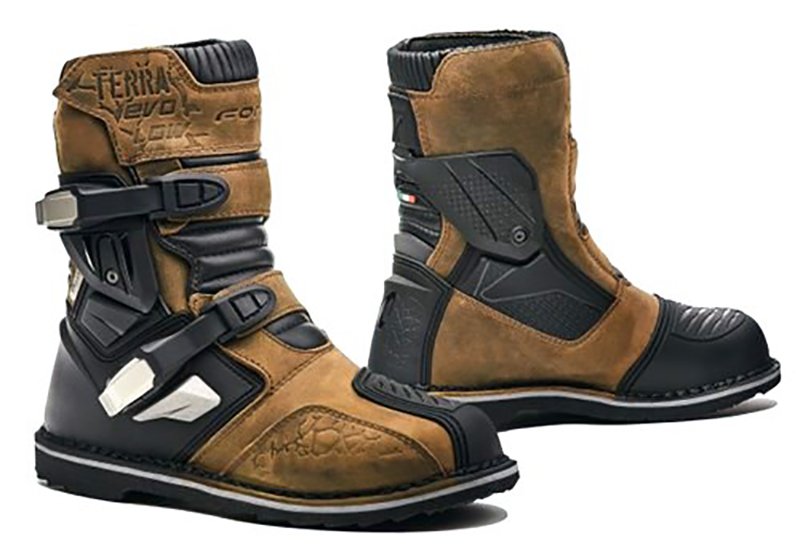 We don't yet know whether Charley also took with him to South America a taller pair of off-road boots, but we've seen a lot of photographs of him in these Forma Terra Evo Low boots that he bought from us.
Charley also wore, at times, the Lee Parks summer gloves that, again, he bought from our shop. A great choice, in our view. These are some of the very strongest gloves we sell, even though they don't look it. They're made from deerskin, which is three times stronger than cowhide. Yet they are incredibly light and comfortable to wear. But they have nothing by way of thermal properties or protection from the rain, so even though we haven't yet watched the whole series we're going to assume he had more than one pair of gloves with him.. To watch our review of the Lee Parks gloves.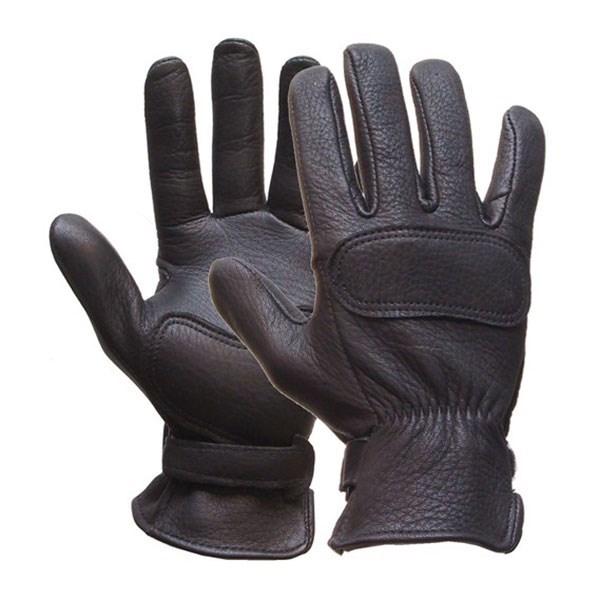 When Charley popped into the shop before he set off for Patagonia, he bought himself a pair of Lee Parks deerskin gloves. We love them. They are probably the strongest we sell, and they're almost certainly the most comfortable. They're just not the warmest or most waterproof!
As we write this, we have not, as I have mentioned, had the opportunity to watch the entire series, so we may well add to this story at a later date, in order to talk about other items of clothing that Ewan and Charley wore.
---
Want some more? Please click here to return to our editorial menu.

Share this story