Rokker Chino review
Published on: 25/03/2019 14:54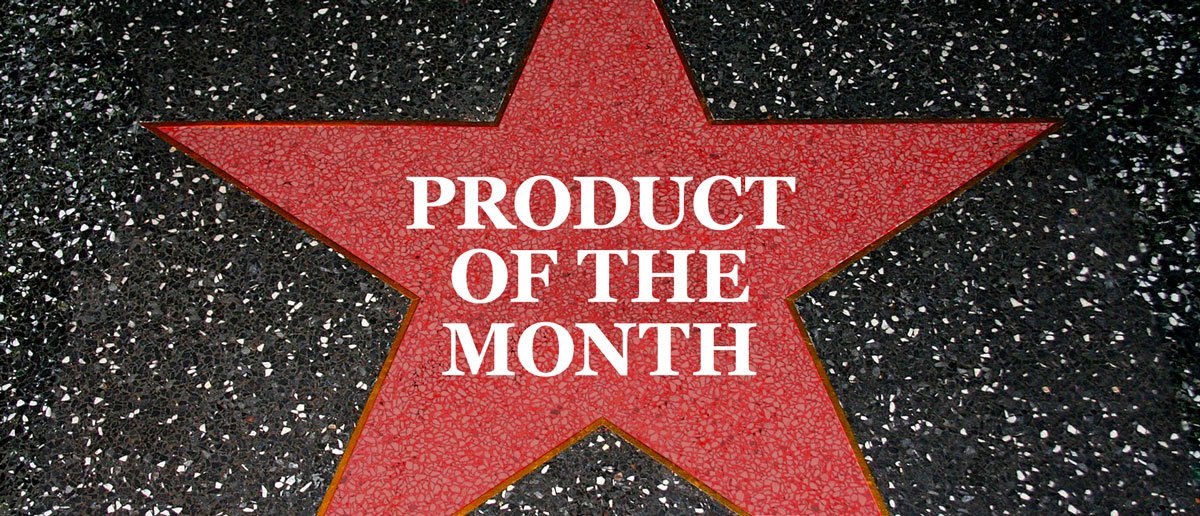 APRIL
ROKKER CHINO REVIEW
Our Product of the Month this month is a motorcycling trouser that's been around for @ number of years. It's actually a pretty amazing pant, although it does often tend to get overlooked. And that's partly because chinos are often not viewed as quite as sexy as denim jeans.
The product were talking about is the Rokker Chino. It comes in black or a typical chino-style khaki.
The fit is not perhaps what might be termed slim. It is definitely more generous than the fit of, say, Rokker's own Rokkertech Slim jeans. In fact, it's probably closer to the style of the company's slightly more relaxed Revolution waterproof jeans.
They're certainly nothing like a cargo pant fit, though, and whereas many chinos are baggy at the top, Rokker's chinos are not. They're flat fronted, and without any pleating. We think of them as having an almost military sharpness. It's the type of trouser you could wear in most offices, and nobody would bat an eyelid.
The Rokker chinos are single-layer, with no aramid or Kevlar® lining. Now, in theory, this means that they will flow the air well in hot weather. And to a degree this is true, but the material they're made from, which is called Dynatec, is pretty robust, so we don't see them as a pant you would necessarily want to wear on the very hottest of days.
On this, the boys at Rokker disagree, but if we were riding in Morocco we'd want to be in their Rokkertech jeans and not these chinos. This having been said, they're going to be much cooler to wear in hot weather than a lined motorcycle trouser.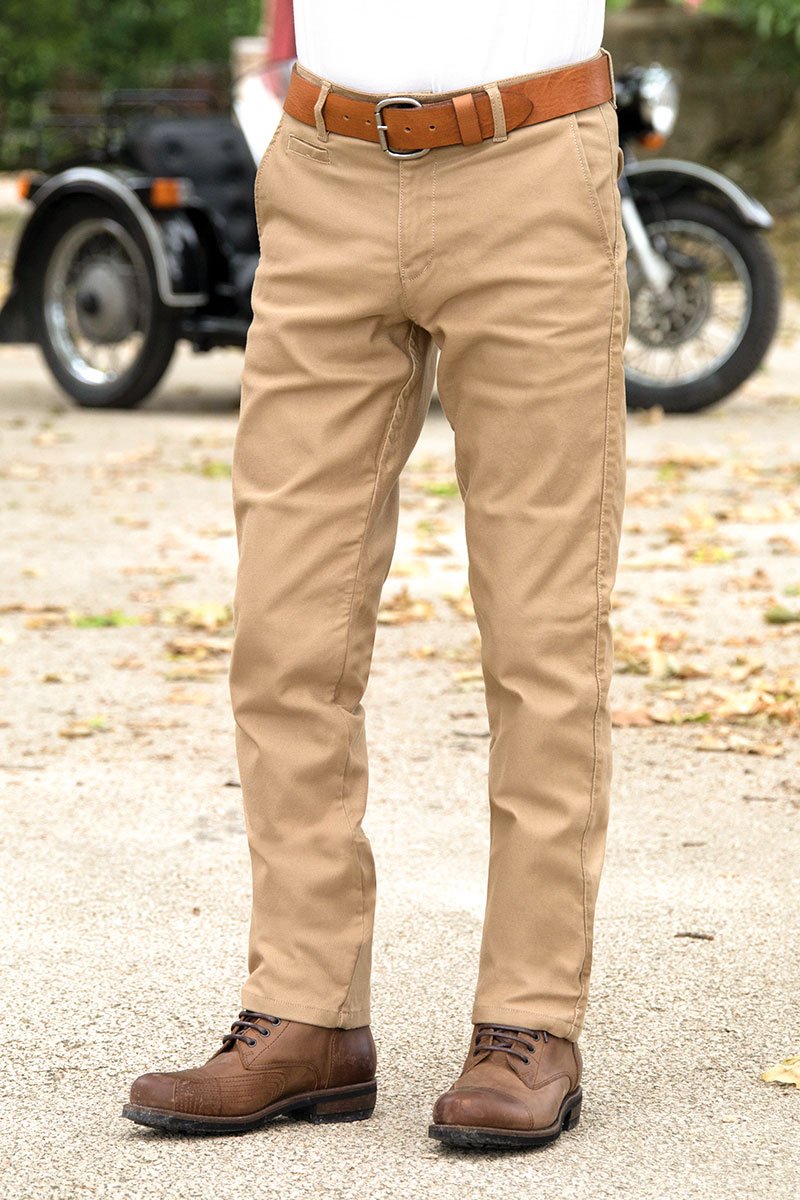 Here at Motolegends, we are huge single-layer fans, and these days a lined jean would have to be quite extraordinary in some way for us to consider putting it into our range. But not all single-layer jeans are born equal. Some have amazing slide times; others don't have. What this means is that when you're buying a pair of single-layer jeans, you need to check out exactly what it is you're buying, because it's not always obvious.
Well, the good news is that the Rokker chinos are incredibly strong and abrasion resistant. Rokker's Rokkertech jeans record a slide time on the industry's Cambridge test of 6.4 seconds. The company's chinos tested at 6.3 seconds. That's still nearly 50% better than leather, so you really don't need anything stronger.
And we think that's an amazing result. You can rock up in the office wearing a pair of pants that look like something you picked up from a traditional gentlemen's outfitter, but which actually provide protection way beyond leather, or indeed any textile motorcycle trouser on the planet.
For impact protection, Rokker's chinos are designed to take D30 protectors, although it's not included in the price. You'll need to budget an extra £40. The hip armour goes into fixed pockets, which is not a problem. The knee armour goes into pockets that are lined top and bottom, and side to side, with a material that acts like Velcro. It allows the armour to be moved up or down, or from side to side. But entry to the armour pockets is via a zipped, side-entry pocket. It's not the best designed pocket we've come across. In fact, it's the worst. It's difficult to position the armour in the pocket, and once it's in place it's even harder to move or adjust it. In fact, what we tend to do is slit open the bottom of the pocket, which makes access much easier.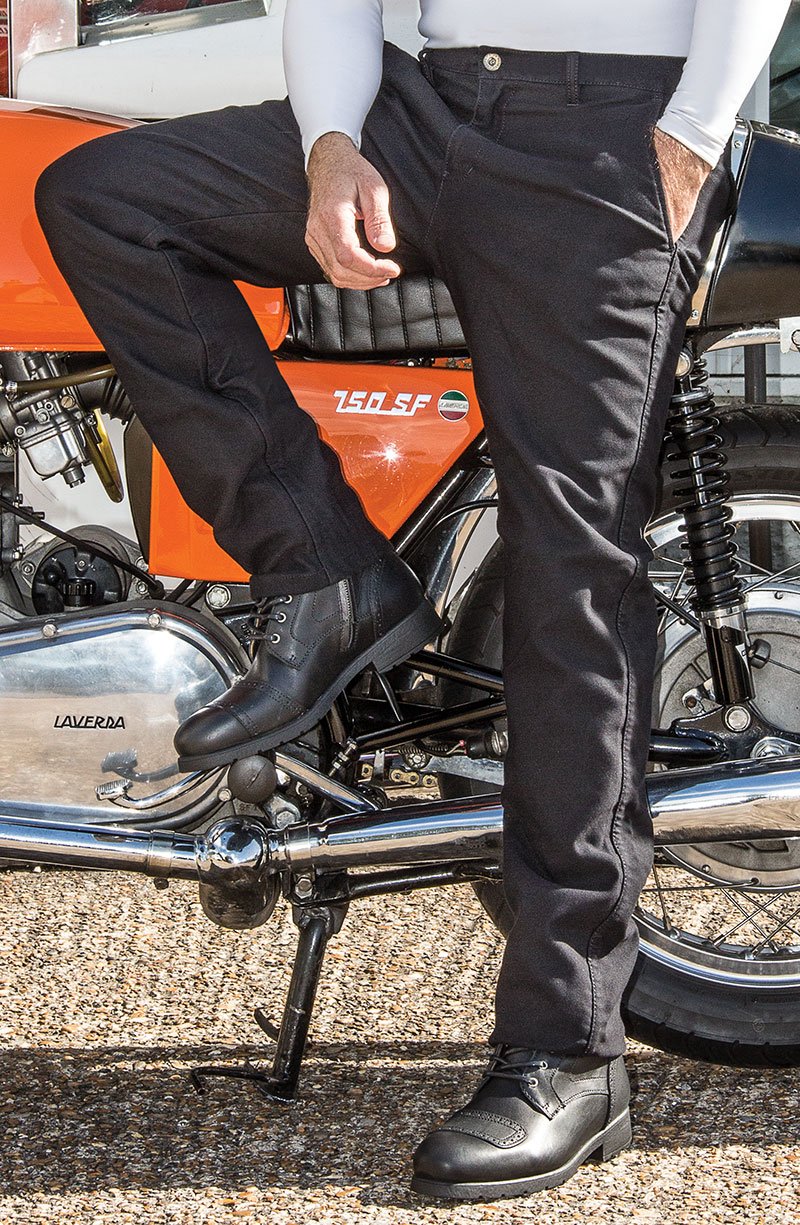 Overall, Rokker's chinos are quite amazing. They're ultra-smart. The material looks and feels like a heavy-duty cavalry twill. They're immensely protective, and when it is correctly positioned, the D30 armour is supremely comfortable.
But these chinos have one more trick up their trouser leg. They're pretty waterproof. But it's not a membrane that makes them so. Nor is it just a DWR (Durable Water Repellant) that has been applied to the material. The waterproofing actually comes from a treatment that is applied to the Dynatec material as it is woven. This doesn't, in truth, measure up to a full-on membrane, but it certainly makes the chinos more waterproof than those pants that simply have a treatment applied.
We would still think of the level of waterproofing as being of 'get you home' proportions, but dependent upon how heavy the rain is, we reckon you would get a good hour's riding before you started to feel wet. Some customers reckon they have ridden for several hours before that has happened, but we wouldn't want to overstate the case.
Single-layer jeans and pants are increasingly becoming what we all want to wear. And with good reason. But the truth is that there are not many single-layer chinos on the market. And certainly none that offer the combination of style, protection, comfort and wearability that Rokker's chinos do. They really are quite special, and prove once more that Rokker delivers form and function better than anybody in the motorcycling apparel business.
They come in waist sizes from 29" to 40", and in three different leg lengths: 32", 34" and 36". They are pretty true to size, so you can order online with reasonable confidence. But, as always, if you want to get it right first time, it's best to come and see us. We hold huge stocks here in Guildford, so you can try on as many sizes as you need to, in order to see what looks, and what works, best. We'll get you on our shop bike, and make sure the armour is where it should be. And we'll work with you to get the perfect leg length. If the pants need to be shortened, we'll do that at our cost.
Share this page