Shark Spartan GT helmet review
Published on: 06/03/2020 15:58
New for 2020, from French manufacturer Shark, is a helmet that is called the Spartan GT, to sit alongside, but slightly above, their existing Spartan model. Now, when they launched the new helmet at EICMA in late 2019 Shark was very clear that they wanted to position it as a competitor to Shoei's GT Air 2, but to undercut it on price. All we can say is that if this was genuinely their aim, we don't think that, from a marketing perspective, they've gone about it in the right way.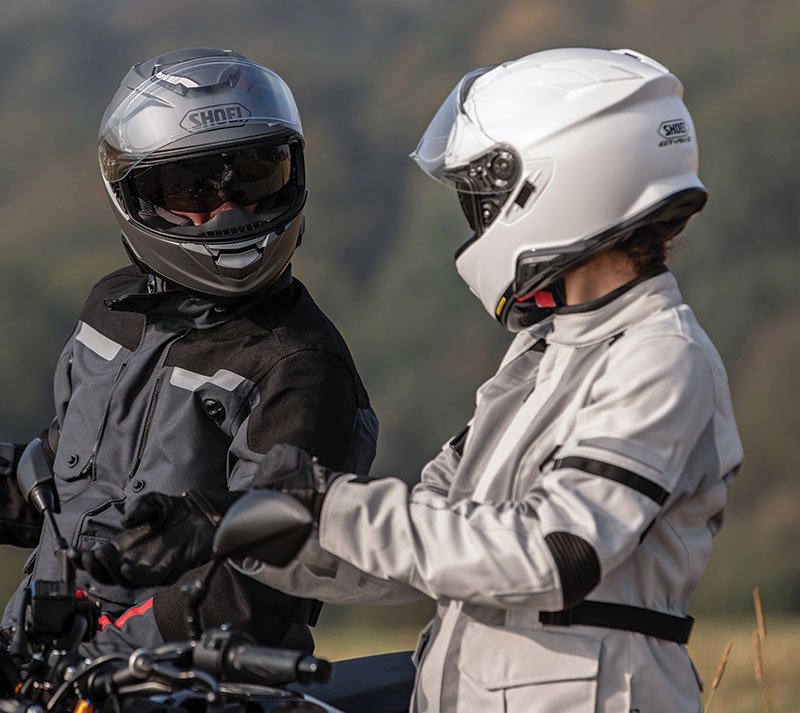 With their new Spartan GT, Shark wanted to taken on the definitive sport/touring helmet: the GT Air 2.
And that's because the Spartan GT is going to look, to most people, like little more than an upgraded Spartan. Put next to one another the helmets look very similar, even though they share very few parts. Shark has also, of course, given the helmet a name that makes the new helmet sound as though it's merely a different version of the same helmet. The two initials GT simply don't do justice to what is, in essence, a brand new model. After all, when a car manufacturer adds the letters GT to a model's designation, it doesn't suggest a new car; it implies a leather steering wheel, a carbon-effect dashboard, red stitching on the seats and perhaps some fancy wheel trims!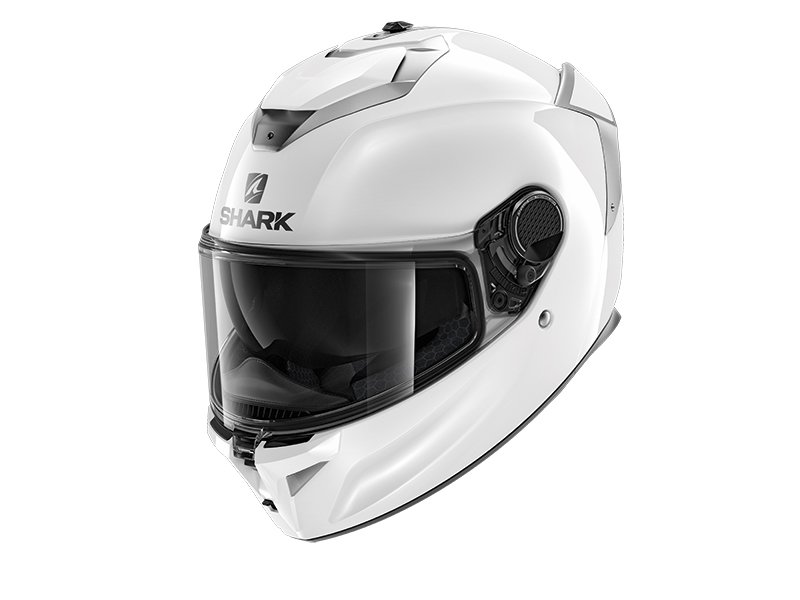 Adding the two letters 'GT ' to an existing helmet does not a new upmarket helmet make!
But, in reality, the Spartan GT is totally different to the Spartan. It is a better helmet in just about every dimension. It's a more luxurious helmet, it's more comfortable, it's more feature laden, it's a quieter helmet and it's better ventilated.
Shark's ambitions for the Spartan GT were indeed lofty; and that's because Shoei doesn't put many a foot wrong these days. So here we're going to tell you all about the new Shark; what it does well and what it doesn't do so well. We'll try and draw comparisons with the Shoei, and we'll conclude by telling you to what extent we think Shark has succeeded in its stated objective.
The Shoei GT Air2 is a sport-touring helmet. In fact, it's the definitive sport-touring helmet. And so that's what the Spartan GT also sets out to be. Such matters are always a bit subjective, but my personal opinion is that the Shark is still a bit on the aggressive side if it wants to compete in this arena. The Shoei GT is popular with the kind of guys who ride big BMWs, KTMs, Hondas, Yamahas and the like; even amongst those who ride Harleys and cruisers. Those aerofoils, or whatever they are, on the back of the Spartan GT, are a bit boy racer for these guys. I'm sure they are there for a reason, but they don't make the helmet look very grown up. The truth is that Shark sets great store by its racing programme. In truth, we don't really believe you have to race on tracks to create a great road helmet, and personally we think the Spartan GT might have seemed more appropriate for this market if it looked less like the kind of helmet that might have been worn by Lorenzo, Zarco et al.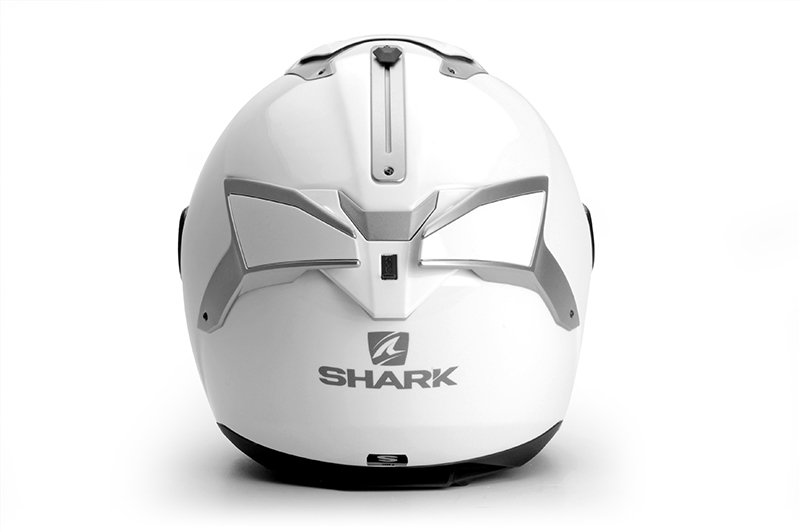 All those bits of plastic surely do something, but they shout racing more than sport touring.
The shell of the Spartan GT is new and totally different to the shell on the Spartan. From five metres you'd never know, but get close up and the differences become more obvious. We haven't been told why the shape has been changed and what benefits those changes are meant to bring, but what is immediately apparent is that the new helmet is more than just a lick of paint and an array of new accoutrements.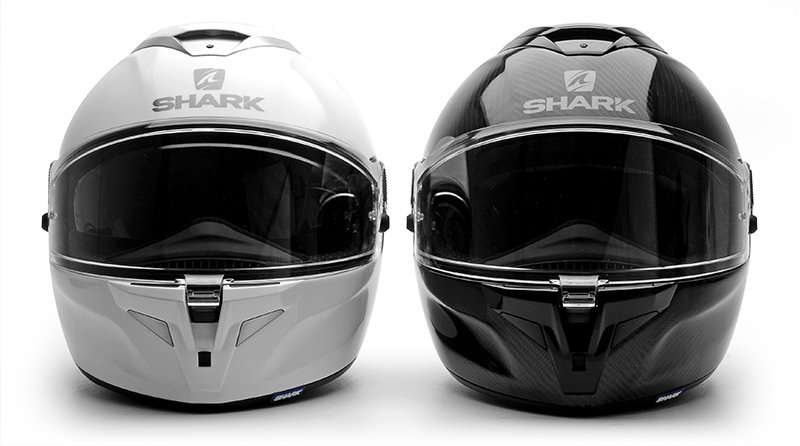 Carbon and a non carbon versions of the Spartan GT both start out with the same glassfibre shell.
Two different forms of construction are used on the Spartan GT. There's a glassfibre version, and there's a version that's called Carbon Skin. The latter uses the same glassfibre shell, but this shell is then covered with a thin layer of carbon fibre. The carbon fibre version is lighter, but that's only because the carbon fibre skin actually weighs less than the primer and paint that are used on the standard version. We had no idea that paint weighed so much; you learn something new every day! We weighed a medium in both helmets; the difference was actually just 100 grams. That's four ounces or a quarter of a pound. And, in truth, that's not a lot.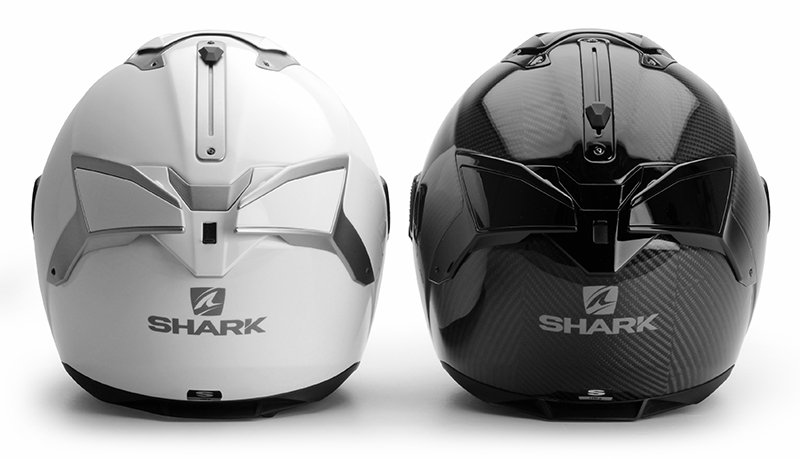 The carbon version is lighter, but only because the carbon skin weighs less than primer and paint.
There's no suggestion, by the way, either here or elsewhere, that a carbon helmet, even a full carbon helmet, is safer. If saving a gram here or there is a particular fetish of yours, then you'll probably prefer carbon version but, in reality, all carbon helmets do is offer greater bling. You either like them or you don't.
Both versions, of course, have multi-density eps liners. Shark's helmets are known for their relatively soft shells, so they absorb impacts really well. If there's a downside to a softer shell, it's that it will not withstand repeated impacts in an accident as well as a helmet with a harder shell, but you cannot have it both ways. A harder shell is stronger, but not as absorbent of energy in an impact. We have no reservations, of course, about a Shark, any Shark, as a safety product, and even though we are not fans of the SHARP rating system, you can be pretty confident that, at the appropriate time, the Spartan GT will be awarded five stars.
One factor that always hinders the perception of Shark as a premium brand, in our view, is that nearly all of its helmets come in two shell sizes only. The more shell sizes the better the fit, and the better the look. Shoeis and Arais all have a minimum of three shell sizes; sometimes four. Sharks really only ever have two shell sizes, and whilst that saves money in production and manufacture, it doesn't necessarily deliver the optimum fit for the rider. At the premium end of the market, we would suggest, two shell sizes simply doesn't cut it.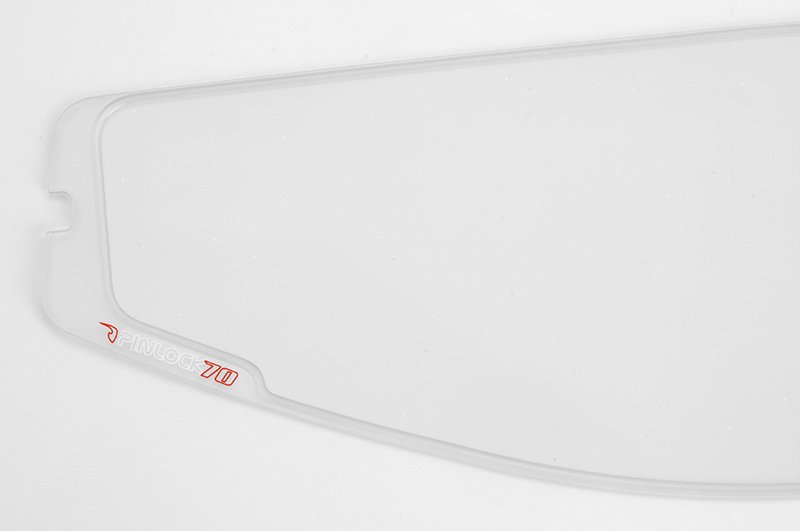 As Gordon Gecko taught us, you don't take on Shoei by putting a cheaper Pinlock 70 in the box.
Shark makes a big song and dance about the visor on the Spartan GT. They tell us it is derived from their racing visor. It achieves the very highest Class 1 optical rating, and features variable thicknesses to prevent distortion. But what we must point out is that the helmet comes only with a Pinlock 70; and that's not as good as a Pinlock 120. It will not, in extremis, absorb as much moisture. And that's disappointing. What Shark has to appreciate is that, to quote Gordon Gecko: 'if you want to be one of the big dogs, you have to piss in the tall plants'. More simply put, if you want to be considered in the same company as Shoei, you shouldn't cut corners and try and save a few cents by providing an inferior anti-fog insert. At this end of the market, riders expect the very best. It may be that Shark has calculated that a 70 Pinlock is more than up to the job, but if that's their view they simply don't understand how the game works.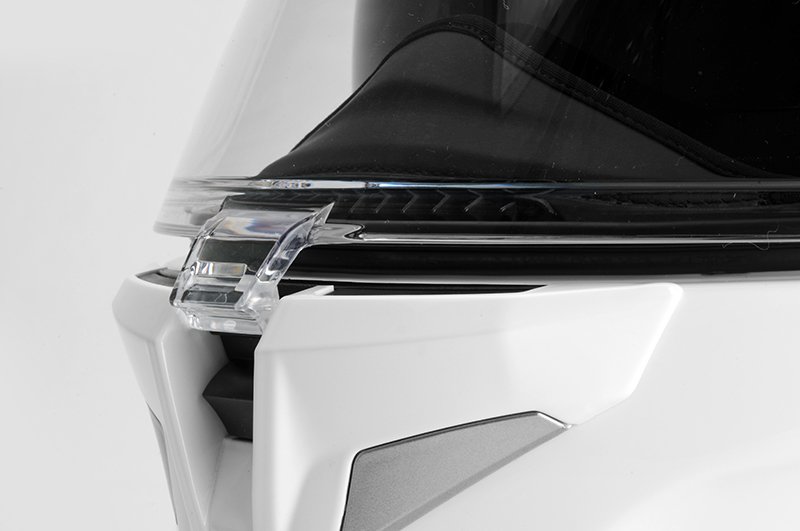 The Spartan GT has the nicest detent in the business. It enables you to ride with a 'crack' position.
What we do really like about the visor on the new Shark, however, is how it attaches to the helmet and how smoothly it adjusts. It has the best detent mechanism we have come across. The visor is easy to install and remove. And it is held securely in place with a locking mechanism that prevents the visor from becoming detached in an accident. Now we never really realised that this was an issue, but Shark tells us that it does happen in racing. We don't have a problem with this. The mechanism is easy to use, although we are left with a slight feeling that this mechanism is a solution to a problem that most people never knew existed. Going back to the detent mechanism though, we have to say that it's lovely. It feels as though the visor is infinitely adjustable, and what we have found is that, in any position, the visor stays in place. If you want to firm it up a little, just tighten the bolt in the locking lever with an Alan key.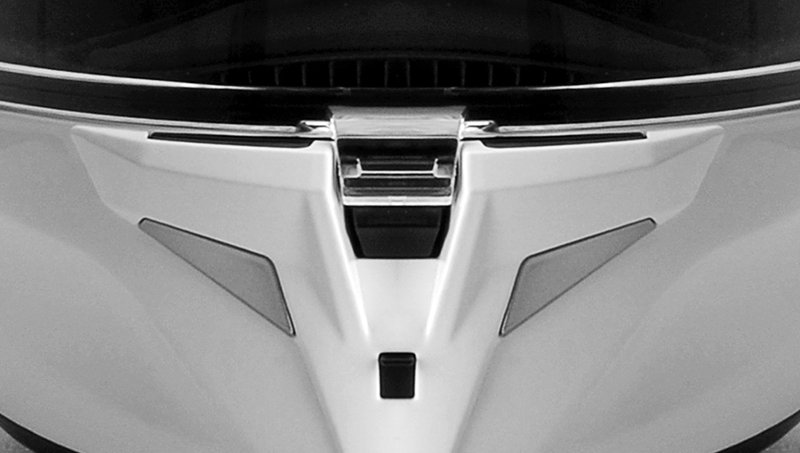 The visor locks firmly in place; you have to press a button to release it. Can be fiddly with thick gloves.
The main visor itself locks down into place such that a button on the chin has to be depressed to release it. We like the fact that this will stop the visor from accidentally opening, and allowing air to enter the helmet. It should also improve the seal, and thus keep the air and the rain out. It all adds to the feeling you get from the Spartan that all the detail has been thought through, although on test Sean, our shop manager, found the mechanism a bit fiddly with his winter gloves. As with the standard Spartan, the GT features 'Shark skin' side plates that supposedly reduce buffeting and hence noise in and around the ears.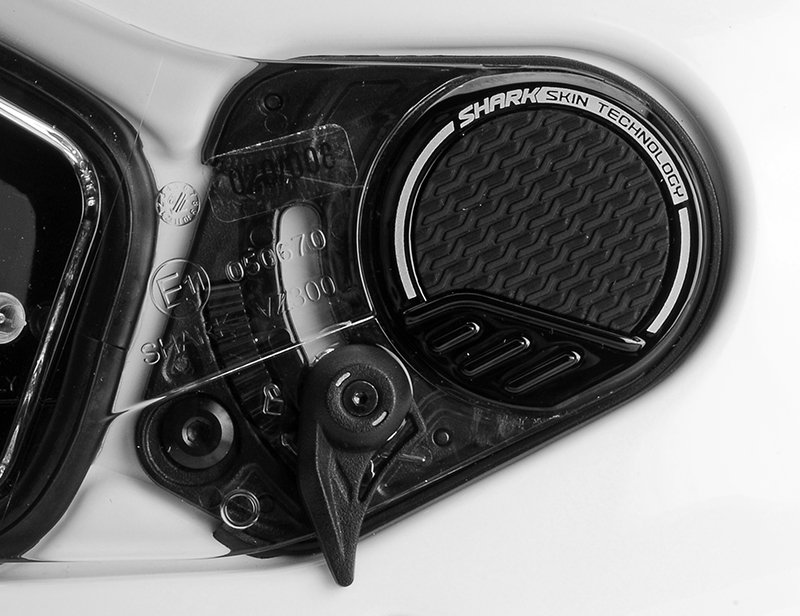 The visor is easy to remove and is kept in place with a small locking lever; a feature used in racing.
One of the biggest differences on the new helmet over the standard Spartan is the interior. It certainly feels more plush, softer perhaps and a bit more elasticated. Certainly what strikes us is how much more tightly the neck roll fits around the neck. That's not tight as in uncomfortably tight. There's a lot of stretch in the neck roll, but it sits much more closely to the skin, and that's going to reduce the amount of air coming into the helmet. Reducing the amount of incoming air is going to reduce noise levels. A much more comprehensive, two-piece chin guard will also prevent the ingress of air. Whatever Shark has done, it works. The Spartan GT is much quieter than the basic Spartan, although clearly this won't be the case for everybody, because reducing noise often comes down to fit, and not everybody is going to fit well in the Shark. It's less oval, and more round, than a Shoei or an Arai. It's more like a Schuberth in terms of fit. You'll have to try one on at a dealer who knows how to professionally fit helmets in order to ascertain if it's right for you. But what we are happy to report is that different sized cheekpads will be available for the Spartan GT, and this gives us a fighting chance, at least, of getting it to fit almost perfectly. And if it fits properly, the Spartan GT will most certainly be a quiet helmet.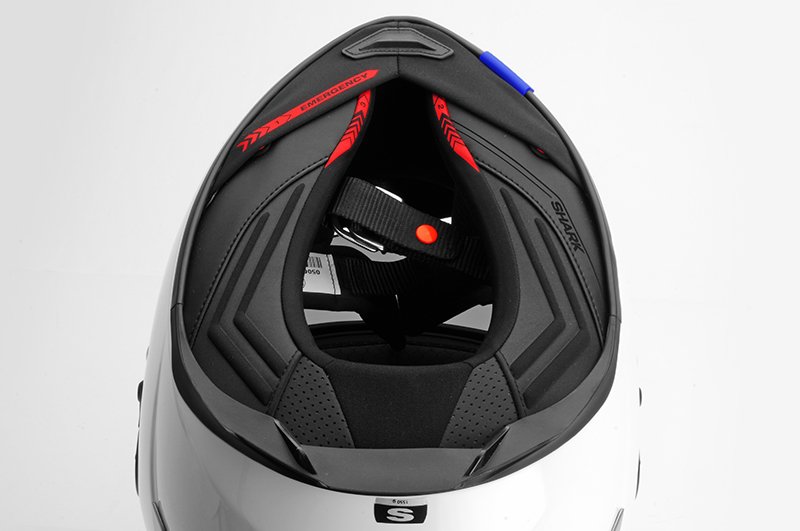 The neck roll sits very close to the neck to reduce the amount of air coming into the helmet.
The Shark has an emergency release system, as do many top helmets these days. It's a good feature to have although, if we were being critical, we'd have to say that the system on the Shark is a bit complex. In an emergency situation simplicity is normally to the fore, and it does feel a little as though the Shark removal procedure requires an instruction manual!
So let's talk venting. Putting aside the Pinlock issue, one has to say that the venting arrangements on the Spartan GT look pretty comprehensive. The chin vent, when open, will direct air up the inside of the visor very effectively through a directional grill that sits just inside the visor. At the same time, a very robust breath guard will direct the rider's warm breath away from the visor and out of the helmet. There's an open and close brow vent. Forward to close. Back to open. At the rear of the helmet are a couple of exhaust vents built into the turrets for the aerofoils thingies. Now there's an open and close position here too. Apparently, in the summer, you would leave the rear vent open to allow cooling air to exhaust out of the back of the helmet. But in the winter, you would open the front two vents only to prevent misting up, but you would close the rear vent so as to keep warm air inside the helmet. Sounds complicated to me, but I suppose it all just about makes sense.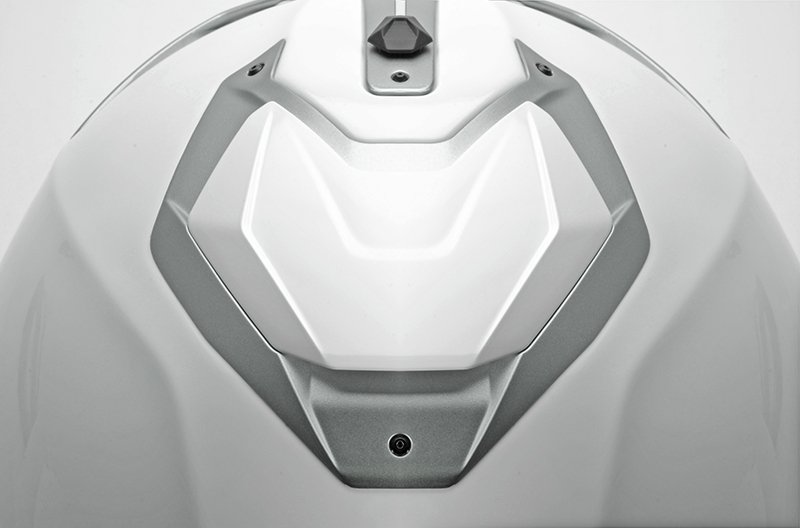 The Spartan GT has vents on the nose, on the brow, (shown here), and at the back of the helmet.
There's really not that much more to say about the new Shark. It has a great drop-down, sun visor that comes all the way down such that, on a nice day, you could remove the outer visor entirely to get more cool air in. The helmet fastens with a double-d ring. Not sure we have a strong view on the whole d-ring/ ratchet adjuster debate. In fact, the system we like most is the Fidlock system. Now that really is easy to use.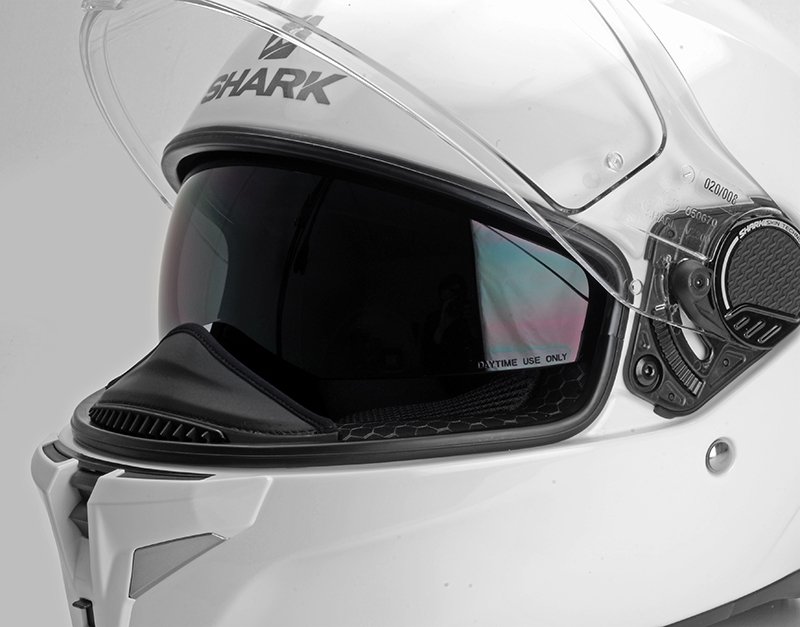 The Spartan's sun visor comes down so low that you could remove the outer visor and ride with it.
So, in summing up, where do we get to? Well, the new Spartan GT is a fine helmet. It's in a different league to the old, albeit still current, Spartan. The new ohelmet feels solid and well put together. It's quiet to ride in, comfortable and well vented. It's a helmet that works.
In terms of competing with, and undercutting, the Shoei GT Air 2 we'd certainly have to admit that the Shark is cheaper. A white GT Air 2 costs £450; a white Spartan GT costs £340. Factor in a less expensive Pinlock on the Shark, and you reach a position where the Shark is almost exactly £100 less expensive; in other words, about 20% cheaper. Fancy pants graphics on the Shoei can add £100 to its price. The most expensive carbon Spartan GT comes in at £470.
But there's a big difference, as we often point out, between price and value. The Shark is a cheaper helmet, but that does not necessarily mean that the Shoei doesn't offer better value. With the Shoei, you get even more scope for custom fitting with a much broader array of cheekpads and headliners, you get more shell sizes for a better fit, and a much better integrated comms. solution.
We suspect that, at this end of the market, the price difference will not, for many buyers, be the major issue. If somebody is looking at the GT Air 2, they are in the market for one of the best helmets on the market. They expect the best of everything. If the best costs a few quid more that will not normally be a deterrent.
The Shark Spartan is a very good helmet; a very, very good helmet perhaps, but in the margin, it's not quite a GT Air 2. If the Shoei doesn't fit you; if the shape of the Shoei is too oval, if you need a rounder fit, then the Shark is probably your next best option.
And if the price of the Shoei is simply beyond reach financially, then the Shark is a helmet that nobody needs to be embarrassed about. It does pretty much everything well. If you like carbon, it comes in a wide array of carbon fibre infused designs. But there are loads of colourways in the standard glassfibre version too.
If you seriously want to work out which helmet is best for you, your best option is to come and see us here in Guildford. We have both helmets in stock in all sizes, and we are probably one of the very few retailers to hold all of the the various cheekpads and headliners for both helmets. It shouldn't take us too long to work out which helmet will work best for you. And whichever one you're most suited to, we'll ensure that the fit is spot on.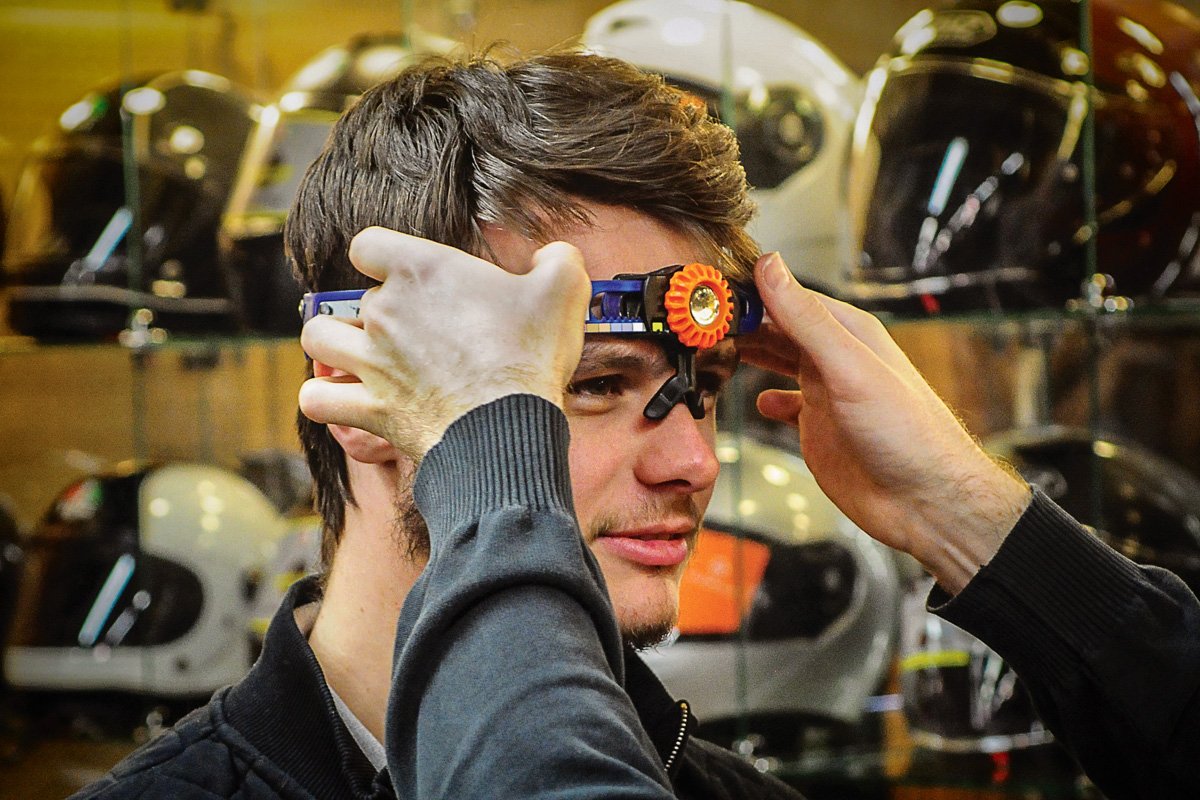 We care about helmet fit, and of course we will have all the liners and pads for the new Shark.
We congratulate Shark on their new Spartan GT. They aimed high. It's not going to topple the Shoei from its perch, but it's still a darned fine helmet.
For more information and to order online, click Shark Spartan GT helmet.