Shoei Neotec 2 helmet vs Shoei GT-Air 2 helmet review
Published on: 24 July 2019
The Shoei Neotec 2 has now been replaced by the Shoei Neotec 3.
The Shoei GT-Air 2 has now been replaced by the Shoei GT-Air 3.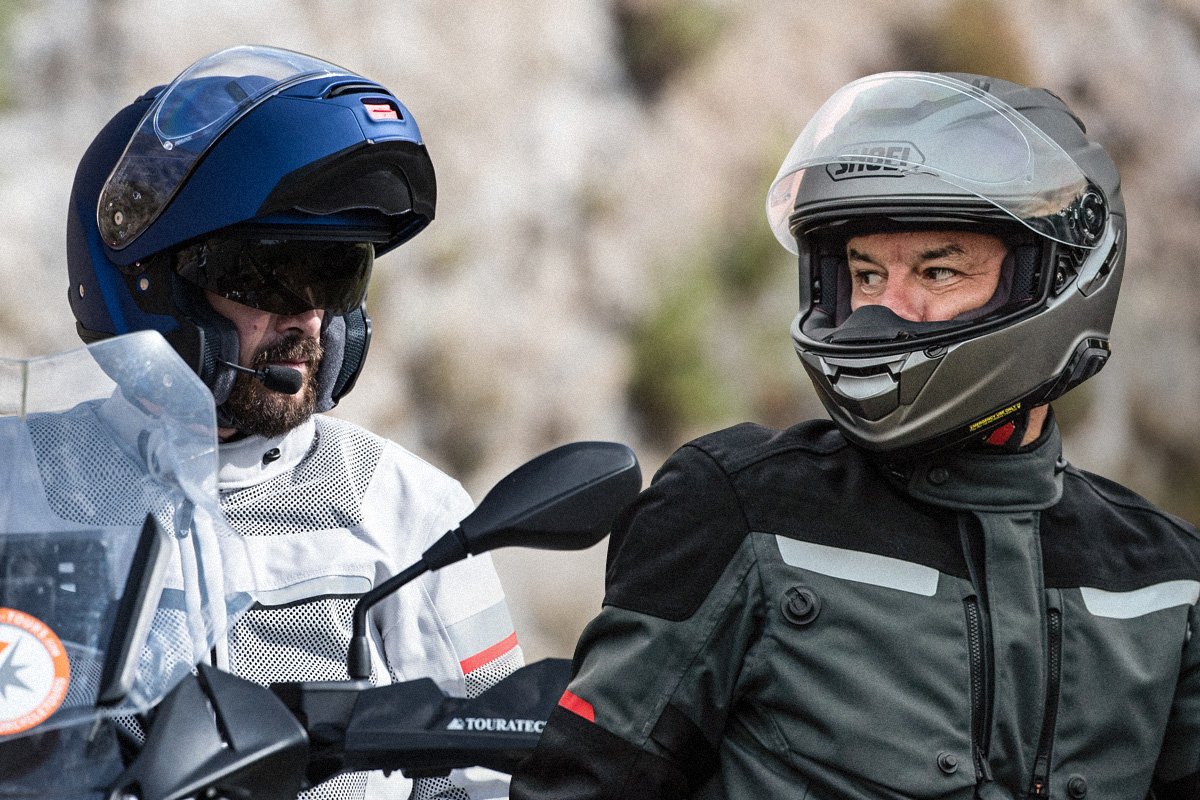 Last year Shoei released an updated version of its Neotec flip-lid helmet. It was, and is, a better helmet in just about every respect, although it has to be said that when a helmet is already this good, any improvements tend to be pretty marginal.
The new helmet, unimaginatively called the Neotec 2, is a bit more aerodynamic, has a slightly improved fit, better venting and so on. With a re-designed neck roll it is certainly also a quieter helmet. For many, though, the big upgrade was the move from a comms. system produced by Cardo to one produced by Sena. The internals are based on Sena's 20S but, more importantly, it was designed to integrate into the helmet's outer shell, meaning no unsightly box and no unnecessary wind noise.
The overall package was a winner, and it has proven to be a huge hit for Shoei. And for us too. In fact, quite simply, we reckon it's the best motorcycle helmet on the market. If you're riding a sports, touring or indeed just about any kind of upright bike, a cruiser or an on-road adventure bike, it's probably the perfect lid. We would concede, though, that if you're a serious off-roader or ride a full-on sportsbikes there are probably better choices.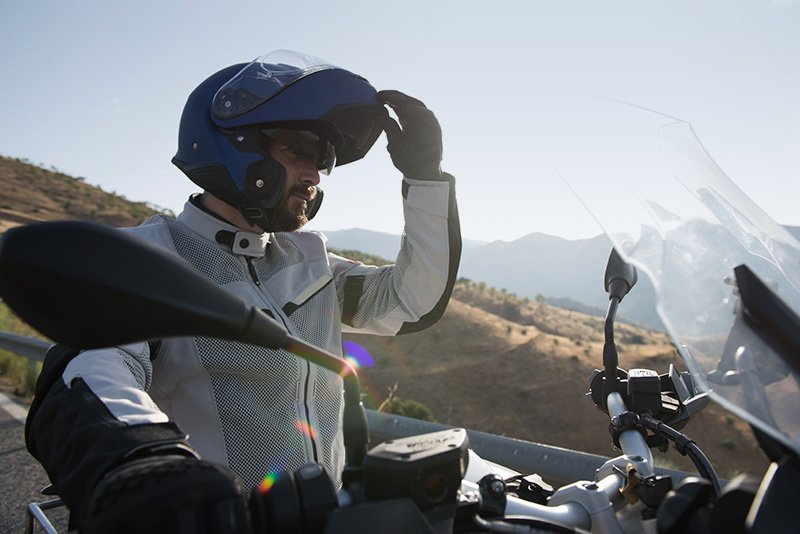 The Shoei Neotec 2 flip-lid helmet.
But for some people the flip-lid just won't do. It's a prejudice of sorts I suppose, but some people won't buy a flip-front because they associate them with Police riders and BMW owners who carry their pipe and slippers in their panniers.
Well, the good news for these people is that, earlier this year, Shoei upgraded its top-end GT Air, full-face helmet, re-naming it, with some level of predictability, the GT Air 2. Like the Neotec 2, the GT Air 2 is improved in a number of respects. It's actually got a totally new shell. It comes with three adjustable air vents, a repositioned chin-strap for more comfort, an improved seal around the visor to reduce noise and water ingress, a lower sun visor and a myriad of minor detail changes that, in truth, most riders will never notice. One slightly more significant development is a proper 'crack' position for the visor. This allows a small amount of air into the helmet, without causing the visor to open at speed. Finally, as with the Neotec 2, the new GT Air now takes a fully integrated, Sena comms. system.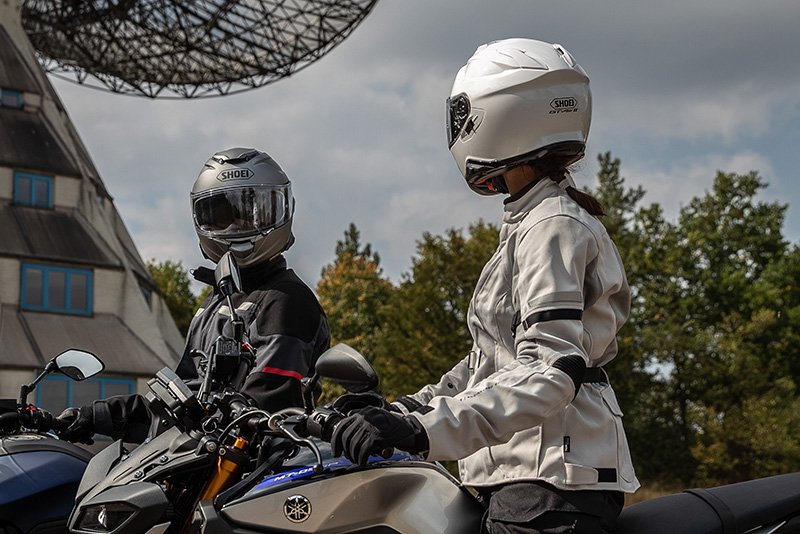 The Shoei GT-Air 2 helmet.
The bottom line is this. The GT Air 2 is a full-face version of the Neotec 2. Physically, the two helmets may not share many components, but the concept is the same. Which means that whichever helmet you go for, you've got the highest levels of protection, the ability to change cheek pads and liners for a custom head fit, low noise levels, good venting, the benefits of a 120 Pinlock and so on.
We could not really say, therefore, that one helmet is better than the other. Which doesn't mean we don't have an opinion! We are not without bias. You see, being practical sorts, we like flip-lids, even though very few of us travel around with our pipe and slippers. In fact, we can only see advantages with flip lids. And to a degree, we cannot see why, style issues aside, you wouldn't choose a flip-lid helmet.
When it's really hot, and you come into town or village, you can raise the front and get some much-needed cool air on your face. In a petrol station, you don't have to take your helmet off, and of course, if you need to ask directions the same applies. But the biggest differentiation for us is the quieter nature of a flip-lid. Because the sides of a flip-lid helmet are more flexible, and because you kind of slide a flip-lid helmet on over the back of the head, it can have a much tighter neck roll. A tighter fitting neck roll means less air can get into the helmet. And less air means less noise.
Take a look at the underside of the two helmets. Imagine how much space is going to be left once your head is inside the helmets. It's plain to see that the aperture on the GT Air 2 is so much larger than it is on the Neotec. Shoei has been very clear that the Neotec is heir quietest ever helmet, in the same way that Schuberth is about their C3 Pro.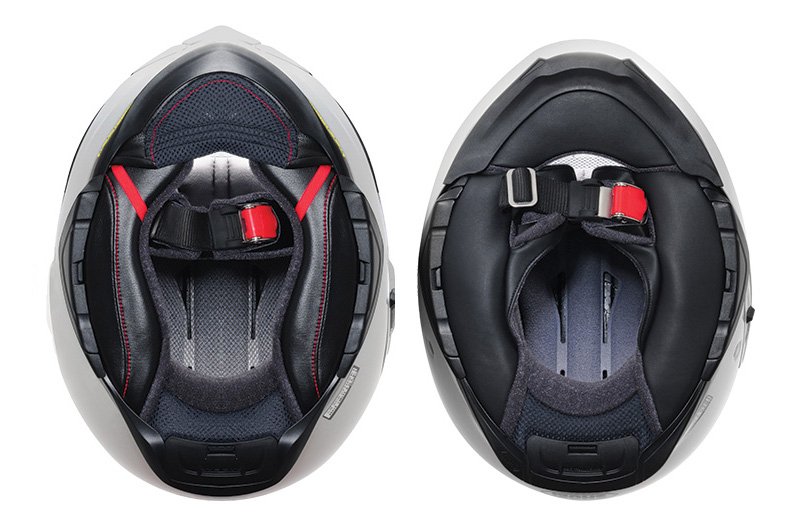 Shown left is the Shoei GT-Air 2; the Shoei Neotec 2 is shown right.
There's a reason that all long-distance tourers and high-mileage commuters wear flip-lids and not race helmets. And it's not the wacky graphics. The bottom line is this. A good, well-fitting, flip-lid helmet is the quietest helmet you'll ever wear. Which is great for your ears, and great for using comms..
One reason some people cite for not liking flip-lids is the potential for weakness in the chin area in an impact. Mostly, we find that the people who raise this have some kind of background in engineering, although the objection is not an unreasonable one.
All we can say is that the chin is not usually an impact area. In fact, it's more common for the chin to get driven into the chest than into the road. The Police are about as safety conscious and risk averse as anybody, as are their Health and Safety people, yet the flip-lid helmet is pretty much 'de rigeur' for most forces. And it's the same throughout Europe.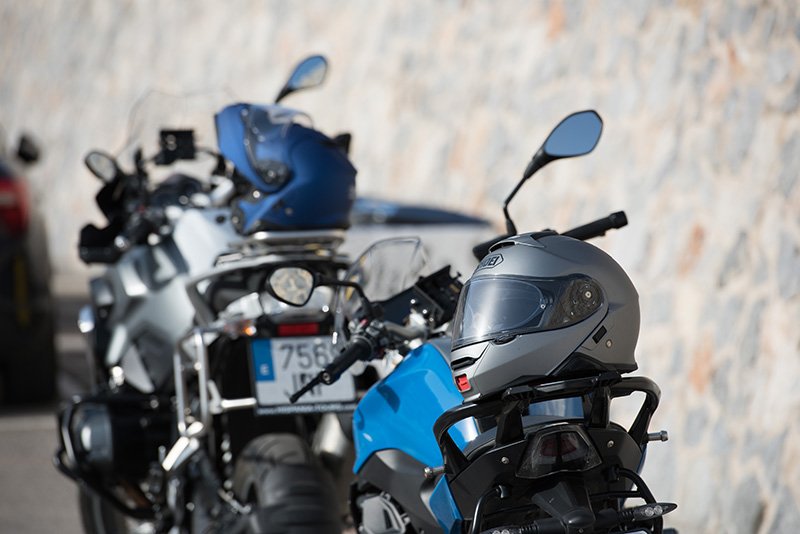 We've seen lots of damaged helmets over the years, but very rarely have we seen a helmet that has been heavily impacted on the chin. Of course, it could happen, and we're not qualified to say that the chin piece is not weaker on a flip-lid. In truth, it almost certainly is but, in our view, anybody who is that concerned about the this being an issue should probably not put a leg over a bike in the first place.
So there we have it. The Neotec and GT Air are both great helmets. We particularly rate the Neotec, and prefer the convenience it offers. But if you only want a full-face, then the GT Air 2 does pretty much everything the Neotec does.
Ultimately, we suspect the helmet you will go for will have nothing to do with the specs!
---
Want some more? Please click here to return to our editorial menu.

Share this story