Top 10 best single layer motorcycle jeans 2019
Published on: 29 May 2019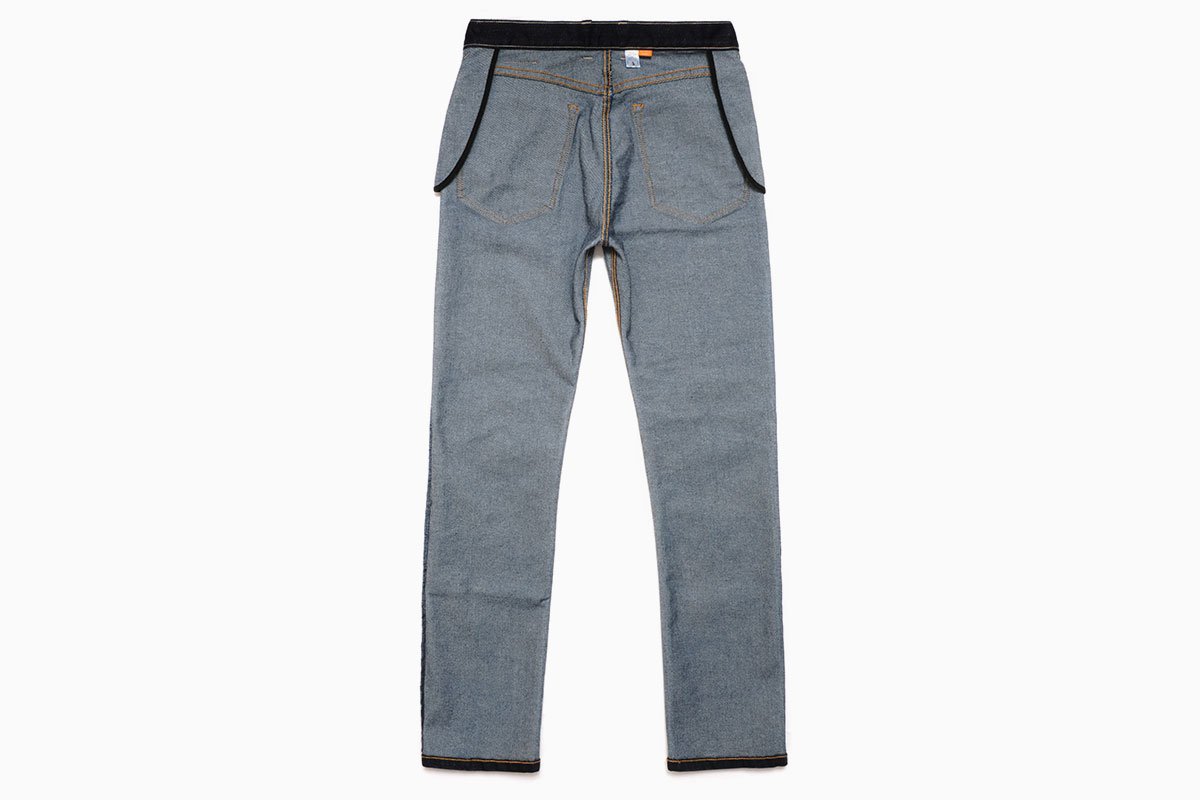 TOP 10 SINGLE LAYER MOTORCYCLE JEANS 2019
Motorcycle jeans have been around for something like 30 years. The original concept was very simple. You created a really baggy jean, and then you lined it with a thick aramid-fibre lining of some sort. In the early days the lining was almost invariably made from Dupont's Kevlar® material. Which is why these jeans became known as 'Kevlar jeans'.
Now looking back, these jeans really did look rather horrid, with a leg width so huge that even the Bay City Rollers would have been embarrassed to wear them. But bikers were so excited at the notion of wearing jeans on the bike that considerations of style and comfort were largely overlooked.
The principle of 'lined' jeans hasn't changed much over the years. Basically, the outer material is a bog-standard denim of some description. Attached to the inside of the denim is the liner that provides some level of abrasion, tear and puncture resistance. As time progressed, some manufacturers added armour and, for most brands, it became 'de rigeur'.
Protective motorcycle jeans have undoubtedly become easier to wear over the years. The linings have become thinner without being any less effective. But all lined jeans have one thing in common. They are still lined! Lined jeans are not normally very flattering. They can be heavy and uncomfortable to wear, and they are nearly always hot and sweaty when the temperature goes up. At the height of summer a lined jean is not nice to ride in.
What we now call single-layer jeans are different. In a single-layer jean a super strong fibre —normally something much stronger than Kevlar® — is woven into the denim to create a fabric that looks and feels like denim but that, in reality, is much, much stronger.
What all these jeans have in common is that they are light and easy to wear. They feel and look like a pair of Levis. And they wear like a pair of Levis. You can wear them all day as though they were a pair of normal jeans, but if you fall off the bike they provide you with much enhanced levels of protection.
These jeans are particularly nice to wear in the summer and hot weather, because they flow air almost like a mesh pant. Because there's no lining they fit close to the body, and so look much nicer than a lined jean. And they're light too.
Now, as ever, single-layer jeans come with different levels of abrasion resistance, although nearly all these jeans take hip and knee armour. At the lower end of the market we have jeans made from Cordura® and cotton. These jeans might deliver a slide time of a little over two seconds. That's not amazing, but in the real world rarely do we slide on any one area of fabric for more than a second. On the track, yes; but on the road, not so much.
We have jeans with a slide time of around four seconds, which puts them on a par with leather. But perhaps our favourite jeans are those made by Swiss maker, Rokker. They are lovely to wear, look super cool and have a slide time of 6.4 seconds, which is 50% better than leather. They're the nicest single-layer jeans out there, but their quality is reflected in their price.
We even have a single-layer jean with a slide time of 11 seconds. This makes them the most abrasion-resistant jeans on the market; stronger than even the toughest lined jean. They're perhaps not quite as nice to wear as the Rokkers, but they are more than twice as abrasion resistant as leather.
When it comes to considerations of safety, of course, the other thing you have to realise is that single-layer jeans deliver their strength everywhere, whereas lined jeans are only protective where there's a lining. Some lined jeans deliver 100% coverage, but many offer as little as 20%!
Anyway, here below we list 10 pairs of our favourite single-layer pants. Some are jeans, but we've also featured single-layer chinos and cargo pants. In the coming years, all the protective motorcycle wear manufacturers will move to single-layer; and indeed already lined jeans are starting to feel a little old-fashioned. Anyway, we hope you like our selection of some of the best of the current crop.
THE ROKKER ROKKERTECH SLIM
The fabric used by Rokker in this jean is called Armalith. It's incredibly strong; in fact, it's one of the strongest wearable fabrics on the market. On YouTube there's a video of a Hummer 4x4 being hoisted by a pair of Armalith jeans. These jeans are more abrasion resistant than any leather or textile touring pant out there. But because there's no lining, they are incredibly light and easy to wear. Bottom line; if you didn't know these were protective jeans you would simply think they were a regular, high-quality denim pant. The Rokkertechs take D3O armour in the hips and knees. The pants come in four leg lengths, and as the armour pocket is fixed you need to order the right length to get the armour in the right place. Remember, obviously, that to be right on the bike, the leg length needs to be longer than it would be for the street.
---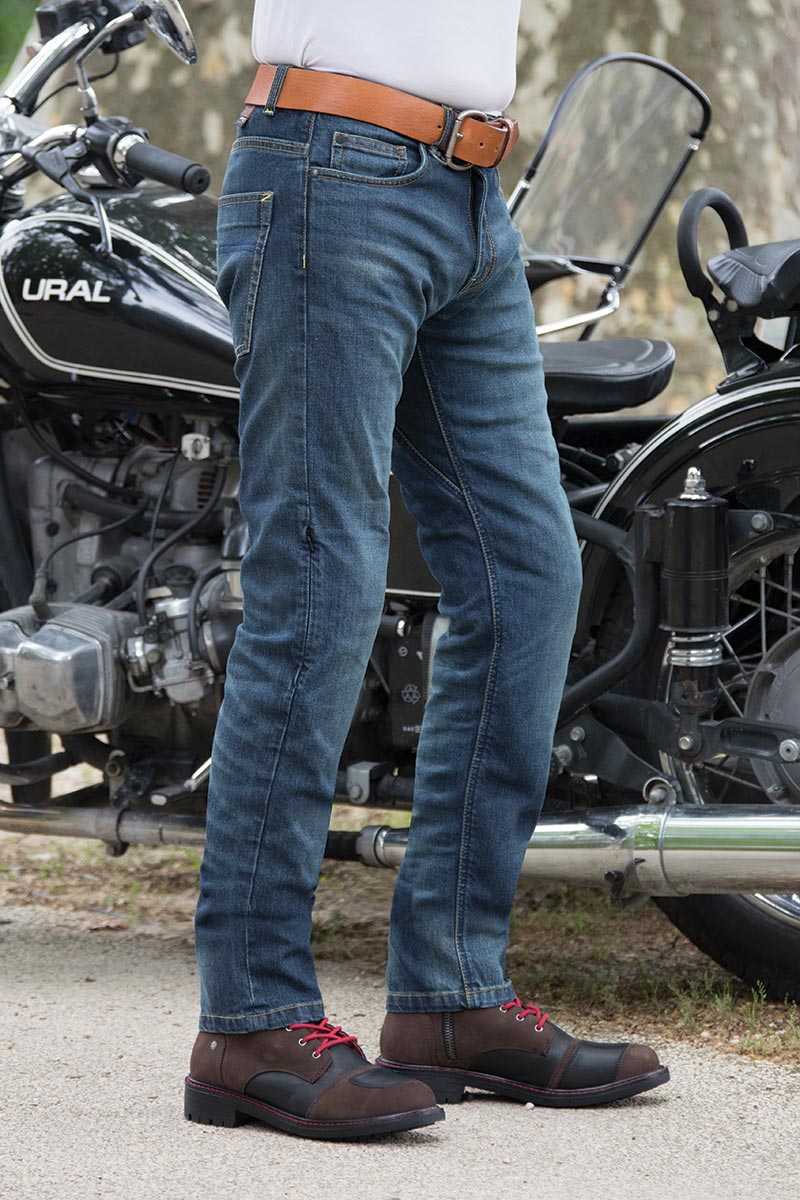 THE SPIDI J TRACKER
Made from a mix of cotton and Cordura, the J Tracker jean delivers an official slide time of just over two seconds, but for many motorcyclists that may be more than adequate. A jean like this is going to perform infinitely better than a shop jean, which will almost certainly just bust on impact with the road. If you ride around town a lot, and tend to poodle about rather than give it gas whenever you can, the Spidi J Tracker may be perfect for you. We wouldn't want to come off at 80mph in a pair of J Trackers but, in most circumstances, they will be up for the job if you come off at 50 or even 60 mph. But the reason for our enthusiasm for the J Tracker is how they feel and wear. They're no heavier than a pair of lightweight Levis, and they're just as comfortable to wear. You could wear them all day, and just not think about them. They come with knee armour, but what's great about the armour is that it fits into a pocket from the outside. There's a zip concealed in the seam, and when you're not on the bike, you can simply take the armour out. They come with pockets for hip armour, by the way, but it is not supplied. This is a bike jean for people who don't really like bike jeans. We love them, and the price is amazing. There may be times when you want or need more protection, but much of the time the J Trackers will be everything you need. There are two washes for these jeans. One is a bit lighter than the other, but neither is aggressive.
---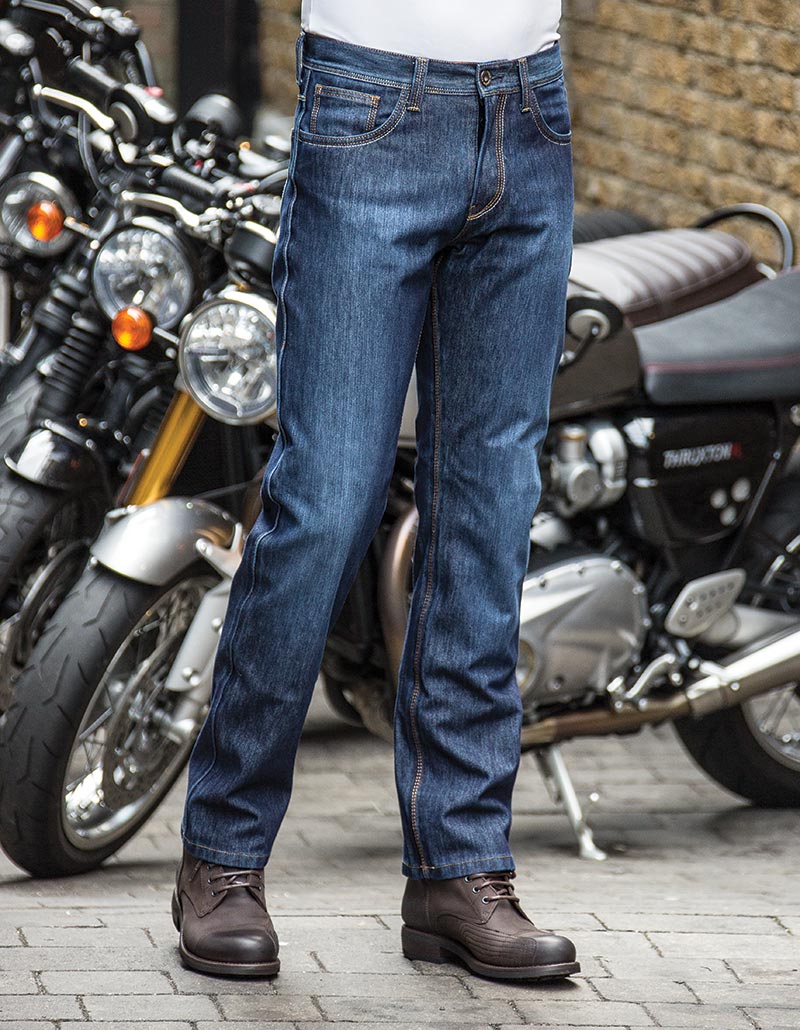 THE ROKKER REVOLUTION
The Rokker Revolution is a single-layer jean, but it is a single-layer jean with a difference; that difference being that it's waterproof. And we mean totally waterproof, because the 'C-Change' waterproof membrane in the Revolutions is bonded to the inner side of the highly abrasion-resistant outer fabric. This makes them every bit as waterproof as a £900 Rukka pant, and indeed you can ride in the rain all day in the Revolutions, and not get wet. The only way the wet can get into these jeans is via the two front pockets, so just occasionally you might get a touch of dampness on your boxers. The outer material is made from denim woven with Dynatec. This gives them a pretty impressive slide time of over three seconds. The jeans are super light, and the can best be described as relaxed in fit. But there is a downside to the Revolutions, and it is that, in really hot conditions, they can get a little sticky. And this is because there can be times when the membrane simply cannot cope with the amount of perspiration that is being generated by the rider. What we're talking about here is temperatures approaching the thirties. But in cooler conditions, and obviously when it's raining, these jeans are brilliant. The Revolutions do come supplied with D30 armour for the hips and knees, but to get the knee armour in the correct position, you need to order them in the right leg length, because the armour pocket is fixed. The leg lengths are 30", 32", 34" and 36", and we recommend going for a leg length that is a little longer than you would go for on a street jean. Rokker's Revolution jeans are quite special; there's nothing else quite like them.
---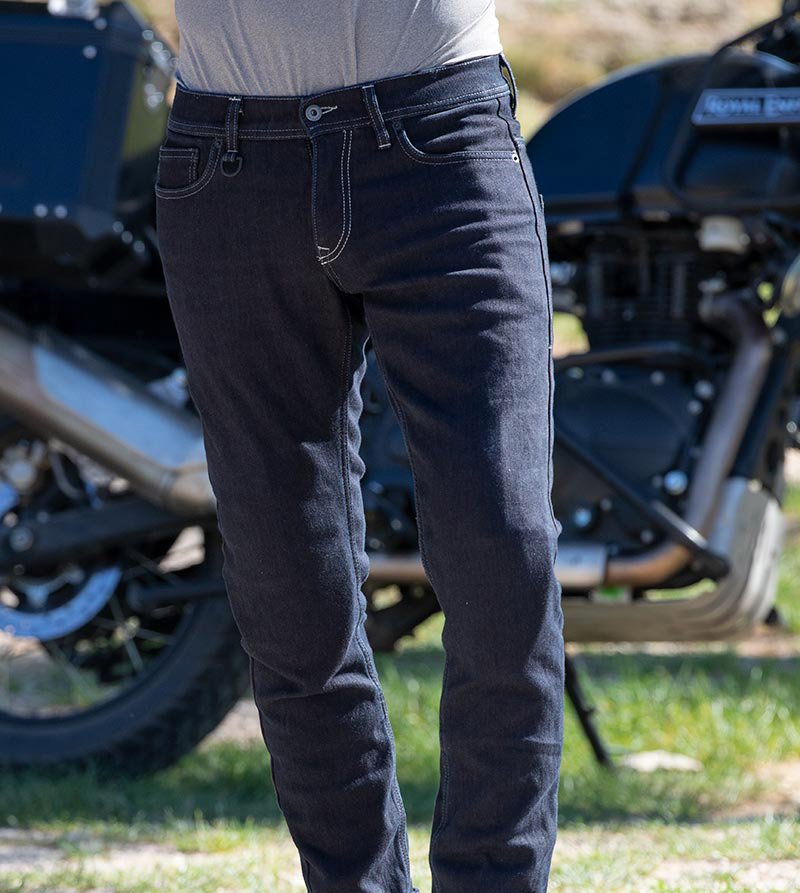 THE SPIDI J&DYNEEMA
Made with Dyneema fabric, the J&Dyneema jean offers a highly impressive level of abrasion resistance, with a 'slide' time of a little over four seconds. This puts the jeans on a par with leather and, frankly, this means you're getting a higher level of protection than you're probably ever going to need on the road, in normal circumstances. The fit of the jeans is pretty slim, and whilst Spidi calls this a black jean the reality is that it's a very, very dark blue in colour. It is, of course, a single-layer jean, but it does come with a mesh lining for comfort. The J&Dyneemas come with adjustable, CE armour in the hips and non-adjustable armour in the hips.
---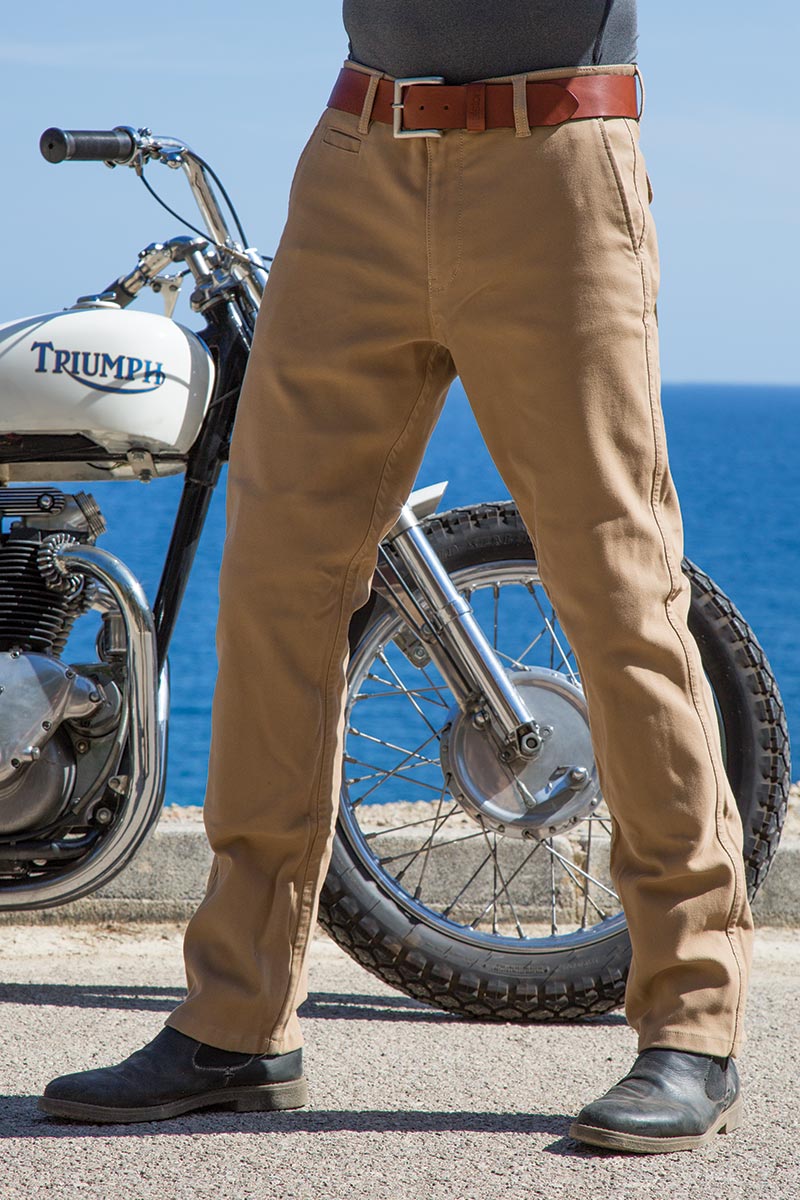 THE ROKKER CHINO
Rokker make the best motorcycle chinos money can buy. No contest. They're made from Dynatec and deliver an amazing 'slide' time of over six seconds, making them around 50% more abrasion resistant than leather. But, in the weaving, the material is treated for waterproofing, and although we would never call these chinos proper waterproof pants, many of our customers have reported of riding in them for an hour or more in the rain without getting wet. On balance, though, we would still consider Rokker's chinos to be strongly water repellant rather than properly waterproof. The cut is very neat, with a straight leg of an almost military bearing. The material is not light, per se. You wouldn't necessarily want to walk around in them on the hottest of days, but on the bike they will still flow the air very nicely. They take D30 armour in the knees and hips, although it does not come as standard. In the knees, the armour is adjustable. These chinos come in four different leg lengths, and to get the armour optimally positioned you need to order them in the correct leg length. Just remember that, for the bike, you will want a leg length that is a bit longer than you would go for on a pair of pants bought for normal street use. These chinos come in sand or black.
---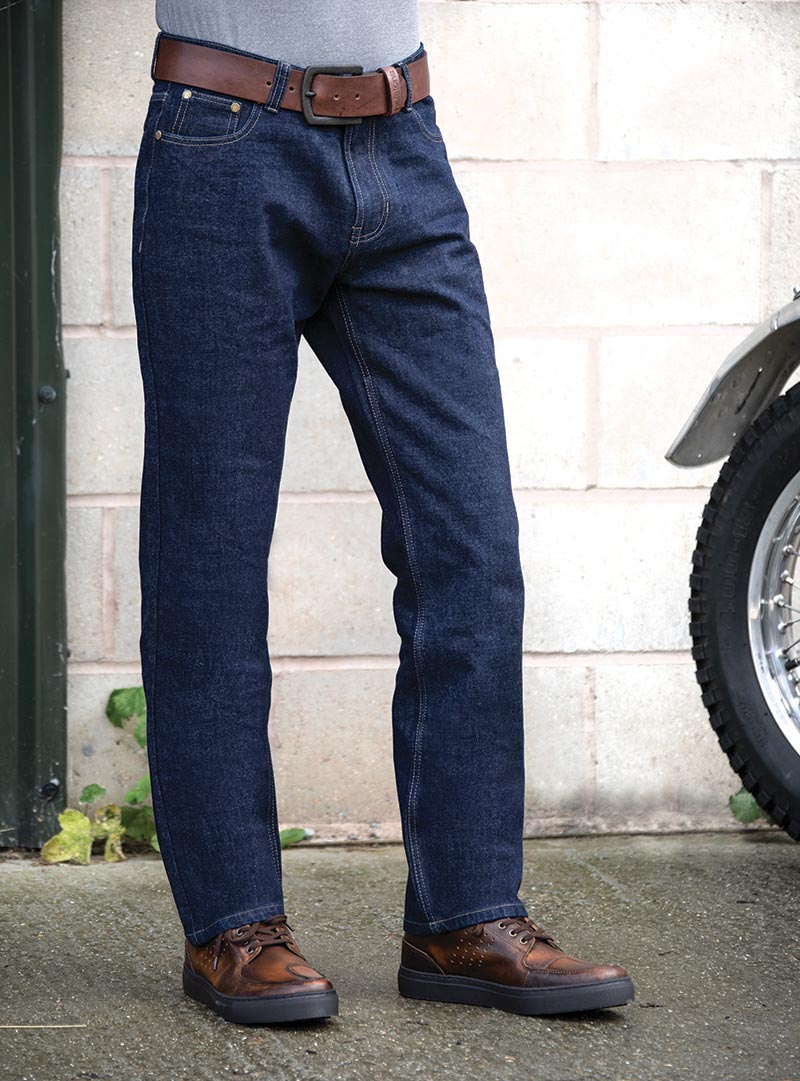 THE RESURGENCE NEW WAVE
Constructed out of Resurgence's Pekev Ultra single-layer fabric, the cut of the New Wave jean is what Resurgence call straight. In fact, given the current fashion for skinny and slim-fit jeans, one would have to say that they're a little on the relaxed side. They're probably a bit wider than a classic 501 cut; some would describe them as having a 'dad' fit! What we can say is that they are wider in the leg than Rokker's straight-cut jeans, and often if somebody finds the Rokkers too tight we'll end up going for the New Waves instead. What we can also say is that they'll easily fit over any road boot, and probably over most off-road boots. But actually what makes these jeans so amazing is their 'slide' time of 11 seconds, making them the most abrasion-resistant motorcycle jeans on the market; lined or unlined. In the margin, we'd have to say that most people find the Rokkers a little more comfortable, but that's the price you may have to pay if you want the world's toughest jeans. The New Waves come supplied with D3O armour for the hips and knees. It is hard to overstate just what Resurgence has achieved with these jeans. From a protection standpoint, they blow everything else into the weeds. The New Wave jeans are finished in a raw blue denim, and are available in regular and long leg lengths.
---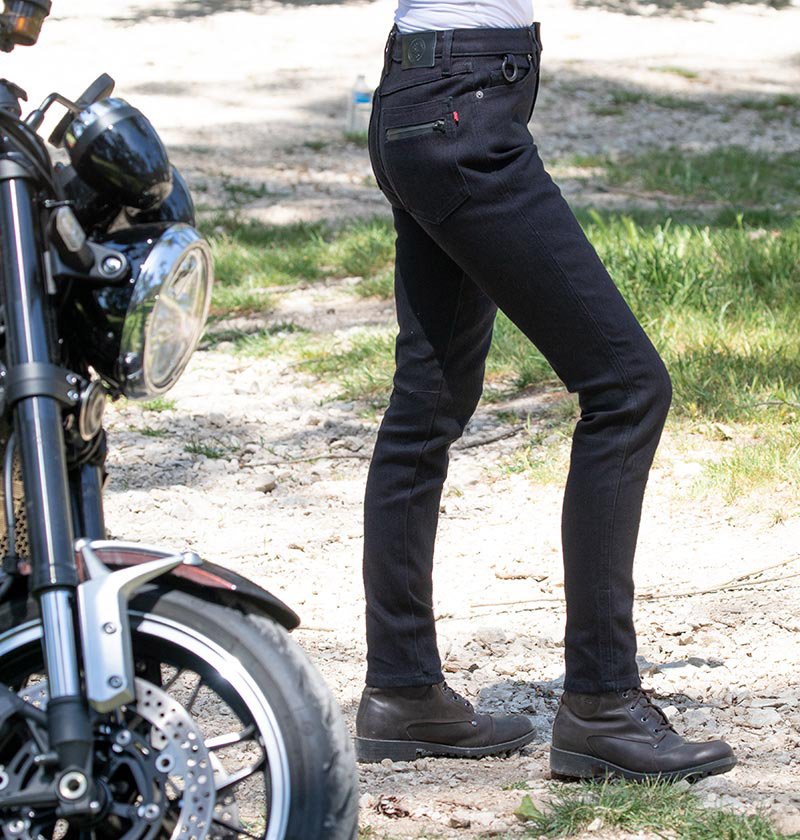 THE PANDO MOTO KISSAKI LADIES
Pando Moto is a relatively new, and hence not very well known, name in the motorcycle apparel market. They produce a range of jeans, some of which we are not convinced by, but there is one jean in their range we like, and it is called the Kissaki. It's made from Dyneema, a material that is also used by Spidi. It's not possible to be definitive on the matter, because we have not seen a Cambridge Test certificate, but we would expect these jeans to have a 'slide' time that is either just under, or just over, four seconds. Under the latest CE regulations, these jeans meet the AA standard, which is not unimpressive. The jeans are a proper black, and have a high waist. The waist is perhaps not as high as on the Rokker high-waisted jean, but the Kissakis will not leave anything showing. The fit is slim with a straighter leg than many ladies' jeans. Yet they are still very flattering. The market is not well served with single-layer jeans for women, and so the Pando Moto jean is a welcome addition. They come supplied with knee armour that is adjustable. Hip armour is available, but not supplied as standard.
---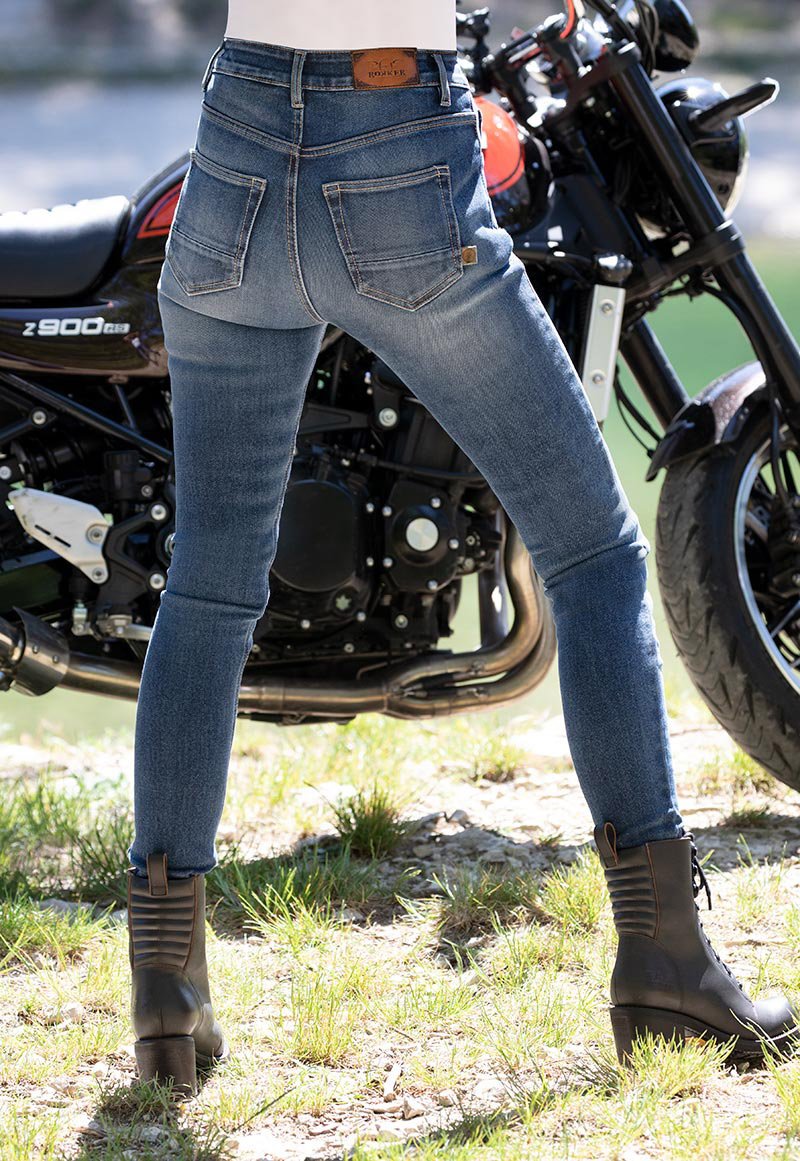 THE ROKKER ROKKERTECH LADIES HIGH WAIST
There are lots of ladies' motorcycle jeans on the market, but nearly all are compromised in one way or another. In some cases, it seems that they are more designed for the street than the bike, and so many have an unflatteringly low rise on the hips, which means that, on the bike, they reveal more than you might want. Others, at times, look nice, but offer little by way of abrasion resistance. In fact some offer no abrasion resistance at all, making do instead with no more than impact protectors in the knees. Those that offer higher levels of protection often come with thick Kevlar-style linings. Now these jeans work if you come off, but rarely do they look particularly flattering. What was required was a highly abrasion resistant, single-layer jean with no lining, with good, pliable armour, a high waist and, if at all possible, some stretch in the fabric. Well, the good news is that this is exactly what we have developed with Rokker. Called the Rokkertech High Waisted Ladies Jean, they are made from an Armalith fabric that delivers a slide time of over six seconds, and that's better than leather. They have an old-fashioned high waist, although we understand that high-waisted jeans are now very much on trend! The jeans contain Elastane for stretch, and take D30 armour in the hips and knees. They look fabulous on. They are hip-hugging yet immensely comfortable. They may not be cheap, but they are, in our humble opinion, the perfect ladies' motorcycle jeans.
---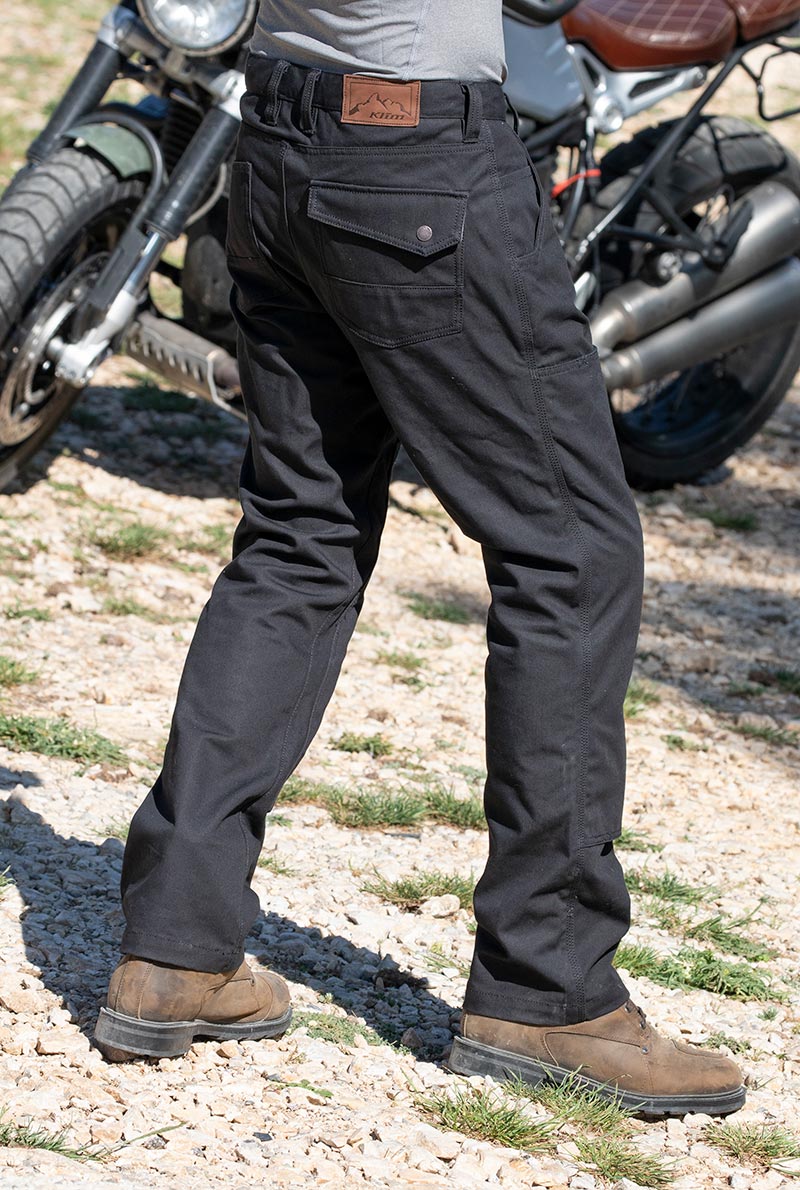 THE KLIM OUTRIDER
The Klim Outrider pant is very much based on the iconic, duck-canvas Carhartt pant; an American workwear staple. The Klim version is a single-layer pant. Now, despite the fact that the material is a basic cotton/canvas construction, it meets the latest CE regulations at the AA level. And that's impressive, because that's as good as any textile pant on the market; including the finest from Rukka! For abrasion resistance, you get Level 1, D30 armour in the knees and hips. The knee armour is adjustable, but the most interesting feature is that it fits externally, from an open, top-loading pocket. The fit is slimmer than your average Carhartt; slimmer also than a cargo pant, but it's not as fitted as a 501 jean. You get two front and two back pockets, plus two utility pockets on the sides. We like these pants. They fill a hole. They sit somewhere between a chino and a full-on, baggy, cargo pant. Okay, they have a relatively low slide time, but they're not expensive, and they're easy to wear. As a lightweight, summer riding pant, they take a lot of beating. The Outriders come in three colours: khaki, brown and black.
---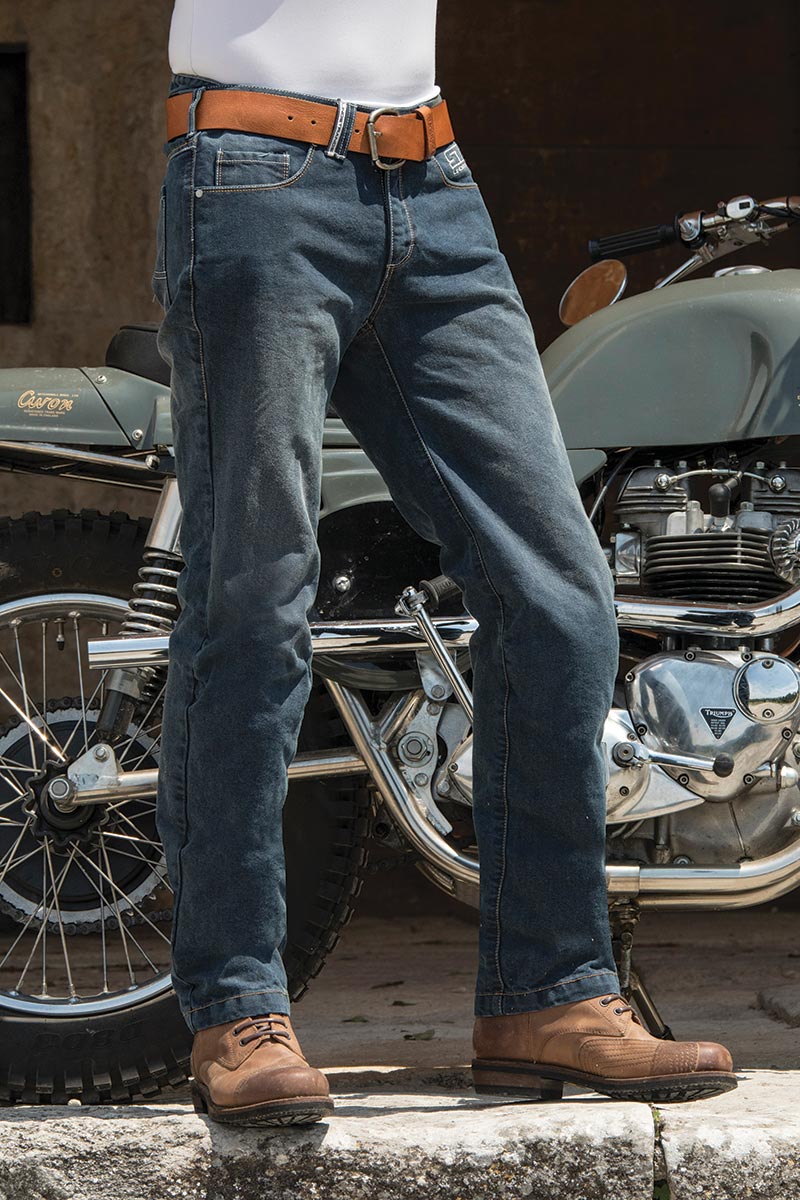 THE HALVARSSONS MACAN
Some single-layer jeans are stronger than others. Some are much stronger than leather; others are perhaps more suited to urban riding. But the hallmark of a single-layer jean is how easy it is to wear. They can be as light and comfortable to wear as a pair of Levi's. The Macan is at the heavier end of the single-layer spectrum, and they have a more relaxed fit than some jeans. They come with Halvarssons' Level 2 armour in the knees and hips, but what makes the jeans so remarkable is that, under the new CE regulations, they are AAA rated. That's a higher rating than any textile, touring pant on the market. And we reckon that means the Macans have a 'slide time' of around four seconds. This puts them in the same ballpark as leather. If you want a highly-protective, single-layer jean with a relaxed fit, you should check the Macans out.
---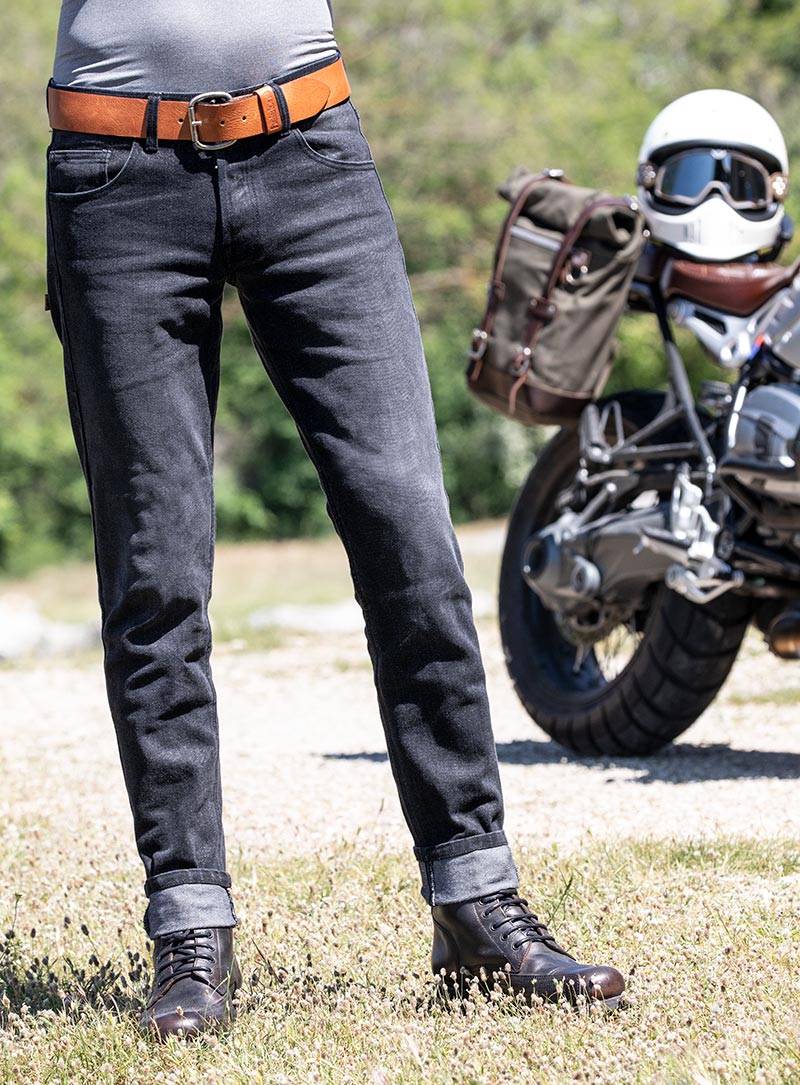 THE ROKKER ROKKERTECH SKINNY
Here at Motolegends, we are huge, huge fans of Rokker's Rokkertech jeans. They are made from a single-layer fabric that combines UHMWPE fibres with the finest 14 ounce, selvedge denim. The result is a jean that feels little different to a street jean. But the main benefit of a single-layer jean is that, in hot weather, it will flow air almost as well as a mesh pant. Rokkertech jeans really are lovely to ride in, in hot weather. None of this comes at the expense of safety, however, as these jeans have a slide time of 6.4 seconds, which makes them about 50% stronger than leather. They also come with pockets in the knees and hips that will take D30 armour. Now there is another black jean in the Rokkertech stable. It's coated, and looks a bit kinky, but our real problem with that jean is that it will not flow air like this jean. The fit of this jean is, apparently, more skinny than slim, but don't let that put you off. They're flattering without looking boy band. This having been said, they won't work on rugby players and the like. Obviously, they won't go over a tall boot, but they will work really well with ankle boots. To get the armour in the right place, order them in a leg length that is longer than you would go for with a street jean.
£349.00

---
Want some more? Please click here to return to our editorial menu.

Share this story