Top 10 biker accessories
Published on: 20/08/2018 08:41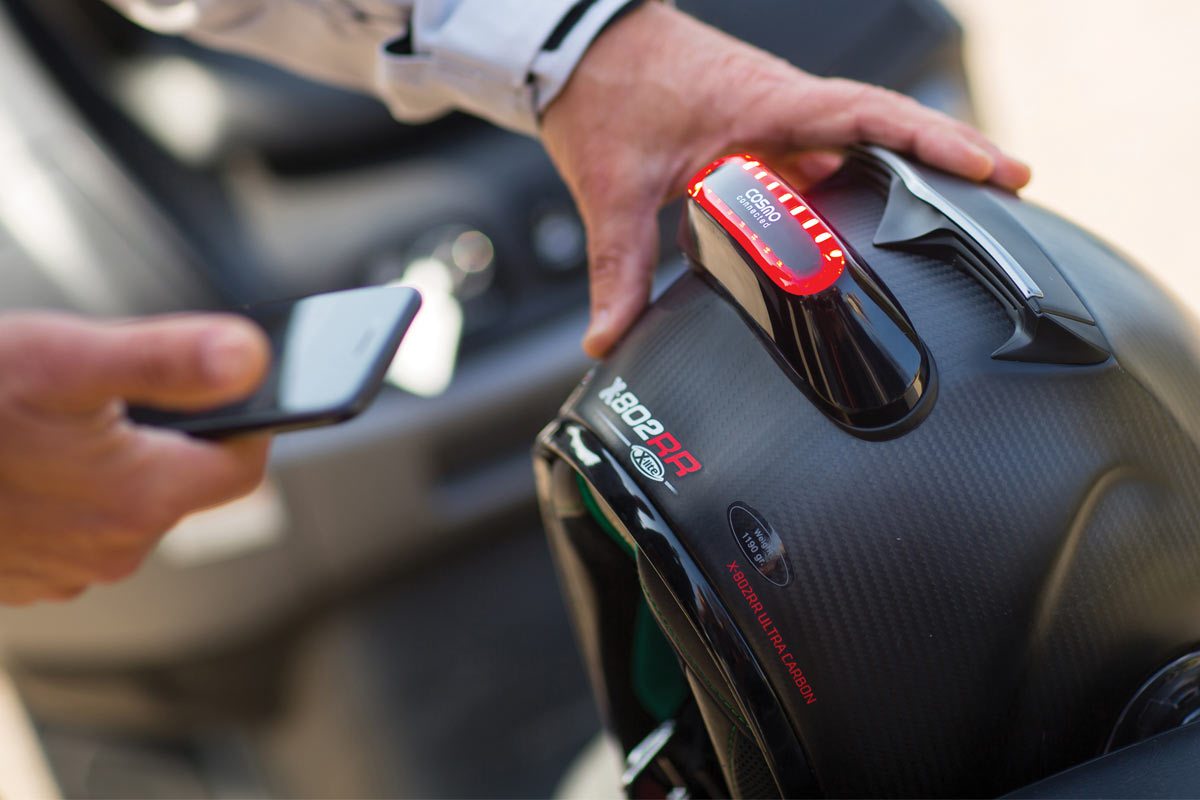 ACCESSORIES TO MAKE LIFE ON THE BIKE JUST THAT BIT MORE FUN, SAFE, AND COMFORTABLE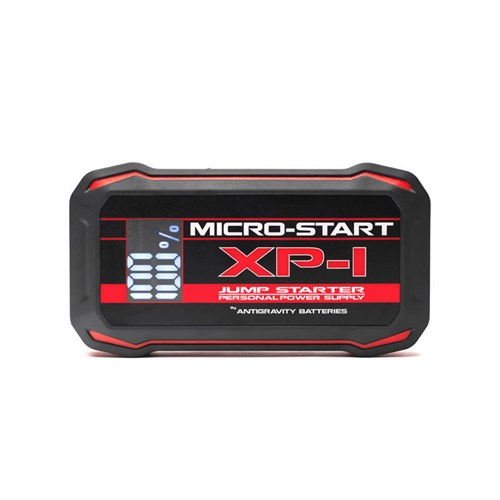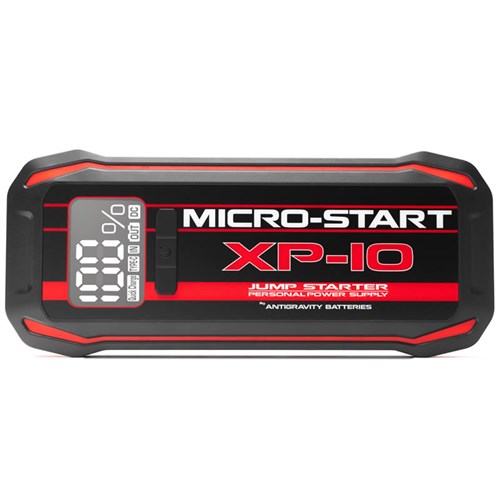 ANTIGRAVITY ENERGY BATTERIES
These can be a real 'life saver'; well perhaps not literally a life saver, but you know what we mean. Basically, they're back-up power packs that you carry around with you in case you find yourself with a flat battery. We've been using them for years, and we can tell you that they work. They've dug us out of problems on many occasion. There are two basic models; the smaller XP-1 that is iPhone size, and the larger one that's about twice the size. The smaller one will start most bikes and cars, although it can struggle on large capacity, high-compression twins. The larger version will start a cruise liner. Both can act as supplementary power sources, and often I have found myself using one to power a laptop, or to recharge a phone. I always, always have one in the car and, if ever I'm going on a decent trip on the bike, I put one under the seat or in a pannier. For some reason, whenever you get a flat battery, it's always cold, dark and wet. It's always a pain. But not if you've got an XP-1 or XP-10. See the website for more details.
Prices range from £159.99 to £209.99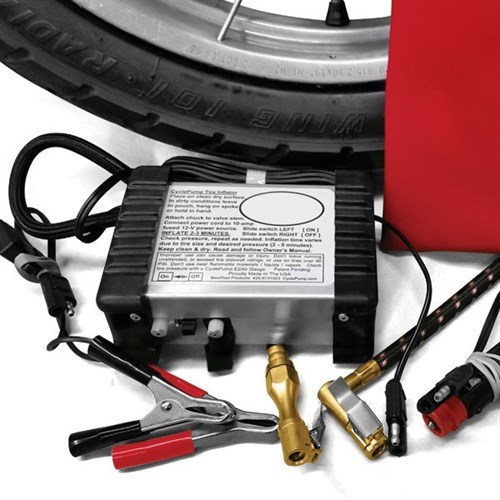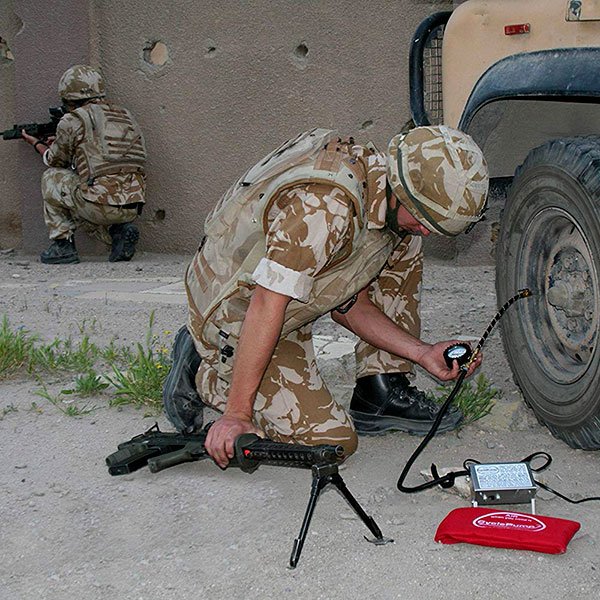 MILITARY SPEC. TYRE INFLATOR
Here at Motolegends, we are hypnotically drawn towards products that are simply better. We search out the best jeans, the best waterproofs, the best boots, gloves, and so on. Most motorcycle shops are keener to find the cheapest, but we are often, but by no means always, of the view that you get what you pay for. A case in point is this hard-ass tyre inflator that we bring in from the U.S. It comes in an indestructible, aircraft-grade aluminium case. It measures 2" x 4" x 6", so it's small enough to tuck away into your pannier, but it is more than up to the business. It will deliver 100 psi of pressure, and will inflate a motorcycle tyre from nothing in just two minutes. Personally, I prefer to use mine for the bike rather than visiting a petrol station because I usually find their chucks are too big to work on my wheels. These pumps were designed very much with back road adventurers in mind. They are also supplied to the UK Special Forces, so we reckon they're more than up to the job. One thing's for sure; you won't find it in Halfords or Argos.
£159.99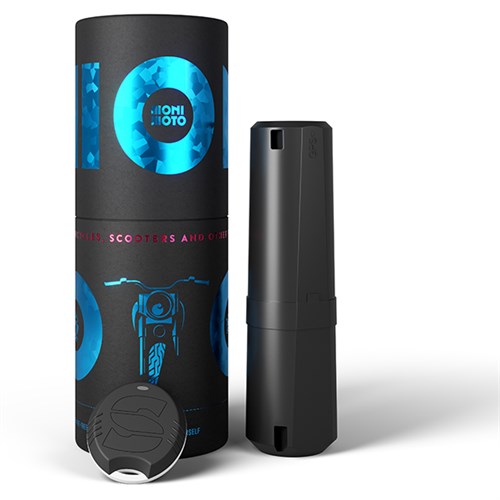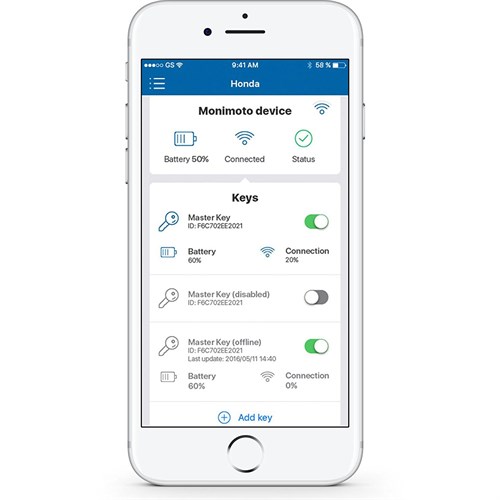 MONIMOTO MOTORCYCLE TRACKER
Now this really is a clever little device, and it's simple to use. Basically, you strap the device somewhere on the bike, and then pair it with your phone. The aim is to conceal it where it won't be obvious to a thief. If the device detects movement, one minute later you will receive a call. You will also be sent the bike's GPS location. All the while the bike is being moved, you will get an update every five to 10 minutes. Once the bike is static, you'll get an update every 30 minutes. As ever, the Monimoto is not a sure-fire way to prevent your bike being stolen. If the thief finds the transmitter (it measures 125 mm x 35mm), and disposes of it, it won't help you. But if your bike has been taken by an opportunist, there's at least a possibility that you'll be able to locate the bike. It doesn't mean that you shouldn't use disc locks, chains, ground anchors or whatever, but the way things are, we reckon that every little bit helps. It doesn't cost a fortune, does not need to be expertly installed, and could conceivably save you thousands of pounds.
£144.99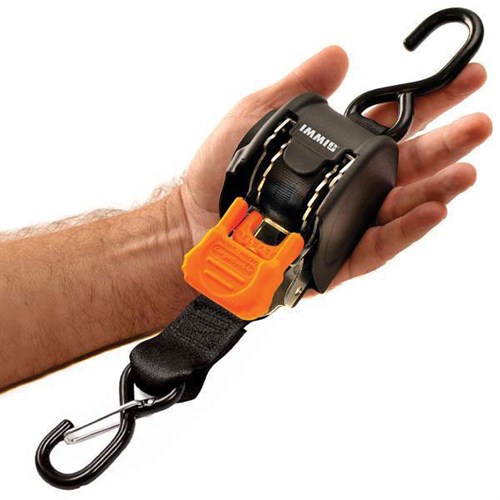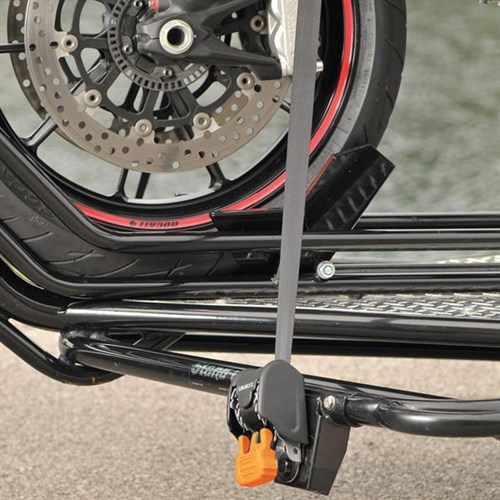 A MOST SUPERIOR KIND OF CARGO STRAP
Every biker, indeed everybody, will one day find they have a need for a set of cargo straps. If you're transporting a bike, you'll definitely need a set, but they have so many other uses. Once you've got a set of straps, you'll wonder how you ever lived without them. But most are cheap and relatively crude affairs. They do the job, but they're messy, and can be tricky to use. At times, it helps to be a contortionist. Rocket science is not involved, but they can be a pain to use. Well, our Cargo Buckles, which we bring in from the U.S. are brilliant. The strap automatically returns into its cartridge at the touch of a button, meaning that you don't have to tidy up dirty straps, or coil them up to keep them out of the way. The straps are self-retracting, so they're always nice and neat. Hook up one end of the strap, then just pull the other end and hook it onto the latch point. Tighten with the ratchet, and you're done. If the load moves, and the strap loosens, it will automatically tension itself again. Honestly, these straps are simply cleverer and neater than anything you've ever used. The ones we do have straps that are one inch wide, by six feet long. They're more than up to securing any bike.
£79.99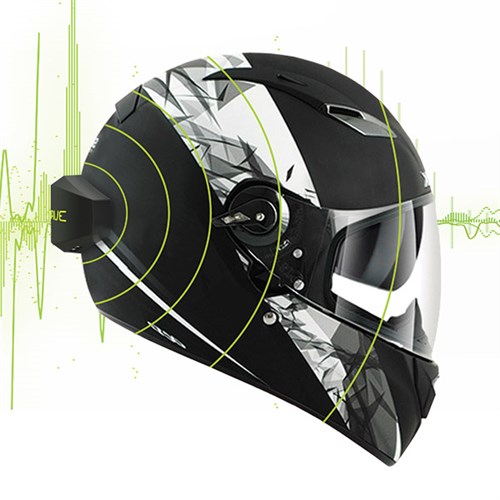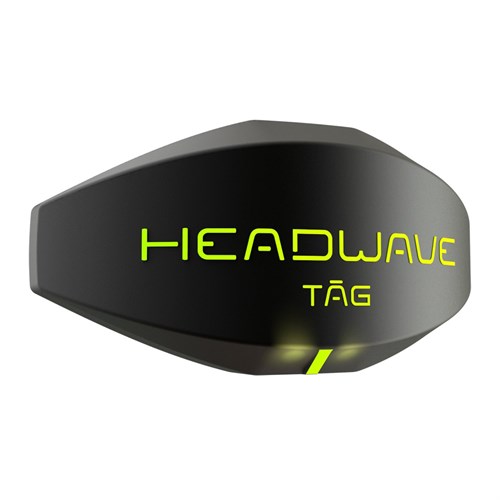 HEADWAVE. A LOUDSPEAKER FOR YOUR HELMET
The Headwave is like a boombox that you stick on the back of your helmet. You then Bluetooth your phone or iPod to it so that you can listen to music, or even just the directions from your GPS. It works by using the shell of the helmet as a speaker. It creates a quality of sound that is in a different league to anything you'll hear through the speakers of a traditional comms. unit. It can be much louder, but you also get fabulously deep bass tones. You don't install Headwave; you just stick it on the helmet with the enclosed, self-adhesive panel. There are no speakers inside the helmet; instead your head becomes part of the speaker. It's quite amazing. Once you've stuck the Headwave onto the helmet, it's pretty much impossible to knock it off, but there is a technique that enables you to quickly remove it to transfer it to another helmet. When you do this, the Headwave leaves no residue. If you want to receive GPS instructions or listen to music without the hassle of installing a comms. unit, the Headwave might just be what you're looking for. The price has also recently been reduced by a hundred squid!
£199.99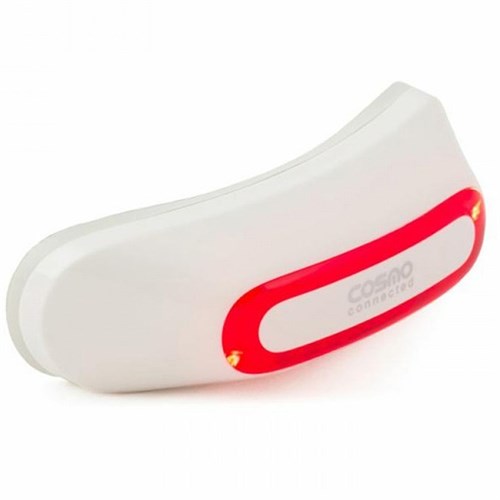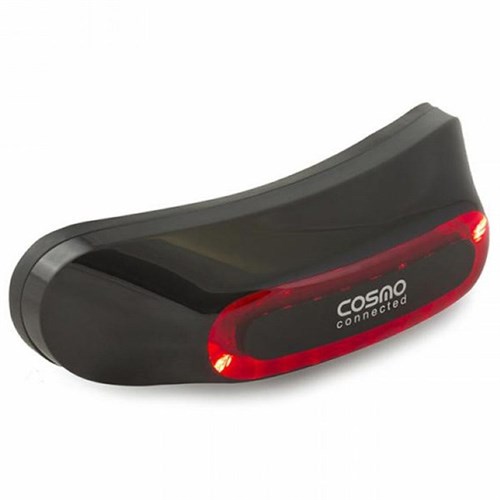 COSMO HELMET BRAKE LIGHT
The Cosmo helmet brake light costs £130, and it might just be the best hundred and thirty nicker you'll ever spend. In essence, you stick a small magnetic panel on the back of the helmet. The Cosmo device attaches to that magnetic strip. You'll find it almost impossible to pull it off; it sticks on pretty tight. But if there's a lateral force applied, as in an accident, it'll instantly detach. The light uses a built-in GPS to detect deceleration, and when this happens, the brake light comes on. There are different settings so that the light comes on from nothing, or it can operate on the basis of an increasing intensity of light. You can also set it to flash when you brake. What we like particularly about the Cosmo is the height at which it sits when you're on the bike. There's lots of evidence that cars with a brake light in the window are less likely to be run into. If that translates to bikes, then the Cosmo is worth every penny. You can also set it to call somebody if there's an accident. It can even call the emergency services.
Click here
to read our full review.
£129.99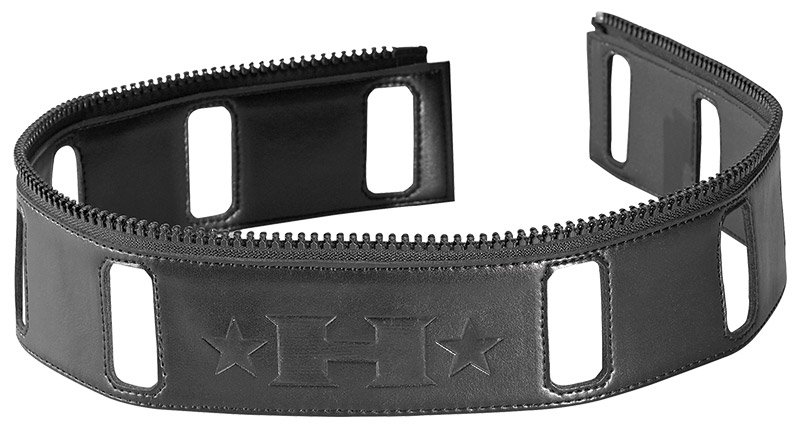 HALVARSSONS' AMAZING WAIST ZIP
The truth is that this fiendishly clever little device only works if you've got a Halvarssons, or a Rukka, jacket. So if you haven't, you don't need to go any further. In essence, it goes around your waist. You take a normal belt and weave it in and out of the belt loops in your jeans, and the cut-outs in the Waist Zip. Once it's fastened in place, you can zip your jacket to it. Now, this will stop you getting draft up your jacket. It will also stop rain going down your pants. But more importantly, if you have a spill, it will keep the armour, and particularly the back protector, in place. The danger is always that, if you go down the road, the jacket can ride up leaving your back totally exposed. We think the Waist Zip is a simple but exceedingly clever little device; well worth its £20 asking price. It's a godsend if you want to wear jeans with a Rukka or Halvarssons jacket. It's proven immensely popular as a way of connecting a Rukka Forsair jacket to a pair of Rokker jeans, for example. But, in fact, even if you go touring, it's really useful. You can wear Halvarssons' Prime or Wolf jacket over a pair of Resurgence jeans. As we've said it's a simple idea, but it could come in very handy. We do it for both
men
and
women
.
£19.00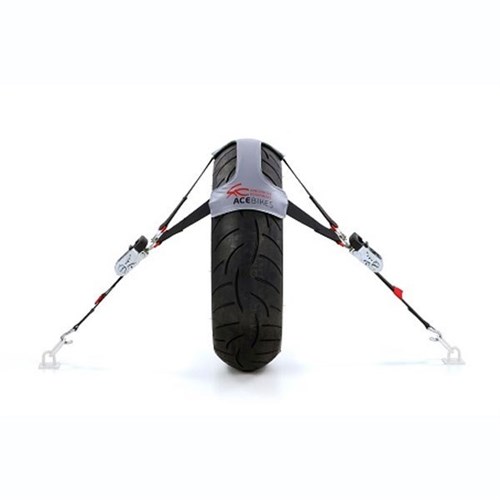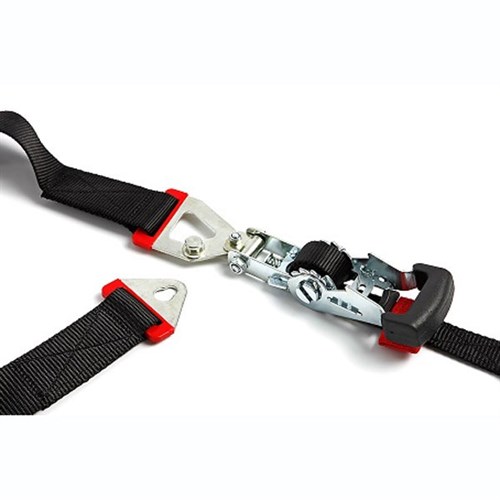 ACE TYRE FIX
If you move bikes around for a living, you'll have found your own way of securing bikes in a van or to a trailer. It will be taken care of on muscle memory alone, and you'll fail to understand why anybody has a problem undertaking a task that, to you, is as simple as brushing your teeth. But to the rest of us, the process is nerve racking. Securing a bike safely and securely can seem like a branch of the dark arts; an activity that can strike a level of fear bordering on paralysis. The Ace Tyre Fix takes all the worry away (well, nearly all of it). Make sure that the front wheel is locked into a wheel chock. Then put the Tyre Fix on the rear wheel, and tighten the straps, pulling them slightly forward. It doesn't put any pressure on the suspension, you don't need strong mounting points on the bike, and you won't damage the machine's paintwork or chrome. Honestly, it couldn't be simpler. You'll still need to strap the front end down, but do that, and you're safe as houses. That having been said, I personally still put an old beanbag either side of the bike, but that's just me. I'm a bit over cautious. The Tyre Fix is not expensive, and it works on just about every kind of bike. It really does take the stress out of transporting your bike.
£69.99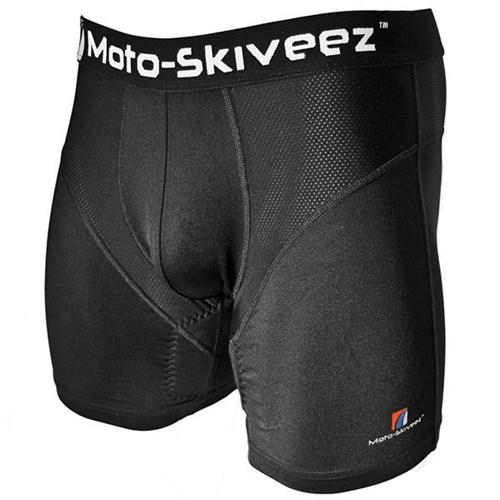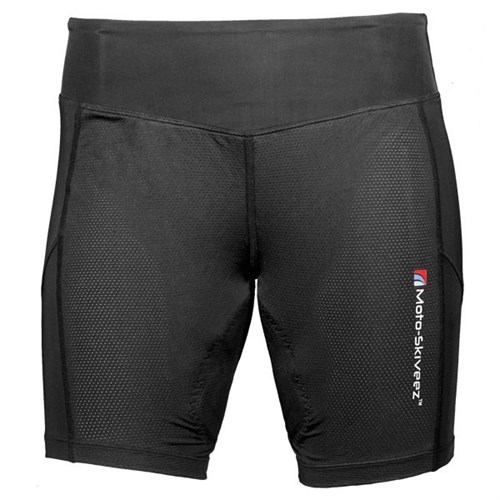 MOTO SKIVEEZ
Developed by a former pro-cyclist, Moto Skiveez do for motorcyclists what padded Lycra shorts do for pedal pushers. They were developed in conjunction with the TRF research facility in Verona, where thermal cameras were used to identify the key 'hot spots' that are generated when you ride a motorcycle. This led to the creation of four different riding shorts; one for sports bikes, one for adventure and sit-up bikes, one for cruiser-style bikes and one for ladies. The idea is very simple; they aim to make long-distance riding more comfortable. Frankly, if all you ever do is potter around the local roads, they won't serve a purpose. We've not even sure they would work for commuters, but if you regularly tour on the bike, or spend long hours in the saddle as a courier or blood runner, you might find that they extend your riding day. All we can say is that many people who try a pair come back for more. That kind of tells us that they work. For us, anything that makes riding a bike more comfortable is worth a try.
£64.99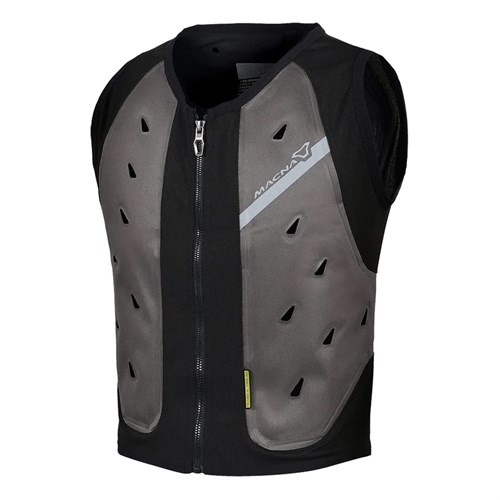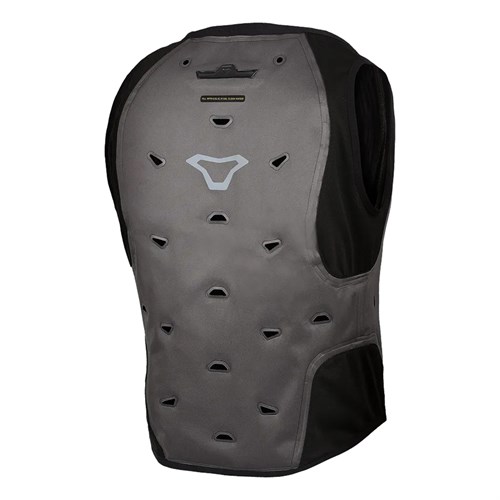 MACNA'S BRILLIANT COOLING VEST FOR THE HOTTEST CONDITIONS
If the conditions are really hot, a mesh jacket may not work for it may only increase the flow of hot air to the body. Macna's vest works through a process known as evaporative cooling. Basically, you fill the vest with water. When you wear it, the water will heat up both from the heat of the body, and potentially the heat from the atmosphere. This will cause the water in the vest to evaporate. When this happens, the surface from which the evaporation emanates cools down. In this case that surface is effectively your skin. We've ridden in one of these vests in the searing heat, and we have to tell you is that they really do lower your temperature. You should wear a thin, technical, base-layer beneath the vest and, ideally, a breathable, mesh-style jacket over the top. Do this, and you'll be amazed at how much cooler your core will be. Getting too hot on the bike can be very dangerous. You dehydrate, and then lose concentration and, from that point, you're in trouble. But in this cooling vest, you don't do the sweating, the vest does. If you're going to be riding anywhere in the southern hemisphere, or even in the southern parts of Europe or the U.S., Macna's vest will make your riding much more comfortable and, as a result, safe and more pleasurable. This isn't a gimmick; it's an indispensable tool.
£139.99


Want some more? Please

click here

to return to our editorial menu.
Share this story