Top 10 ladies motorcycle clothing
Published on: 14/08/2018 16:26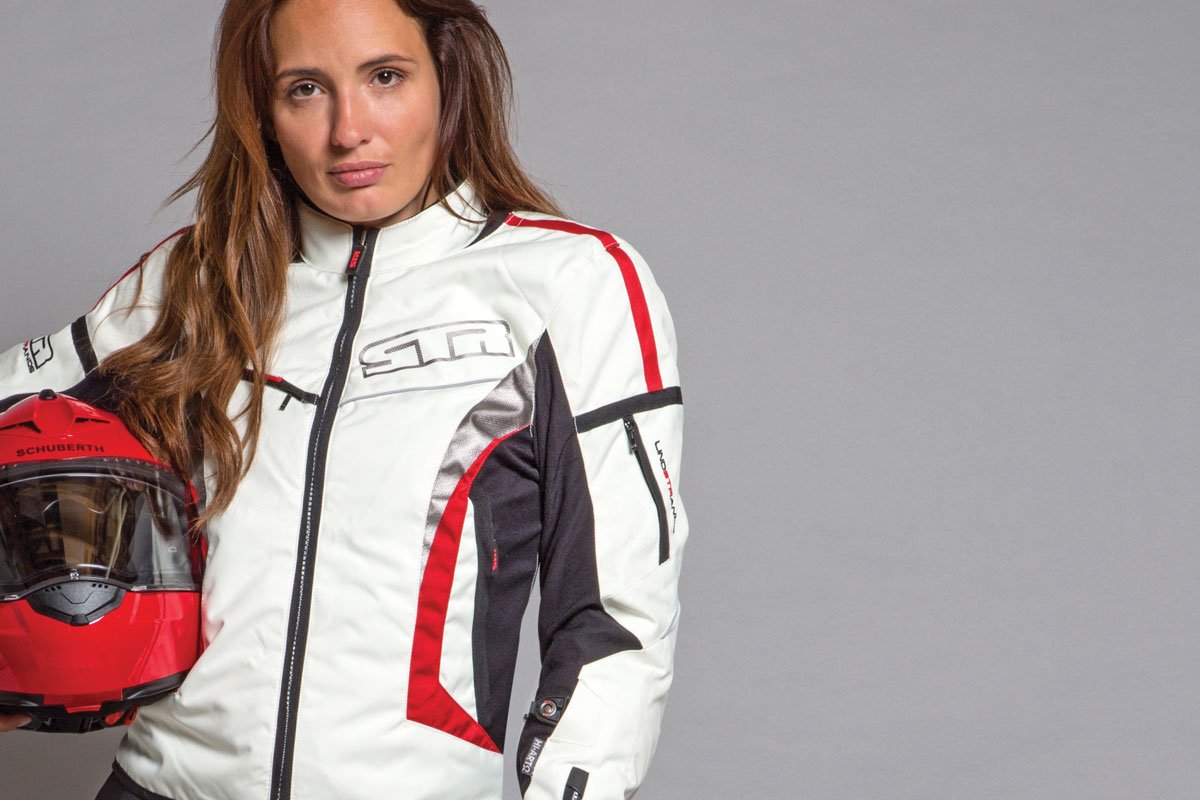 OUR TOP PICK OF MOTORCYCLE CLOTHING FOR LADY BIKERS

Very few of the motorcycle clothing manufacturers put much effort into producing clothing for lady motorcyclists. Yes, the market is much smaller than it is for men, but the reality is that it's harder to get women's clothing right; to get it to fit properly, and to work the way it should on the bike. We go to dozens of presentations from the clothing manufacturers every year, and usually the last five minutes is given over to the few styles that have been produced for ladies. Our M.D. is a lady biker, and so we probably work harder to get women's pieces than do most retailers. But it is never easy. Of course, we make matters worse because we're not prepared to sell the stuff that looks great but that provides no protection. And we don't go for all the pinks and purples, the flowers and swirly patterns. We're always looking for great gear, but we're disappointed more often than we would hope. Nevertheless, we think we've put together a nice collection of clothing that enables us to meet most people's needs. You'll find our entire range on the website, however, but here we've listed just 10 of our favourite pieces. We hope you like some of the stuff we've chosen. Of course, if you want to really find the best gear for you and your riding, you should pay us a visit in Guildford.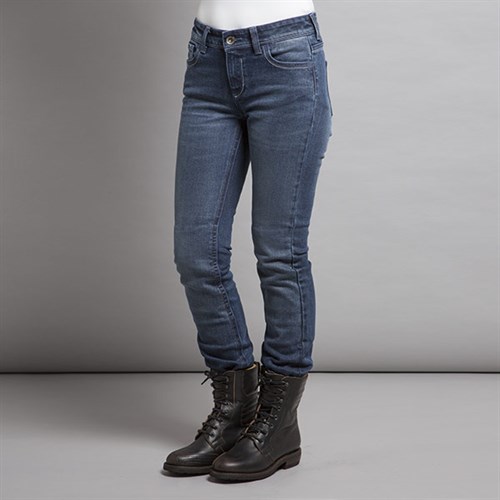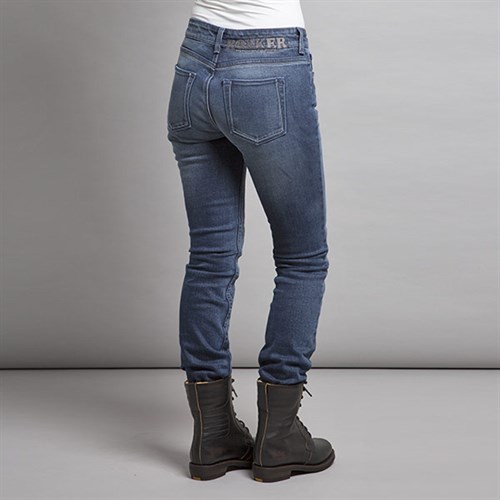 ROKKER ROKKERTECH JEANS
Rokker's Rokkertech jeans are the best. They wear like a pair of Levi's, but offer protection that is way better than leather. Not everybody realises that there's also a Rokkertech jean for ladies; and they work incredibly well too. Without a lining, the fit is flattering. After all, not that many people really go for the padded trouser look. The Rokkertech jeans have a nice, high waist, which is important on the bike. They've also get a little bit of stretch. Most motorcycle clothing manufacturers view women's gear as an after thought. It's difficult to get right, and the challenges of making it work are huge. But with the Rokkertechs, our Swiss friends have done a terrific job. They look great on, are nice to wear, and deliver huge levels of abrasion and impact protection. Of course, they're not the cheapest jeans on the market, but they're a lot less expensive than a pair of Stella McCartney jeans. And hers don't even come with armour!
£349.00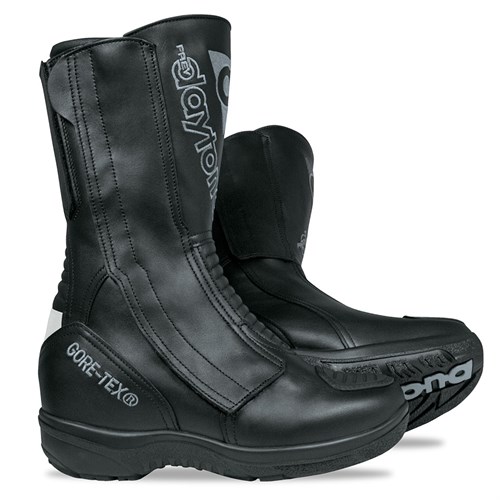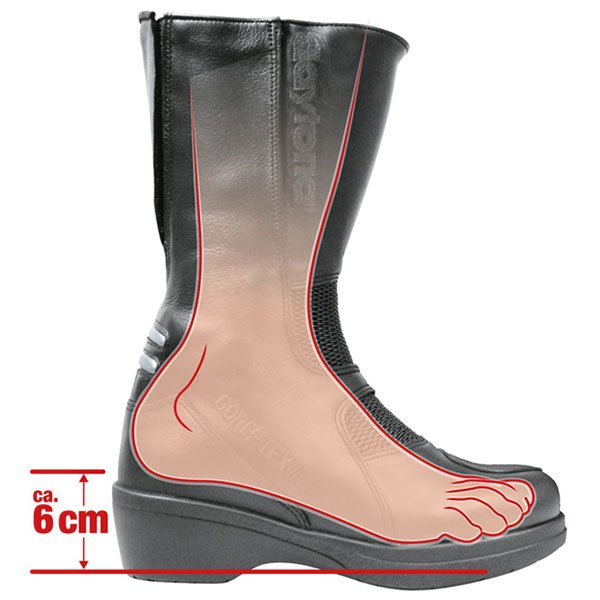 DAYTONA LADY STAR GTX
If you want to wear a shorter, Timberland-style boot, we don't think there's much that beats the TCX Lady Blend, but if you're looking for something a bit more serious, something a bit more protective for touring or commuting, then the Daytona Lady Star gets our vote. Now this is not really the time or place to get too deeply into it, but Daytona makes the world's best motorcycle boots. They're the most comfortable and the most waterproof. They're as safe as anything out there, and you'll be hanging up your helmet well before you have to retire these boots. In fact, come what may, Daytona will repair them in 5, 10 or 15 years' time. The Police always wear them, as do most knowledgeable long-distance commuters and world travellers. Their ladies' boot is lovely, but it has a little trick up its sleeve; it's got a hidden internal 6cm heel lift that will give you just a bit more height on the bike. If, occasionally, you have to tip-toe to manoeuvre the bike, in a Lady Star you won't need to. Or rather, you will, but the sole of the boot will be totally on the road. If, of course, you're 6ft 6 inches with 4ft long legs, you won't need these boots, but for many lady riders they're a godsend. Expensive, without a doubt, but honestly a pair of Daytonas really does constitute an investment in your riding career. Try a pair, and you'll see what we mean.
£399.99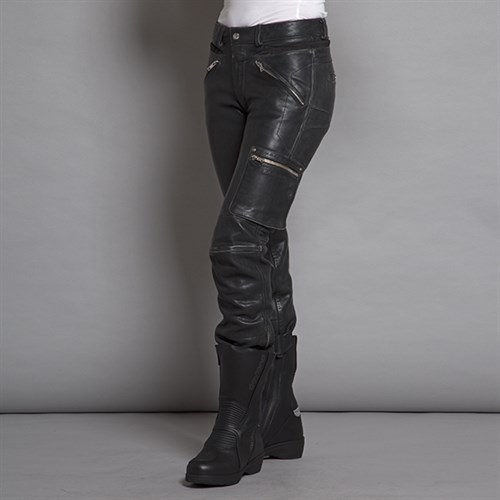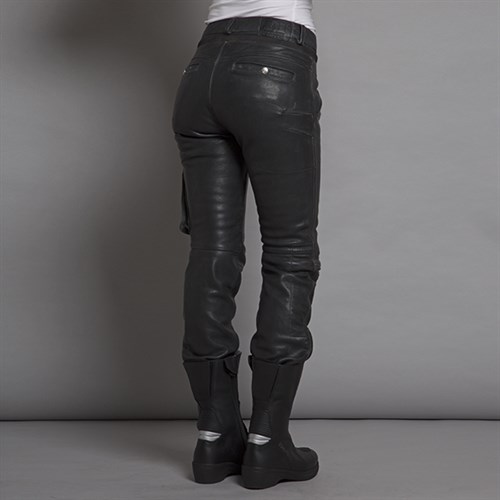 HALVARSSONS RIDER PANT
Deep down, who doesn't want to get off the bike wearing a tight-fitting pair of cool-looking leather pants? The problem is that most of the leather jeans out there aren't particularly nice to wear. The racing leather pants are often too heavy. The Cruiser pants are too fussy. Whilst on many pants the leather just isn't all that nice. Well the Rider pant from Halvarssons might just fit the bill. They're made from a super-soft goatskin that has been washed for greater suppleness. And although goatskin is stronger than cowhide, the leather is backed in the more vulnerable areas with Halvarssons' highly abrasion-resistant Hi-Art lining. The fit is slim, and they look great on. They come with CE armour for the knees and hips. On the thigh there's a useful cargo-style pocket. The bottoms of the legs have a raw finish that can simply be cut to length, or properly hemmed. Come and see us, and we'll do that within the price.
£299.00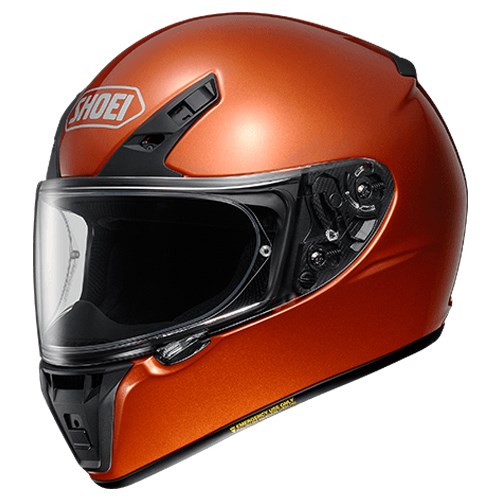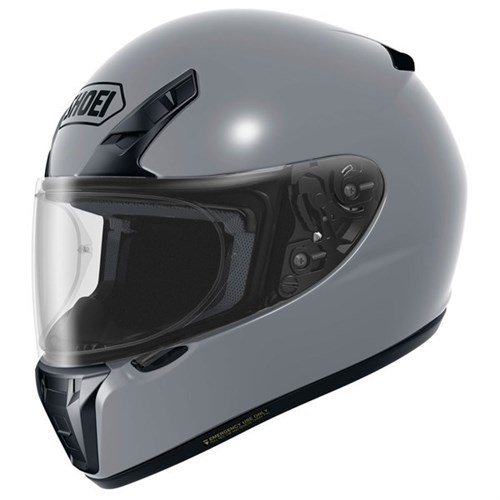 SHOEI RYD HELMET
If a lady comes into the Guildford shop and asks for a full-face helmet, we will nearly always go straight to the Shoei RYD, although in truth we will often do the same thing with guys. It's a terrific helmet. As we can change the head linings and cheek pads, we can make it comfortable on just about any head. It's quiet, well ventilated and beautifully put together. You won't get pink flowers or purple patterns on the shell, but in truth we're not really into that particular aesthetic. In fact, the colours are all a bit grown up and understated. But the reason it nearly always works well for ladies is that it's incredibly light. And light helmets put less strain on the neck, and are less tiring to wear. The only downside with the RYD, from our perspective, is that it doesn't come with a drop-down visor. But if you want to protect you eyes from the sunlight, we do a great deal on what's called a Photochromatic visor that darkens and lightens automatically. The price of the RYD is a very reasonable £300, but you wouldn't get anything better if you paid twice as much. If you want the Photochromatic visor, the cost would be £390.
£299.99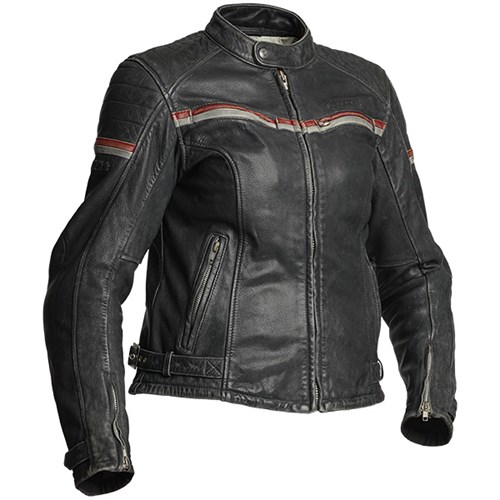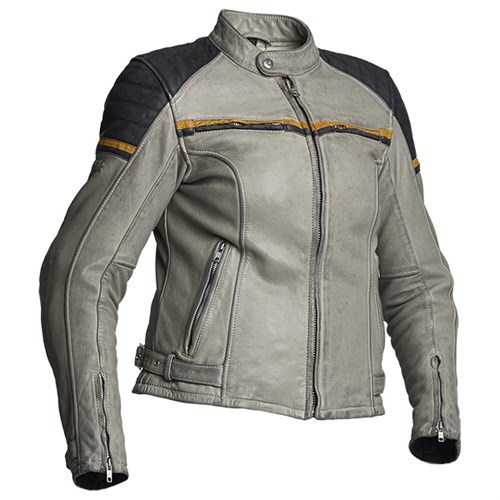 HALVARSSONS EAGLE LEATHER JACKET
Goatskin makes for wonderful motorcycle clothing. Goat hide is stronger than cow hide for the same thickness, but because it tends not to be as thick, it is lighter, and hence nicer, to wear. The Eagle jacket from Halvarssons is new for this year. It's what we'd call a back-to-basics jacket. You don't get loads of bells and whistles. There's no waterproof membrane, no thermal gilet, no venting and so on. But it's super soft, light, and easy to ride in. The leather has been washed for extra softness and a vintage look. And in key areas you get Hi-Art for added abrasion resistance. It come with Halvarssons' latest Level 2 armour in the shoulders and elbows, and there's a pocket for a D3O back protector, (ask for a T8). At the waist there's a handy adjuster that allows the fit to be adjusted, and there's a zip that allows you to zip the jacket to a Halvarssons' pant. But don't forget that if you buy Halvarssons clever Waist Zip (£20), you can zip the jacket to any jean or, in fact, any trouser that takes a belt. The Eagle comes in two colourways, and for us it's the perfect summer-weight leather jacket.
£349.00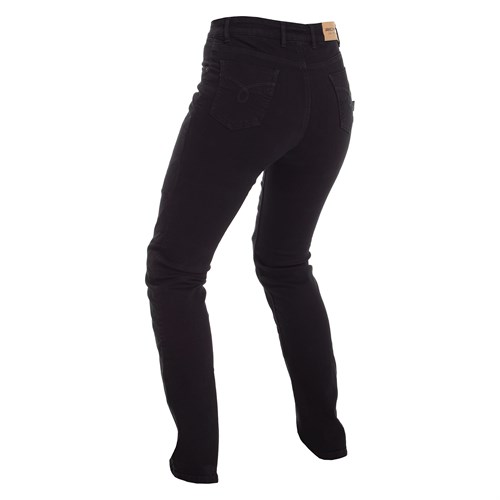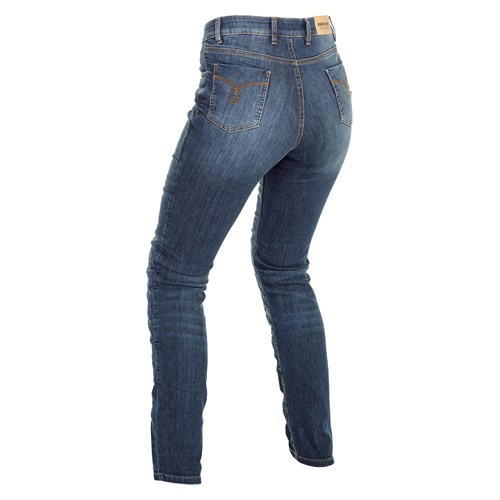 RICHA NORA JEANS
If you can afford them, we'd always recommend you try on a pair of Rokker single-layer jeans, but at £350 they're a big ask if you don't spend a lot of time on the bike. Another jean we often recommend is the Richa Nora. It's less than half the price of the Rokkers, but it has a really useful 1960s'-style high waist and a lot of stretch. Most people who try them on love them. The fit is comfortable, and the higher waist works well on the bike, meaning that you'll never have to expose the bits that you don't really want the world to see. For abrasion resistance, the jeans are lined with Kevlar. Now they're not 100% lined. Jeans that are tend to be hot, uncomfortable, and not particularly shapely. Instead, the Kevlar sits in the places you're most likely to need it. And the layer is thin enough not to be obtrusive. There is adjustable D3O armour in the knees, so we can nearly always get it in exactly the right place. In the margin, we would concede that the Rokker is the better product, but the Richa Nora probably looks even better, and they're certainly up to the job from a protection standpoint.
£124.99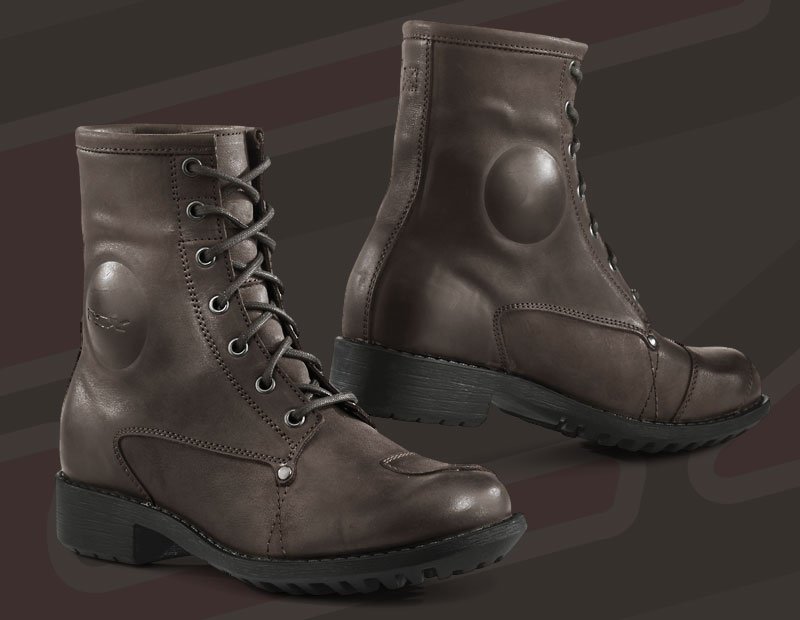 TCX LADY BLEND BOOTS
We have to admit that we're stronger on motorcycle boots that you can ride a motorcycle in than we are on motorcycle boots that make you look like a biker chick. Not many of our boots have heels, for example, and nearly all come with proper levels of protection. In fact, not sure we've got any that are not fully CE approved. Now, if you want a proper, pretty rugged, short boot to wear with jeans and a leather jacket, we don't think you can go wrong with a pair of TCX Lady Blends. They're the ladies' version of what is probably the most popular short men's boot on the market. The uppers are made from a full-grain, greased leather. They have a waterproof membrane, and protectors in the heel, ankle and toe areas. The Lady Blends come with a gear change pad, and a wear-resistant, rubber sole. It's a proper biking boot. It's still got biker-chick written all over it, though, and it's as comfortable as any biking boot you'll ever wear.
£164.99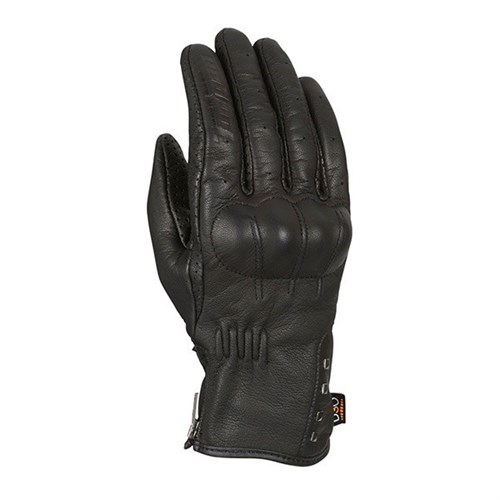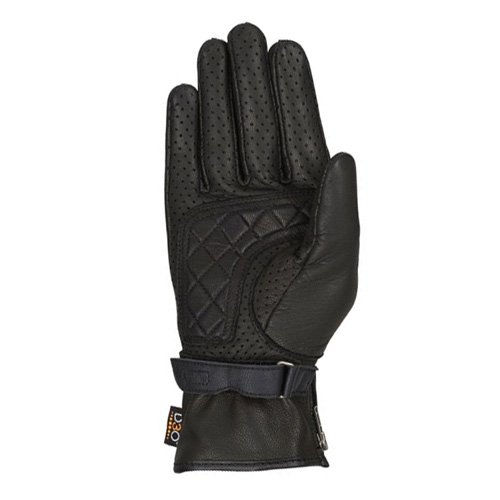 FURYGAN ELEKTRA GLOVE
It would not be at all unfair to suggest that women motorcyclists are not particularly well served by the motorcycle clothing manufacturers, and nowhere does this apply more than to gloves. Finding a glove that fits women well is never easy, as many are really little more than down-sized men's gloves. The Elektra is a leather glove that has summer riding in mind. It's made from goat's leather for great strength, but also terrific suppleness. On the knuckles you get a D30 protector, and on the palm there's an extra layer of quilted leather sewn over a foam pad. For breathability, the leather on the fingers and thumb is perforated. It has a mid-length cuff that fastens by means of both a short zip and a Velcro strap. We've chosen it as our favourite summer glove, however, because of its fit. It's a great glove that doesn't sacrifice safety for looks, but what everybody likes about the Elektra is how comfortable it is to wear. And, at £64.99, it's not expensive either.
£64.99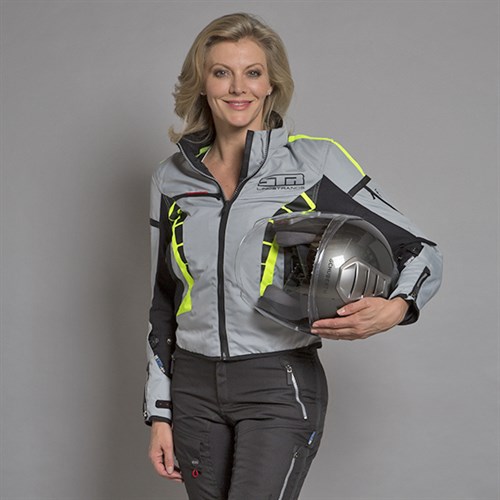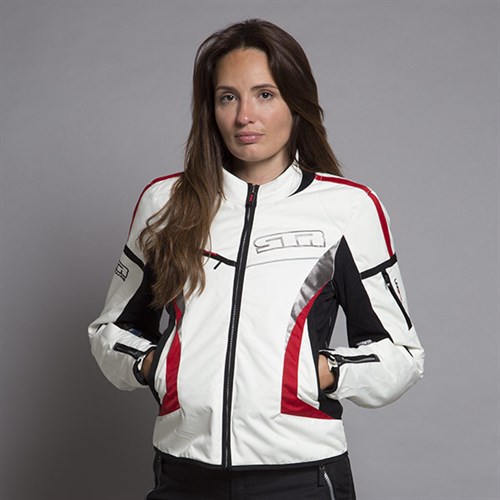 HALVARSSONS ZOYA JACKET
The Zoya is the perfect lightweight touring and weekend jacket. When it's being worn, it looks more like a fashion jacket than a motorcycle one, but in every respect it's a proper bit of motorcycling kit. It's got a waterproof membrane, CE armour in the elbows and shoulders, and a Halvarssons Hi-Art anti-abrasion lining in all the key vulnerable areas. Obviously, it will take a back protector too. But what's so appealing about the Zoya is its shape, it's quite waisted and looks fitted without ever being uncomfortable on the bike. But the Zoya has one particularly clever trick up its sleeve. There's a mesh panel that zips into the front of the jacket on either side of the main zip. The idea is that, when it's really hot, you can undo the main zip, so that air will flow into the jacket to cool you down. It's difficult to explain how it works, but it does. It makes the jacket one you can wear in just about all weathers. It has no thermal lining, but if it's cold, you'd just layer up. You can zip the Zoya into any Halvarssons pant, but using the company's clever 'Waist Zip' you can also zip it into any jean, or indeed any trouser that has belt loops.
£249.00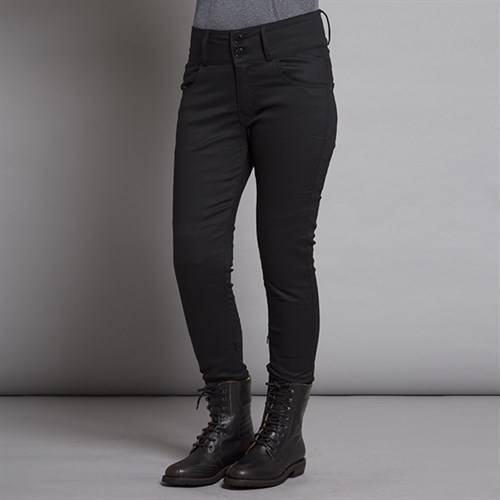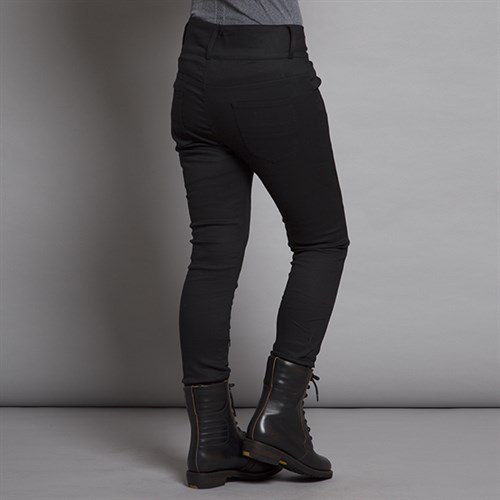 RESURGENCE SARA JANE LEGGINGS
For many riders and pillions these days a denim jean of some description is the preferred way of protecting one's legs and lower half. But jeans are not for everybody which is why, in the last year or so, protective leggings have become popular. The genre was created by GoGoGear in the US. It was copied in the UK by Moto Girl. Belgian producer Richa has also jumped on the band wagon with their Kodi legging. But what they all have in common is that they are thick, heavy and too warm to wear on a hot day. So Resurgence decided to produce a much lighter legging; it's called the Sara Jane. It is a different kind of legging; much lighter, much cooler, and much easier to live with. Lined with Pekev rather than Kevlar, the Sara Janes have levels of abrasion resistance beyond leather. They come with D3O knee protectors; the armour is adjustable, and fits into an external zip pocket. If you like the idea of riding in leggings rather than jeans, the Resurgence take on the style is worth a look.
£149.99


Want some more? Please

click here

to return to our editorial menu.
Share this story