Warm and Safe heated clothing review
Published on: 13/04/2017 11:54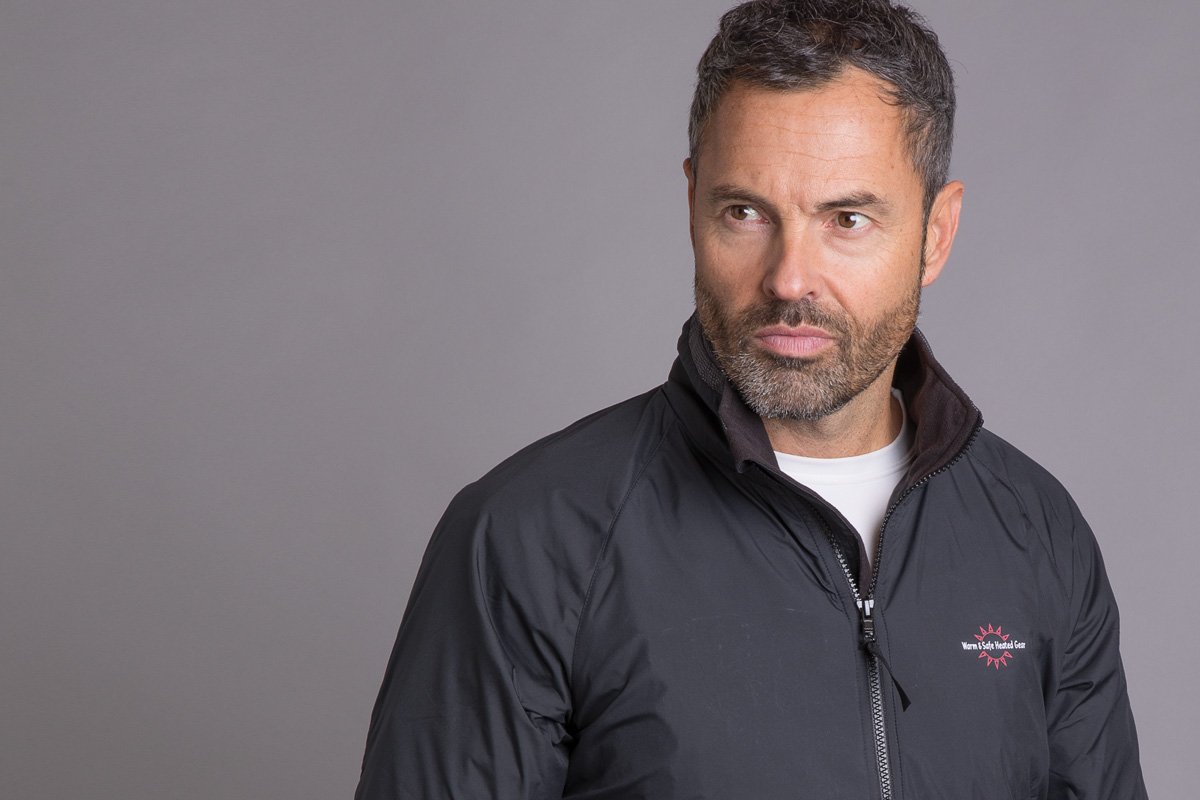 The Warm and Safe heated clothing system for motorcyclists is the best of the heated offerings. Historically, we have not always been fans of electrically heated clothing. We had heard tales of unreliability. And we took the view that most of the jackets on the market were too thick to be worn comfortably under a motorcycle jacket.
But then we heard about Warm and Safe. A number of our customers told us about this amazing American brand of heated clothing, so we contacted them, and added the Warm and Safe range to our portfolio. To cut a long story short, Warm and Safe Heated Gear are the real innovators in this market. They make the best quality, most usable, most comfortable and warmest jackets money can buy. They use more expensive components and, instead of relying on unreliable metal connectors, Warm and Safe employs more complex and time-consuming soldering techniques to connect the wiring in their garments.
The larger European players in this market, whose names you would probably recognise, tend to copy Warm and Safe Heated Gear. But they're always at least a generation behind the American company and, even so, they don't usually get it quite right.
Warm and Safe's heated jackets are lighter and thinner than the other jackets on the market. Indeed many heated jackets out there actually rely on their soft shell construction to create a feeling of warmth. Less bulk in a heated jacket means you don't have to increase the size of your outer jacket to accommodate it. And because Warm and Safe's jacket is less thick, the heat that is generated through the carbon filaments is not wasted heating up the garment itself; instead it heats the wearer. With their stretch panelling, Warm and Safe's jackets fit relatively tightly to the body, again for a more efficient heat transfer. The outer material also incorporates a Windstopper fabric to reduce wind chill.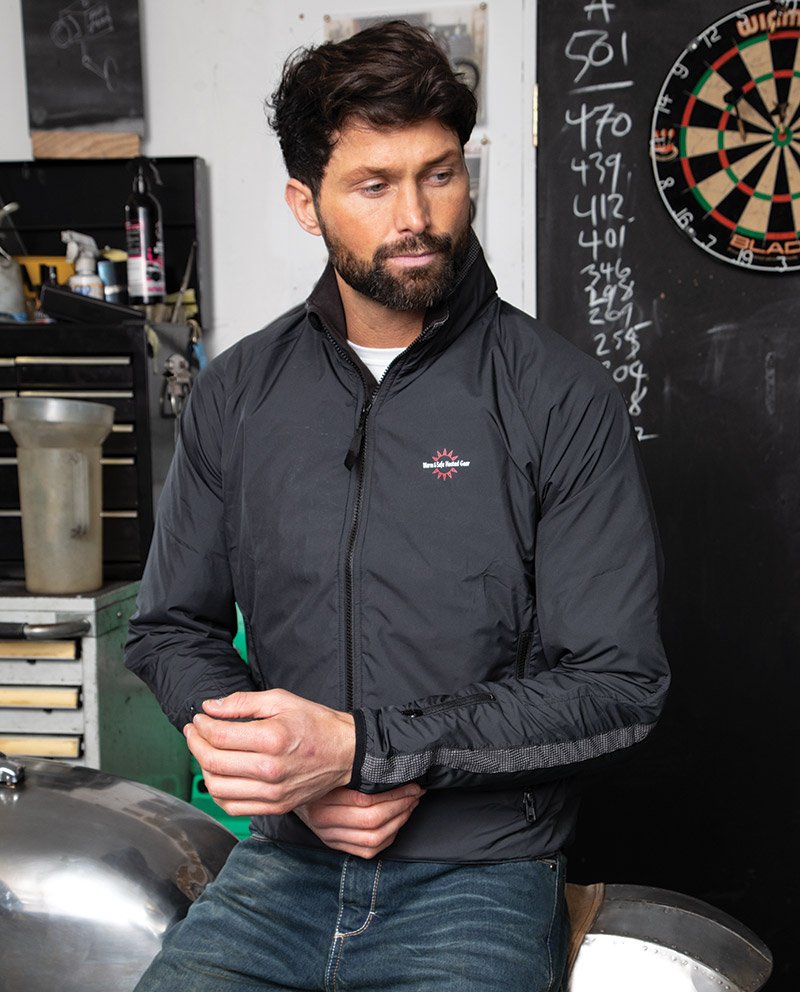 Warm and Safe Heated Gear Generation 4 jacket.
Now, Warm and Safe's jackets are incredibly effective. Bluetooth adjustable, a Warm and Safe jacket will keep you super warm, and when you arrive at your destination, you can unzip it and bung it in your top box or panniers. We have chosen to offer only their top-of-the-range, 90 watt Generation 4 jacket. It's pretty much state of the art. It will not let you down.
But this year, Warm and Safe has a new product that, for many people, is going to work even better.
Basically, it's a heated, stretchy, close-fitting base layer.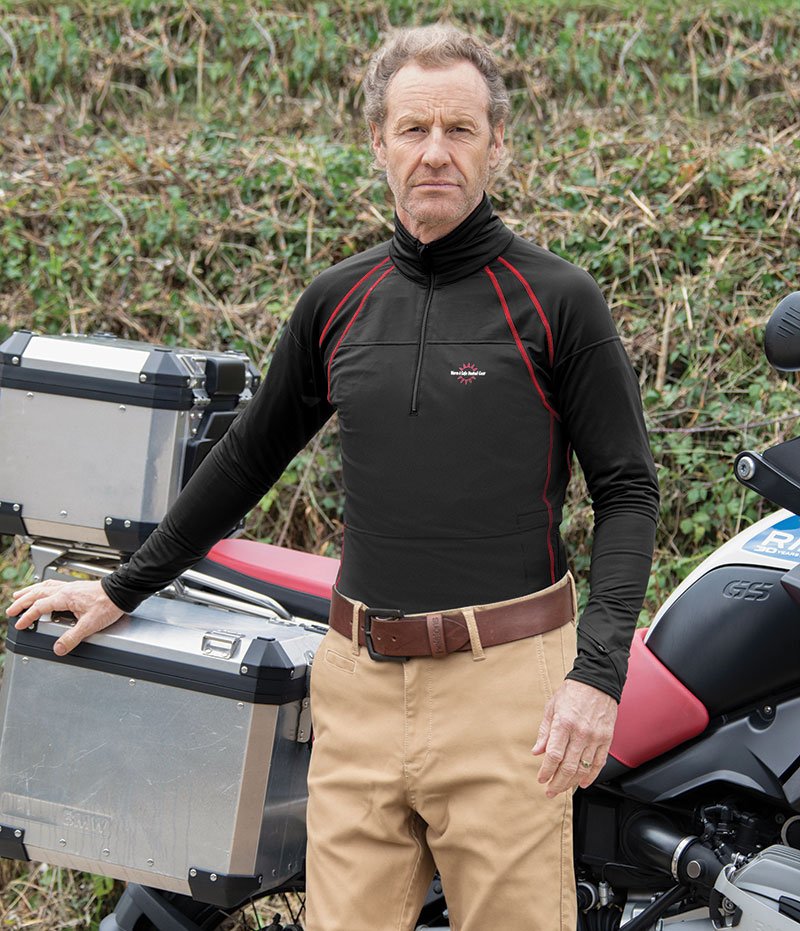 Warm and Safe mens heated base layer.
Worn next to the skin, the Warm and Safe heated base layer is incredibly comfortable, and adds virtually no bulk to your riding outfit. And because it fits right next to the skin, it's even warmer than a jacket.
As with Warm and Safe's heated jackets, the base layer top comes with leads to allow their amazing, heated, silk inner gloves to be connected although, for this, you'll need to use a dual controller rather than a single one.
Frankly, there's nothing out there that will keep you as warm as one of these tops. A guy from MCN tested one in what he termed an arctic cyclone on the East Coast in January of this year. He rode for hundreds of miles in single digit temperatures. He reckons it kept him nice and toasty.
But what you need to understand is that the Warm and Safe heated shirt and the jacket perform slightly different roles. If you want to be able to take your heated layer off and walk around in a shirt, then you're best off in a jacket. If you're commuting, for example, this is the way you would go. But if you're purely dressing for the ride, if you're going to spend all day on the bike, it's difficult to beat the base layer.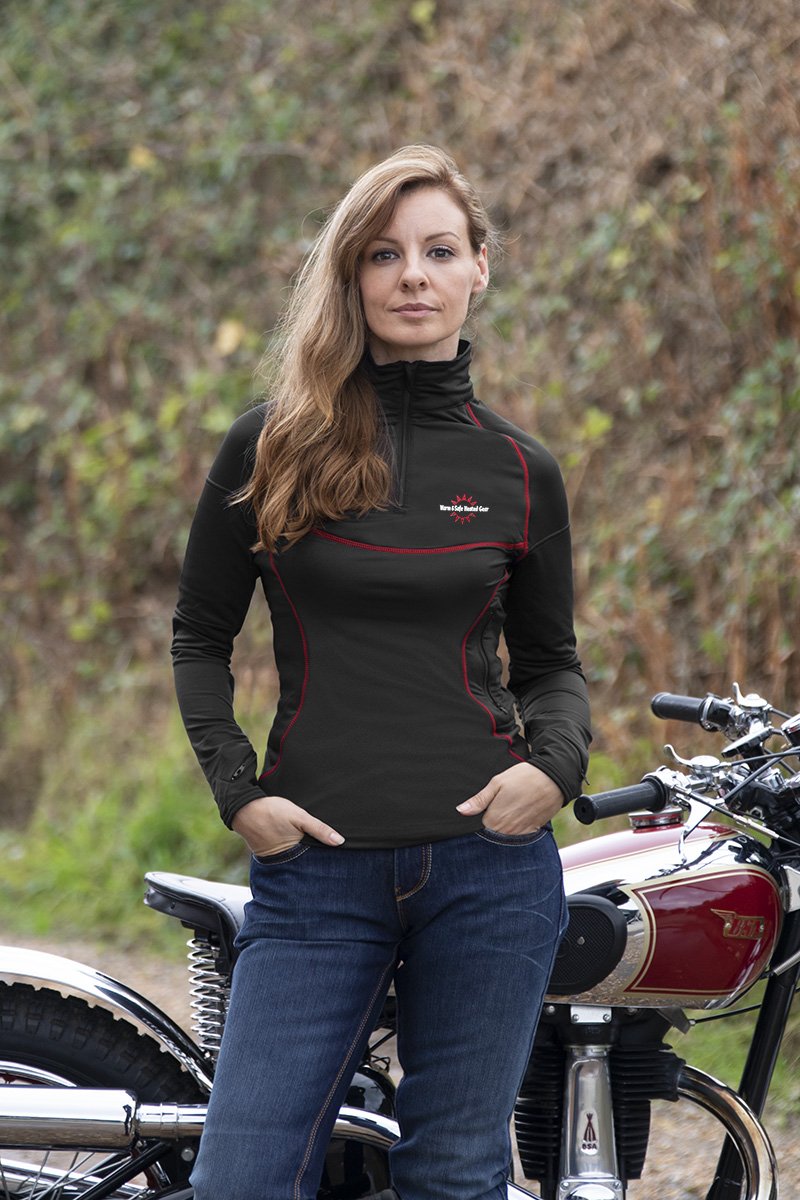 Warm and Safe ladies' heated base layer.
The base layer doesn't technically deliver as much heat overall as the jacket, but the way it is worn, it doesn't need to.
The heat is delivered in seven different areas; two on the chest, two in the arms, one in the collar, one on the upper back and one in the lower back.
The material used in the top wicks moisture and is very stretchy. It comes shaped for men or women. For extra warmth, the garment also has Thinsulate woven into it. The neck zipper, as one would hope, is by YKK. The zip may seem a little thing, but when a company uses YKK zips, we know they are concerned about quality and reliability.
Overall, we think the Warm and Safe heated base layer represents a step jump for heated clothing. The tops are so light and comfortable, you barely know you're wearing a heated top.
And, at just £175, the base layer is quite a bit cheaper than the jacket, which comes in at £230. Come and see us, and we'll give you a demonstration. We think you'll be impressed.
Want some more? Please

click here

to return to our editorial menu.