Why you need a Warm & Safe heated jacket this summer
Published on: 25/04/2019 16:28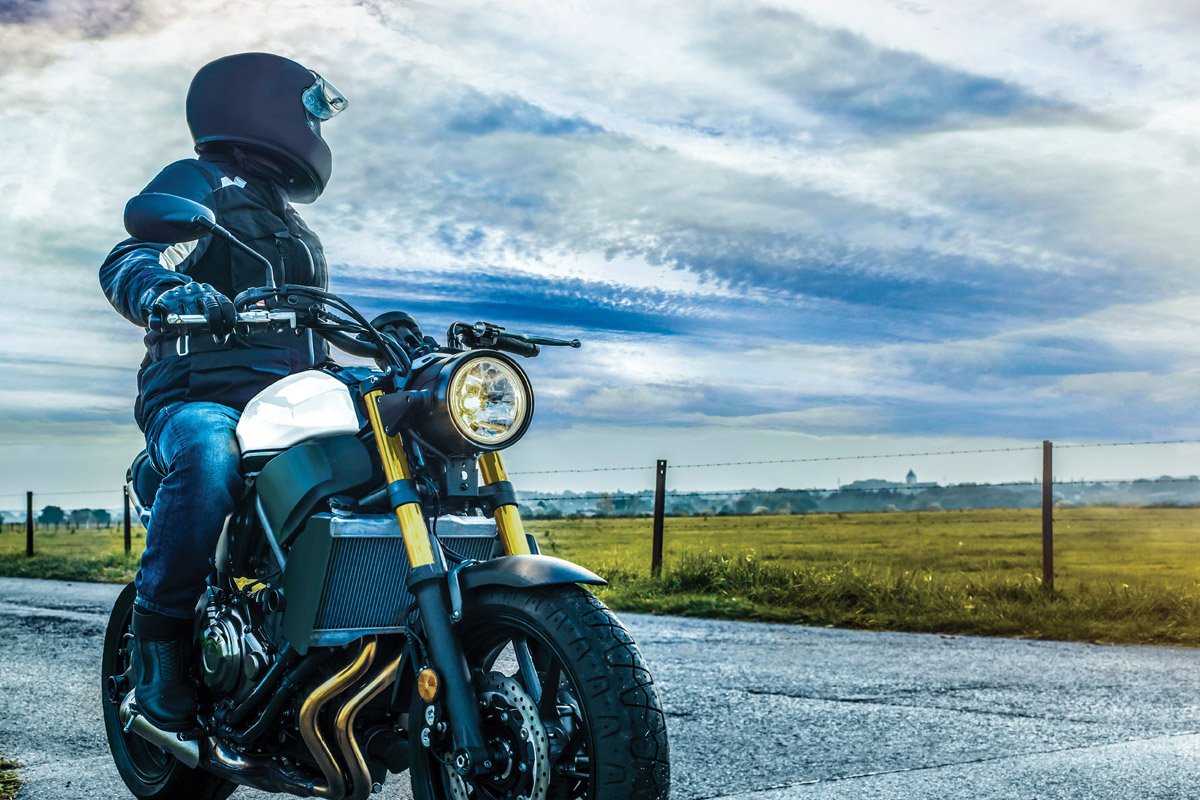 WHY YOU NEED A WARM & SAFE JACKET
FOR THIS SUMMER
We're probably not as tough as our parents' generation; and they in turn were probably not as tough as the generation that went before them. I was reading some motorcycle magazines from the forties and fifties recently, for a project I'm working on. And it was amazing to see pictures of what guys rode in back then. There were photographs of people riding into work in blinding snow storms. Their feet were planted firmly on the ground for stability, and were clad in nothing more than wellies. A thick greatcoat for warmth, goggles, a bobble hat and a pair of WWII pilots' gloves to keep their hands warm.
As Harold Macmillan once famously, if somewhat patronisingly, told the nation: 'we've never had it so good'. It's probably even truer today, and the fact is that we all lead pretty cosseted lives these days. Most people wouldn't dream of buying a car without air conditioning. And personally, even though my drive into work is only five minutes, I would not contemplate leaving home without my car's heated seat on the highest setting! Is that soft or what?
One thing I've come to realise is that I really hate being cold on the bike. Obviously, I don't know if I dislike the cold more than other bikers. But what I do know is that it is stupidly dangerous to ride when you're shivering all over, when there's no feeling in your fingers, and when the only thing you can think of is getting into a hot bath when you get home, so that you can get some heat back into your bones. When you're in this state, you're not thinking about the road, the conditions, the traffic. You're just wallowing in misery and, frankly, you're a liability both to yourself and other road users alike.
I was reminded of this just a few weeks ago. It was early April. The skies were clear; it was a sunny day. I had to go down to Bruton in Somerset on a recce for our 'ladies-only' ride in June. Sara and I set out early. We had to make a number of stops and, for various reasons, didn't reach Bruton until about five o'clock. The sun was dropping below the horizon. I was wearing my favourite Rokker Rokkertech shirt, my Spidi single-layer jeans and some summer gloves. This is how I like to ride, but I was, to put it mildly, under dressed. On our way back, we had to stop in Winchester for a meeting, and we didn't leave for the final schlep to Guildford until a little after ten o'clock. I have never been so cold. I don't think I thawed out in bed until about three am.
It set me to thinking about riding through an English summer, and a conversation I had had with a customer in the shop the previous Sunday. This was a chap who did a lot of miles; all year round in all weathers. He came into the shop wearing his Warm & Safe jacket, which he had bought from America well before we started offering the brand.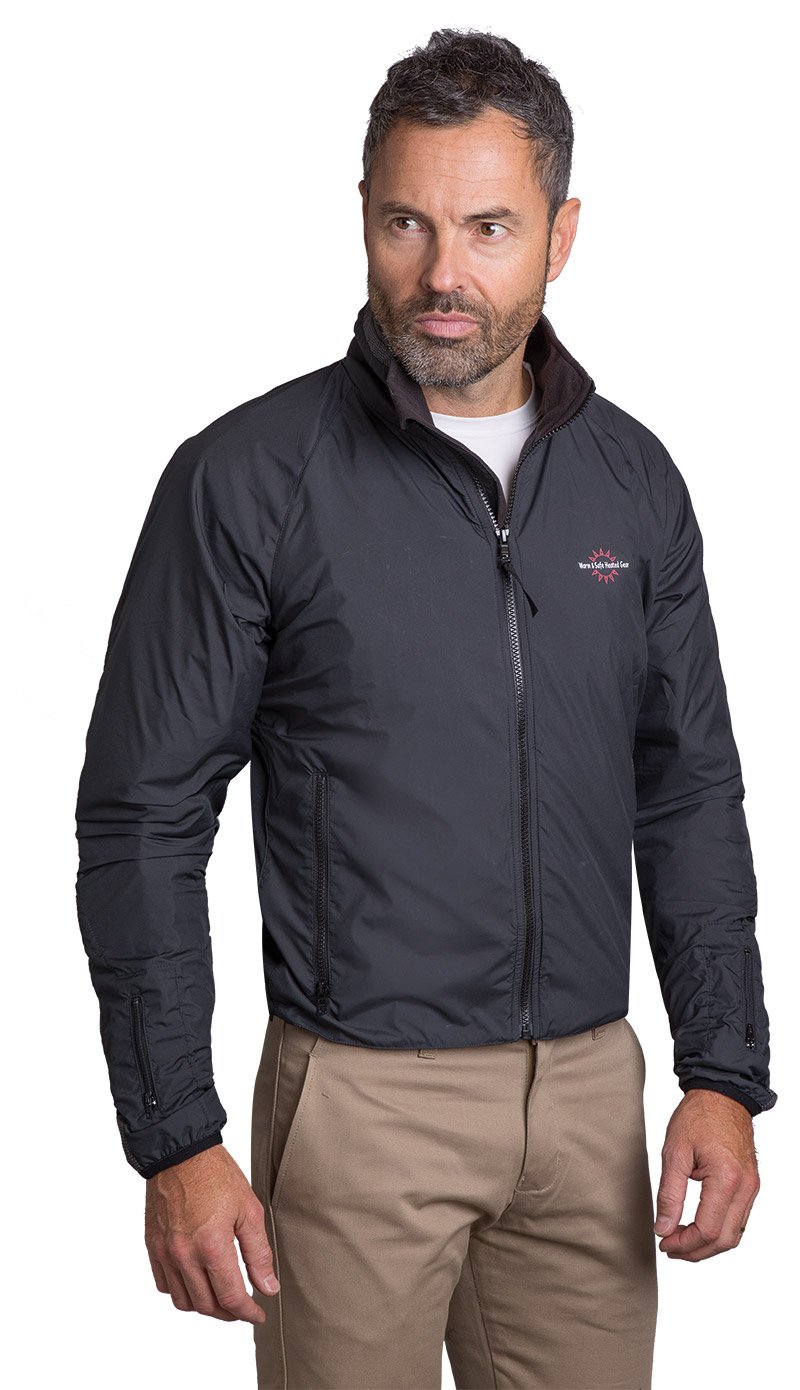 We tried and rejected most of the heated clothing on the market. It was heavy and cumbersome. In many cases, it meant you needed a bigger size in your main outer jacket. And when it was not cold, these jackets were not nice to wear. The Warm & Safe jackets are super light, but super warm. They will go under any jacket, and add almost no bulk..
His modus operandi, he explained to me, was to always discard the thermal lining that came with any jacket he bought. Beneath his various leather and textile jackets, he almost invariably wore his lightweight Warm & Safe jacket. Okay, on days where the temperature got towards the thirties, he would take it off but, on most sunny days throughout the summer, he would simply wear his Warm & Safe as a base layer, albeit not plugged in. And this he could do because, in its own right, the jacket is windproof.
He had gone for Warm & Safe because he felt he couldn't do the same with the thicker, softshell offerings from the likes of Gerbing, EXO² and Keis. They were all too thick, and frankly too warm to be worn on anything but the coldest of days and, during the summer months, all he wanted was a little extra assistance. He was equally happy wearing it beneath his Rukka jacket or his lightweight Furygan leather jacket.
On those days where the temperature dropped a little, all he needed to do was plug the jacket in, and dial in a couple of clicks of heat. If he ended up riding in the rain, he might turn it up a notch; he would wind it up a little higher when he was on an 'all-nighter' as a Bloodrunner.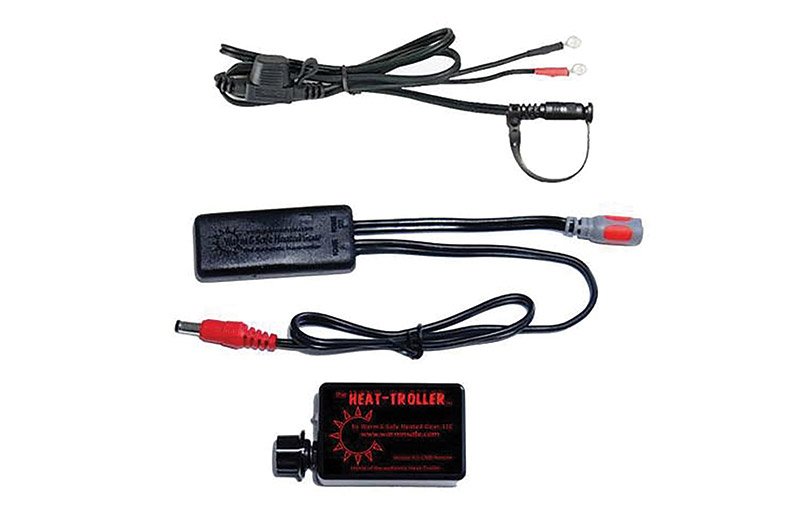 We don't suggest that heated clothing is the cheapest way to go; merely that it's the most comfortable. On top of the jacket, you will need to buy a harness for the battery and a Bluetooth heat controller. If you want gloves, you'll need Warm & Safe's dual controller as well.
At the time that this gentleman explained his system to me, it all sounded plausible, interesting even, but perhaps a little over the top, I thought. But my ride home one mild spring evening, when the temperature wasn't really that low, set me thinking. I could see the advantages of his approach, and I have to say that I have become a convert.
Okay, it's true, my dad would have been embarrassed, and would have rounded on me as a wuss, but heck, I want to enjoy my riding; I do it for fun. It's not an exercise in masochism. I really don't like being cold. And I know that when I'm warm, I'm a better and a safer rider.
And so, I've made the leap. I've acquired a Warm & Safe jacket, which conveniently connects to the Optimate lead under my seat. I wear the jacket nearly all the time. If it's a dry day, I'll wear it on underneath my Helstons leather jacket, from which I've now removed the rather cumbersome thermal lining. Next month, I'm riding to Belgium for a meeting with Richa, and for that trip I'll wear my Halvarssons Wien over my Warm & Safe.
My new set up has already transformed my riding; and importantly my enjoyment of it. On days where I really didn't fancy going out on the bike, I am now happy to do so. You know, however good your mid-layers are, however many of them you wear, one cannot really stop heat from escaping the body if the journey is a long one. The wind chill will have its way, and you will eventually feel the cold. But wear a heated jacket, and you become the Ready Brek guy, with this warming glow all around your body. I'm convinced it's the way to go and, like Roger Daltrey and his American Express card, I'll never again leave home without one.
And don't get me started on the gloves! Warm & Safe does heated silk liners with heating elements that run up in-between the fingers. They're amazing; like heated grips that you can turn up to 23! And again, if I want, I can wear them with my summer gloves. Get yourself set up for the summer. Yes, we'll have days when you don't need to wear your Warm & Safe jacket, plugged in or unplugged.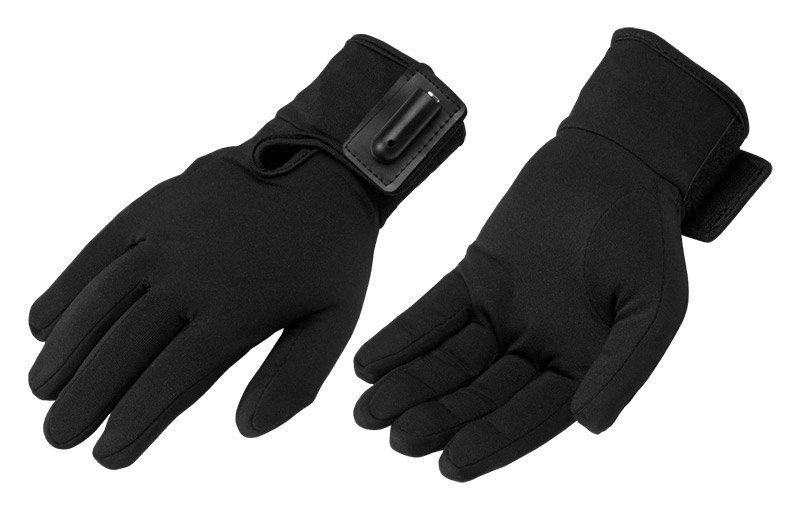 One of the things we really like from Warm & Safe is their heated, silk, inner gloves. Most heated gloves largely heat up the external atmosphere. With elements that run between the fingers, Warm &Safe's heated gloves actually heat the fingers. And you can simply wear them inside your favourite gloves.
But equally, you can be absolutely sure that there will be days and trips where you'll be grateful you made the investment. And we're not talking about a huge sum of money here; certainly less than a fancy new set of end pipes that do little more than antagonise neighbours and scare old ladies! Work it out for yourself. Which is the smarter investment?
Want some more? Please

click here

to return to our editorial menu.
Share this page