In search of the best motorcycle touring outfit
Published on: 27 September 2023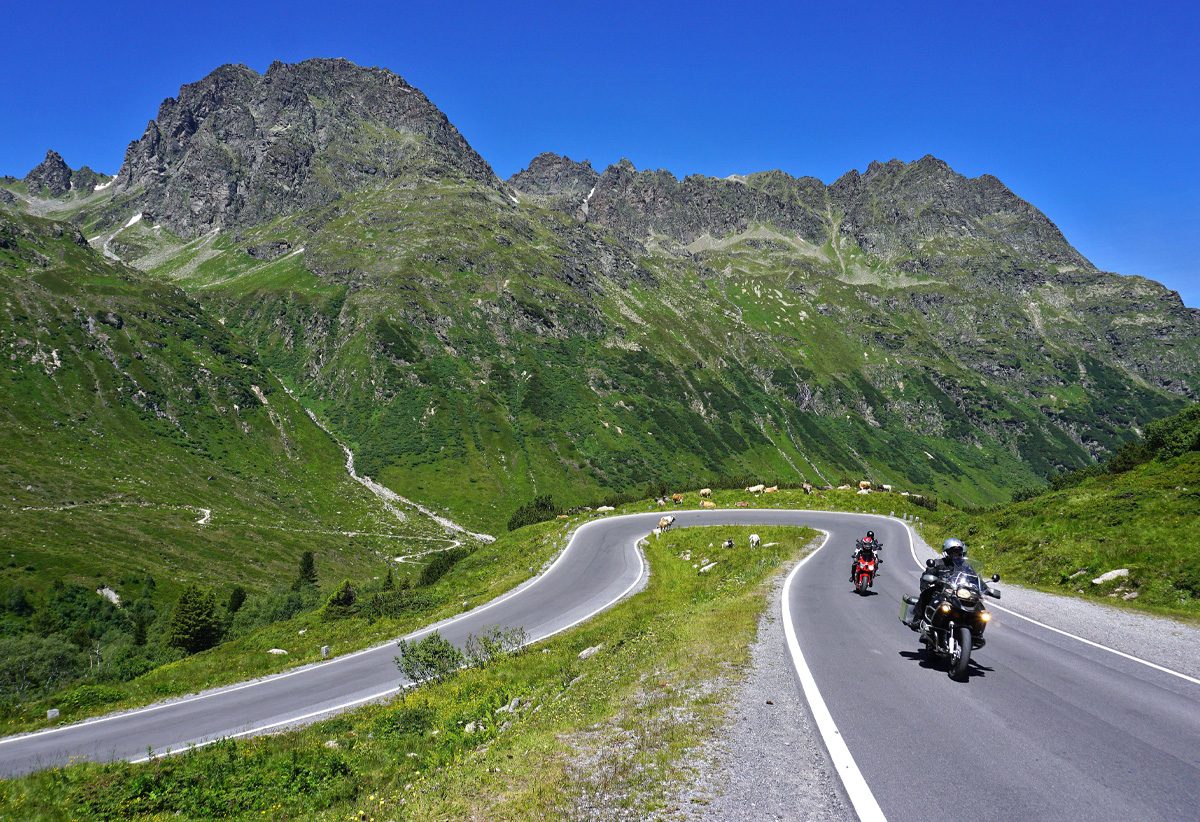 There can be no doubt that, with the introduction of new fabrics, fibres and technologies, motorcycle clothing has come a long way in recent years. These developments can make a huge impact on our riding comfort. Bike gear has become lighter, stronger, more waterproof, more breathable; and just nicer to wear, both on and off the bike.
Back in the day, when I first went touring in Europe on my Ducati 888, in the early nineties, I wore a one-piece, leather, racing suit. I was newish to biking, and undoubtedly a slow learner, so didn't really have a clue. Real bikers wore leather, I was led to believe; and I'm pretty sure Sara and I didn't even take waterproofs with us. I can certainly remember us getting very wet one Sunday morning on our way back to Calais, and having to sit in a restaurant in northern France in our under garments, so that we could try to dry our leathers out over the radiator!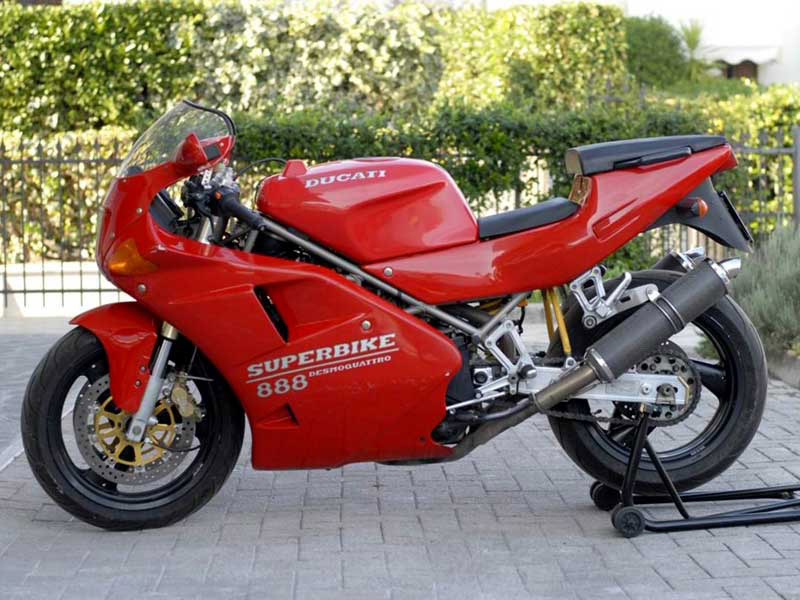 An 888, a leather one-piece. Back then, the ultimate touring set up!
Even back then, waterproof, textile suits existed, although they weren't always up to much. But gradually brands like Hein Gericke and Rukka started to convince bikers that, in theory, one could ride a motorcycle, and still stay relatively warm and dry.
More recently, of course, there has been an explosion in interest around laminated motorcycle clothing, the best of which will keep you dry for many, many hours, however hard the rain. The other notional benefit of laminated gear, of course, being that it provides more effective, direct-to-body venting.
And that's where we are today. Many people believe that the best solution for their continental tour is a well-vented, laminated suit of some description. Certainly, it is true that with such a suit you will stay dry in the most inclement of conditions. The venting on a laminated suit will also be better than it would be on a more traditional, drop-liner suit.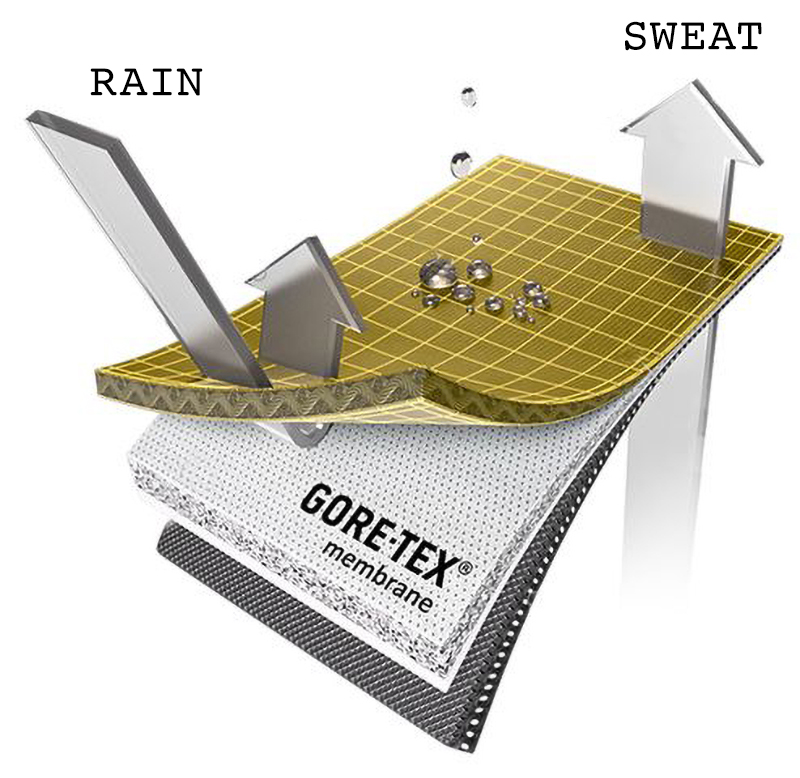 There comes a point where the sweat can't pass through the membrane fast enough.
But our view is that even the best vented laminated suit will reach its level of incompetence once the temperatures rise much above, say, 25 degrees. This is because when we get hot we need to be able to sweat, as this is the body's in-built mechanism for cooling us down. Basically, when we start to overheat, sweat comes to the surface of the skin. The sweat then has to turn from a liquid state into a gaseous one so that it can pass into the atmosphere. This change of state requires energy, and the generation of this energy draws heat out of the skin, leaving us feeling cooler. But if we're wearing something waterproof, in really hot weather our sweat cannot escape fast enough through the millions of tiny holes in the membrane. So we end up getting wetter and wetter from the inside, and our bodies don't cool down.
And this is a problem if we go touring, because most of us do not go touring in the hope of finding cooler and wetter conditions than those we enjoy on our own sceptred isle!
Let us not get our knickers too twisted here. Even in pretty warm conditions, you will survive if you're wearing a well vented, laminate outfit. And you will be much, much cooler than you would be in a leather suit. But with the kind of gear we now have access to, we think there's a better solution.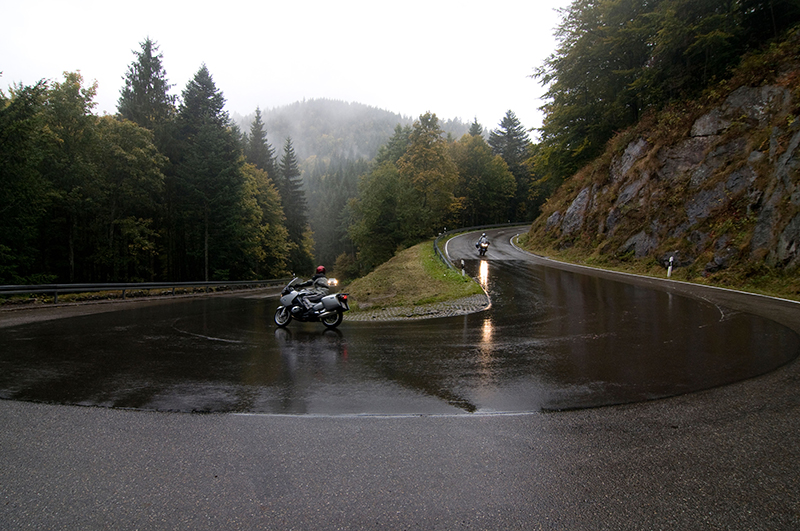 The benefits of layering
A waterproof suit will hopefully keep you dry. And we would concede that, on tour, an argument could be made for wearing a laminated suit because there are situations where you may finding yourself having to ride for four or five hours, or even more, in torrential rain. In such conditions a laminated suit will not 'wet out' in the way that a drop-liner one might, and this is important because if your suit wets out you can quickly start to feel cold. A garment that has wet out will also take a long time to dry out.
But days where you ride for five hours in the rain are rare. It doesn't rain every day over here, let alone in France, Germany, Spain or Italy. And so if you tour in a waterproof outfit you may be well prepared for a downpour, but you run the risk of boiling over when the mercury does start to rise. And being too hot on the bike is not only uncomfortable, it can be downright dangerous. Particularly because we are not always aware of the effects of dehydration. We start to lose concentration. Not far down the road is heat exhaustion. And by that point, we can be in a heap of trouble.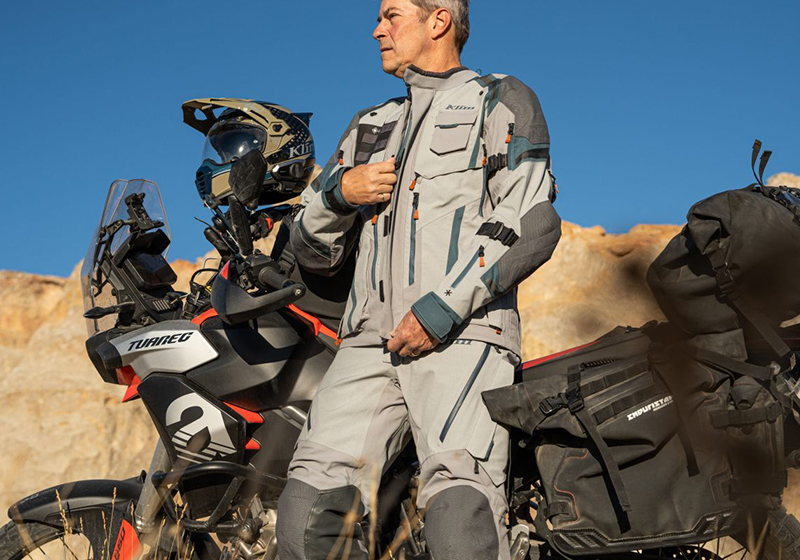 Don't believe the hype. In hot weather you don't want any kind of membrane.
Unfortunately, there simply isn't a suit out there that works in all conditions. You could own the world's best vented, laminated jacket, but when the temperatures head towards the thirties, you'll find that the vents just cannot deal with the problems created by the membrane.
People, of course, are sometimes misled by the 'adventure' label. They think that this means that a laminated adventure suit from someone like Klim will be what they need for crossing a searing-hot desert. But it won't be. Whenever it's hot, you really don't want to be wearing anything with a membrane. There's a reason that Paris-Dakar riders don't wear waterproof motorcycle gear. And the reason is that it would kill them!
Luckily, there's a solution. It's called 'layering', and it's all about wearing the right garments for the conditions in which you find yourself. Now whenever you layer you should always start with something highly breathable next to the skin. This allows your sweat to wick away from the skin. When it's cold, you would wear an additional mid-layer of some description to insulate the heat that is continually being generated by our bodies. Over this layer, you would wear a non-waterproof, breathable, protective jacket of some description. When it's wet, you wear a waterproof layer over the top of your motorcycle jacket. This layer will keep the rain away from all the other layers, and from the body. And this is crucial because we lose body heat 20 times faster through a wet medium.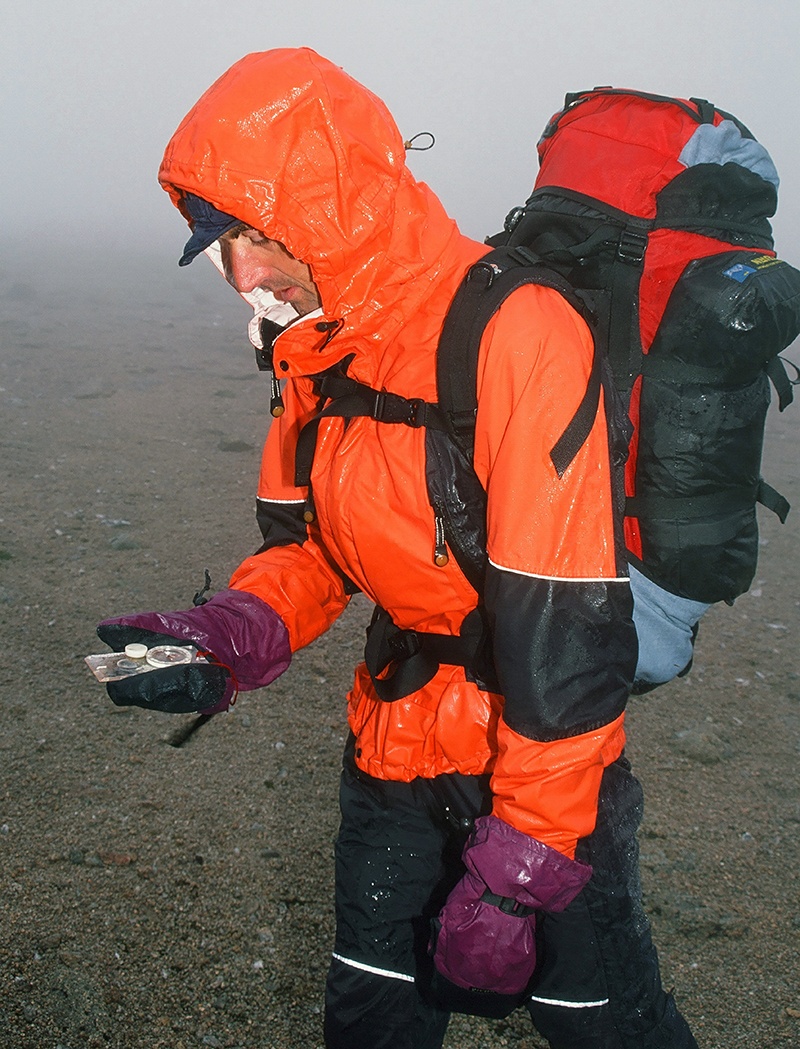 Any outdoorsman will tell you the waterproof goes on over everything else.
Of course, it is only logical to wear a waterproof on the outside of your main jacket. No hill walker or mountaineer would wear a waterproof on the inside of their outer garment. The same goes for yachtsmen. And soldiers. The waterproof layer works best when it's on the outside.
The problem is that motorcyclists have convinced themselves that it's a major hassle to have to stop to put a waterproof on when they are on a tour. But frankly we don't see why. What's the big deal, what's the rush? We could understand perhaps if there was a downside to wearing a waterproof over the top of a breathable jacket. But there isn't one. In fact, a waterproof worn over a breathable jacket delivers waterproofing that is actually far superior to even the most expensive laminated garment.
But bikers are bikers. At times they are quick to judgement, but slow to accepting new ideas. Clearly, we are not going to convince everybody that the gear they currently go touring in does not represent the best solution. All we can say is that if you want to be perfectly attired in all conditions; the hot, the cold and the wet you've got to layer.
It's the only way!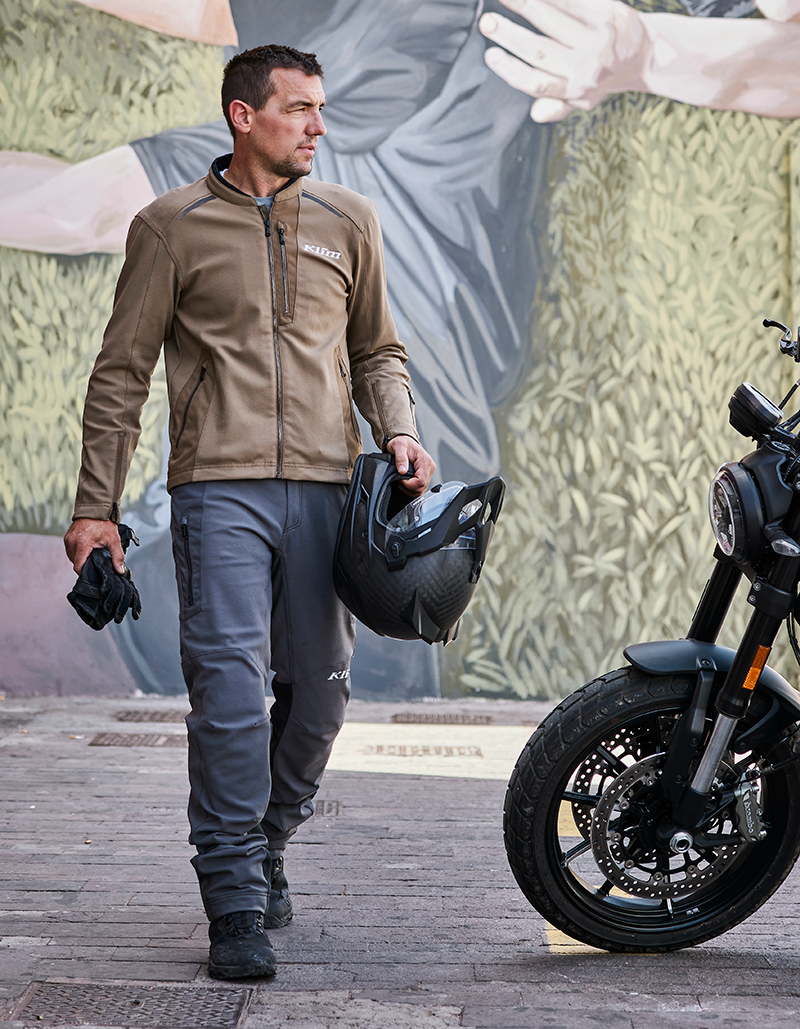 The ultimate touring outfit
(According to Motolegends!)
We're now going to talk about what, for us, would be the perfect touring outfit.
It won't be right for everybody, perhaps. We haven't taken budget into account, although what we're going to propose will cost somewhat less than a high-end, laminated outfit. And what we are suggesting won't necessarily work on every kind of tour. I suppose, however, we have in mind somebody who is in search of sunnier climes, be those in southern Europe, the Americas, north Africa or wherever. The outfit we are thinking of would not necessarily be what you would choose if the focus is off road, although even then it wouldn't be wrong; you might however accessorise the outfit differently.
To some customers, our preferred outfit will come as little surprise, because many have adopted it already, but in truth our aim here is to try and get bikers to see the world a little differently.
The top half
For us the starting point would be a Klim Marrakesh. (No surprises there, then)! To call the Marrakesh a mesh jacket would be to underplay its virtues. With its D3O Ghost armour, and stretch built into its 1000 denier Cordura chassis it is quite simply the most comfortable jacket you will ever wear. Yet its AA rating under EN17092 means that it ranks more highly than a £1500 Rukka Nivala jacket for abrasion, tear and puncture resistance. But the loose weave of the fabric means that it flows air through every single panel: the chest, the sleeves and the entire back.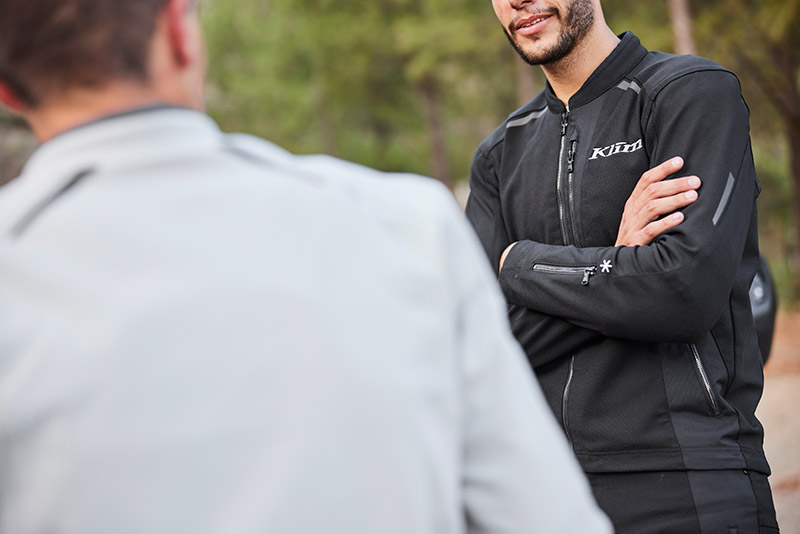 It will come as no surprise that we think the Marrakesh is perfect for touring.
The bottom line here is that, in hot weather, this is an amazing jacket to wear because it flows so much air. But unlike most mesh-style jackets, the Marrakesh is properly protective.
For even more protection, we can upgrade the Ghost armour to Level 2 throughout, although you would barely feel the difference from a comfort standpoint. In truth, on a big tour, this is an upgrade we'd go for. We can also sew in a connecting belt to allow you to zip into any brand of pant, or even a jean.
But one of the benefits of the Marrakesh is the way that its stretch makes it so easy to layer up beneath. Now, because it flows so much air, you can very quickly get cold in the Marrakesh, so the accessory that we deem to be almost indispensable is the windproof Zephyr. It's gossamer thin, and weighs nothing, yet it can make a huge difference to how you perceive temperature on the bike. Honestly, we wouldn't leave the house without one.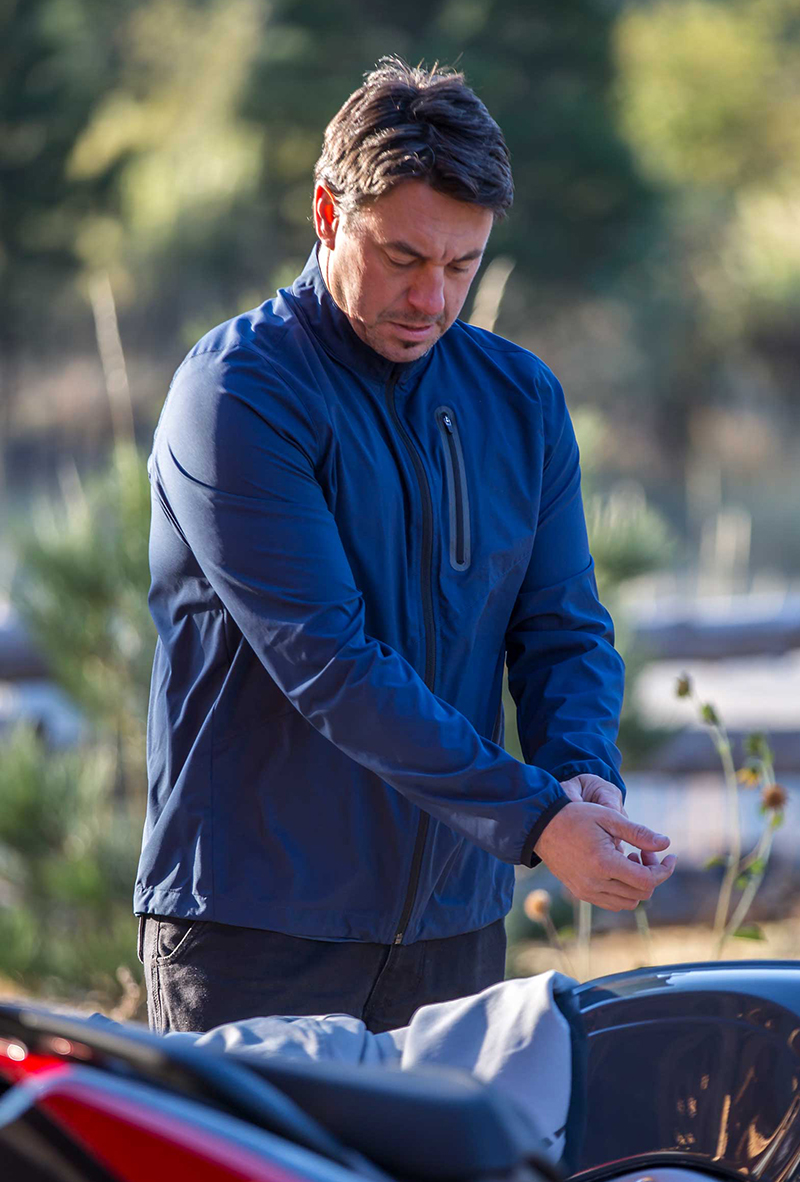 You will need the windproof Zephyr to protect you from the wind chill effect.
Of course, you are going to need a proper, thermal layer; something that will trap heat generated by the body. And for us that means a down jacket. In recent years, a number of the top protective wear brands have come to realise that a down jacket makes for the perfect thermal. With no poppers or zips to attach it, you wear one when it's cold, but don't when it's warm. These jackets are incredibly comfortable, they're breathable, and they work well when you're off the bike. Of course, there are hundreds of other ways of insulating body heat. Jackets with hollow-form fibre fillings, fleeces and so on. But we would go for a down jacket. You can buy one anywhere, but we like the Klim Maverick; and that's largely because we think it represents the perfect balance of bulk and warmth. It's expensive, but not over priced, in our view.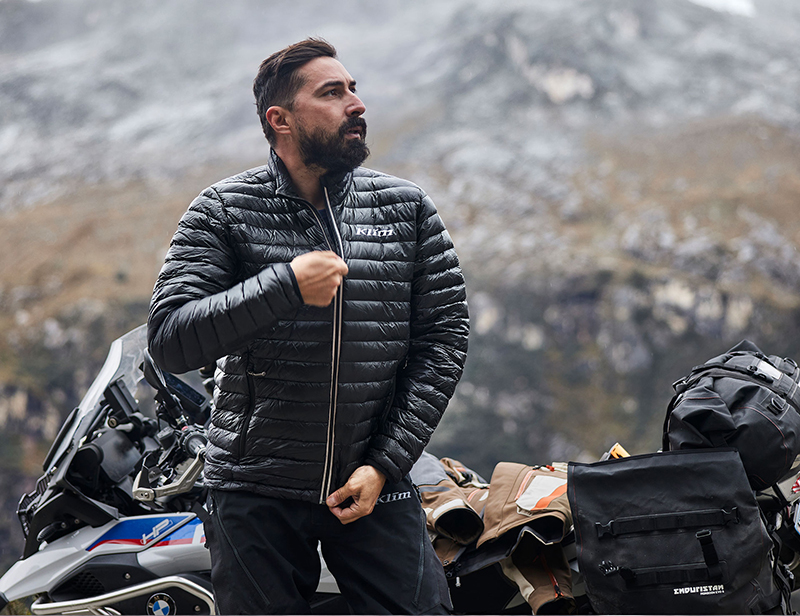 Any layering system will require a thermal component. We like down jackets.
Where we've got to so far is the Marrakesh on its own when it's hot. You add a Zephyr to combat the effects of wind chill. And then a Maverick for when it's really cold. So, one jacket and two very packable layers, and you have a system that will cope with the very widest range of temperatures. With the three component parts we've discussed, no Rukka jacket will be warmer. Yet, of course, in hot weather the Marrakesh is in a different league to anything with a membrane.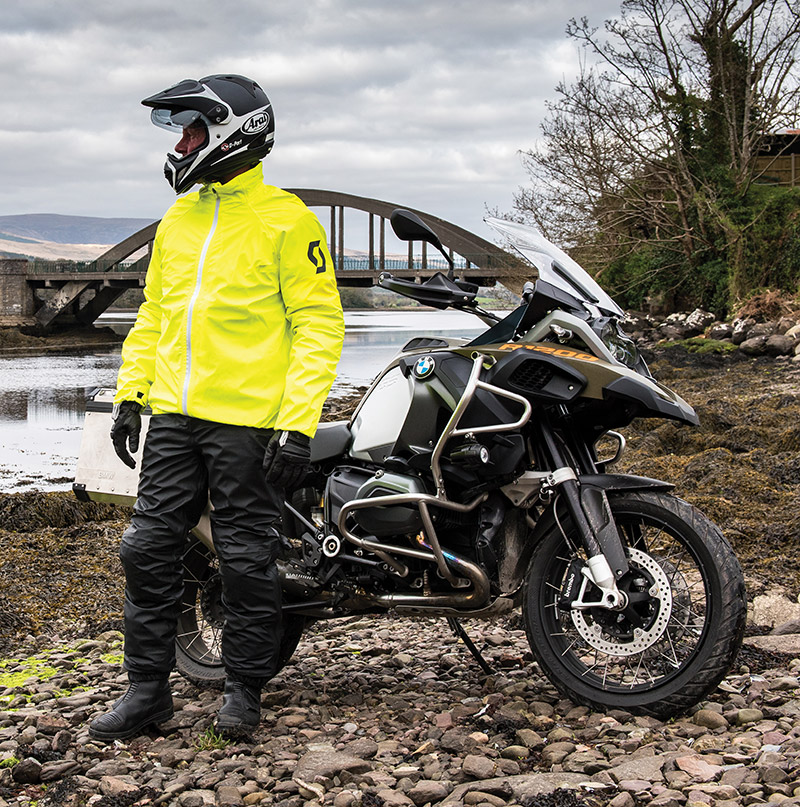 The top layer, that you will occasionally need, will be a waterproof.
And so we come back to what is a thorny issue for some bikers. Waterproofing. The Marrakesh isn't even the slightest bit waterproof. If it rains, the best solution will be a Scott waterproof jacket. The Scott is the best, the strongest, the stretchiest, the most waterproof, the most breathable. So highly do we rate it that we offer nothing else. It is, in our view, the business.
Does it take long to put it on? A few seconds is all it takes, although you do have to stop the bike! You could ride for hours in heavy rain in it, and when you stop your Marrakesh will be bone dry.
The only thing we haven't touched upon is a base layer to be worn next to the skin. Well nothing cotton. Anything synthetic will work. But there's probably nothing to beat the lightest weight Merino; we're thinking less than 150 gsm., if you're going somewhere hot.
The bottom half
Again, it will surprise nobody if we were to propose a single-layer Rokker jean. There's nothing not to like. Abrasion resistance 50% greater than leather. With no lining, you get huge airflow, which is terrific in the hot conditions. And when you get off the bike, you're wearing a trouser that's as comfortable as your favourite pair of Levi's. So much so, that you'll barely be aware of the Ghost armour. There's simply no pant that offers such breathability with such strength.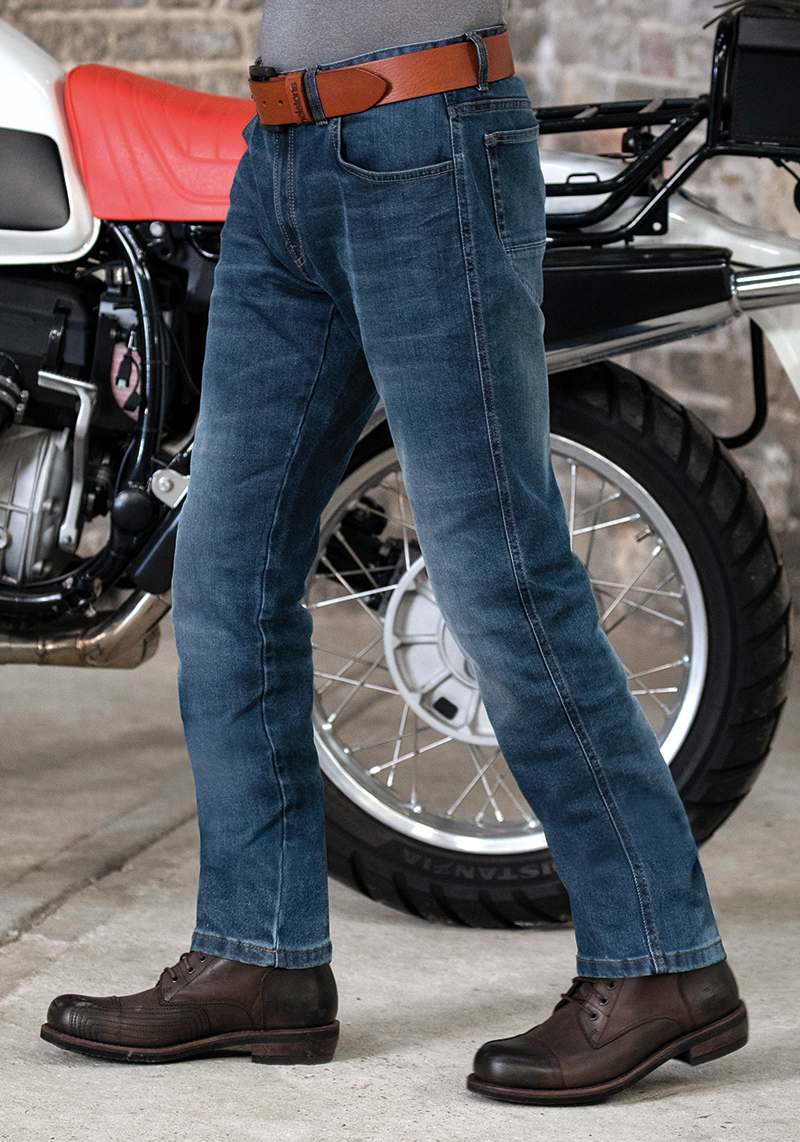 A single-layer jean is perfect for touring in.
Other brands of jean are also available obviously. Klim does a highly breathable pant with a bit more of an adventure look called the Switchback. These will work better over off-road boots; and they even have vents. But they are not as protective as the Rokker jeans.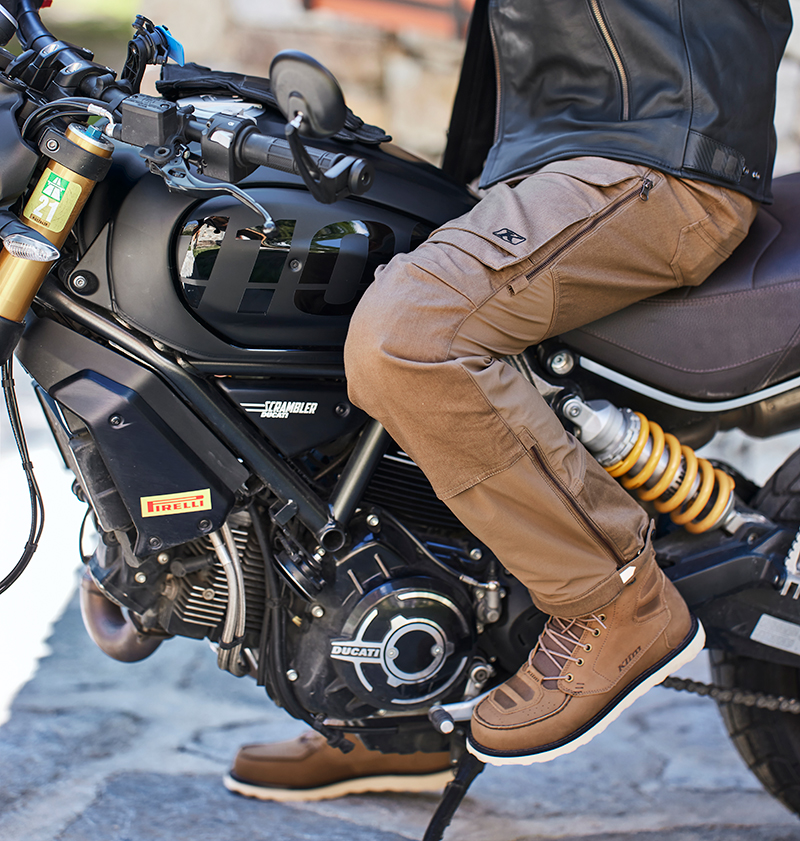 The Switchbacks also flow lots of air, and look a bit more 'adventure'.
There's also a Marrakesh pant. Worn below a Marrakesh jacket, you might look a bit 'matchy-matchy', but these trousers do flow huge amounts of air. Bizarrely, they won't go over anything larger than an ankle boot. For road riding, the Rokker jeans are again more robust.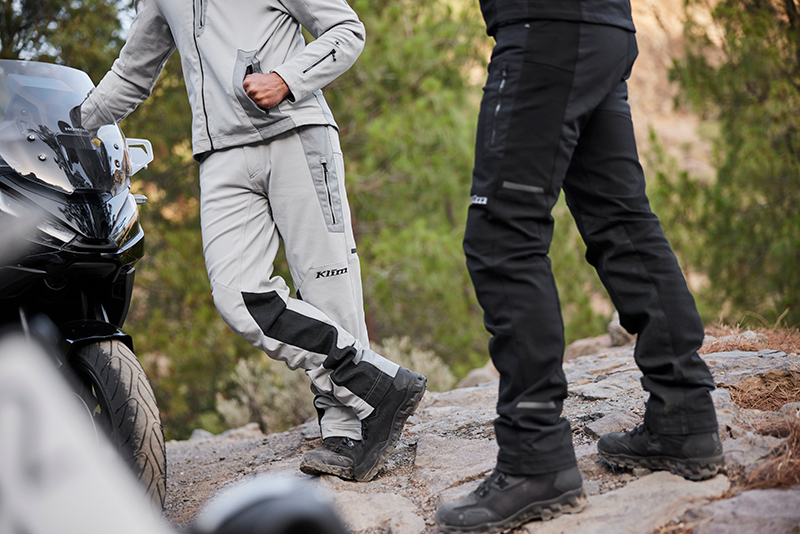 There is a Marrakesh pant but you can look like you're wearing pyjamas!
As you would expect when we're talking about a layering approach, all these trousers are highly breathable. None has a waterproof membrane. And what this means is that they are all useless in the rain. Again a pair of Scott pants is the solution. If you are particularly long-legged ask about the ladies' version. Sounds weird, I know!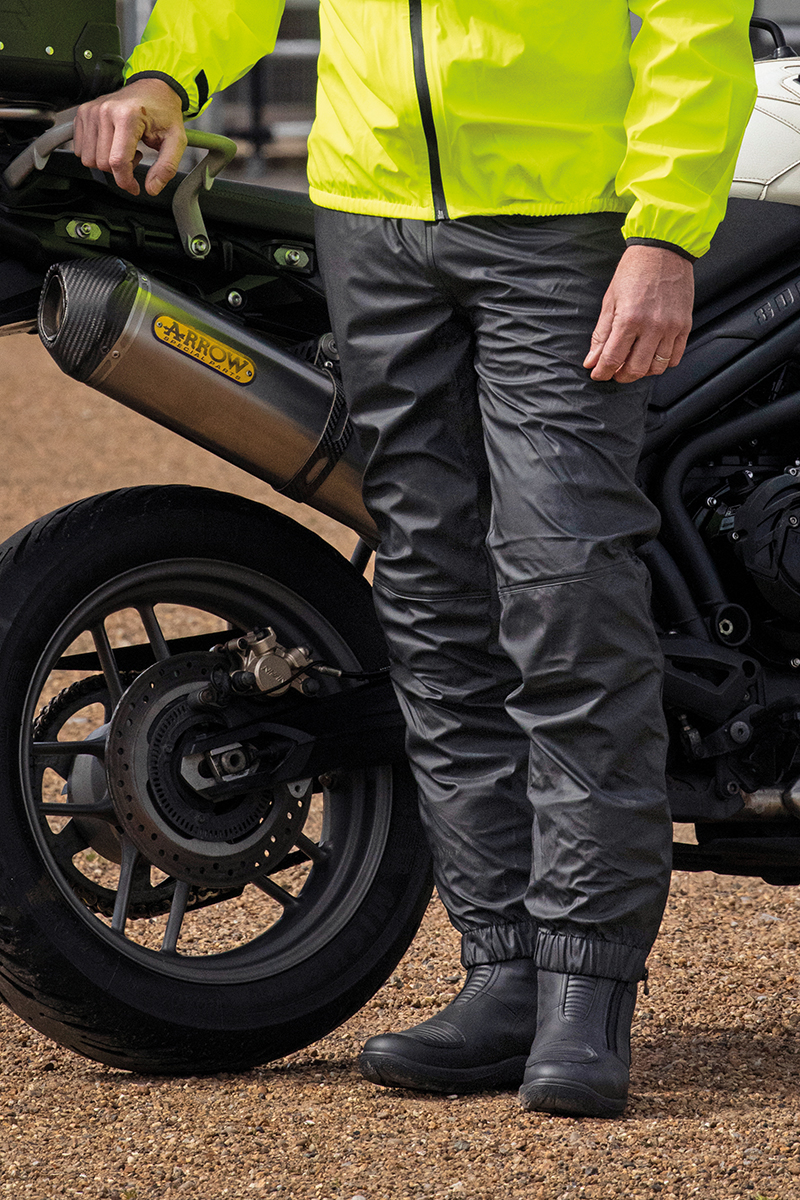 As with the top half, you will need a pair of Scotts to go over your pants.
The real difference between the top half and the bottom half of such an outfit is that there are lots of thermal options that can be worn beneath a breathable jacket; there are not so many that can be worn beneath a trouser. But our legs don't tend to suffer from the cold as much as our upper torso.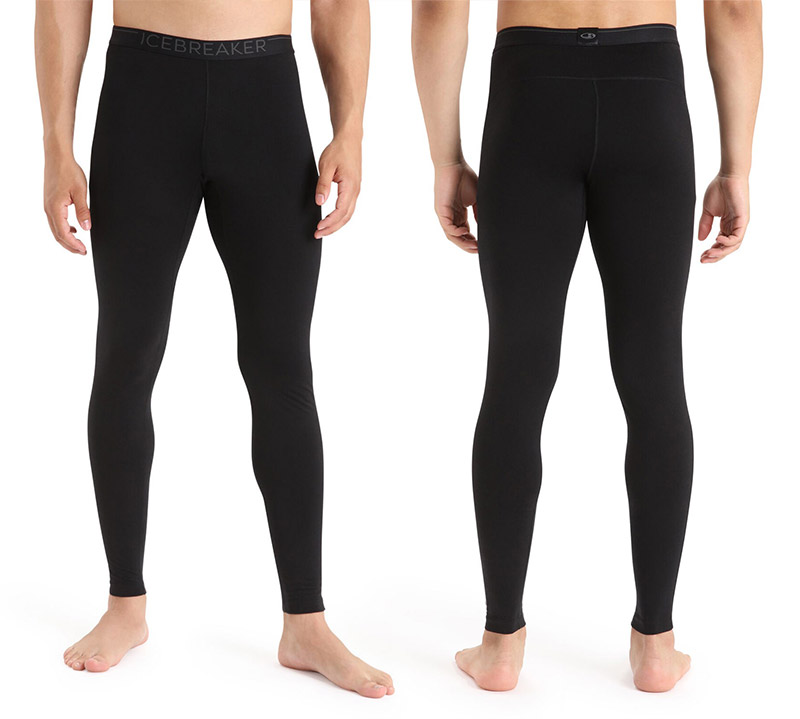 A pair of Merino leggings will help keep your legs warm.
The important thing is to keep our core warm. Our legs are sometimes shielded on the bike. Sometimes they are warmed by the heat of the engine. Sometimes we have to just man up, and grin and bear it. Best thing to keep your legs warm will be a pair of Icebreaker merino leggings.
Helmet
Those who go touring on an adventure bike - and that's a lot of people these days - will favour a helmet with a peak. And a peak is not useless. It's more than just a fashion accessory, but we'd still go for a flip helmet, and if our head was not the wrong shape, we'd go for a Neotec.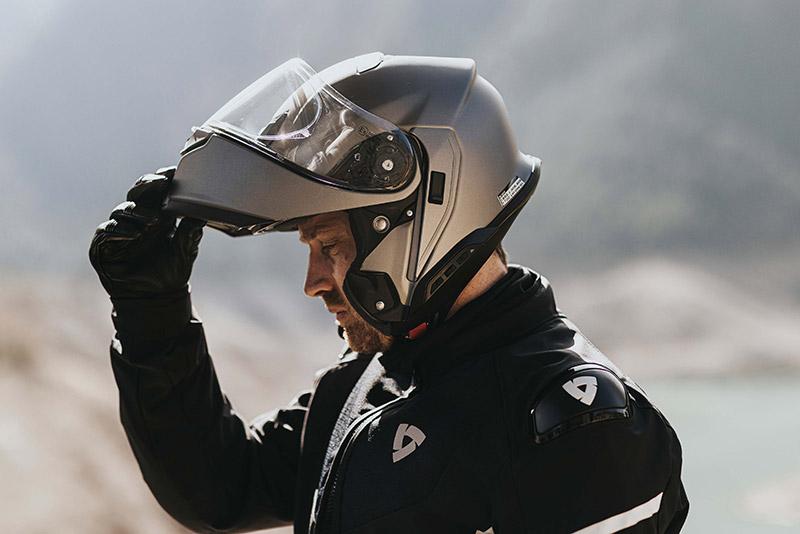 We'd always go for a good-quality flip. Quiet. Versatile. Cooling.
On a long journey the quietness of a good-quality flip will be an advantage. The inclusion of a drop-down sun visor will compensate for the absence of a peak, although with a Schuberth E2 you could potentially have both.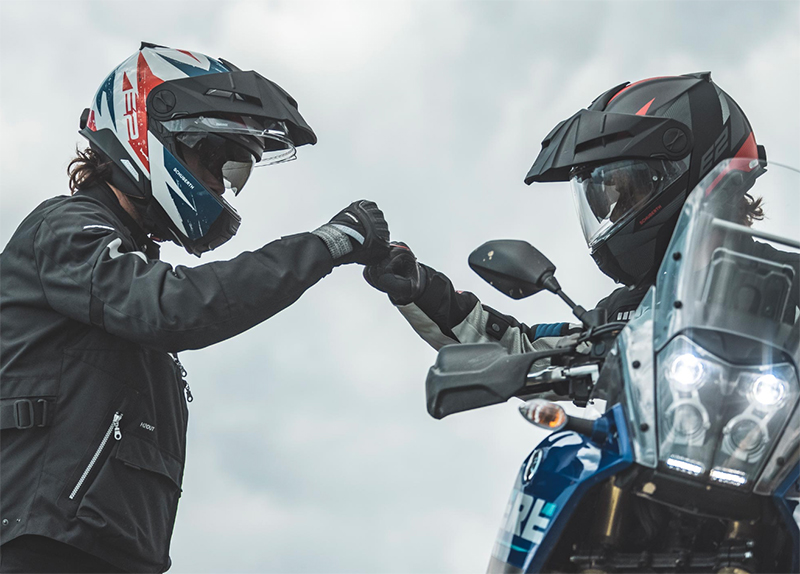 If you want a flip and a peak, a helmet like the Schuberth E2 might work.
But for us the clincher would be the ability to lift the chin bar to allow cool air to reach the face when travelling slowly through a village, or riding in traffic through a town.
Boots
You cannot totally avoid risk when you ride a motorbike. And there will always be a more protective solution, but for summer road riding I have come to like the short Klim Outlander boots. They're a mix of riding boot and walking boot. They are super comfy. They are as protective as an ankle boot gets. The waterproofing comes courtesy of Gore-Tex., and the BOA lacing system makes them so easy to put on and take off. We love them.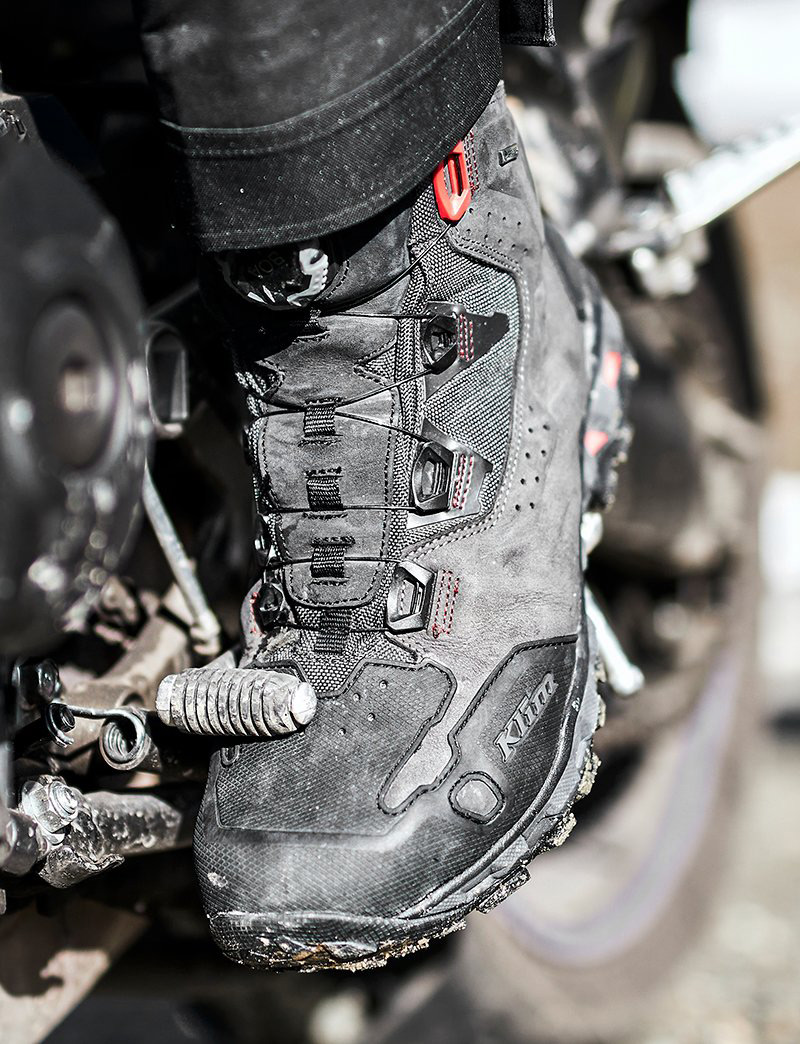 The Klim Outlander ankle boots work both on, and off, the bike.
If you want a taller boot, there are loads to choose from; and if you were venturing off-road you would want something with buckles, perhaps. I have a pair a Klim Adventure boots, but until recently I hated them because i found it impossible to change gear in them. But then I found a silly little product on Amazon called a 'Soleshifter'. It's made a huge difference, but I still wouldn't want to traipse around a medieval village in my Adventures. But for an off-road trip they'd now be perfect.
Gloves
If, for whatever reason, I could only take one pair of gloves, I would go for a pair of Held's two-compartment Air 'n' Dry gloves. They are brilliantly clever. They do look a bit racey, but it's the only glove that can be both a breathable, summer glove and a properly waterproof one.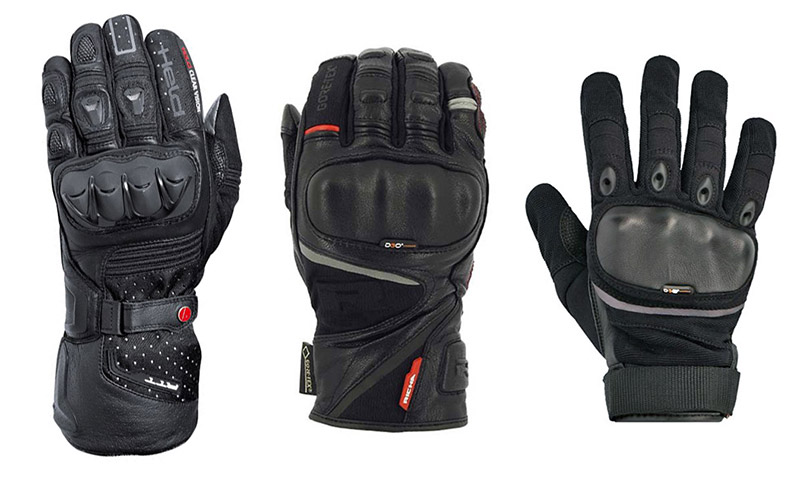 You are probably going to need more than one pair of gloves.
If I could take two pairs, I'd probably go for a pair of Richa Squadrons for hot weather, and a pair of Richa's Atlantic gloves for wetter and colder conditions. Both work well.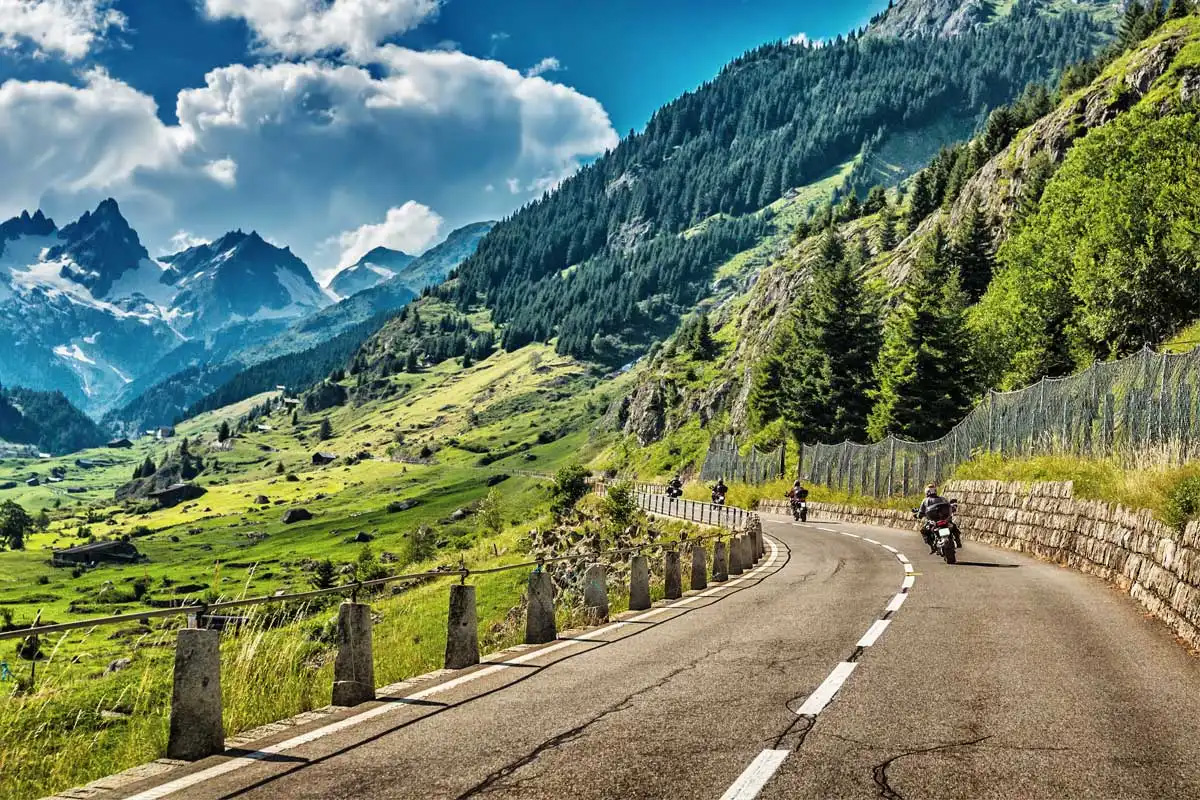 In conclusion
Some people just want to get on the bike and go. For whatever the reason they are pathologically opposed to the idea of stopping and putting layers on, or taking them off.
Well, so be it. A good-quality, laminated suit probably offers such folk the best solution. Come what may, they can continue riding. And in all but the warmest of conditions they will be fine. When it rains, no problem. If it gets colder or hotter, of course, they might still need to stop to add or remove their fleece. But it's when it gets really hot, that a laminated, or indeed any waterproof, jacket can become unbearable.
Layering, as we have described it puts you in the right kit whatever the conditions. And we would like to think that the outfit we have proposed is about as good as it gets.
But it is not easy to confront deep-rooted attitudes, and those bikers who have perhaps only come quite recently to laminated gear will sometimes be so enamoured with how waterproof their gear is that they won't want to countenance another option.
All we are interested in is making the ride as comfortable as it can be, whatever the conditions. This is where layering comes into its own. But if layering doesn't work for you, for whatever reason, that is not a problem. But honestly before you dismiss this approach, you should come and see us, and try on the stuff we've been talking about here.
---
Want some more? Please

click here

to return to our editorial menu.

Share this story