vmb-1-6-bsa-triumph-review-2019
Published on: 12 August 2019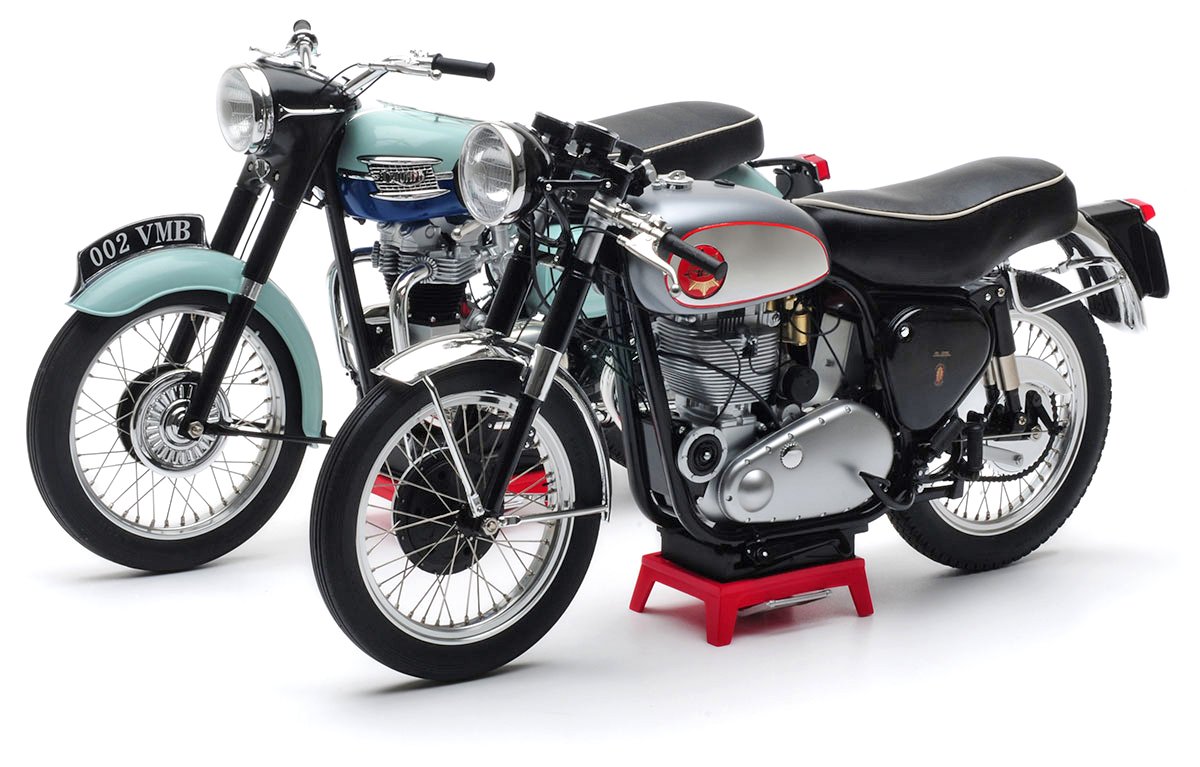 We recently received the two latest 1:6 classic motorcycle replicas from Vintage Motor Brands. Our initial delivery of both is already almost sold out, but for the time being we'll be receiving more on a weekly basis.
BSA GOLD STAR DBD 34 CLUBMAN
First up is the BSA Gold Star. The Gold Star originally got its name from Wal Handley's 100 mph lap of the Brooklands circuit in 1937, for which he was awarded the traditional Gold Star prize. It served as an inspiration for the company, who first applied the Gold Star badge to an M24 model. It was a model that stayed in production right up to the war.
The Gold Star that VMB has replicated is the 500 cc DBD 34 that was first introduced in 1956, and stayed in production until 1963. The bike came with clip-on handlebars, a finned alloy engine, a chrome-plated fuel tank, a 1 1/2" Amal carburettor, and a swept-back exhaust. It had a top speed of 110 mph, and in its first season it dominated the Isle of Man Clubman's TT.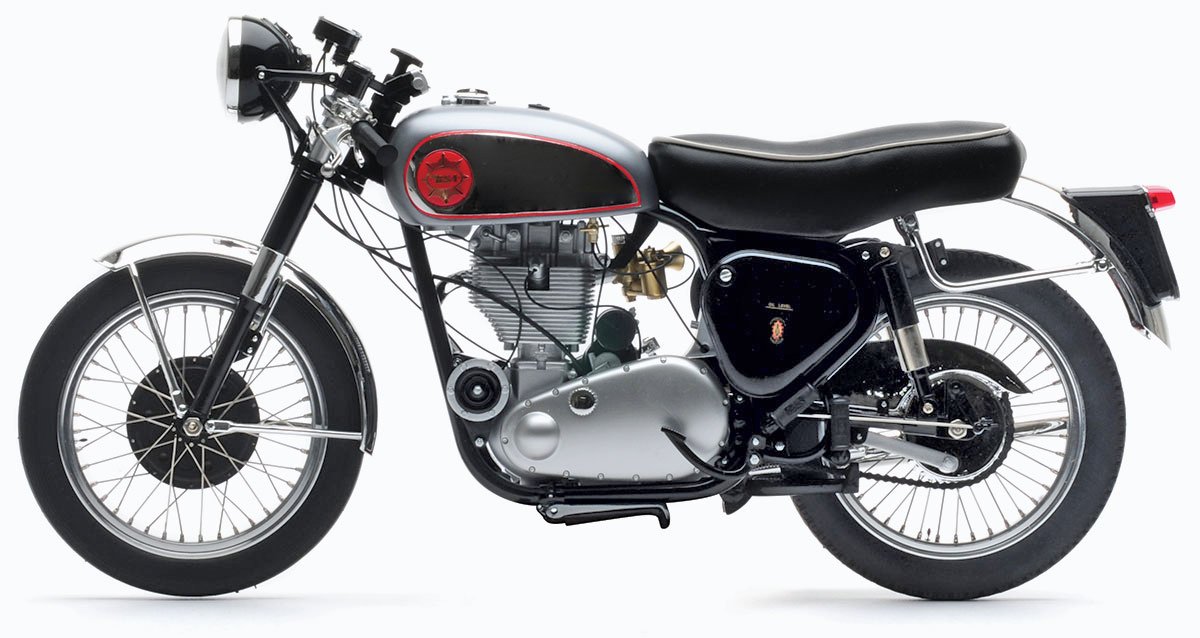 We've been involved with VMB's process of replicating the Gold star from the very beginning. We wanted to get the model just right, and so in our book there was nowhere else to go but to Norfolk, and the workshops of Gold Star guru, Phil Pearson. We photographed an original bike, taking hundreds of shots of it from almost every conceivable angle. Phil is a gold mine of information, and although his initial input was invaluable, it was his help in critiquing the later prototypes that made sure we got the bike just about perfect.
The end result is a model of which we and VMB can be rightly proud. Nobody has produced a 1:6 collector-quality replica of the DBD 34 before, and we reckon that it's good enough to take pride of place in any collection.

The Gold Star is restricted to a limited edition of just 999 pieces worldwide, but only 400 have actually been produced. As a general rule, replicas of both cars and bikes are being produced in such tiny quantities these days that we nearly always advise ordering a piece as soon as it is announced. But with this BSA the situation is a little more relaxed. Of the 400 originally produced, some 300 pieces currently sit in VMB's warehouse in Europe.
If there is a classic motorcycle that is as famous as, or even more famous than, the Gold Star, it is the Bonneville. As luck would have it, that is the second new 1:6 replica from VMB! This is in fact a second colourway, as the Tangerine Dream edition of the Bonneville was already replicated last year. It sold out almost instantly.
Like the Gold Star, it got its name from the exploits of a particular rider at a specific event. In this case, that rider was Johnny Allen. And it was from his successful attempt on the two-wheeled speed record in 1956 at the Bonneville Salt Flats that the bike derived its name.
The US market had been crying out for a Triumph bike with a more sporty edge. And so the company took its T100 and fitted the new bike with the T100's Amal monobloc carburettors and the same bike's high-performance camshaft.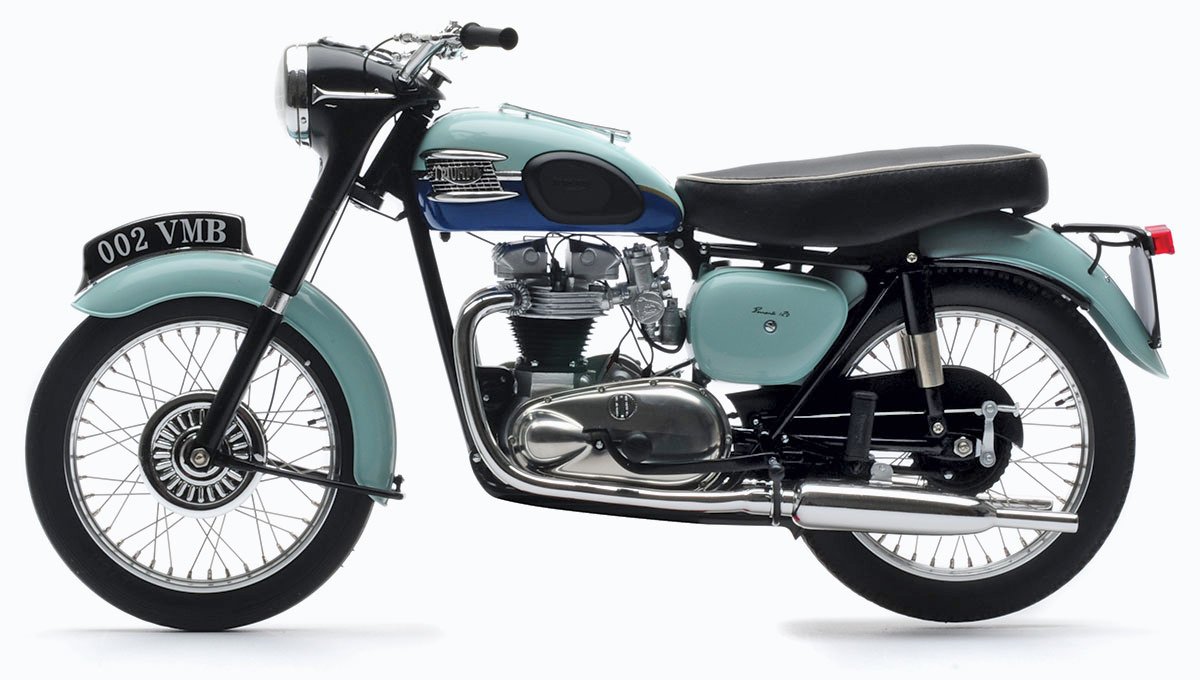 In truth, although the bike was the founder of a dynasty it didn't go down particularly well in the US. The styling was a little old-fashioned, and they didn't like the garish orange paintwork. These criticisms were addressed on later bikes, but to quell the immediate resistance Triumph produced a second colourway: Azure Blue over Pearl Grey, and this is the bike that has been modelled here.
When we first embarked on the project to replicate the Bonneville, we went straight to Kev and Cliff at Ace Classics, who provided invaluable assistance in helping us to get this bike as correct as it could be. In fact, the 1:6 VMB model is based on the bike owned by them, and that sits in their showroom. The only change we made was to equip the model with the European tank and handlebars.

The original model received great reviews when it was first released, which may account for the fact that it sold out within a couple of months, leaving many collectors disappointed. The second version, as you might expect, is identical to the original model in every respect other than colour.
Despite what is printed on the limited edition certificate that comes with the bike, only 300 have been produced. It is most unlikely that it will ever go into production again so, in effect, the limited edition quantity is 300. Only 200 pieces remain in VMB's warehouse. We would expect to sell 150 of these in the coming few months, and for the bike to be sold out well before Christmas.
These stunning 1:6 replicas each retail for £299.99. The code for the Gold Star is (VMB005), while the Bonneville can be ordered using code (VMB004). They each measure an imposing 33cm in length. You will not be disappointed.