Rokker Black Jacket AAA in black
Rokker Black Jacket AAA in black
x
We will beat any UK retailer's discounted price by a full 10%
If any UK retailer is selling anything at a price that is lower than ours, we will beat that price by a full 10%.For terms and conditions, click here.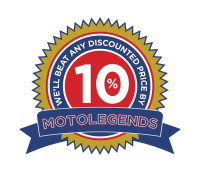 Rokker Black Jacket AAA in black Product Information
The Rokker Black Jacket was always a bit special. But now there's a new version and, as we have suggested, there's good news and bad news.

The Black Jacket has the appearance of a standard black denim jacket. Nothing about it shouts: 'Look at me, I'm a biker'. And for many people that's the appeal; it's just a cool-looking, casual jacket. But delve a bit deeper, and you discover that there's much more to it than meets the eye.

The outer chassis is made from a 100%, 14 ounce, single-layer Schoeller Dynatec. This material is immensely strong, delivering a 'slide time' that is 50% better than leather. The good news is that, even though the jacket is entirely single-layer, it is rated AAA under EN17092. To wear it you would never think this was the case, but it's more than just a pretty face!

A Nanosphere treatment to the fabric also gives you much more than 'get-you-home' levels of waterproofing. But it's here that there is, to some extent, bad news. The old version had taped seams and a waterproof front zip. And this would undoubtedly have made the jacket even more waterproof. But the new version has an ordinary zip and no taping. It's still going to be way more than water resistant, but we're probably talking half an hour in the rain before you get wet rather than an hour. Honestly, we are not sure that we are that bothered. This was never a substitute for a jacket with a membrane.
The upside of having no membrane, of course, is that this is a jacket that's really nice to wear on a warm day, because the chassis loses none of its breathability. Okay, it's no Klim Marrakesh or Rukka Forsair, but it runs pretty cool. A Coldblack treatment also prevents the UV rays from heating the jacket's outer material when the sun is up.

The armour is all D3O, including in the back, but in this new version the armour in the shoulders and elbows has been upgraded to D3O's Ghost armour. It makes quite a difference. The Black Jakket was always comfortable, but the new armour makes it more so.

Summing up, though, what is the Rokker Black Jacket? Well, as we've said, there's nothing else quite like it. Yes it's aimed primarily at warm weather riding, but it delivers good air flow in a garment that's stronger than leather. That you get a degree of waterproofing makes it more practical than most summer jackets, yet at the same time it delivers a timeless, classic denim jacket look.

The chap did a video about the original Black Jakket (yes they have changed their spelling from Jakket to Jacket), but of course that was for the old version, so the details will be different. Finally, a word on price. At £569, this was always a furiously expensive jacket, but the price has not gone up for the latest iteration. Is that good news? Well perhaps!
Specification
•
Made from 100% Schoeller-Dynatec.
•
Coldblack treatment to reflect the heat of the sun
•
Nano-sphere finish for superior water resistance
•
YKK zips with main zip covered by placket
•
Integrated leash to combine with pants
•
Two side pockets and two large inside pockets
•
D30 Ghost armour in shoulder and elbows
•
Back protector included
•
AAA rated under EN17092
Size Chart
Rokker jackets. Please note: available sizes for this product are shown on the product page.
| | |
| --- | --- |
| SIZE | TO FIT CHEST (INCHES) |
| XS | 34 - 35 |
| S | 36 - 37 |
| M | 38 - 39 |
| L | 40 - 41 |
| XL | 42 - 43 |
| 2XL | 44 - 45 |
| 3XL | 46 - 47 |
| 4XL | 48 - 49 |
| 5XL | 50 - 52 |
Product Reviews
Reviews
Brian: You get what you pay for
This is not a cheap jacket though it is more economic that it may seem it comes with ghost armour and a back protector that would add £100 to the price of other jackets. This go anywhere jeans jacket is both stylish and immensely practical. It is light to wear, has 2 inside and 4 outside pockets, adjustable cuffs wide enough to cover gloves, some rain protection yet easy to wear under waterproofs if need be. The neck design is clever, with the detachable throat cover providing protection without losing the classic style of the collar. The only failing I have found - apart from the spelling of jakket - is that the zip tags are too small, even without wearing gloves. Some zip tag extensions from Amazon, costing under £4, did the trick. This is my new favourite jacket, lighter and at least as protective as leather, stylish enough to wear anywhere, incredibly comfortable and likely to last a very long time. You get what you pay for
Dr K: Excellent Jeans Jacket
Ill start with the only drawback of this jacket and that is that its very expensive. Beyond that, this is a lovely jacket with great specs that is comfortable and cool. And cool is the right word the reflective properties of the cordura make this jacket not too hot in the summer. A bonus is that the back armour comes out very easily, so you can use it like a normal jeans jacket which I do frequently. Ive had a slow-speed accident in this jacket and it barely got a scratch.
Ben: Expensive but worth it
Just received this but can see that its really well made. Its a really nice cut, feels substantial without being overly heavy. And at last a collar that I can do up on a motorcycle jacket that doesnt choke me! Im normally an XL, I read the sizing chart and plumped for a 3XL which is perfect
Macaliuk: Looks great works great
A really nice jacket. Good looks and smart enough to wear casual off the bike. Not too bulky and enough room and comfort to layer up in colder rider with a ride shirt or hoodie. Water proofing is good and the armour is comfortable.
Owen White: Mr
Lovely jacket... bought this as a jacket to wear when it gets warm out as my Trailmaster was getting too hot n sweaty lately... took a while to select this one as I want functionality combined with a casual look 👀. Having been out for a few hours can confirm it is a very comfy jacket that is perfect for warm days-it may be wind proof but don't let that fool you- the fabric allows air through- which is just as I wanted...unless its mega-warm or you're just pootling in town best worn with something long sleeved underneath. Love it!
David J W Stewart: Gorgeous !
Not a great fan of blue denim jackets but this looks and feels like a high quality Cordura. Finish and details superb - you can see and feel where the extra cost has gone. Fit needed one size up for me. A beautiful addition to a 3 seasons bike wardrobe.
David: Product Review
A great casual looking jacket which is actual very technical. The Dynatec fabric with special coating is great, water just runs off it. Waterproof zips are a bonus and nice snug fit keeps the wind out. Great casual style and very comfortable with the D3O armour. Love it.
Leave us your review
Finance Options