Rukka Suki 2.0 ladies gloves in black / red
Rukka Suki 2.0 ladies gloves in black / red
x
We will beat any UK retailer's discounted price by a full 10%
If any UK retailer is selling anything at a price that is lower than ours, we will beat that price by a full 10%.For terms and conditions, click here.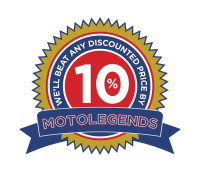 Rukka Suki 2.0 ladies gloves in black / red Product Information
The Rukka Suki 2.0 gloves feature is a ladies specific glove which is made with Gore-Tex XTrafit technology. They are fully water and windproof and breathable. These gloves are made from high-quality textile which is slightly elasticated so they won't soak up the water when it rains. There is added protection in the knuckle, scaphoid and fingertip area. There is an extra grip layer on the palm and fingertips. A visor wiper can be found on the left index finger and the fingertips are touch screen compatible.
These are an ideal summer waterproof glove which will protect you from the weather without compromising your dexterity on the controls.
Specification
Top touch sensitivity for perfect control with Gore-Tex X-Trafit technology
Fully waterproof, windproof and breathable textile gloves with elastic material
Knuckle, scaphoid and finger protection
Extra grip palm and fingertips
Visor wiper in left index finger
Touchscreen fingertips
Product Reviews
Reviews
Wendy: Excellent waterproof gloves
Bought these via click and collect. Tried on in the shop to ensure a good fit. I have long fingers so the size L 8 is an excellent fit. I also have a permanently bent little finger which can be difficult when buying gloves but these worked well. I decided to wear them home as it was raining and glad I did as I rode through torrential rain. Stopped off at the petrol station, filled up, put the gloves back on with ease. When I reached home my hands were dry. Very much looking forward to riding in the rain knowing these will keep my hands dry. Love the colour scheme.
Leave us your review