SW Motech SLC large bag 13.5L right in black / brown
SW Motech SLC large bag 13.5L right in black / brown
x
We will beat any UK retailer's discounted price by a full 10%
If any UK retailer is selling anything at a price that is lower than ours, we will beat that price by a full 10%.For terms and conditions, click here.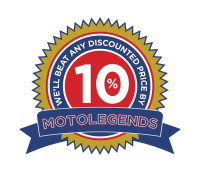 SW Motech SLC large bag 13.5L right in black / brown Product Information
State-of-the-art materials with a classic style: The Legend Gear luggage line presented by SW-MOTECH combines an ageless 'retro' design with choice materials and a versatile fastening system.
Legend Gear large bag has a capacity of 13.5 liters. Equipped with a convenient quick lock system for model-specific side carrier SLC. Fastenings for accessory bags. Waterproof inner bags. Complete with fiber-reinforced polyamide quick lock system.

Specification
Mounting through bike-specific carrier (sold separately)
Quick lock system for easy carrier mounting
Material: Solid Napalon synthetic leather / water-resistant wax coated canvas
Waterproof inner liners included
Size: 31cm L x 14cm W x 35cm H (12.2" L x 5.5" W x 13.8" H)
Each side sold separately
Product Reviews
Reviews
Tim Haynes: Great gear
First of all it is a great shame Motolegends are discontinuing stocking this luggage . I have two small large bags and two small ones fitted to two separate bikes. Very good quality and easy to fit mountings and instructions and the bags are tough and I can say with the internal bag that they are completely waterproof as tested through 5 hours of biblical rain to Germany .
Tony Smith: Cool bags
Fitted to my Moto Guzzi roamer this looks just the part.
Thom Fisher: Mr
If 5 is top...now as I will need brackets for my 2014 Softtail deluxe, it does not take me there? Love the look, and will buy 2 of each size. Fill me in on the bracket required. I also own a 2007, so will get brackets for that one as well. The bags then become my luggage.
Leave us your review