SW-Motech SLC small bag 9.8L right in black / brown
SW-Motech SLC small bag 9.8L right in black / brown
x
We will beat any UK retailer's discounted price by a full 10%
If any UK retailer is selling anything at a price that is lower than ours, we will beat that price by a full 10%.For terms and conditions, click here.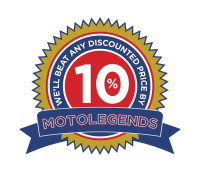 SW-Motech SLC small bag 9.8L right in black / brown Product Information
State-of-the-art materials with a classic style: The Legend Gear luggage line presented by SW-MOTECH combines an ageless 'retro' design with choice materials and a versatile fastening system.
Legend Gear small bag has a capacity of 9.8 liters. Equipped with a convenient quick lock system for model-specific side carrier SLC. Fastenings for accessory bags. Waterproof inner bags. Complete with fiber-reinforced polyamide quick lock system.

Specification
Mounting through bike-specific carrier (sold separately)
Quick lock system for easy carrier mounting
Material: Solid Napalon synthetic leather / water-resistant wax coated canvas
Waterproof inner liners included
Size: 31cm L x 14cm W x 26cm H (12.2" L x 5.5" W x 10.2" H)
Each side sold separately
Product Reviews
Reviews
Mal: So far, so good.
Useful little bag, shame you couldnt supply the mounting bracket. Although I think the strong sun recently has started to fade the black material, or it could just be engrained road dirt, will have to keep an eye on it. Would be even better if I could lock the bag to the frame, but I knew that when I ordered it, other than that its just the look I was going for.
Nevilleagnew Agnew: Great gear
The whole set was easy to fit, everything was there. The bags fit easily and using the waterproof bags they are definitely waterproof. All in all a good set of luggage and frames can be purchased for other bikes so easily transferred.
Leave us your review