Arai Quantic helmet review
Published on: 12 January 2021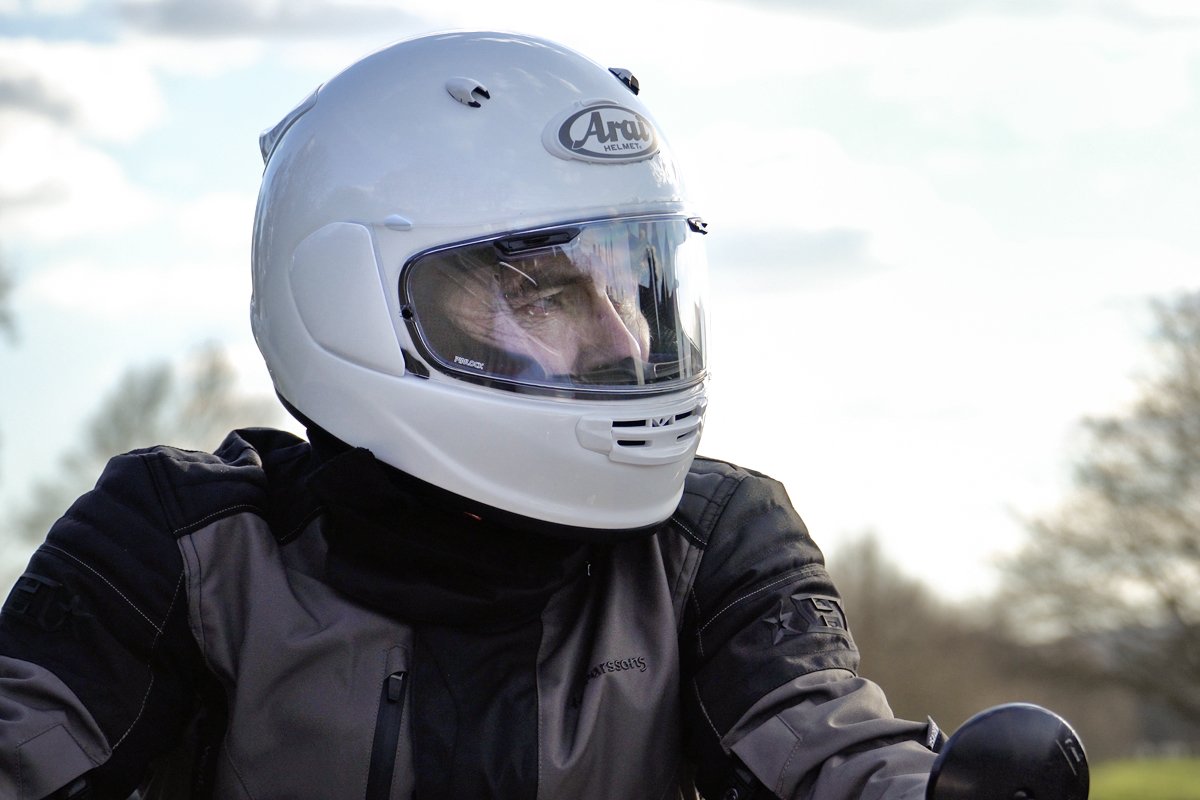 For those of you who don't like to tread where they might have gone before, we can tell you that this bulletin is basically an updated version of one we sent out a month or so ago. But now we have had an opportunity to spend some time with this new helmet, to ride with it on the road, and to get to know it. And whilst little about the detail on this helmet has changed, this updated bulletin reflects what we now know about the Quantic that we didn't before.
For obvious reasons, perhaps, there hasn't been a lot of new product development in the helmet market in the last 12 months or so. In 2021, we're going to see a lot of new colourways from many manufacturers, but not a lot of totally new helmets are going to be released this year.
But one of the high spots in 2021 is going to be the new Arai Quantic. Now any new Arai is exciting news; and to be honest, as a sport-touring helmet, this one is pretty much right up our street. It features a new, lighter-weight, shell construction. And given that Arais tend to be bigger and heavier than other helmets, that's welcome news.
We've recently had the new Arai Quantic in for us to look at and examine. Obviously, that has given us an opportunity to give it the full Chap in the Cap treatment. We also went out on the road to record our riding impressions, but the video was so boring, we decided to keep it to ourselves!
But the most exciting thing about the Quantic is that it's going to be the very first ECE 22-06 helmet to come to market. Now we have recently recorded a video review all about ECE 22-06. Suffice it to say that it's a new higher standard that heralds a generation of safer and more protective helmets. If you want to watch our video, click on the visual below.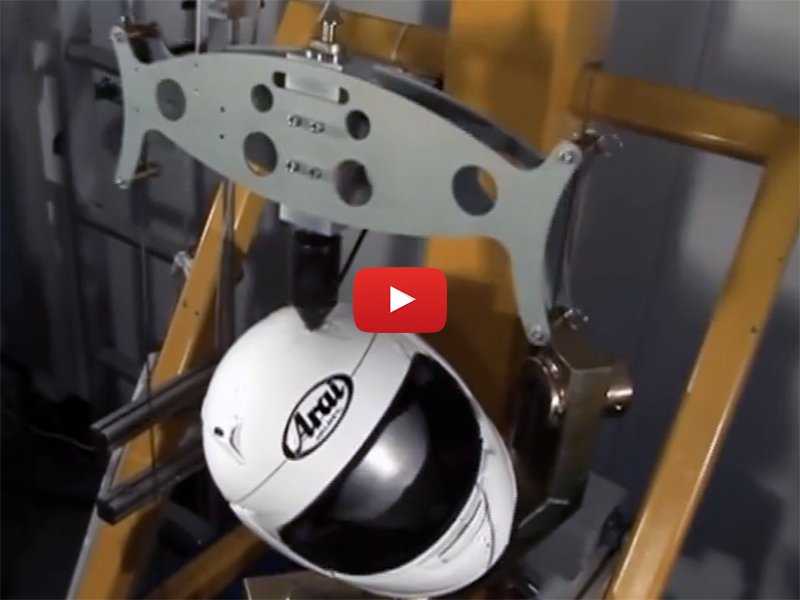 In this video review the Chap in the Cap tells you everything you need to know about the new standard.
The current standard, ECE 22-05, in truth, is not particularly impressive. You can meet it with a £50 helmet that you can buy from a supermarket. The ECE standard was originally introduced in the seventies, although 22-05 itself dates back to 1982. But the pass threshold for energy absorption in an impact is not set particularly high, and at that threshold the likelihood of brain injuries is over 90%. The new standard is a variation on the one that has more recently been developed by the FIM for Moto GP riders. Obviously, any moves to make motorcycle helmets safer are welcome; it will be quite a few years, however, before all helmets meet the new standard. But make no mistake; this is important stuff, and it is stuff you should know about.
First, what you need to know about Arai helmets
Arai make great helmets. If one is being totally honest, it would have to be admitted that the iron grip of the founder has stopped the brand developing into new markets and arenas. Mr. Arai likes to do things his own, somewhat uncompromising way, so you won't find an Arai with a drop-down visor or an integrated comms. facility. And he would never contemplate something as heinous as a flip-lid helmet!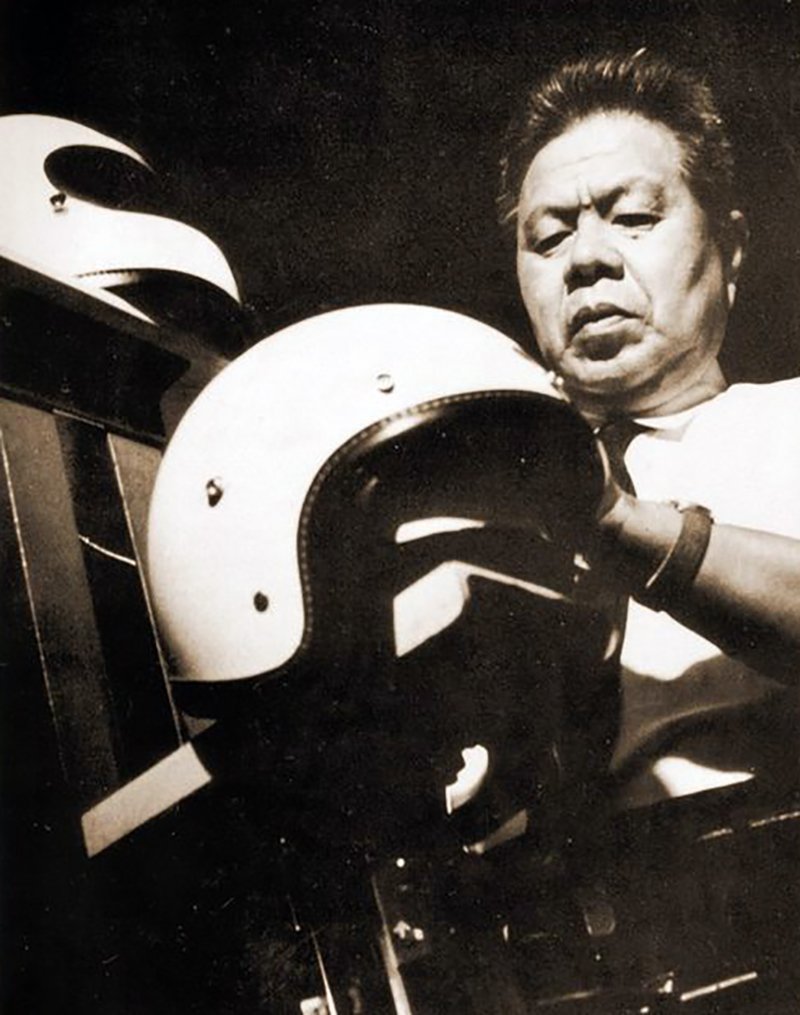 Mr. Arai is the company founder. He is still its guiding force. He operates on the basis of a set of principles, and he likes to see things done his way.
Now, in the early days, Arai helmets were tested by the Snell Institute in America; and the Snell standard was originally designed for car helmets. Car helmets need to have particularly strong outer shells that won't crack even after repeated impacts with, say, a roll cage. In a car helmet, the strength of the outer shell is, in relative terms, more important than the helmet's ability to absorb and dissipate energy in an impact. But it's different in motorcycling; in a motorcycle helmet, it is the absorption of the energy of an impact that is more important, because it is this that can save your life and prevent brain damage.
From the very early days, and as a result of its experience with Snell, Arais have always had phenomenally strong shells. But because a strong shell won't be particularly good at absorbing energy, Arais have needed to have an extra thick, energy-absorbing eps. What this means is that Arais have always tended to be heavier and bigger than other helmets. Put, for example, a Shoei Glamster next to an Arai Rapide, and the difference is plain to see. The end result, though, is a helmet that is both strong and energy absorbing. Potentially the best of both worlds, provided of course that you are prepared to live with a bit of extra girth and a bit of extra weight.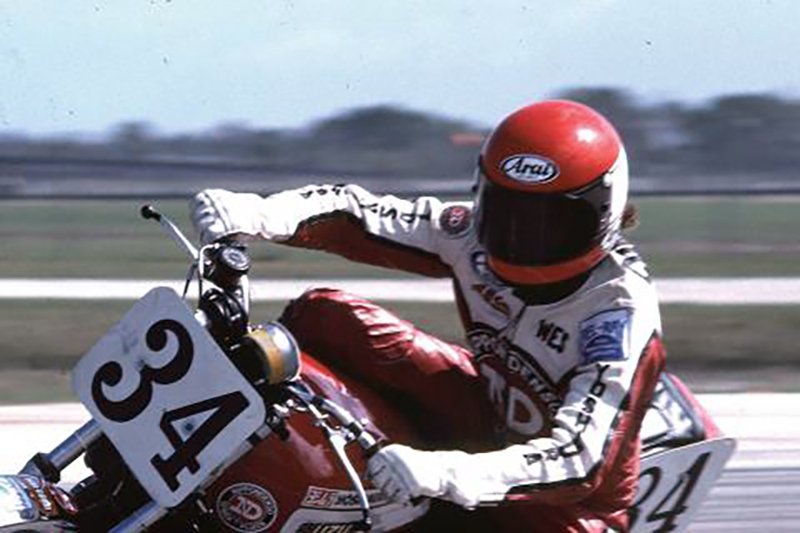 Racing has always sat at the heart of Arai's philosophy. The design of a modern Arai and the features it incorporates can very much be traced back to the company's racing roots. For better or worse.
Mr. Arai is a fan of racing, and of how it helps him to create a better product. The shape of an Arai, for example, is always very round to help it glance off the track surface if there's a coming together. And it's true that a round shell is better in this regard. In fact, Arai's work in this arena has clearly influenced the new ECE 22-06 standard, which now incorporates a test for angled impacts.
The other feature that Arai has always built into its helmets, again because of racing, is enhanced ventilation. Racing is hot work. To stay cool, you need to be able to get large amounts of air into the helmet. Arais, therefore, are always extremely well vented. The downside is that Arais can, as a result of the large amount of incoming air, sometimes be a little noisier than other helmets.
So that's Arai helmets. Arais are immensely reassuring to ride in. They feel solid. And they are beautifully put together. Arais are not inexpensive. But when you buy an Arai you are not paying a premium for the brand's cool and fashionable credentials. You are paying for the research that has gone into Arai's development programme. For their in-house testing that way exceeds any statutory requirement. For their years of experience in racing, and for the uncompromising attention to detail that goes into the construction of every single helmet. Arai helmets are made entirely by hand. It takes 18 hours to make just one helmet. And every helmet is inspected five times before it is allowed to leave the factory. When it comes to quality, nothing can match an Arai.
Arai Quantic motorcycle helmet in a bit more detail.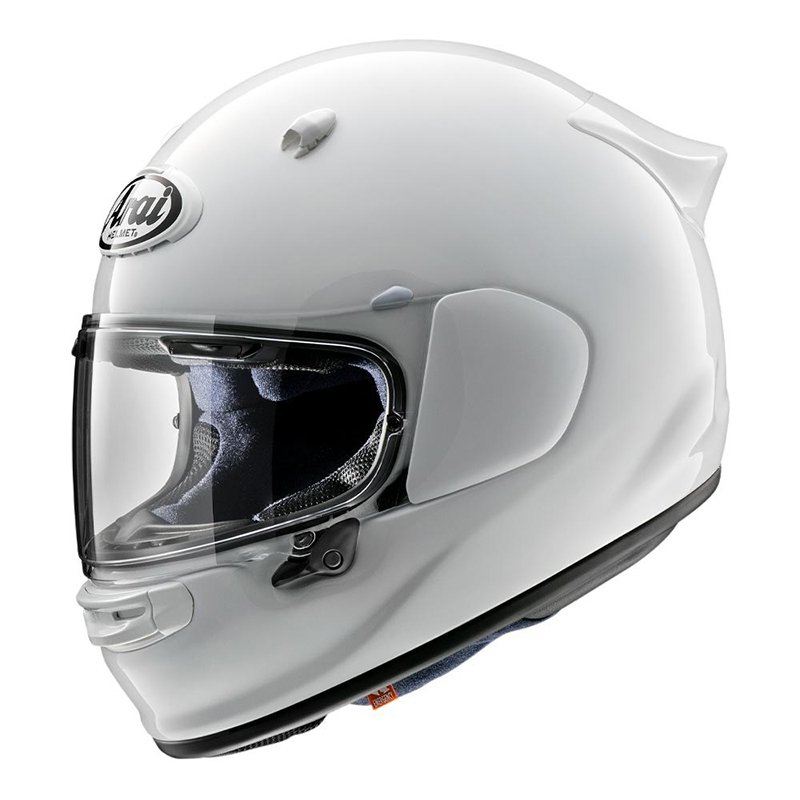 The new Arai Quantic helmet
What we are not going to do is trot out all the blurb prepared by Arai's press office; so we won't be talking about how the Quantic will 'wrap its wearer in a cocoon of luxury'. Nor will we be eulogising about how it 'wears with comfort and ease, day-in-day-out, with zero compromise'. We are going to try and keep it just a little bit real!
Now, we've already mentioned that the Quantic has a new, lighter shell. The shell has a 'peripherally belted e-Complex Laminate Construction'. Basically, this is a shell that incorporates an extra thickness of material that runs around the helmet just above the eyeline. This allows Arai to create, overall, a lighter and thinner shell without any compromise in terms of strength and rigidity. It means that the Quantic will be less heavy and smaller than some other models in the range. But the Quantic still very much accords with Arai's rounder shape for better glancing off abilities. That is something that will probably never change on an Arai.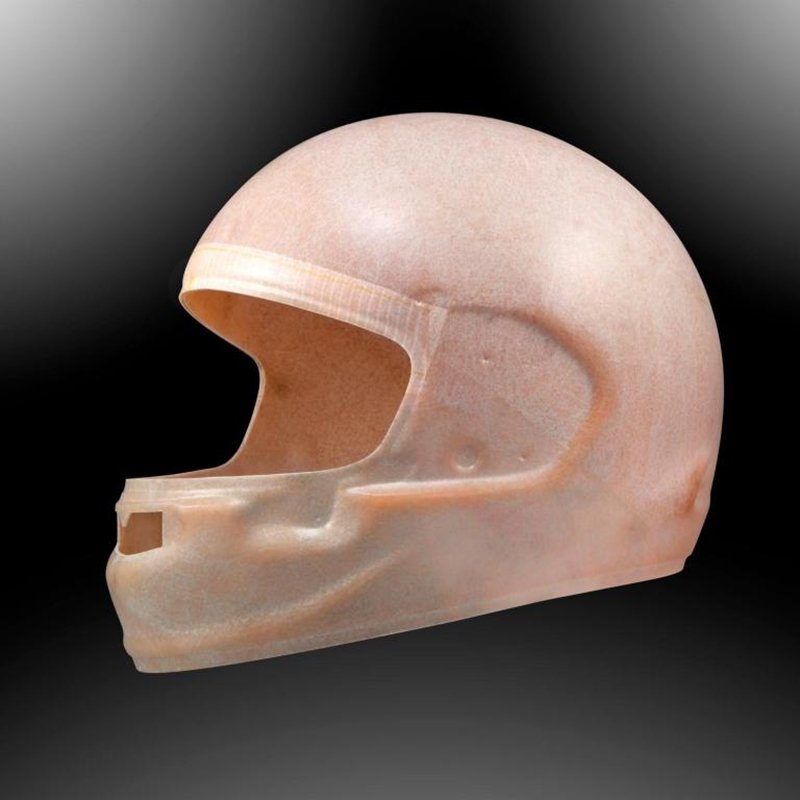 The Quantic has a brand new shell. It may be that this was required to meet the new ECE 22-06 standard, although we don' think this is the case. But importantly the new shell is lighter without any compromise on strength. We don't have the weight yet, but the Quantic will be lighter than most Arais.
There is one little thing about the Quantic that we're not massively excited about; and it's the large spoiler on the back of the helmet. It's apparently inspired by the spoiler on the RX-7V. It's designed to improve stability and reduce buffeting, as a result of which it is supposed to reduce rider fatigue. Apparently, it's been tested at 300 kph at Suzuka, which makes their sports-tourer motorcycle much faster than mine! But whatever the functional benefits, we think it looks just a little out of place on a helmet like this. In our view, it is simply too racy and aggressive; too boy racer. But that's just us; that's an opinion; no more. Arai will certainly not agree!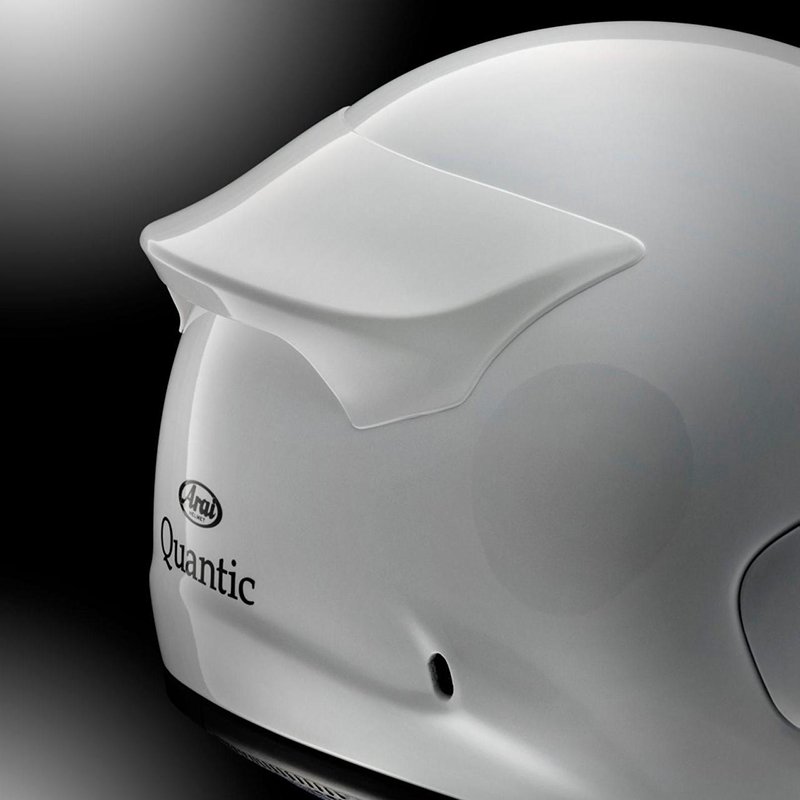 We like this new helmet a lot, but we're not huge fans of the spoiler. Will it make the helmet more stable at a speed of 300kph? Emphatically yes, but it's less important in a world of 60 and 70 mph speed limits.
And here we have an admission to make. We love the Arai Rapide, but that Simpson Bandit-esque nose extension is not exactly what we would have wanted on a retro helmet. Ironically, what people were looking for was an updating of a classic, eighties Arai. Totally smooth and totally round. In our view, the Quantic without the spoiler would be the perfect retro helmet. Anyway, we're just saying; just in case anybody in Japan is listening!
So, let's take a look at some of the other details. We'll start with the venting.
Venting on the Arai Quantic
In total, the Quantic has 12 ventilation ports: six intake, six exhaust.
One thing that is brand new for the Quantic is the way the Arai logo on the brow acts as an inlet to two intake ports. It sits just 3.5mm off the shell, and has an open and closed position. At just 30 mph it channels 40% more air into the helmet; at 75 mph that becomes 70% more air. The switch for the duct has been designed to be operated easily with gloved hands. Air also flows into the helmet through the Formula One-derived, very neat, tear duct intakes.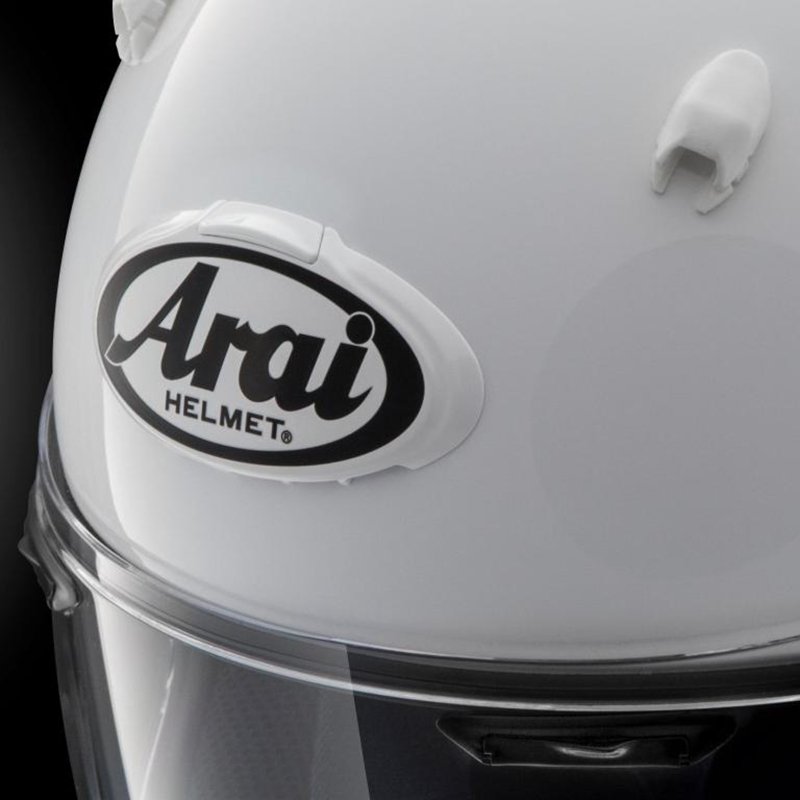 We think this is very clever. One wants and needs vents, but stick-on scoops just look ugly and detract from the smoothness of an Arai shell. The vent masquerading as a logo is ingenious.
The chin vent incorporates a new design that has been created to increase the volume of air passing over the visor. There are three positions for the vent: open, closed and halfway.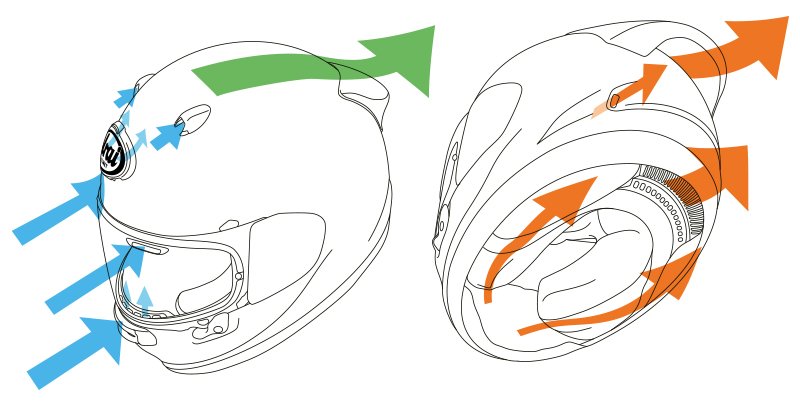 As one would expect with an Arai, the venting is excellent. In via the chin, the eyebrows, the Arai logo and the tear ducts. Out though the spoiler, the moulded-in exhausts towards the rear of the helmet and, of course, through the back of the neck roll.
As with many Arais, you also get eyebrow vents into the top of the visor. Now, we like eyebrow vents. They are very effective when it comes to cooling down on a hot day. If there's a downside it can be that, when open, they can be a little noisy.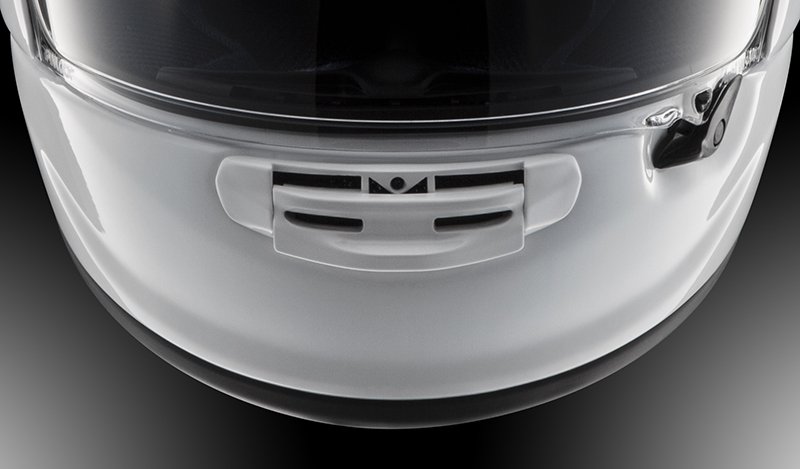 There's a three-position intake on the chin: open, closed and midway.
Which brings us to our least favourite feature on the Quantic! That spoiler. The spoiler is not just a spoiler, however. It is also an exhaust vent, and is operated by means of a three-way switch. It efficiently allows air that enters the helmet through the brow, the eyebrow vents and the tear ducts to exit the helmet. You also get, on either side of the helmet, exhaust vents that are integrated into the shell. These Venturi exhausts help create negative pressure inside the helmet to better draw out warm air. Finally, air can exit the Quantic through a venting panel at the back of the neck roll.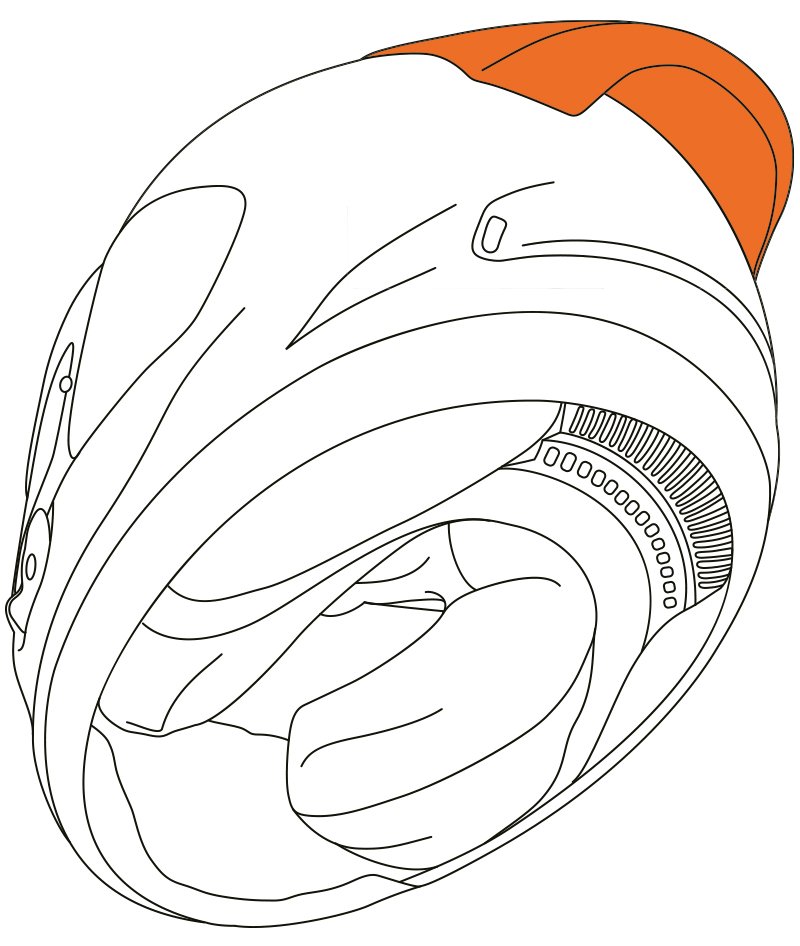 No issues with the venting on the Arai. It's top notch. We like the logo vent, the tear-drop ducts and the low-down exhaust vents that are moulded into the shell. Venting through the spoiler is also going to work well. We just wish that it could have been done more subtlety. Perhaps without a spoiler at all! The spoiler, by the way, has been designed to break off easily in the event of an accident.
So, as ever with an Arai, the Quantic is well furnished with inlet vents and exhaust vents. But lots of air can mean lots of noise, so how does the Quantic perform on the road?
Well, the first thing we would say is that we do not have a lot of sympathy with people who complain about noise in a helmet, but who do not seek to protect their ears with earplugs. The fact is that you will cut out over 90% of the damaging effects of wind noise if you wear earplugs. And if you do wear earplugs the difference between helmets in this particular regard in not usually that great.
Yet, we would have to say that the Quantic is not a helmet you would buy if noise attenuation was your greatest concern. I rode in the Quantic for a couple of days, both with and without earplugs. It was no noisier than most other Arais I have worn, although it is not as quiet as the Rapide. But if you have ridden in an Arai in the past, you won't be in for a great surprise. Either way!
Other things you might want to know
The Quantic comes with Arai's standard Variable Axis System visor mechanism that pulls the visor tight into the rubber seal as it closes. The visor locks firmly into place by means of a shield-latch mechanism that, apparently, Arai has lifted from its Formula One helmets. It operates smoothly and intuitively, and is easy to operate even with a gloved hand. Importantly, it really locks the visor tightly into position. The other benefit of the closure mechanism is that it allows the rider to ride with the visor in a 'crack' position. Important when it's hot, but also when there's the possibility of fogging up.
The helmet also comes as standard with a Pinlock 120 anti-fogging insert.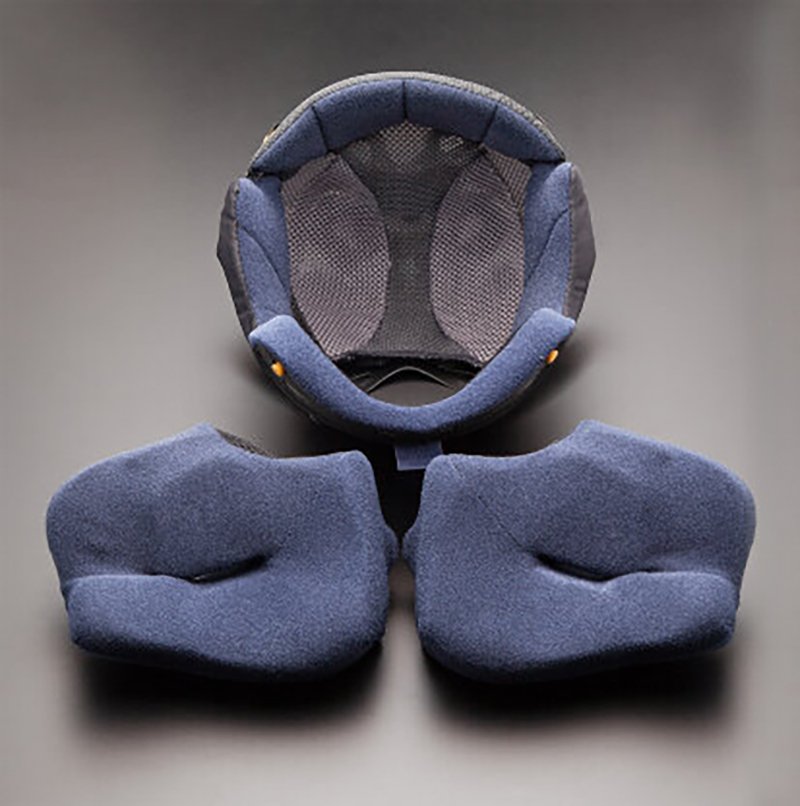 These days we find it difficult to get too excited by helmets where you cannot swap out the interior parts for a customised fit. Unfortunately, this does somewhat narrow the gene pool!
As with most Arai helmets, the interior parts of the helmet can be swapped out. This is useful if you want to clean and refresh the interior but, more importantly, it means that here at Motolegends we can custom fit the helmet for a perfect fit, as you can get thicker and thinner pieces for every size of helmet.
The helmet has also been designed with ear-pocket recesses so that intercom speakers can be fitted without pressure being applied to the ear lobes. But, unlike with Shoei, there's no integrated comms. package designed to work with the Quantic.
As an aside, we think that the new Interphone U-COM that will also talk seamlessly to Sena comms. would be the way to go.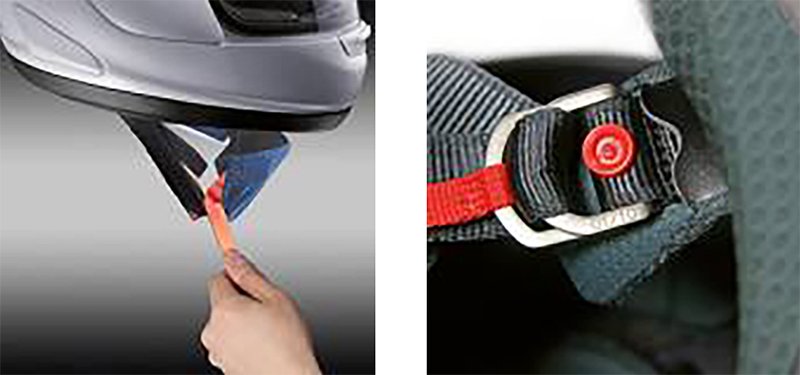 The Quantic has ERS cheekpads for emergencies. And, as ever, a racing-inspired double-D fastener.
The helmet is equipped with an Emergency Release System (ERS). Basically, there are orange pulls on the cheekpads that allow a first responder to yank the pads out, to allow the helmet to be removed more easily.
You also get, as standard, a breath guard and a fixed chin curtain, which shows that Arai has at least taken steps to mitigate noise. Fastening the strap is by means of a Double-D ring.
Conclusions
The Quantic comes in five sizes, from XS (53-54) up to XL (61-62). There are three shell sizes to accommodate these five sizes; one for XS and S, one exclusively for M, and one for L and XL.
We are genuinely excited at the prospect of the Quantic. It promises to be the kind of helmet that will work on just about any bike. You are going to get Arai quality and Arai levels of protection and comfort. And for the first time, you'll get an Arai tested to the new, more demanding, ECE 22-06 standard. And that makes this not just an exciting helmet, but also an important one. Right now, one can say, with a degree of confidence, that this is almost certainly the safest motorcycle helmet that money can buy.
It means, in our view, that this helmet is going to prove hugely popular. A lot of people are going to want their next helmet to meet the new, higher standard, but there won't be many others coming through in 2021. There is, therefore, a strong possibility that the first production of the new helmet will sell out very quickly. 22-06 is a huge deal, or rather it will be when people get to know what it means. Me, I've put my name down for one already, despite that spoiler! If you're an Arai wearer, know your size, and don't want to risk missing out, then it might be worth putting in an order now. The helmet is due for release in May.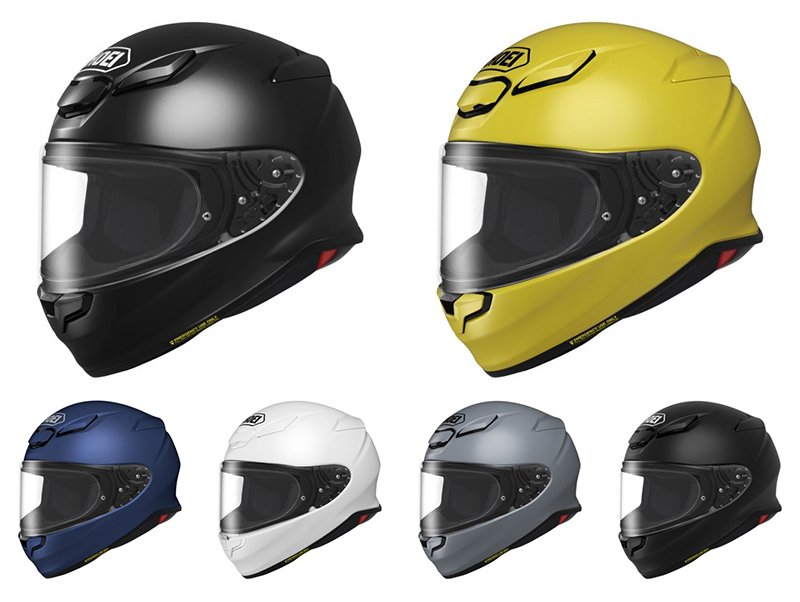 Recently arrived in the US is a helmet called the RF 1400. This replaces the RF 1200, known over here as the NXR. The new NXR will be here later this year, and like the Quantic will be ECE 22-06 accredited.
But ultimately Arai will not be the only player in town at this end of the market, because we expect its equivalent, the Shoei NXR, to also be released later this year. In fact, the new NXR has already been released in the USA, where it is known as the Shoei RF1400, and if you want to look at the helmet, we already have one here at Motolegends. But, don't grey import one. The American helmet is only DOT and Snell approved, and therefore you cannot legally ride in it over here. It will not have been tested to 22-06. The European version will be much more protective than the American model. The American fit is also quite different to the European fit.
Now, coincidentally, the Shoei NXR is the most obvious direct competitor to the Arai Quantic. They are both sports-touring helmets. Neither comes with a drop-down sun visor. They are going to be similarly priced. The Shoei will be smaller and probably a touch lighter, and it comes with better provision for a comms. system. The Arai, we are thinking, will feel more solid and robust. Now both have an oval-shaped interior, but the Arai is nonetheless a slightly rounder oval. Some people will be able to comfortably wear both. Others, like the author, with wider, rounder heads will probably end up having to go for the Arai.
The problem with the Shoei is that we don't yet know when it is going to arrive. The Arai is scheduled for May, as we have said; the Shoei might not reach the UK until somewhat later in the summer. But both helmets are going to be much in demand. If you're thinking that it might soon be time for a change, you should definitely be thinking 22-06, and you should probably look at both the new NXR and the Quantic.
You can see all the different colours of the Arai Quantic helmet here.
---
Want some more? Please

click here

to return to our editorial menu.

Share this story