Best all season motorcycle riding gear
Published on: 28/08/2019 16:08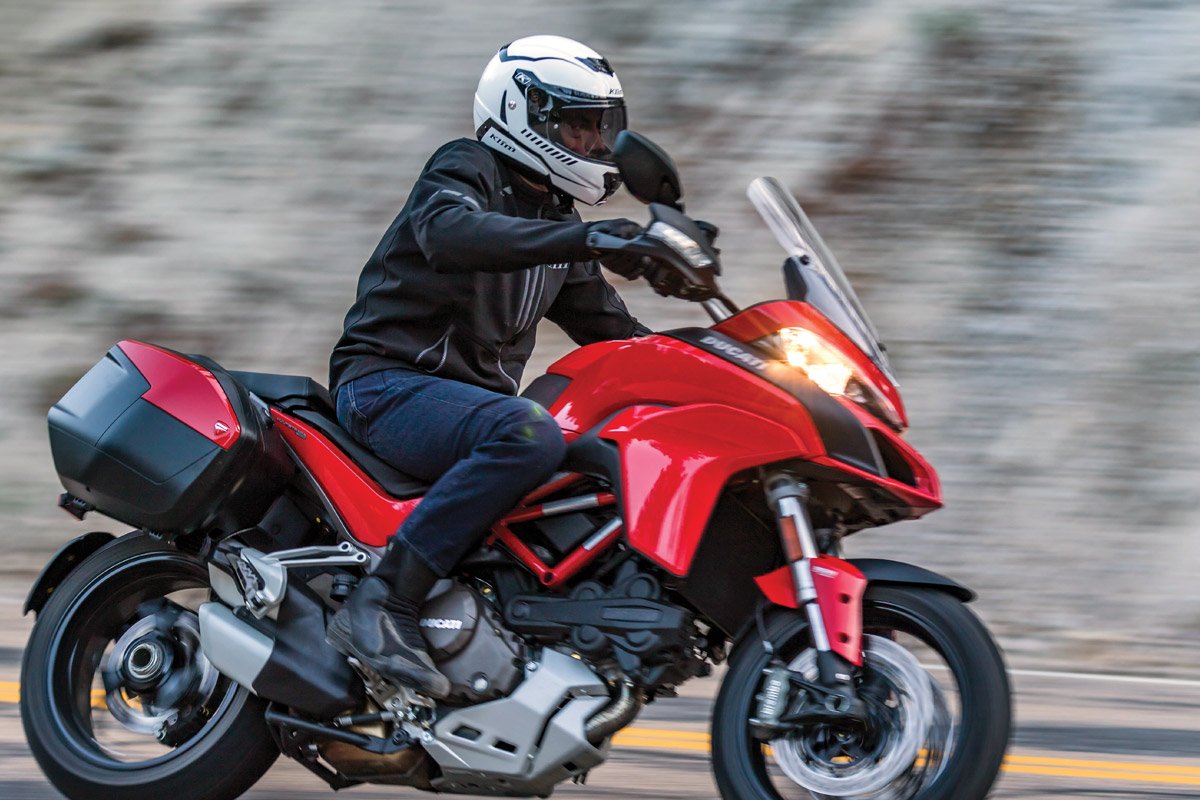 AN OUTFIT YOU CAN WEAR ALL YEAR ROUND; COME RAIN, COME SHINE, COME THE FREEZING COLD
It is not uncommon, not uncommon at all, for a customer in the shop to ask if there's a suit on the market that can be worn all year round. That will be airy in the summer months for touring in Europe or further south. That will be waterproof when the heavens open. And that will be nice and toasty when the temperature drops.
The customers wanting this flexibility are not normally those who commute daily, or who cover huge distances across the year. The customers who do this will normally have a range of outfits that can be alternated to suit the prevailing conditions; with mesh for the summer, and something more robust for the darker months.
To those seeking an outfit that will cover every eventuality, our response, sadly, has always been that there is nothing out there that is going to work in every situation.
But with clever new products continually coming on to the market, and with ever improving technologies, we think that we may have hit upon a system that will work superbly for 90% of riders, 90% of the time.
The starting point of this new approach to all-year-round riding is the new Marrakesh jacket from Klim. Now this a is a rather special bit of kit. Made from 1000 denier Corura that contains stretch it is, from a protective stand point, just about as good as almost any textile jacket. We're not huge fans of the new CE regulations, but it is certified as an AA garment, which is as good as any textile jacket on the market. It comes as standard with D3O's latest armour in the elbows, shoulders and back.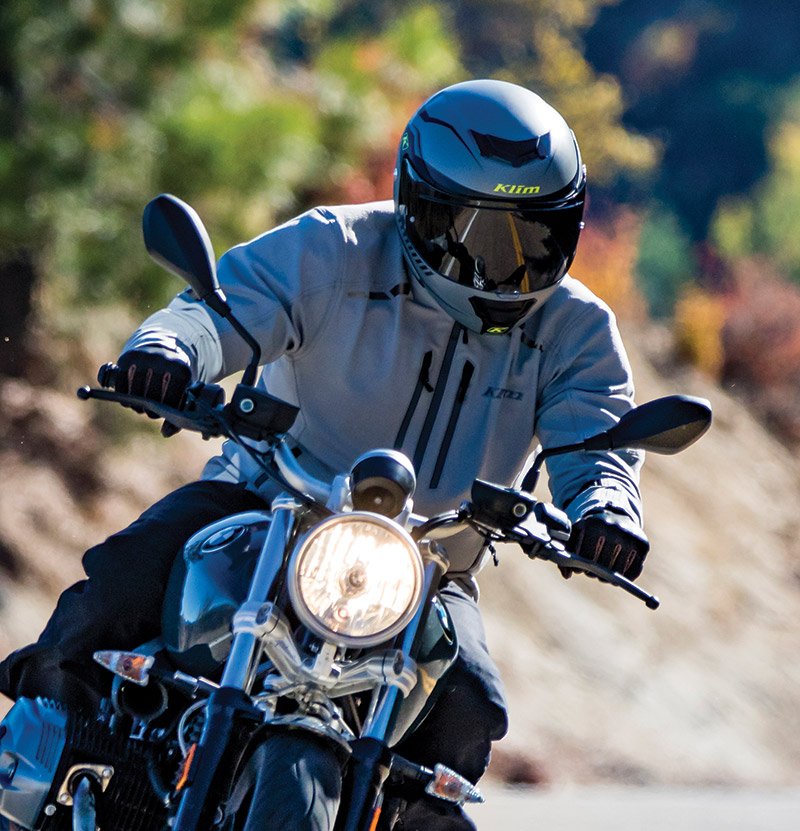 The Marrakesh is made from 1000 denier Cordura, so it's impressively strong. It's also fully equipped throughout with D3O armour. It's got four-way stretch so it's supremely comfortable. It's also amazingly breathable. On its own, though, it's not great in the rain and the cold. It comes in two colours: grey, or black.
Because of the stretch woven into the Cordura, the Marrakesh is supremely comfortable to wear. It looks like, and actually feels like, some kind of sports top. Walk into the pub wearing it, and nobody will bat an eyelid.
But what it doesn't have is a waterproof membrane. Now the good news is that, because of this, in hot weather, it's going to flow air extremely well. In fact, it will flow more air than your traditional mesh-jacket because air can flow through every panel. Of course, it's much more protective than your average mesh jacket.
In truth, it probably won't flow air in quite the same volume as the Rukka Forsair does, but the Marrakesh is much nicer to wear, and is more protective. We might also suggest that, fabulous as the Forsair is, it's probably too breathable for all but the very warmest of days.
The downside to having no membrane is that the Marrakesh is not waterproof. In a downpour, it's going to pretty useless, although it does have a waterproof coating for what we might term 'showery' conditions.
But, our point is this; on warm and hot days, the Marrakesh is everything you need: protective, highly breathable, and lovely to wear.
If it rains, we would recommend you wear over it Scott's fabulous Ergo Pro waterproof jacket. And we recommend this one, and this one only, because it's the best. It folds up into a neat stuff sack when you don't need it. When you do need it, it takes seconds to put on. Wear it tight to avoid flapping on the bike. It's incredibly waterproof and, with its laminated membrane, it's also really breathable. With it over your Marrakesh, you will stay dry from both the outside and the inside.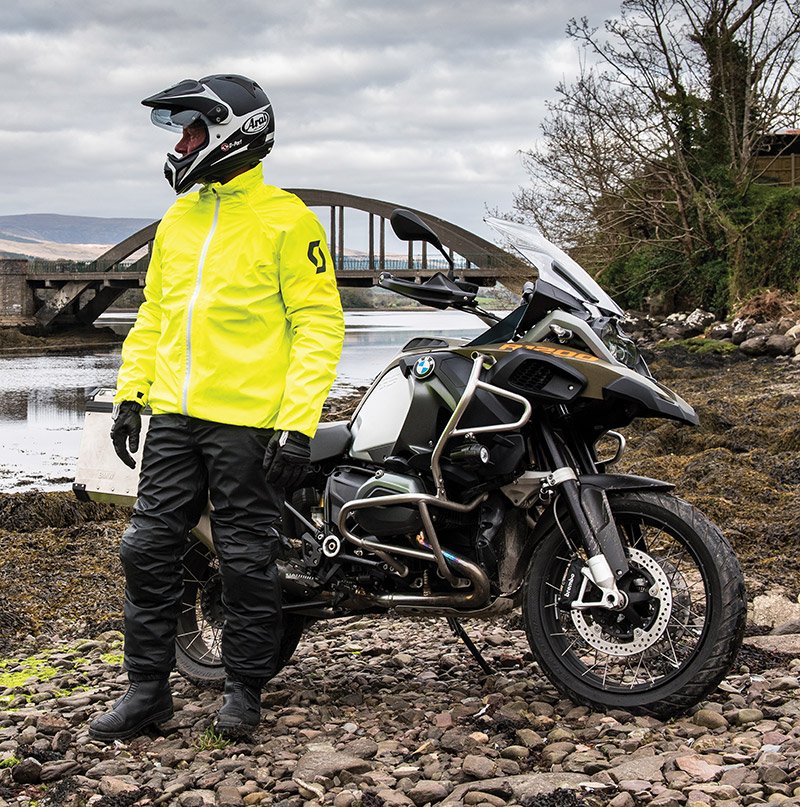 It makes a lot of sense to wear a waterproof layer outside rather than inside a protective layer. Our chosen waterproof would be the Scott Ergo Pro. It's simply the best. It's super stretchy and very strong. It breathes well, and will never let the rain in.
And here it's worth noting a point about the benefit of wearing a waterproof on the outside of your protective wear.
Most motorcycle suits have their membranes inside the jacket, and there are a number of good and valid reasons why garments are made this way. But, on one level, it's less than ideal. It means that by the time the membrane gets to do its job, the outer shell of the garment can be soaking wet; meaning that it can be heavy, and can make you feel cold.
In some respects, it makes much more sense to have your waterproof layer on the outside. It means that, in heavy rain, water cannot enter the protective layer of the jacket. It won't get wet, you won't get cold and, when it stops raining, you'll be left with a bone dry jacket.
There's another use you can put the outer jacket to. And that is to put it over the Marrakesh jacket when it gets a bit chilly. A waterproof layer is a windproof layer. Put it on, on a chilly morning or evening, and you'll be amazed at the difference it makes to your body temperature.
Anyway, so far so good. Hot weather, tick. Wet weather, tick. So what about the cold? Well, the good news is that staying warm on a bike is easy. You just need the right base and mid-layers.
But, for winter riding, given the breathability of the Marrakesh, you are going to need to invest in something that's very insulating.
As always, you should wear a decent base layer, without which everything else you wear is compromised. We rate Halvarssons' base layers quite highly. In the summer, their mesh stuff is great. In the colder months, you can't go wrong with their Outlast-infused 'Light Wool' merino top and bottom.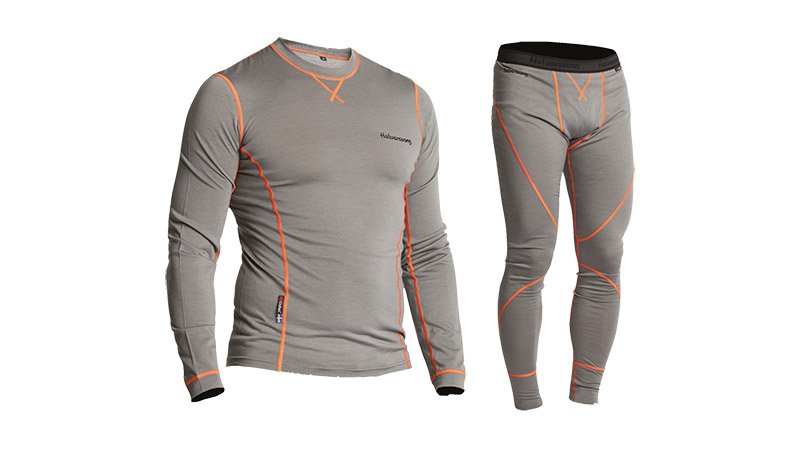 To make our outfit work to its full potential, you'll need decent base layers. Our favourite purveyor is Halvarssons. In the summer, their mesh stuff is great. For the rest of the time, their Light Wool layers infused with Outlast are the business. Just don't wear anything made from cotton; it doesn't breathe.
To stay warm on the bike in colder weather, there is no mid layer that compares with the Rukka Down-X although, in the context of what we're discussing here, we're referring more to the jacket than the pants.
Now, at times here in the shop, partly because we are a little embarrassed about the high price of the Down-X jacket, we sometimes suggest that you can get a better value down jacket from an outdoor shop but, actually, I'm not totally convinced that this is necessarily the case.
The Rukka comprises 90% genuine, duck down. It will keep you warmer than anything else you'll come across. You can buy tops that look similar, but they will often not be as effective. Some of our customers who mountaineer have also told me that, for genuine duck down, the price is actually quite reasonable. I bow to their superior knowledge!
The Down-X has another couple of benefits. It is cut short to finish above the waist line. This is important on Rukka's Nivala suit with which it comes as standard, because it means that it does not interfere with the zipping together. But it also means that it works well with the Marrakesh, because it won't stick out below the hem.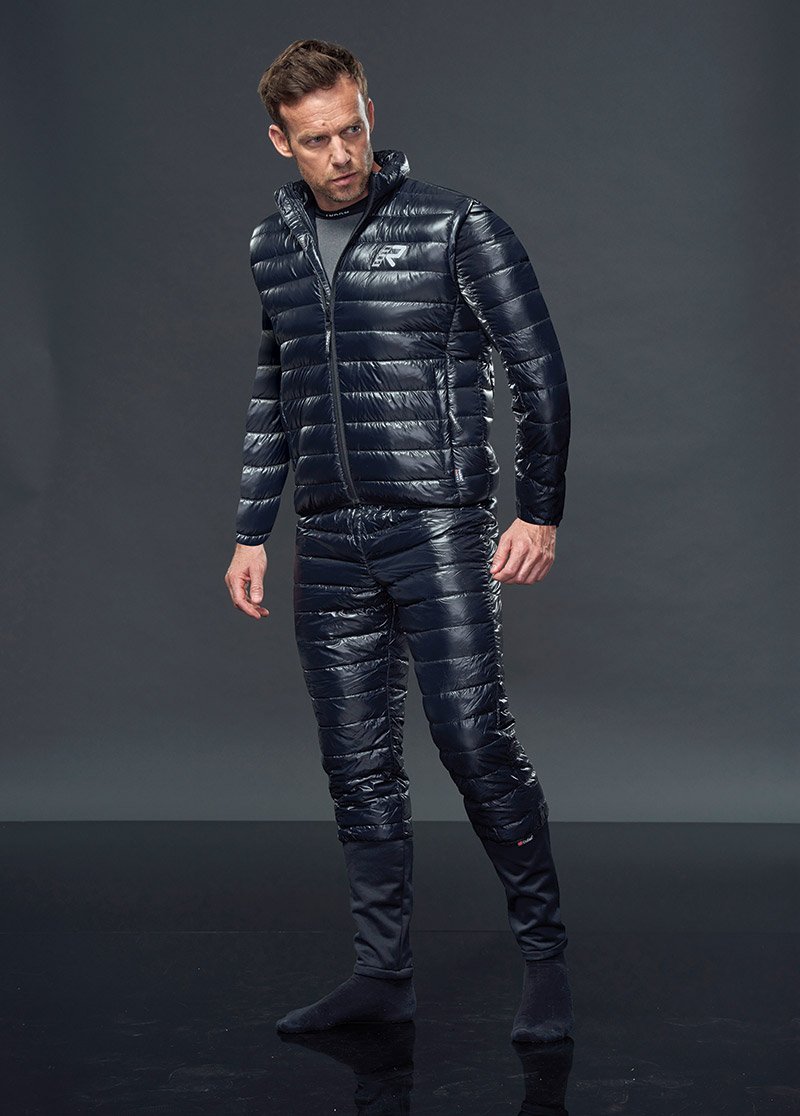 The warmest mid-layer money can buy is Rukka's Down-X. It is incredibly toasty, folds up into a tiny stuff sack, and adds little volume beneath the jacket..
Now, for most of us, the Marrakesh with a Rukka Down-X and a good base layer is going to be enough. Remember, of course, that if it's really cold, you can put the Scott over the top for an additional windproof barrier.
But some people, and I am one of them, hate the cold. I really don't like riding when I'm cold. It's not fun. And so, for people like me, an electric jacket of some sort would be the perfect solution.
Wear a Warm & Safe jacket under your Marrakesh and, frankly, there are no conditions in which you could not make yourself comfortable.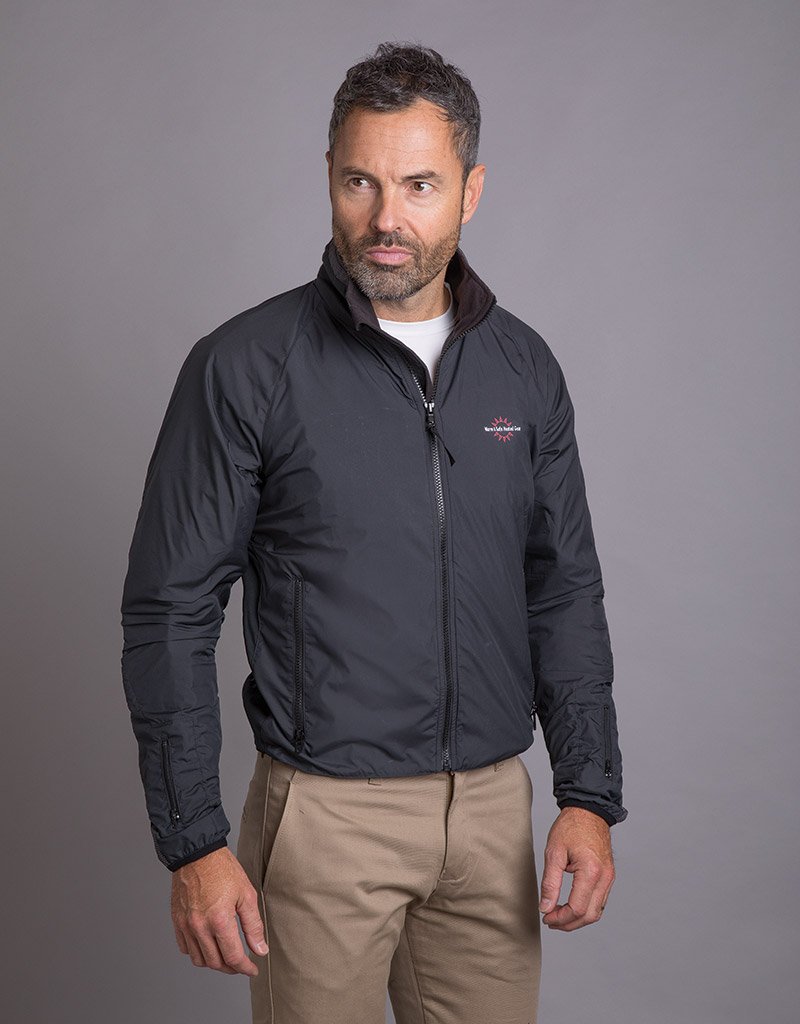 If you wanted more warmth than the Down-X can provide, then you have to go electronic. And for us, that means Warm & Safe, either their jacket or heated base layer.
One problem is that most electrically heated jackets are just too darned thick to wear underneath the Marrakesh. You could just about get away with it, but it wouldn't be comfortable.
I wouldn't profess to be totally up-to-date with the latest offerings of brands like Keis, Exo 2 and Gerbing, but most of the heated tops I've seen are constructed from heavy, softshell-like fabrics.
Personally, we'd go for one of the tops from Warm and Safe which, coincidentally, we sell! But we sell it because we think it's the best. It's the warmest and the most reliable, and the cleverest. But most of all, we sell it because it's the lightest.
You could wear either the lightweight Warm and Safe jacket under the Marrakesh, or their next-to-the-body heated base layer. They'd both do the job. The jacket is easier to take off and put in a pannier. The base layer, though, is even lighter and thinner. It's probably warmer too.
One last point, if you go heated, you don't always have to connect it. At times, you will wear it simply as a windproof, mid layer.
As far as the top half of the body is concerned, therefore, we think this combination gives you the last word in flexibility. Come rain, shine, or freezing cold, it's a combination that will keep you cushty.
So, what about the lower half?
Well, a pair of waterproof, Rokker Revolution jeans might sound as though they should work, and these jeans are amazing, but they're less than perfect when it's really, really warm.
Our pick would be a pair of Rokker Rokkertechs. With a side time of over six seconds, they're much stronger than the Revolutions. In fact, from an abrasion standpoint, they're 50% better than leather. Which also means they're more protective than any textile trouser you'll ever buy.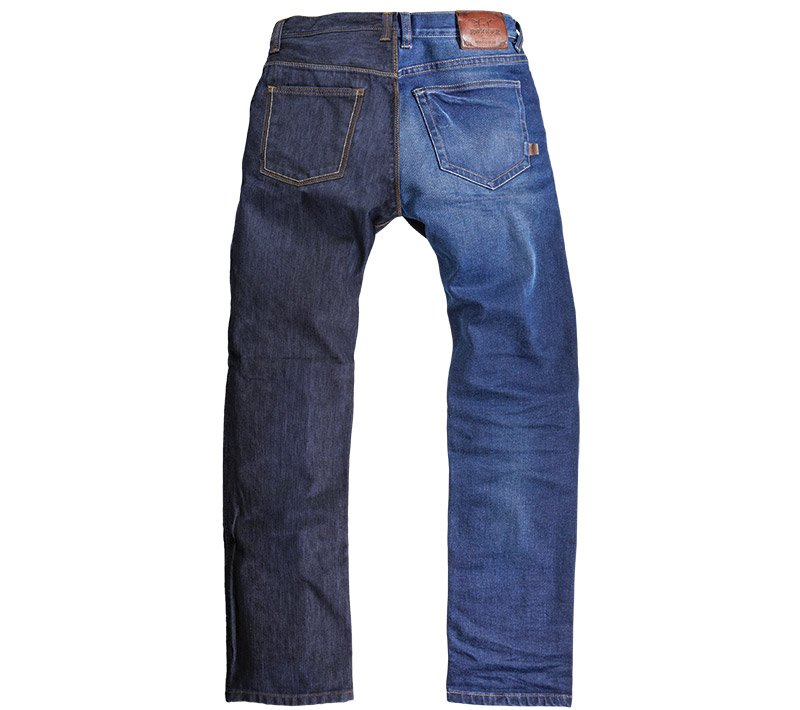 When it comes to pants, you could make a case for Rokker's Revolutions, but actually we'd go for a pair of Rokkertechs supplemented by a Scott waterproof pant. They're stronger and cooler.
Like the Marrakesh jacket, though, the jeans are in no way waterproof. So you're going to need the Scott pants. They do exactly what the jacket does, so you'll always stay dry and, if it's cold, they'll also help keep your legs warm.
For most of us, for various reasons, our legs tend not to feel as cold as our top halves. You could go for the Down-X pants if you wanted but, for much of the time, a merino base layer will suffice, we would suggest.
So that's the gist of our premiss. This is a combination of gear that will keep you warm, cool and dry, In just about every conceivable riding condition. It represents a different approach, we admit, but we can't think of any off-the-shelf solution that is as flexible.
To finish off, we thought we'd make a quick recommendation on foot and hand wear to complete the picture.
Glove-wise, you want a lightweight, waterproof glove but, if they're to be in-keeping with our one-stop approach, we're going to be looking for a glove that's not going to be too hot in the summer, nor too cold in the winter.
Our recommendation would be the Beast glove from Halvarssons. It's comfortable and, with its Hi-Art panelling, it's also protective. But, for us, the secret is it's thin Outlast thermal membrane. This membrane will absorb heat when you're warm, and play it back to the body when you get cold. It's also brilliant with heated grips, because heat generated on the palm will spread round the membrane to the back of the hand. The glove is light enough to wear on all but the very hottest of days but, by absorbing heat from the body when you're warm, the Beasts can also effectively help you cool down. Which is why they'd be our choice.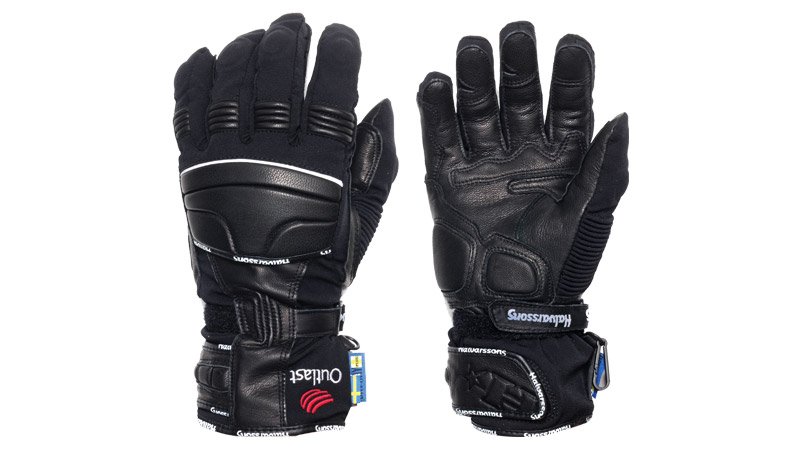 If there's one glove out there that will work in just about every climatic condition, it's the Halvarssons Beast.
Finally, boots. Again, we want protective, comfortable, and waterproof. Unfortunately, we haven't been able to reach a definitive conclusion, but here are our thoughts.
If you want a tall boot, then the Daytona Road Stars do everything. They're super comfy, they're protective, waterproof, and certainly I'm happy wearing mine all year round. If you wanted something a little easier to wear, we rate Daytona's short boot: the AC Dry. It's everything the Road Star is but, cut more like a trainer, they're easier to live with and walk around in.
Both the Daytona's, though, have a Gore-Tex membrane, so they can get warm in the hottest weather, although I've never been anywhere so hot that I found mine to be a problem.
But another option would be Rokker's Urban Racers. They're certainly better looking. They don't even look like a bike boot. But the reason we suggest them is that the leather they're made from is waterproof treated at the tanning stage. They are surprisingly waterproof. Sean, our shop manager, commutes 45 miles either way all through the winter, and he swears that his pinkies never get wet in his. But because they don't have a membrane, they're nice and breathable in the summer.
The other boot that you could consider is the TCX Clima. Now, this is the very definition of 'summer waterproof'. It is a Gore-Tex boot, but it has loads of venting in the sole, to help you stay cool. The only problem might be the cold weather but, in truth, as with all boots, regulating the temperature is down to the socks you wear. In the summer, thin socks; in the winter, thick ones. Not rocket science.
We're not sure that there is one boot that does everything. If you were happy to wear a short boot, then we'd probably go for Daytona's AC Dry. But the Road Stars, the TCX Clima and the Rokker's could also work.
So that's it. We admit that our proposition is a different one. You won't find it being recommended by many dealers, but then again most dealers simply don't have access to the clever, technical solutions that we do.
'Thinking outside the box' is a bit of a cliché, and for that reason, I don't like to use it or refer to it. But actually, in this instance, it more than adequately describes our approach.