How to stay warm on a motorcycle
Published on: 19/12/2018 13:37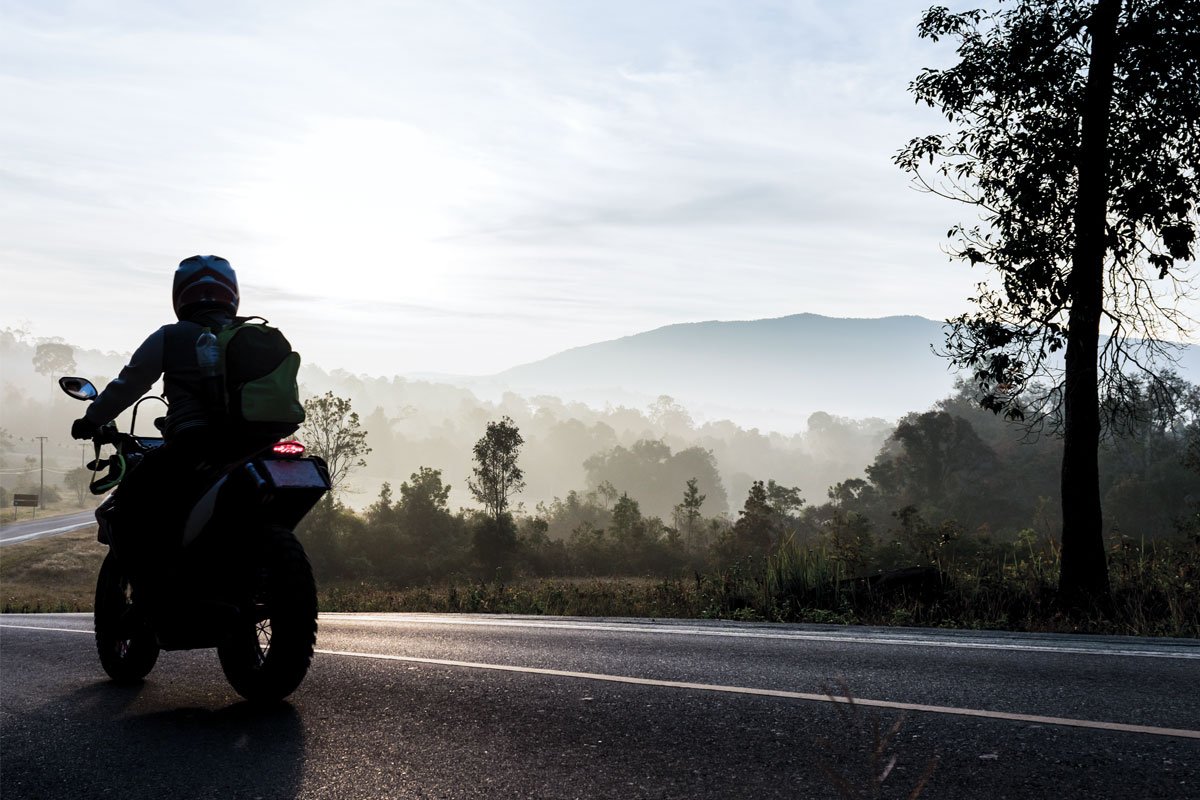 OUR GUIDE TO KEEPING WARM ON THE BIKE THIS WINTER

We all like riding the bike on a warm summer's day; blue skies, the hot sun, the wind in our hair. What's not to enjoy?
But things are different in the winter. The roads are more dangerous, it's darker, it's colder and it's wetter. You need to have your wits about you to stay alive, and if all your energy is taken up shivering you're simply not going to be able to concentrate on what's going on around you.
Decent winter kit, obviously, is the starting point. And it's in the winter that you're going to be thankful that you paid a little more for your gear. The lookalike, budget brands work hard on the designs of their gear to make it look like the premium stuff, but you cannot tell a book by its cover. The cheaper gear will use less costly, less robust fabrics, you will get inferior waterproof membranes but, most importantly, the less expensive brands will save a lot of money by using inexpensive thermal wadding.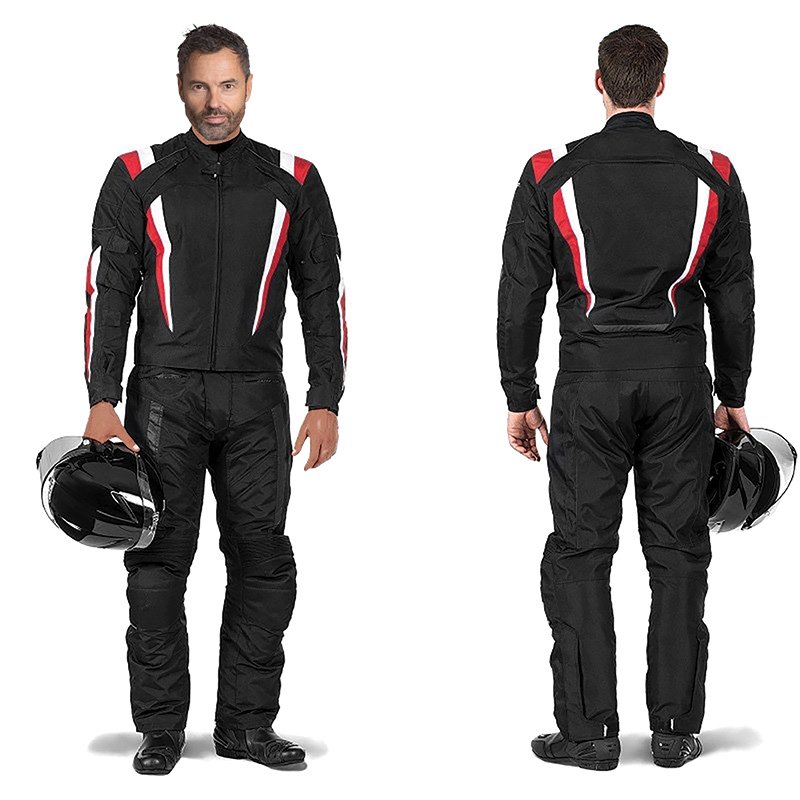 It might be good value, but it will lack some ingredients..
A £200 textile jacket may look a million dollars, but at the end of the day it's still a £200 jacket. And whilst a jacket at this price will not reveal its weaknesses in the summer months, come the winter it will be found to be sorely lacking. You might suggest that a company that sells premium gear would, in the words of Christine Keeler, say this. And perhaps so, but we know the cost of premium components like Cordura, Gore-Tex, D3O, YKK and so on. You can't produce a good quality jacket without them. And you can't produce a jacket with these kinds of ingredients for £200.
At this time of the year, you're going to want to put your faith in the kind of high-tech thermal linings that come from brands like Primaloft, Thinsulate, Innoborn, Outlast and so on. You won't perhaps notice the difference in the summer, but as the temperatures drops you most certainly will.
But if you've bought your jacket already, what you've got is what you've got. The question is, what can you do to supplement what you're already wearing to make your riding more pleasurable?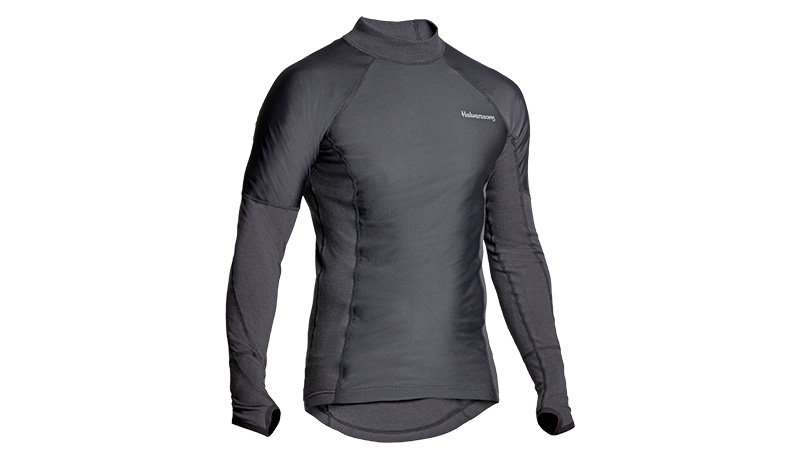 The Halvarssons Polo Wind Wool.
The starting point, of course, is base layers. As in the summer months, you need to ditch any cotton garments. They don't add anything. In fact, by absorbing the sweat from your body they serve only to make you feel colder. Our favourite base garments at this time of year are made with merino wool. Merino breathes, but it's also very warm. Halvarssons does a particularly useful merino top with a Windstopper panel down the front, where air can enter a jacket via the zip. Rukka also does a really nice Outlast top. And, for Rukka, it's pretty well priced; in fact, it's very well priced.
If you're still cold, it may be that you need a mid layer of some description. And when we talk about a mid layer, we're talking about something like a fleece, a soft-shell or a padded vest or jacket. A mid layer, as the name suggests, is not worn next to the skin, but rather over the top of a base-layer.
A synthetic fleece will do the job, but normally a softshell will be warmer. The problem with soft shells is that they can be quite heavy. A padded or filled mid layer can be incredibly effective; and that's been demonstrated by Rukka, whose Nivala jacket comes equipped with their Down-X inner jacket. The Down-X can be purchased separately, and in our book it sets the bar; it's incredibly warm, but when worn adds no bulk.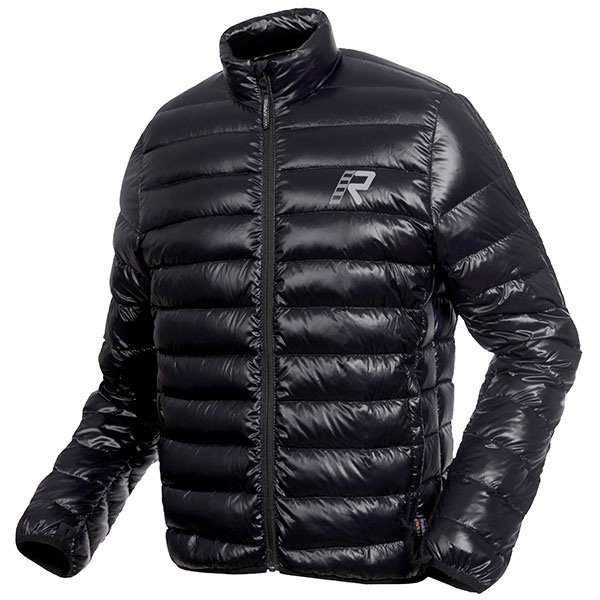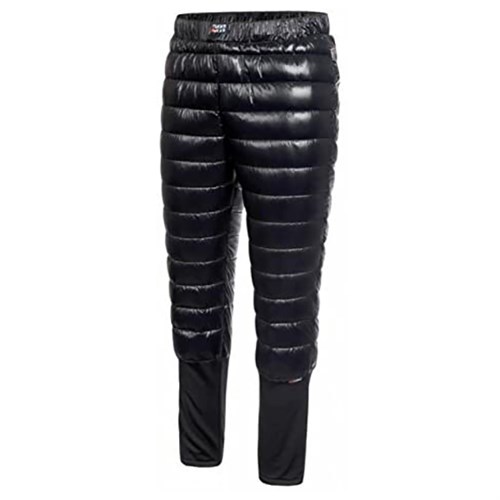 The Rukka Down-X inner jacket and pant.
Spidi does a similar jacket that is also excellent. It clips into any Spidi jacket, but you can wear it under anything. It's called the Thermo Max.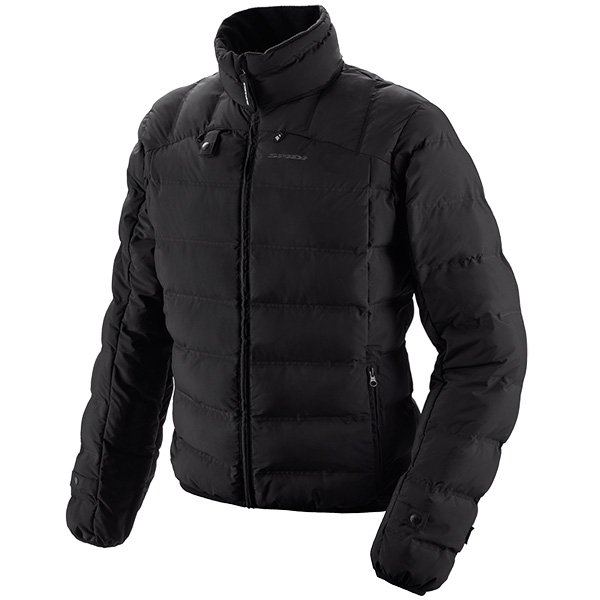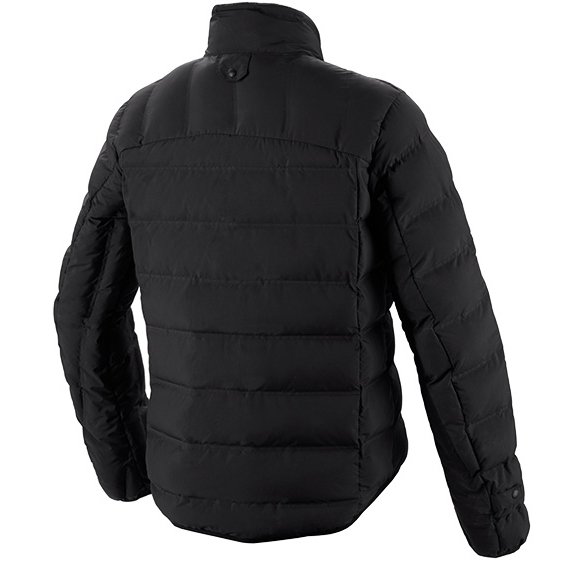 The Spidi Thermo Max.
Even the cool guys at Rokker have an insulation vest. Some of the guys here have been riding in it, and they say it's brilliantly warm. Nothing on the arms, though. If that's not a problem for you, it might be worth a look.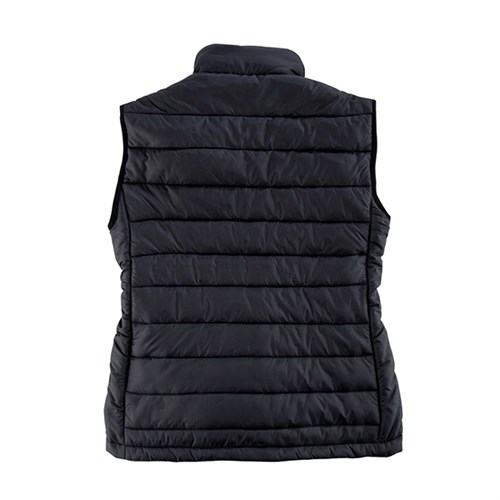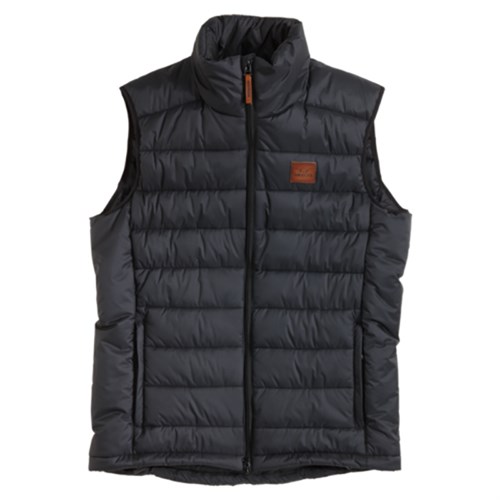 The Rokker insulation vest.
Rukka has also just released an Outlast mid layer called the Kim. It's brand new, but it looks pretty special. It's made from a fleece that contains Elastane for stretch. It incorporates a windproof layer, and also contains Outlast. We've not tried it in anger yet, but it sounds as though it's the business. You might want to check it out.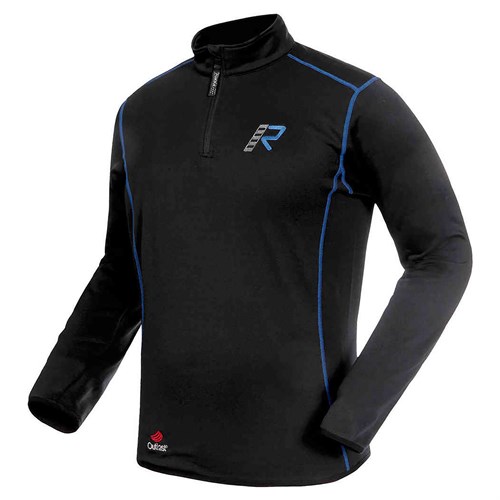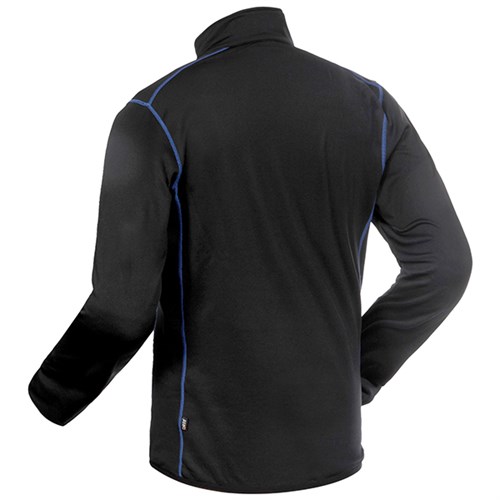 The Rukka Kim mid layer.
A good quality jacket, a proper base layer and a decent mid layer, and you've got about as good as it gets. But there is one other thing you can do when it's cold. And that's to wear a waterproof jacket over your main jacket, even if it's totally dry. A waterproof garment is also windproof, and a waterproof top worn over your bike jacket will significantly reduce the wind chill effect. You would be amazed what a difference it makes, and how quickly.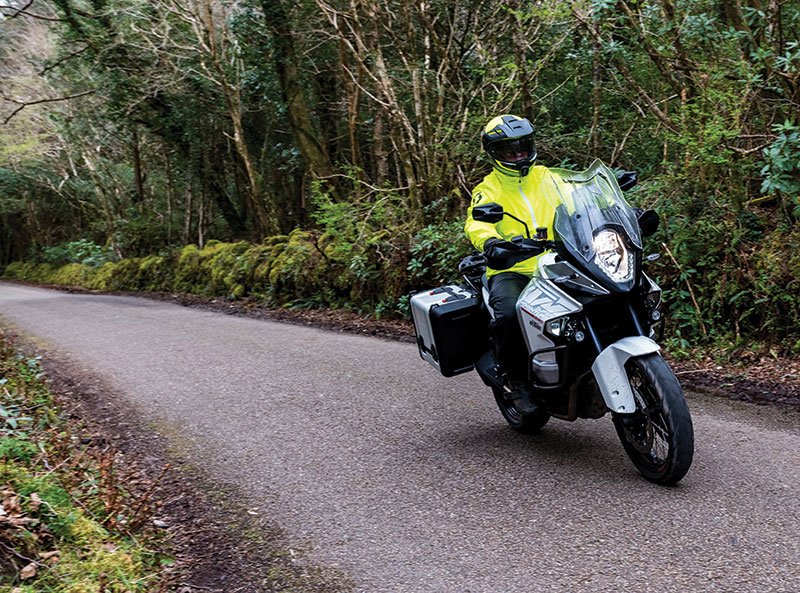 If it's really cold but not raining, you will find that putting on a waterproof top over your jacket will raise the body temperature markedly. And that's because, a waterproof garment is also windproof. And an extra windproof layer will considerably reduce the wind-chill factor.
If all of these measures fail to crack it, there are only two choices. Either sell the bike, and buy a car. Or go electric.
Now electric gear is difficult to beat. You can ride on the coldest of days and still feel warm. In fact, if you don't exercise restraint, and use a controller, you can easily burn yourself. It really is that powerful. Of course, we're biased, but we think that our Warm & Safe heated clothing is the best. We tested the jackets from Gerbing, Exo, and Kiess, but Warm & Safe's clothing is much nicer to wear; it's warmer and a lot less bulky.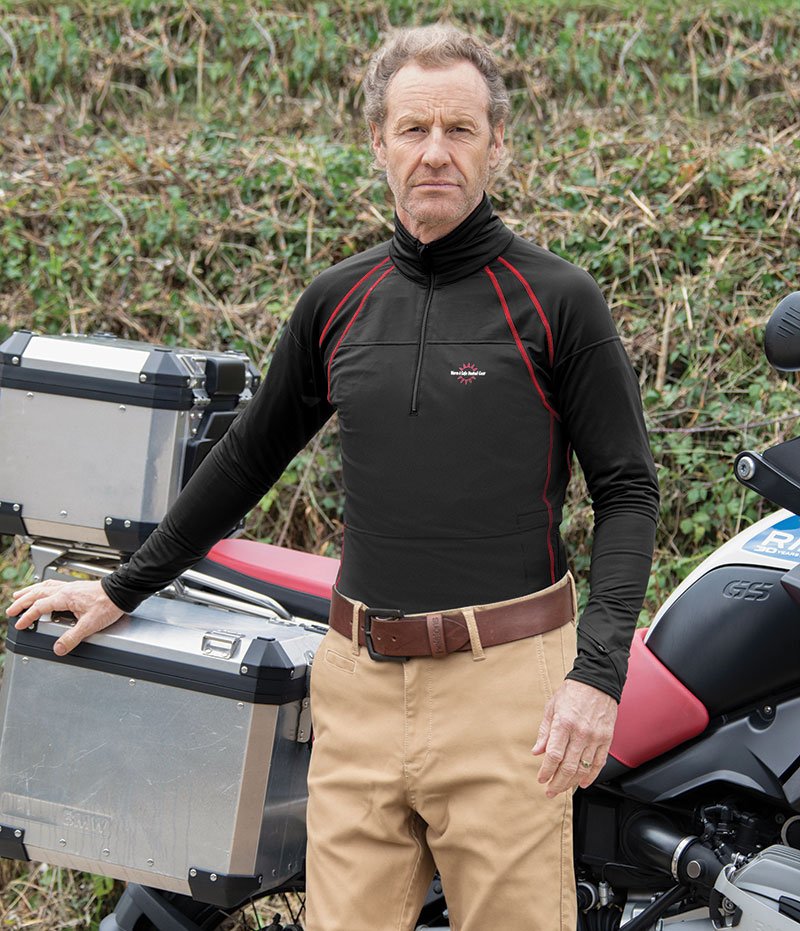 FThe Warm and Safe heated base layer.
Warm & Safe actually does a heated base layer as well as a jacket. For long trips, the base layer is probably the best bet because it's worn next to the body. For commuting, it's the jacket that works best, because it's easier to take off when you reach your destination. We have a lady customer who rides all through the winter, but she will only wear her favourite, unlined, goatskin leather jacket. She wears a Warm & Safe jacket, and swears that she never, ever feels the cold. She swears by it.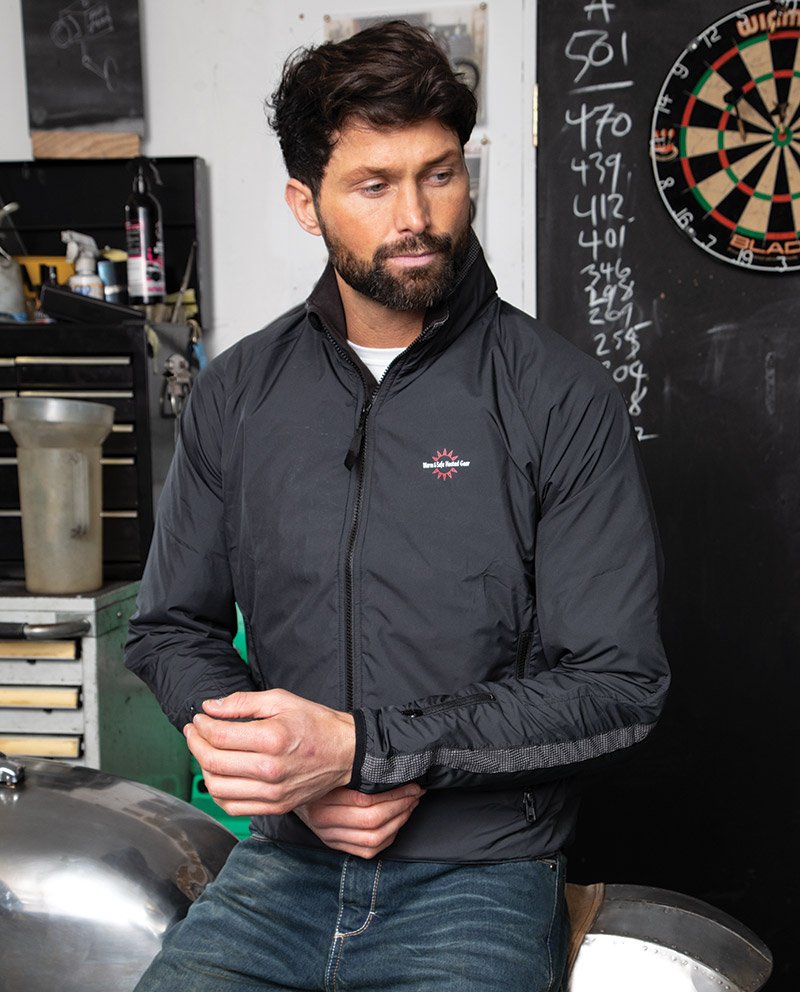 The Warm and Safe heated jacket.
It is true that, up until now, we've only really mentioned the upper half of the body, and that we've ignored the limbs.
Well, it tends to be your upper body that feels the cold most. Legs are often less exposed, and sometimes benefit from the heat of the engine. But, in theory, everything we said about base and mid layers applies equally to trousers. You can even go electric if you want.
The other area where we tend to feel the cold most is in the fingers. And again, it's debilitating riding with cold hands. For us, and clearly we're not as tough as some, the first prerequisite is heated grips. If your bike doesn't have them, a set of Oxford grips for under £100 is the greatest investment you'll ever make if you want warm hands. Heck, I'm such a wuss I often turn mine on in the summer!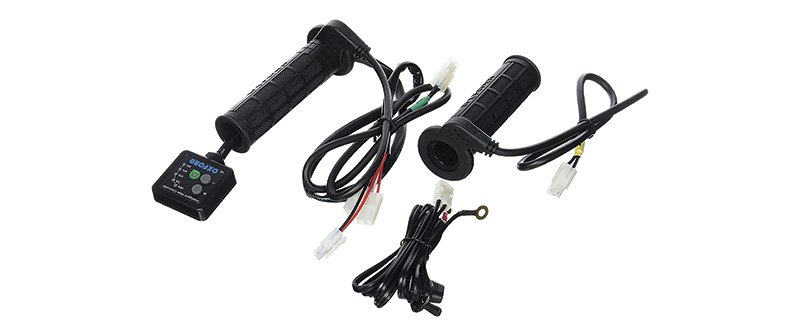 Oxford's heated grips. Well worth the money.
Our fingers are very exposed when riding. There's a lot of skin on the fingers that is open to the elements, and if you're riding at speed in the cold, the horrific wind chill will eventually defeat any glove. There are, however, some really good winter gloves out there. Again gloves with Outlast, Thinsulate, Primaloft and so on are going to work better than those with unbranded thermal padding.
One mistake motorcyclists often make is to ride in gloves where the fingers are too short. If the ends of the gloves are touching the tops of your fingers, they will cut off the flow of blood and, after a while, your fingers will go numb. It's not nice.
A silk inner is a useful addition inside any winter glove, as it will help create friction and thus heat. But for this to work, you don't want a glove that is too tight. In fact, a winter glove should always be worn slightly loose. You need the warmth generated beneath the skin to circulate in the glove, and that is not going to happen if the glove fits too snugly.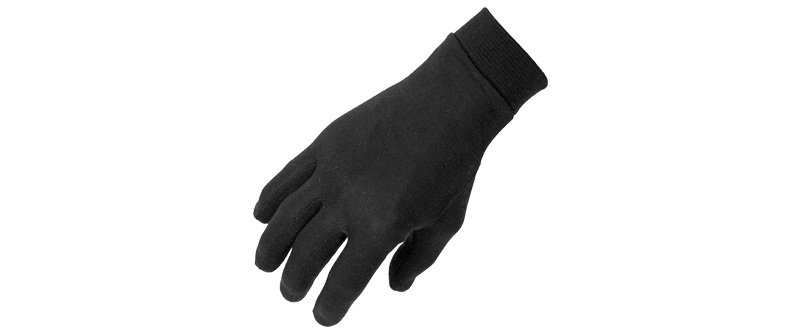 A silk inner glove will make any glove feel warmer.
The best, and warmest, winter gloves are actually mittens; not normally one compartment mittens. For biking, we like those with two, or even three, compartments. These gloves do sometimes look a bit weird, but if the priority is staying warm they do work better than traditional fingered gloves.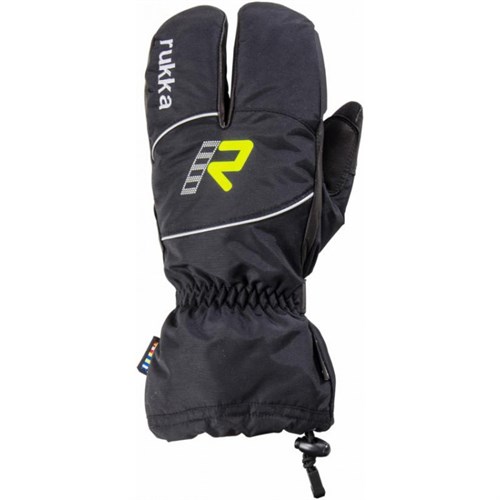 The Rukka 3 Chamb Gore-Tex glove.
Again, if you find that even the best winter gloves don't keep your hands warm enough, you might need to go electric. But forget gloves with rechargeable batteries. They don't work. And the only people who think they do are those who work for the glove manufacturers who make them. They just don't have the power to generate sufficient heat. They remove the chill at best, and they don't last long either.
The problem with most, proper 12 volt electric gloves is that they're made by people who understand how to make heating elements, but who don't know much about making gloves. As a result their gloves are normally thick, poor fitting, uncomfortable, and not necessarily particularly protective.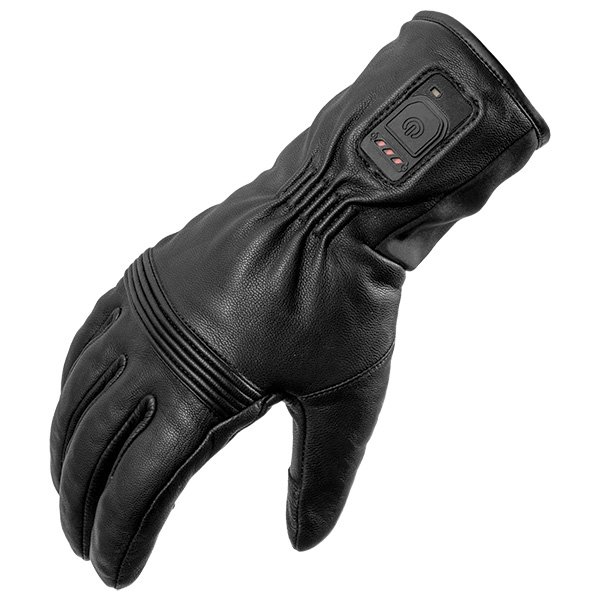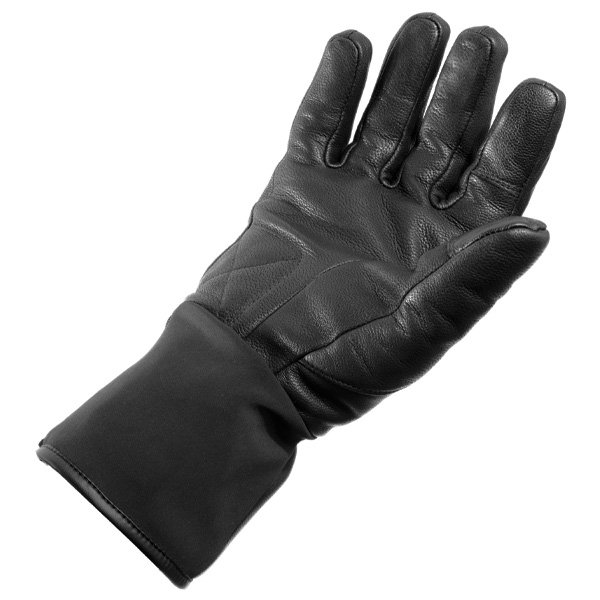 Battery powered glove lack the power to provide much heat.
The best electric glove solution, in our book, is the electrically heated silk, inner gloves that are made by Warm & Safe, because you can wear them inside any glove you want. You can connect them directly to the bike, but they're perhaps more usable when they're worn with a heated jacket, because the gloves simply connect to the sleeve ends of the jacket.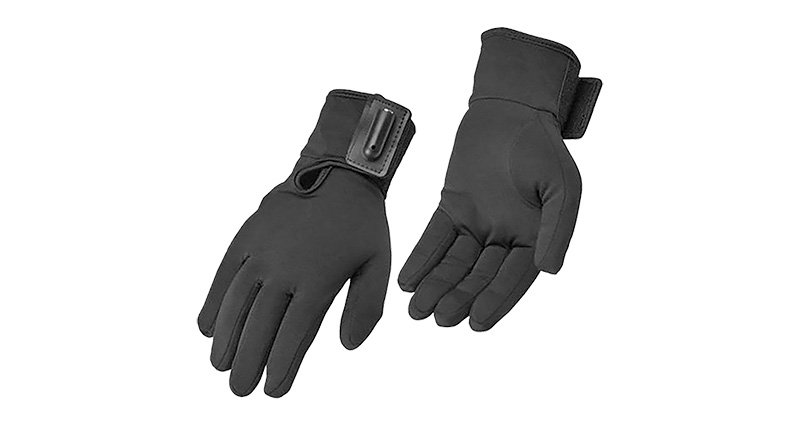 The Warm and Safe heated silk inner glove.
So that's our views on what you can do to try and stay warm on a bike.
And we cannot overstate how important it is to stay warm. Bikes are dangerous. The roads are dangerous. Cars and lorries are dangerous. Add to the recipe a bit of rain, plummeting temperatures, poor light and leaf-strewn surfaces, and you're facing a world of difficulties.
Here at Motolegends we're believers in highly abrasion and puncture resistant fabrics, long slide times, the best armour and even air bags. But all of this comes into play only when things have gone wrong. It's wiser, in our view, to take steps to prevent things getting out of shape in the first place.
And not one single factor is more important, in this regard, than a rider's concentration. And you simply cannot concentrate if you're cold. Staying warm on a cold day, especially if it's raining and if the ride is long, requires a methodical approach. The benefits of good quality clothing becomes much more important in the winter. Then use the right base-layers. And if all else fails, go electric.
To tell the truth, being cold on the bike is a risk you don't want to take. And with all the high-tech gear that is at our disposal these days, you really don't have to.
Want some more? Please

click here

to return to our editorial menu.
Share this story