Shoei Glamster helmet review: the Shoei retro helmet
Published on: 22/11/2019 16:11
CLICK SHOEI GLAMSTER HELMET TO SHOP WITH FREE UK NEXT DAY DELIVERY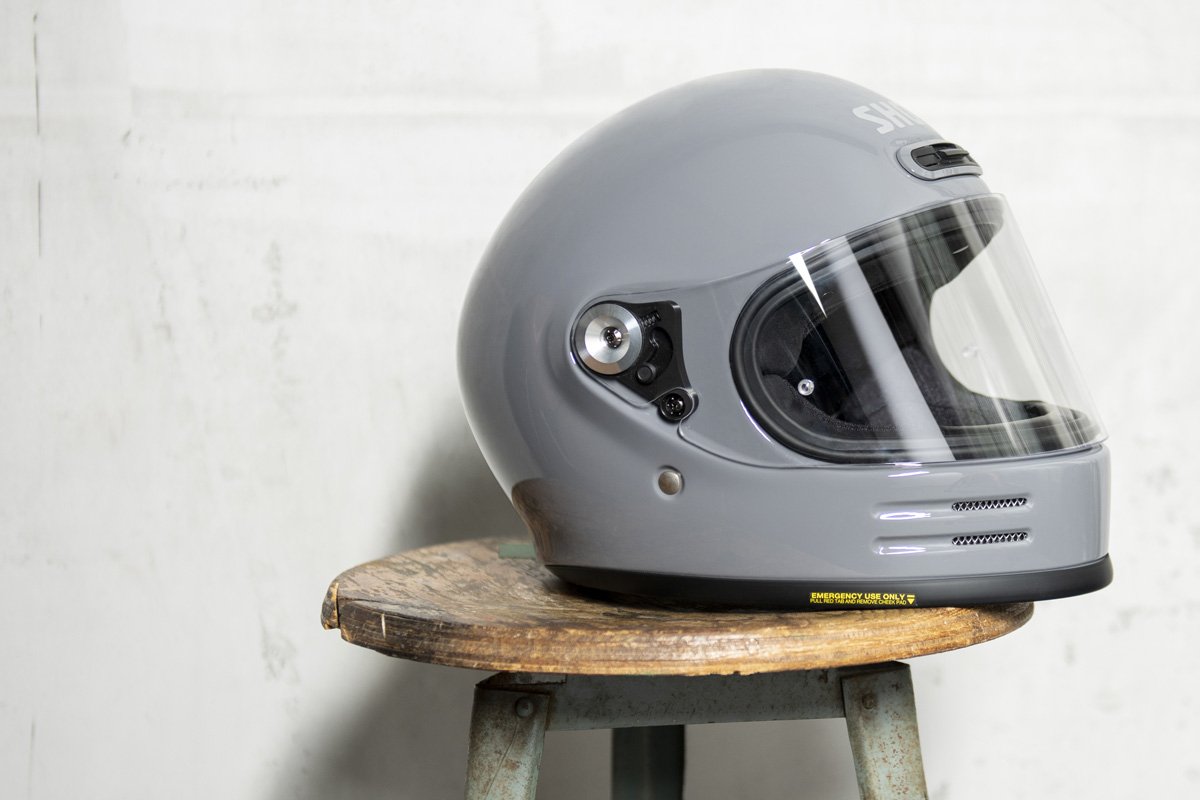 In this review we look at the new Shoei Glamster helmet. It's Shoei's take on a retro helmet, and we're really excited about it because we had a hand in bringing it to market. We are also, at this point in time, the only retailer to have test ridden the helmet. There are lots of reviews of the Shoei Glamster out there, but ours is the only one based on firsthand, riding experience.
It was at some point over the summer of 2017 that the Shoei importer brought a Japanese lady and gentleman from the Japanese helmet manufacturer into our shop to talk about surface designs for future Shoei helmets. We have perhaps more of a marketing bent than most retailers, so the distributors often get us together with their manufacturers to discuss future plans.
The Shoei meeting was not a long one; we dismissed most of the treatments that we were shown, expressing the view that Shoei didn't require outrageous and outlandish graphics to sell its helmets. When that part of the meeting was over, we asked to pitch to them the idea of a retro helmet.
We explained to our Japanese visitors the extraordinary growth of the retro bike market in the UK, in the full knowledge that, in Japan, sportsbikes were still in the ascendancy. We talked about bikes like the Triumph Bonneville, the BMW R nineT, the Guzzi V7 and the emergence of a thriving custom-bike scene. We also spoke about the cruiser market. And we explained to them that nobody made a good-quality helmet that looked right on the kind of bikes we were talking about. We showed him the helmets on the market from people like Bell, Premier, Nexx, AGV and so on. It was impossible to tell what our visitor was thinking, but as we were explaining our thinking, he wrote furiously in his notebook.
At the Intermot show in 2018, we were told that our views had been well-received, and that progress was being made. Earlier this year, we were asked to sign an NDA, and were told that a new Shoei retro helmet would be revealed at this year's EICMA show. We have now been able to spend some time with the new helmet, and indeed we've been able to do some riding in it; so we thought we should commit some of our views to paper.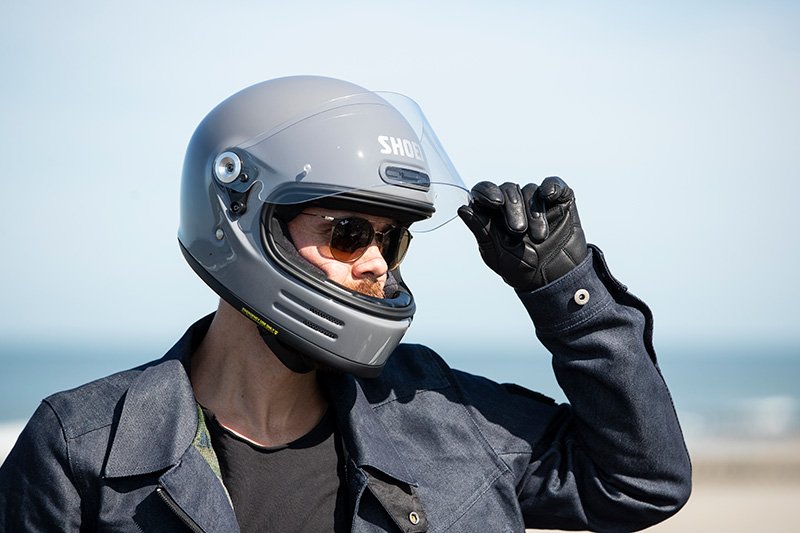 Of course, now there's another factor that has to be taken into consideration. And it's the new Arai Rapide-Neo, which will beat the Shoei into onto the market by around three months. Had the Shoei come out before the Arai was released, it would have swept all before it, but the Arai is a very impressive bit of kit, and if somebody wants a high-quality, retro helmet, then both the Arai and the Shoei both have to be considered as contenders.
Let's get one thing out of the way first. As far as the name game goes, the Arai wins hands down. What was Shoei thinking when it came up with the name Glamster? Could it really have been the desire to co-join the word 'glamour' with the word 'hipster'? If so, their thinking was misguided. Glamster is probably the worst name we've ever come across for a helmet. It's frankly just a touch embarrassing!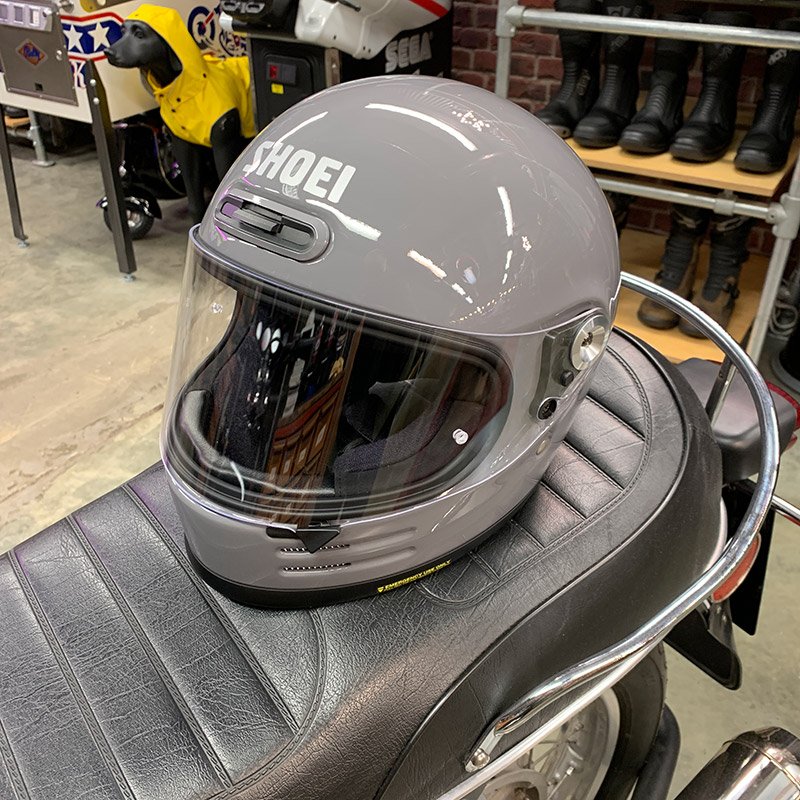 But, this aside, there's a lot we really like about the new Shoei. The shape of the shell is exactly what we would have wanted. A totally round dome with a smooth seventies/eighties-style chin bar. It's more classically retro than the Arai, perhaps, which has combined a classic eighties dome with a Simpson Bandit-esque chin bar. This makes the Arai a bit more modern perhaps, a bit more aggressive. It might better suit a custom bike, but it won't necessarily look as appropriate for something more laid back.
The shell on the Glamster is Shoei's classic AIM matrix construction that combines Kevlar and glass fibre strands. It's the same shell that Shoei uses in its top race helmets, so no compromises have been made on the Glamster as far as safety is concerned, despite the fact that one might anticipate that it is going to be worn at somewhat slower speeds. As you would expect of a Shoei, the helmet has a multi-density eps liner but, for us, an important consideration is that we will be able to fit different thicknesses of cheek pad and headliner into the helmet to achieve a custom fit.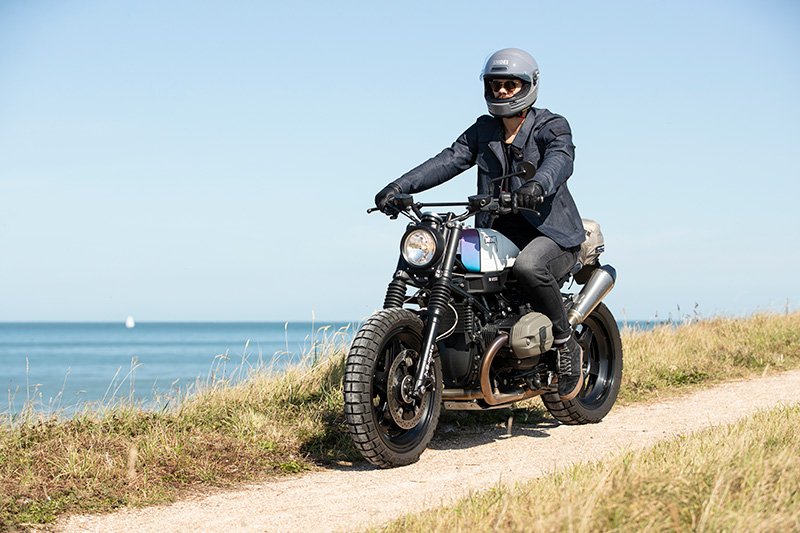 Now this has been one of the many failings of most of the current crop of retro helmets. They either fitted or they didn't. There was, and is, nothing you can do to adjust them. With the Glamster we can make concessions to those with longer oval or slightly rounder heads, as well as to those with fuller or thinner faces.
Like Arai, Shoei has gone for a slightly more classic visor mechanism. It's going to be a bit more fiddly than the system you find on their more modern helmets, but we think it looks right. The visor, again as you might expect from a high-end player like Shoei, seals properly so, unlike with most of the other retro helmets, you won't get a facial shower every time it rains. The good sealing will also make the helmet quieter than most retro helmets although, as we will explain later, this isn't going to be the quietest helmet you've ever ridden in.
The main visor is Grade One optical quality and, for the UK, a Pinlock Evo, (the top Pinlock), will come as standard in the box. No retro helmet has ever had a Pinlock fitted before, so the fact that both the new Shoei and the Arai helmets will do tells us that this sector is at last growing up.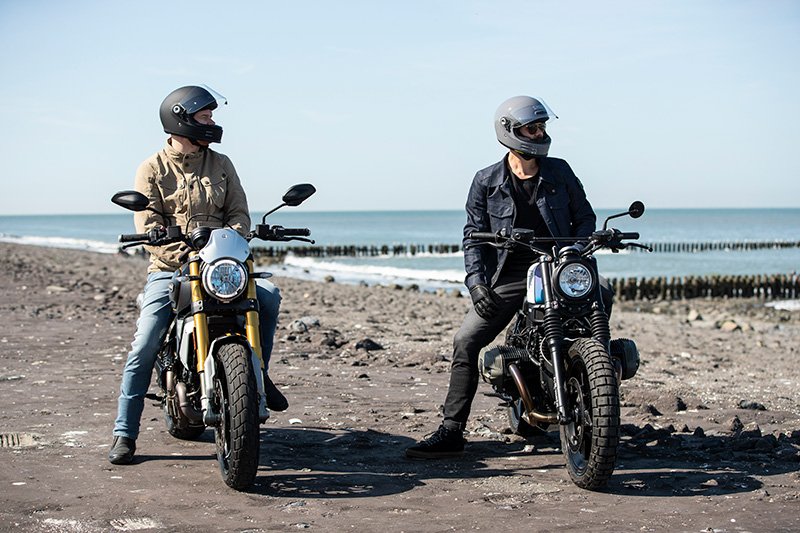 In terms of venting, most retro helmets have either offered too much air flow or none at all. But the appalling fit of the visor on many of the retro helmets out there has actually meant that additional venting was not always required! The Shoei has reasonable venting. There's a large adjustable vent in the forehead, the air into which will exhaust out of the back of the helmet. The two small vents on either side of the chin bar are permanently open, but they won't allow a lot of air in and are there, we suspect, largely for optics. Overall, we think the venting on the Glamster is certainly better than on any other retro helmet currently on the market. The chin vent on the Arai is adjustable, unlike the Shoei's, but the eyebrow vents on the Arai's visor do make the helmet a tad noisy when they're open.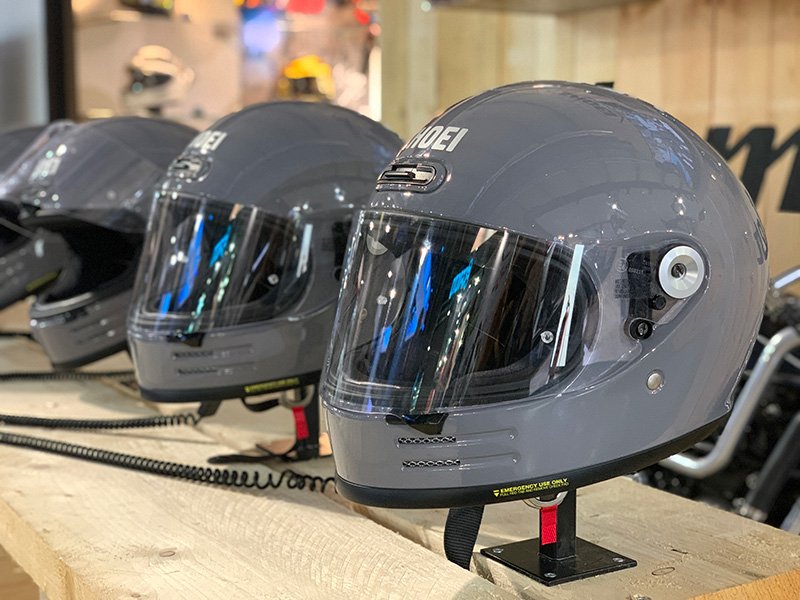 We first saw the Glamster in the flesh at the EICMA show in early November, but we got our hands on one after the show and we've now managed to do some riding in it. And I have to say that we like it a lot. It's comfortable. It's not the quietest helmet we've ridden in, but our pre-production sample didn't have fitted the chin guard that the final helmet will come with.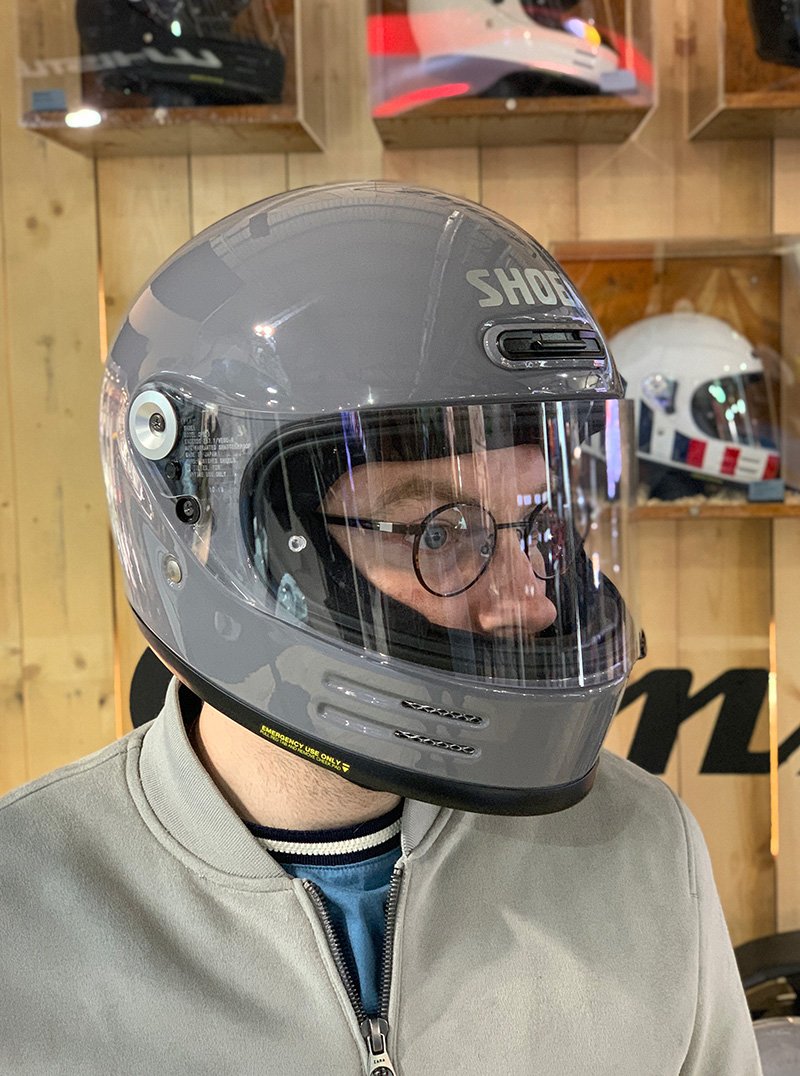 The Glamster, despite its name, is very much the helmet we've been waiting for. It is, in every way, in a different league to riding in a Bell, a Biltwell, a Nexx, a Hedon, an AGV, a Premier; or indeed any of the current crop of retro helmets.
By comparison, all those helmets feel like 'toy' helmets. The Shoei is as technical as any Shoei from a comfort and safety perspective. And this last point is a crucial one. ECE 22/05 is not a very demanding safety standard. You can buy an ECE 22/05 approved helmet in Lidl for £25. And we would suggest that, with very few of the current crop of retro helmets has safety, per se, been a primary consideration. Some of these retro helmets, lovely looking as they are, just aren't what you'd want to be wearing if it all goes wrong. The Shoei, like the Arai, will far exceed the ECE 22/05 standard, because both these companies make helmets to their own, more stringent, safety criteria.
Retro bikes are not necessarily show bikes, and although we all want to look cool, the reason that none of us here at Motolegends would ever ride in one of the current retro helmet was that they didn't supply the comfort, the absence of wind noise, the venting and the levels of protection one wants on the road. The Shoei, as does the new Arai, delivers on all these requirements.
So, whilst the Shoei is clearly streets ahead of any of the other retro helmets from a functionality perspective, how does it compare overall with the Arai Rapide-Neo?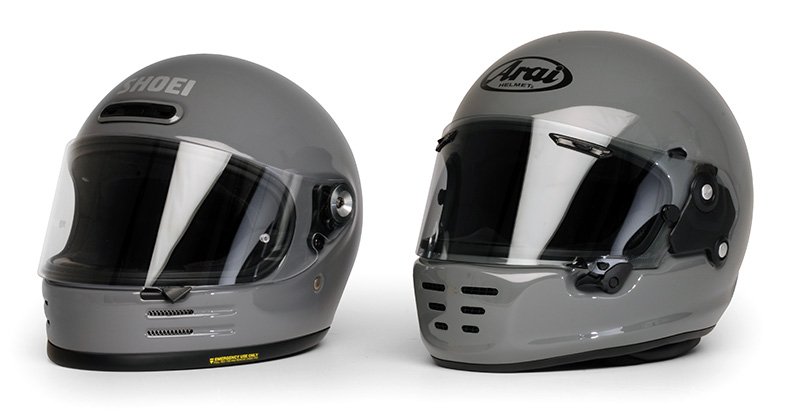 Now, that's a much tougher call. Both are really good helmets. And both represent huge progress in this market. They are, the two of them, exactly what we have been waiting for. Both fit well, and in both we have the ability to fit cheek pads and headliners to customise the fit.
For some, the aesthetics will be the decider. For others, brand loyalty. A lot of people have convinced themselves they have Arai heads, for example. In truth, both Shoei and Arai have an oval fit, so if you fit in one, you should fit in the other.
One of the differences, in our book, is the weight of the helmets.The Arai is heavy in the way that Arais nearly always are. The Arai has a really thick, heavy and strong shell, and a solid eps. Pick up the Arai and it feels proper, old school. It is certainly reassuring. Now this is the Arai way. Their helmets are heavy and strong, but that doesn't mean the Arai is necessarily safer than the Shoei because weight does not equate to impact absorption, and the primary purpose of a helmet is to absorb the energy from an impact.
The Shoei, by contrast, feels lightweight. In all honesty, if this helmet was produced by any other manufacturer, I would be concerned about how light it was. But it's a Shoei, and nobody makes safer helmets. And in terms of daily riding, light is good. A lighter helmet is going to be easier to live with and, over a long journey, less tiring.
We really like the new Glouster. It is the helmet we've been waiting for. And Shoei is the maker we've wanted to make it. It is, in every respect, better than any other retro helmet out there, with the exception of the Arai, which is just as good, but different.
Neither the Shoei nor the Arai, however, is what we'd call technically sophisticated. Neither has a drop-down visor. Neither is going to work well with comms. Both have acceptable, but not brilliant, venting. And neither is going to be quiet enough, we would suggest, for high-mileage commuting.
They are, therefore, what they are. The best retro helmets on the market. They're not the best and most sophisticated helmets money can buy, and perhaps this merely has to be accepted. If you want to look cool, and look the part, there has to be a trade-off.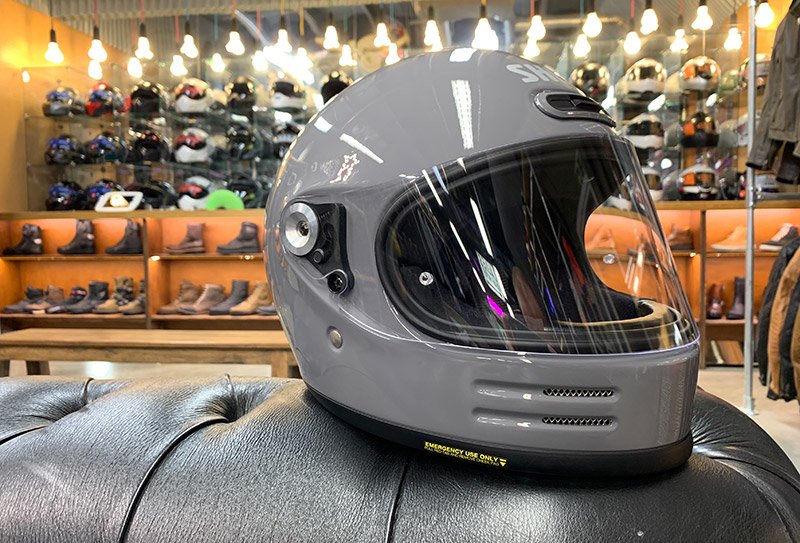 In this market, price is probably not going to be a crucial factor. Some of the retro helmets already on the market are, from our standpoint, horribly over priced. In plain colours, the Shoei costs £400; the Arai is priced at £450. By comparison, something rather basic like Nexx XG 100R costs £280 in a plain colour. The nicely appointed, but still somewhat simple, Bell Bullitt costs £390. Of course, eschewing any conception of value for money, the somewhat extravagant Hedon delivers little by way of high-tech functionality, yet will still set the buyer back a not inconsiderable £630.The price of exclusivity, perhaps?
It is maybe a little ironic that, having lobbied all the key makers of many years to produce a sophisticated retro helmet, both Shoei and Arai should both pick up the cudgel at almost exactly the same time. Or is this how it always happens? Nobody wants to jump in on their own, but when one is ready everybody else wants to join in.
Of course, we could not be more pleased. Shoei and Arai are the biggest, best and most sophisticated players in this market. We had hoped to persuade one of them to dip its toe into the retro market. That both have decided to become involved is more than we could have asked for.
It is too soon to make any kind of definitive determination about these helmets; about whether one of them is more comfortable, quieter, nicer to live with or more robust. That will only be decided over time by those who choose to ride in them. For now, we reserve judgement.
You can see all the different colours of the Shoei Glamster helmet here.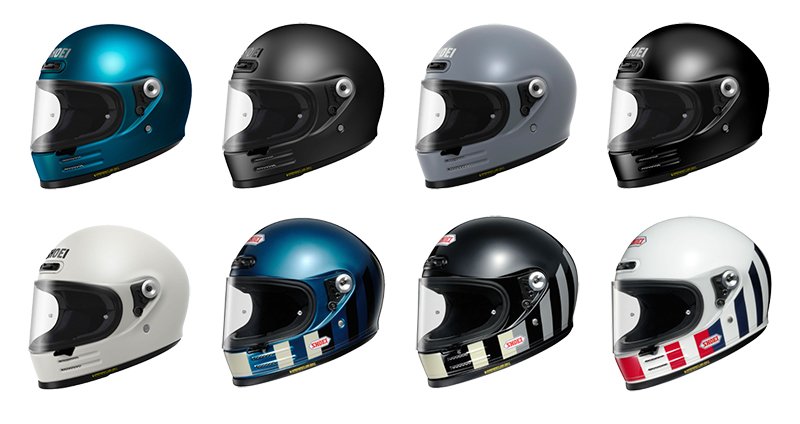 ---
Want some more? Please

click here

to return to our editorial menu.

Share this story