Single layer motorcycle jeans review 2020
Published on: 13/05/2020 13:06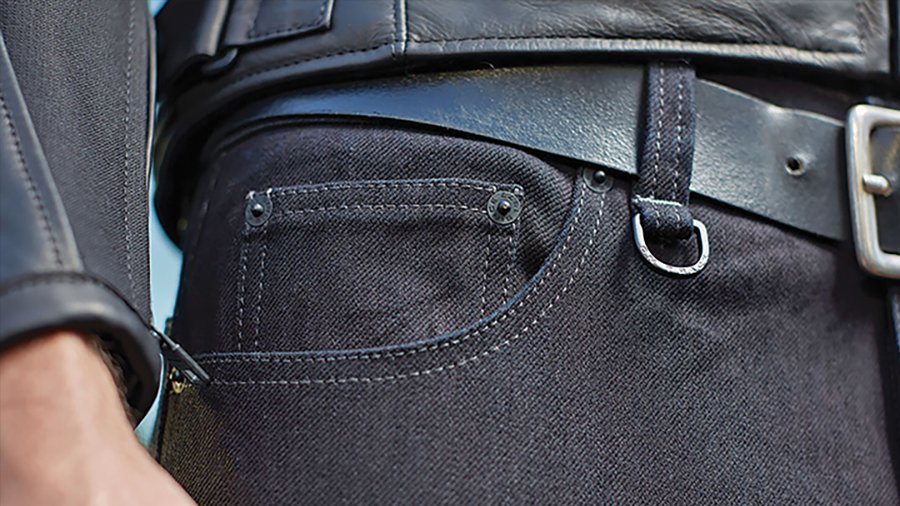 For many motorcyclists these days, the go-to option when it comes to a riding trouser is a pair of denim-style, protective jeans. They've got that all-important McQueen/ Brando/ Dean factor. They're relaxed, they look cool, they're great to wear off the bike and, of course, provided you've got the right pair, they're both protective and comfortable to ride in.
Now, protective jeans have been around for a while. I got my first pair from a company called Sheshoni in America nearly 30 years ago. I loved those jeans, but when I look at them now I realise just how hideous they were. They were wide enough for your average Bay City Roller, and the Kevlar they were lined with was as thick as a deep-pile carpet.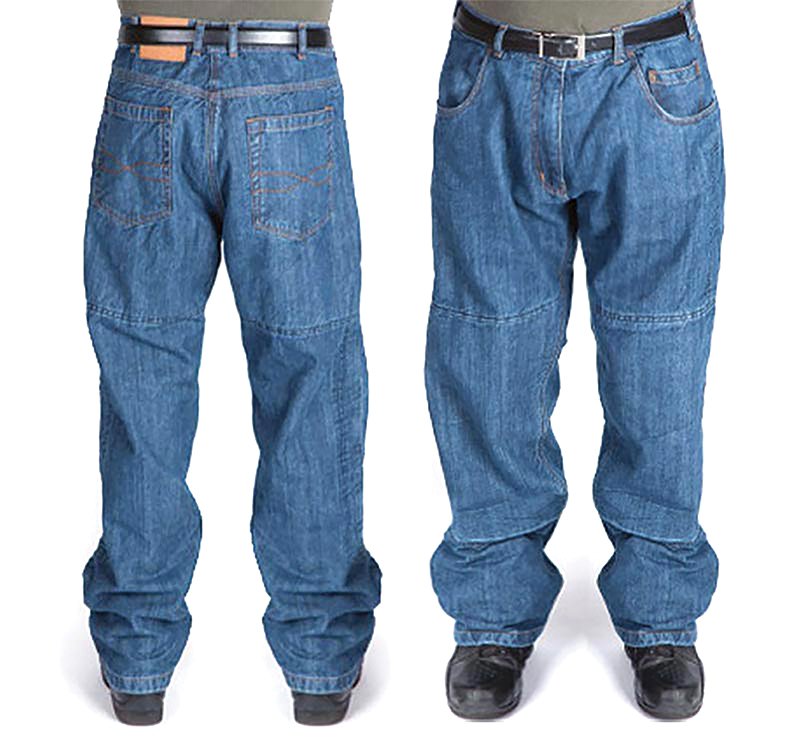 What I thought looked super fly in the early nineties doesn't look quite so cool these days.
Thankfully, lined jeans, what you might know as Kevlar jeans, have come a long way in the intervening period. They have become lighter and slimmer, and the best ones are almost indistinguishable from a pair of street jeans. And they can be very protective too. But you need to know what you're buying, because not all protective jeans are made the same, and some are not as protective as others.
The problem is this. Those jeans that are nicer to ride in, that flow air well when you're on the bike, and that are easy to walk around in, tend to be less protective. And that's because the level of protection they offer, and by protection we're talking about abrasion resistance, is pretty much directly proportional to the percentage of the jean that is lined with aramid fibres. Jeans with a 20% lining are nice to wear, but not very protective. Jeans that are 100% lined are very protective, but they are normally pretty heavy, and can simply be too hot and sticky to ride in, especially in warm weather.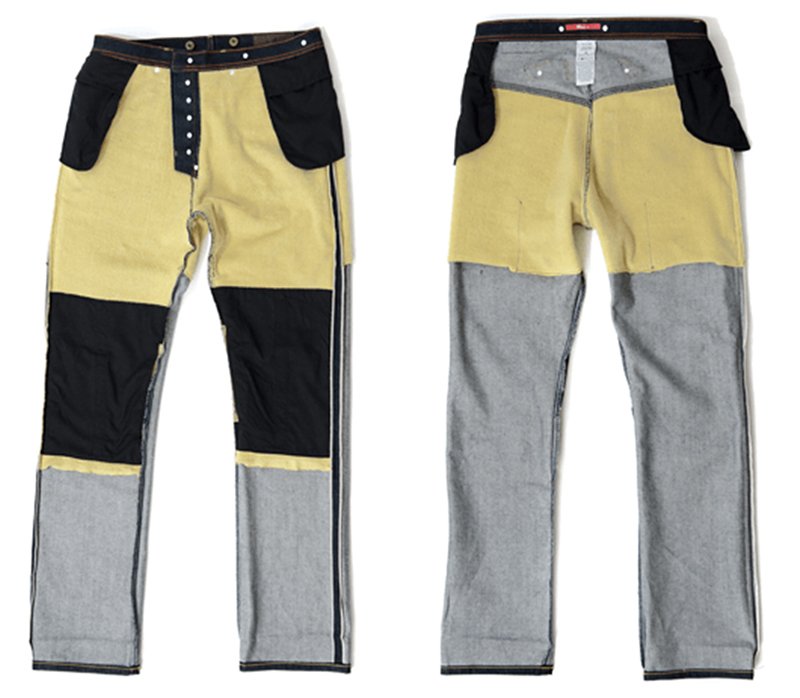 A typical lined jean. Protective where there's Kevlar, but absolutely no protection elsewhere.
It's why we feel that the future is not in lined jeans at all, but in what we call 'single-layer' jeans. Now single-layer jeans can be constructed in all kinds of ways, but in essence you combine a very strong fibre with a cotton fibre to create a woven material that is much stronger than cotton on its own.
What the stronger fibre is, and the way it is woven with the cotton, will dictate the strength of the jean. With a material like Cordura, you will have a jean that is way more robust than a pair of Levi's, but that is perhaps not up to the job of high-speed riding. But some Single-layer materials deliver abrasion resistance that is greater than leather; in some cases, much greater than leather.
So how do these jeans compare, in terms of protection, with Kevlar jeans?Again, that all depends on the materials used, and how they are woven. Some single-layer jeans will offer less protection than some lined jean. Some will offer much more. But one of the benefits of a single-layer jean is that, whatever protection it offers, it does so throughout the entire area of the jean, and not in just 20% or 30% of its surface, as is sometimes the case with Kevlar-style jeans.
But however protective and strong a single-layer jean is, it will always be nicer, and cooler, to wear than a lined jean. And that's because a lining can only make a jean heavier and thicker. And a lining will inevitably make it harder for cooling air to reach the body. Single-layer jeans are simply lighter and more pliable. They wear more like a pair of shop jeans.
Of course, there is a downside to 'single-layer' jeans and it's that, when it's cold out, they can be a bit chilly when you're riding; although that's nothing that can't be put right with a pair of merino leggings.
Here at Motolegends, such fans are we of the 'single-layer' jean that we no longer really offer lined jeans. To us they just feel a bit old fashioned. We sell quite a few brands of 'single-layer' jeans, but not all of them. Of course, we think we do the best ones, but then again I suppose we would!
But when you're next in the market for a pair of riding jeans, you should definitely search out, and try on, some single-layer jeans. You'll be impressed, and having ridden in a pair, for most people there's no going back!
Anyway, below we've got video reviews for just some of our 'single-layer' jeans. For every jean we've provided a brief synopsis, but if you think any of the jeans may be for you, you should watch the review. Our reviews are pretty straight. They'll tell you what's good about the jean in question, but also what's not so good. See all our Motorcycle Jeans
Best value single layer motorcycle jeans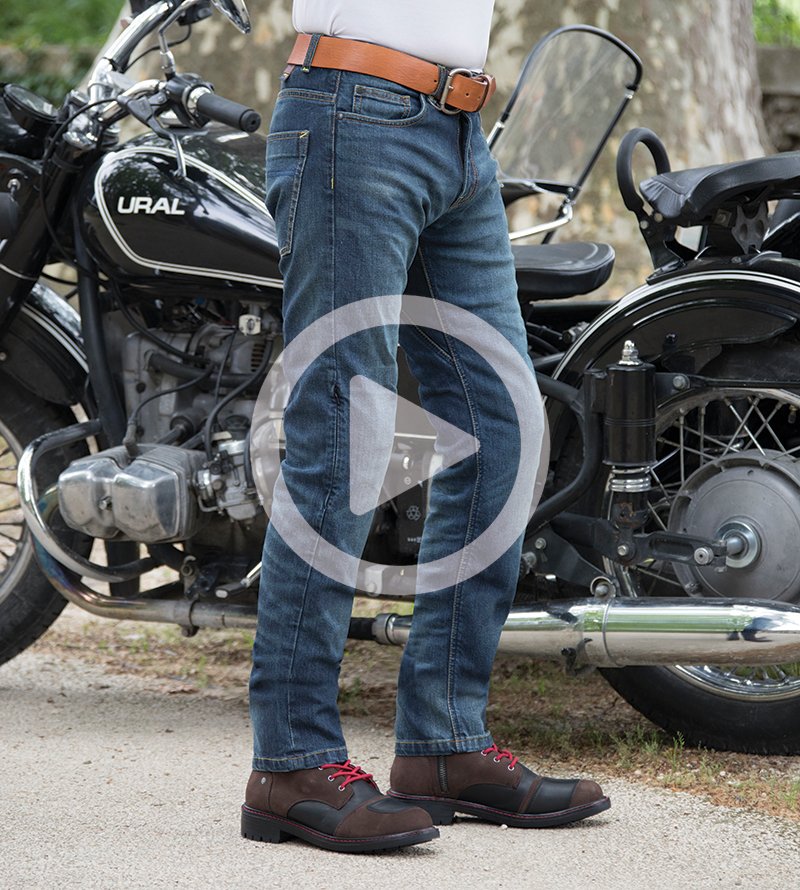 The J-Trackers sit at the lower end of the market in terms of protection, with a slide-time of a little over two seconds. Now a number of jeans are somewhat stronger than this, but none are more comfortable to wear. They are the lightest and nicest. We call them a 60mph jean. If most of your riding could be termed relaxed, then these jeans could be perfect for you. Woven with Cordura, they're way, way more protective than a street jean, but at £149.99 they're very affordable.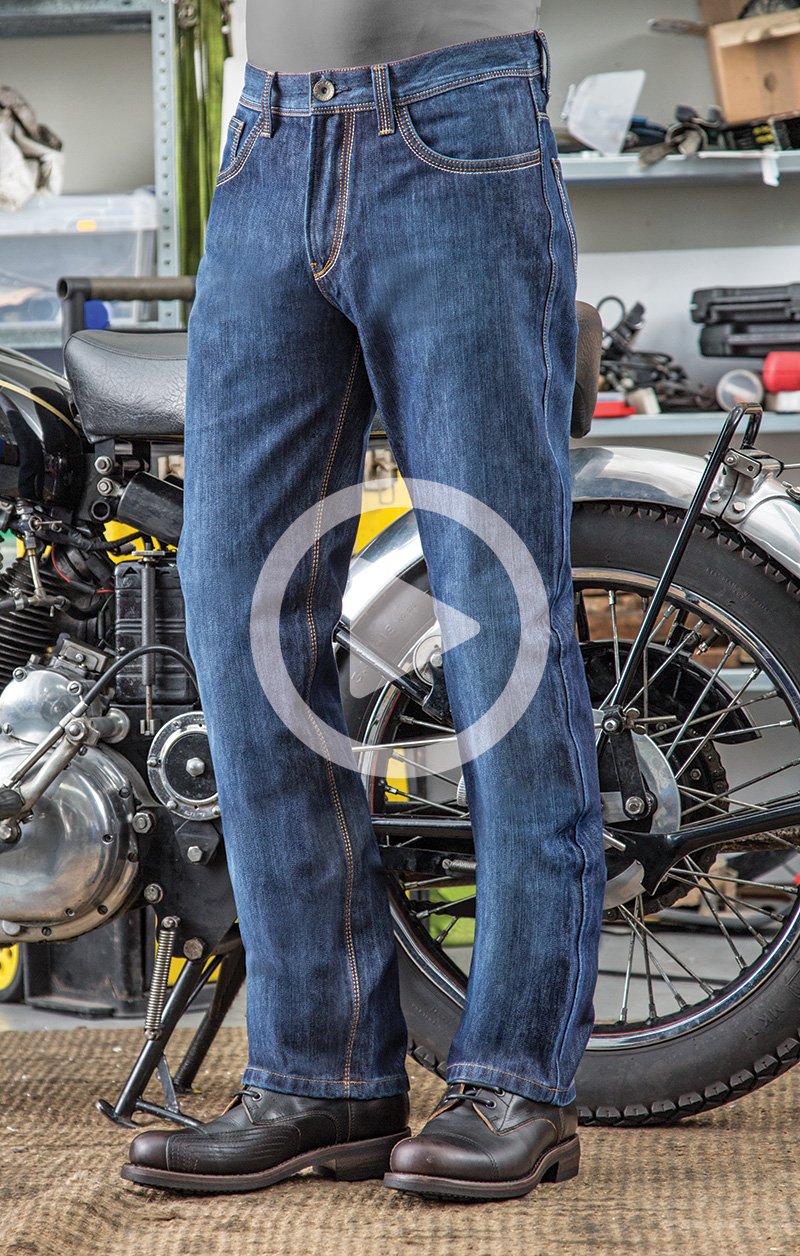 The Rokker Revolution waterproof jean
The Revolution is technically a single-layer, but what makes the Revolution so special is that it has a laminated, waterproof membrane. This makes them as waterproof as a Rukka pant. You could honestly ride for three, four or five hours in them and you wouldn't get wet. They are amazing. They're pretty strong too, with a slide time of over three seconds. They're comfortable, and fantastic to ride in. Only when it's very hot can you find that the membrane gets a little sticky. At £350, they're not cheap, but they are unique.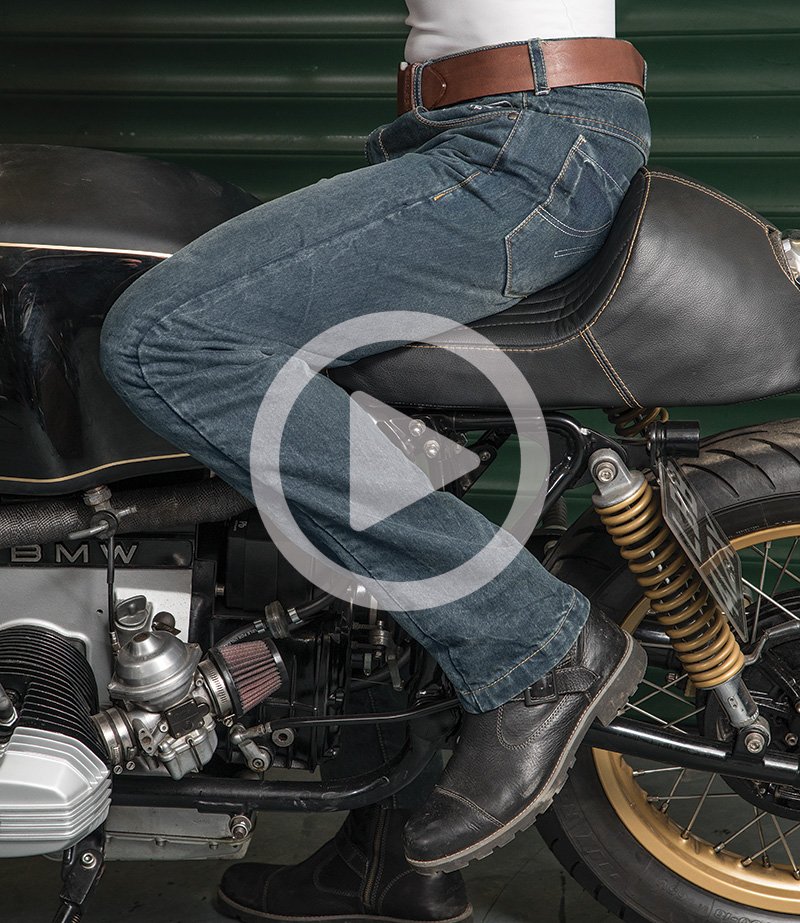 The Halvarssons Macan jean
The Macan jean is one of the few that is woven with Kevlar. They are, in truth, a little heavier than some jeans, but with an AAA rating they are very protective. They are perhaps not the most flattering jean either, with a slightly wider leg width that suits some people, but not everybody. Our main problem with the Macan jeans is the armour. It is clunky and gets in the way when you put them on. If these were the jeans we wanted, we would not hesitate to swap the armour out for D3O's latest Ghost armour. The jeans cost just £199. The Ghost armour would be an extra cost.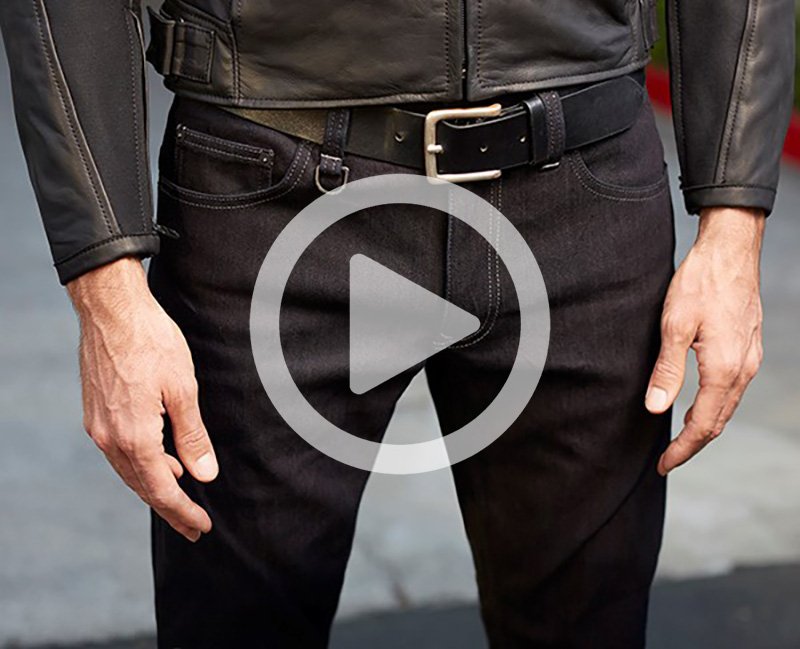 The J&Dyneemas are woven with a super-strong UHMWPE called Dyneema. It allows Spidi to produce a jean with a slide time of over four seconds, which puts them on a par with leather. Infused with stretch, they are amazingly comfortable and come as standard with hip and knee armour. Technically, they are very dark blue, but they look black. Unlike most single-layer jeans they come with a mesh liner. They cost £269.99.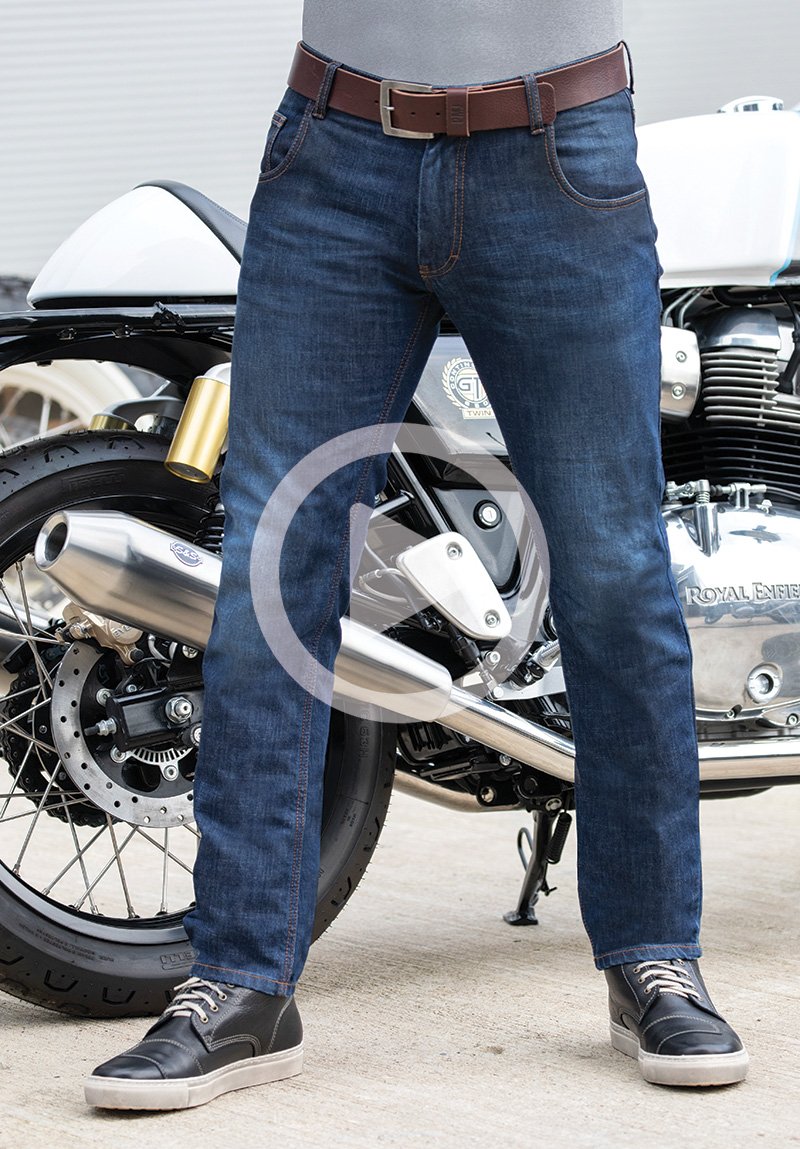 PMJ is an Italian jean company, and this is the jean we asked them to make for us. They asked what we wanted, and we told them that we wanted a jean with an AAA rating and a slide time of at least four seconds. Using a material called Twaron, the Tex-Pros are very impressive. They are incredibly light and have a narrow leg that is very flattering, but they won't work on everybody. When we asked PMJ to make this jean we gave them a target price of £200. They didn't quite get there, but we still reckon their £229.99, which includes a leather belt, is mighty impressive for what you get.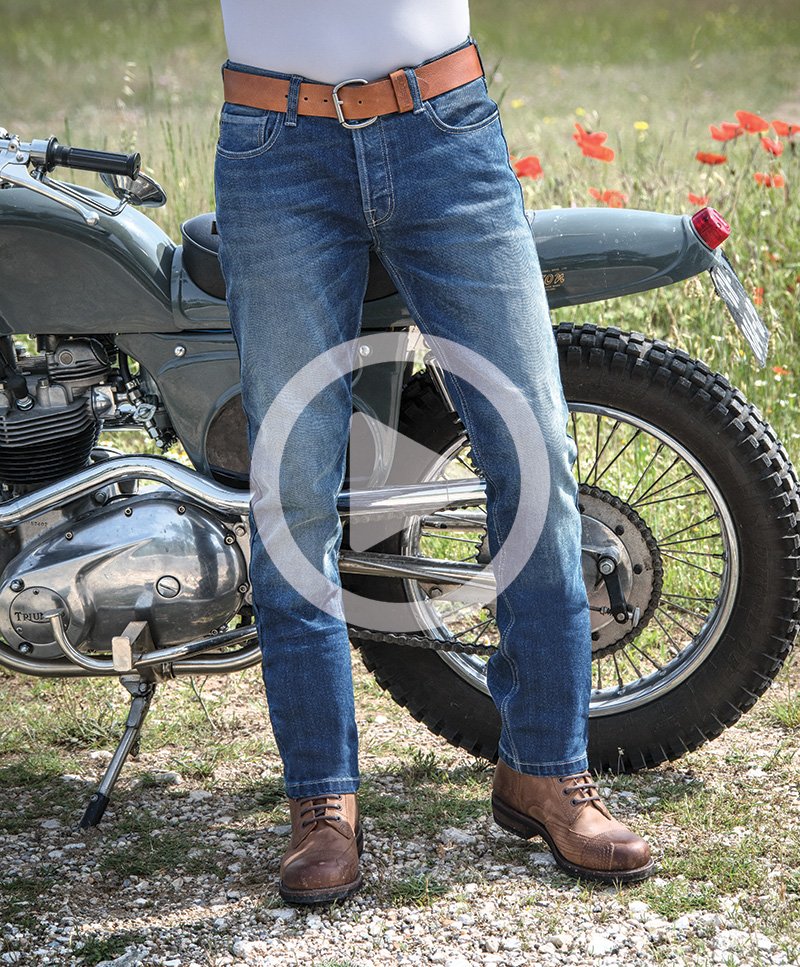 The Rokker Rokkertech jean
Now, in our humble opinion, the Rokkertech is far and away the best single-layer motorcycle jean on the market, which makes them simply the best motorcycle jeans that money can buy. They're made for a material called Armalith that delivers a slide time of more than six seconds. This means the jean is about 50% more abrasion resistant than a pair of leather pants. They are fantastic to wear; they're not flimsy, though. They feel reassuringly substantial. There are a number of fits and colourways, and a bewildering array of sizes and leg lengths, so getting the right pair can be challenging. They're not cheap either, at £350 including all the necessary D3O armour. But, as we've said, they are the best.

Want some more? Please

click here

to return to our editorial menu.
Share this page