Top 10 best summer motorcycle gloves 2019
Published on: 10/05/2019 15:20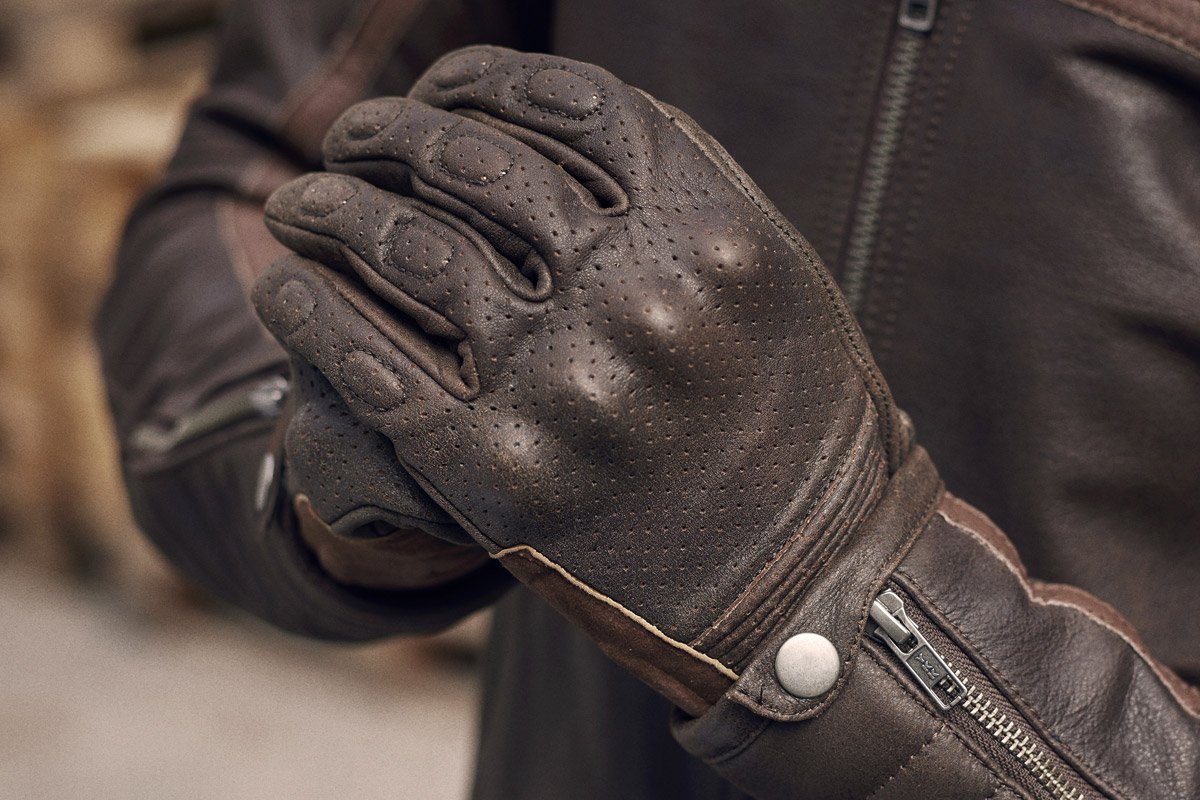 TOP 10 BEST SUMMER MOTORCYCLE GLOVES 2019
OUR TOP PICK OF GLOVES FOR WARM WEATHER RIDING

There have been days recently when it has felt as though summer is here; and then there have been days when it feels like it's never going to arrive but, in truth, a British summer is nothing if not unpredictable. Which means that we all prescribe a different meaning to the description: 'summer glove'. For some people, it's a glove without insulation, but with a waterproof membrane because, let's face it, a shower, or even a deluge, is never that far off in a British summer. For others, a summer glove is just lightly padded glove that's less warm than a proper winter glove. But, for us, a summer glove is something lightweight, probably with mesh or perforations that has no thermal lining and no waterproof membrane. Below, we've listed just 10 of our favourites, although the list may be different in a few weeks' time because we're expecting some great new summer gloves from other makers soon. But if you want a great summer glove now and today, these are the ones we like the most.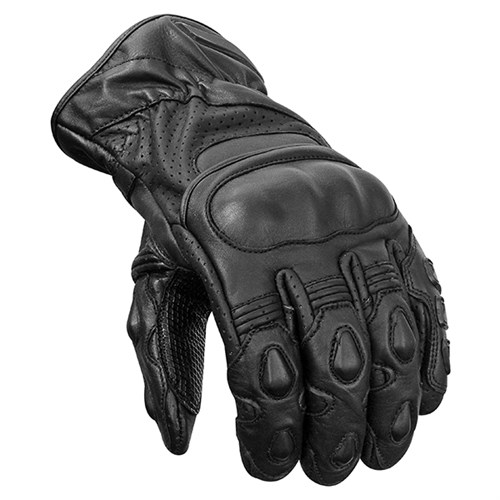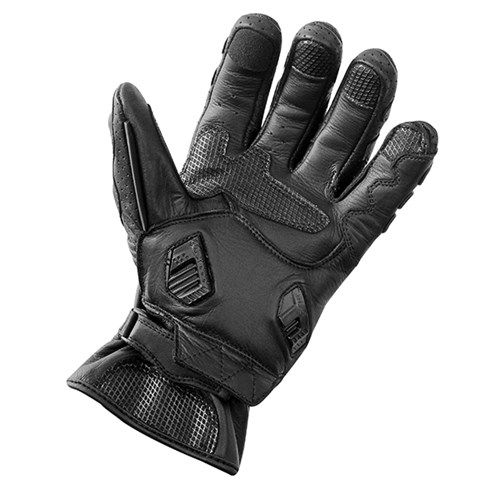 THE BRIAN SANSOM POLICE SUMMER GLOVE
This is a glove that you cannot buy in the shops. It has been created specifically to meet the needs of Police motorcycle riders, and is supplied to many of the country's leading forces. The glove is made to the very highest standard by one of the most famous names in leather motorcycle wear. And that name is Brian Sansom, the founder of BKS. Brian makes the world's finest leather racing suits, as well as the best bespoke two-pieces money can buy. He supplies many Police forces with riding gear, hence these gloves. This is the summer version of the glove that Brian makes. It comes with perforations in the fingers and thumbs for improved air flow, and an Outlast liner to keep you cool in the hot weather. It is, in our view, perhaps the most highly-engineered and protective, summer-weight, road glove you will ever see. It also happens to be incredibly comfortable and easy to wear. If you are not a serving Police officer, the only way to acquire the glove is to purchase it from Motolegends.
£129.99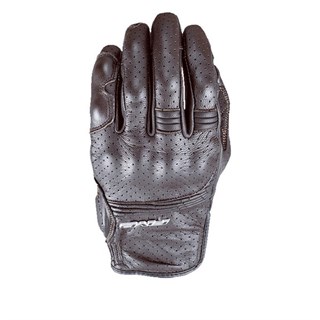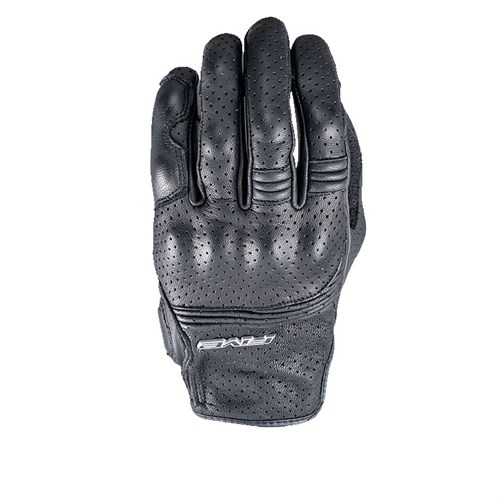 THE FIVE SPORTCITY GLOVE
The Sport City allows you to approach city riding with a smile. It received the top technical grade (9/10) when city gloves were tested by the influential Moto magazine a few years ago. This is the perfect summer glove for any sit-up, custom or classic bike. With its exceptional fit and impressive level of protection, it's both comfortable and reassuring to ride in. It's a back-to-basics glove. What you see is what you get. But there are times when simple is what you want.
£79.99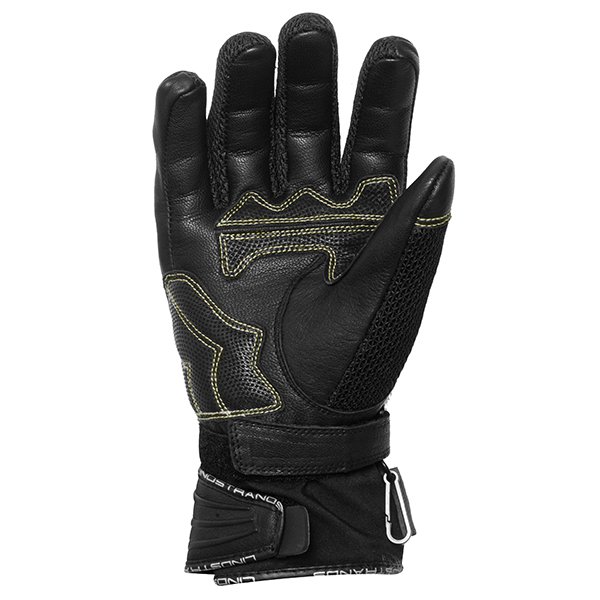 THE HALVARSSONS AERATE GLOVE
The Aerate is a mesh glove, but it's a glove that also delivers a high level of strength and substance. It's made from goatskin with textile panelling, and extensive areas of mesh. It has hard knuckle guards and, for added abrasion resistance, there's Hi-Art in the key areas. You also get adjusters for the wrist and cuff. Like all Halvarssons' gloves, the Aerate seems to fit most people pretty well. And it's attractively priced too.
£59.00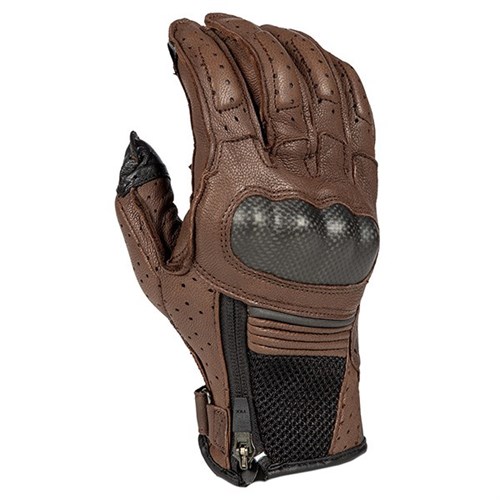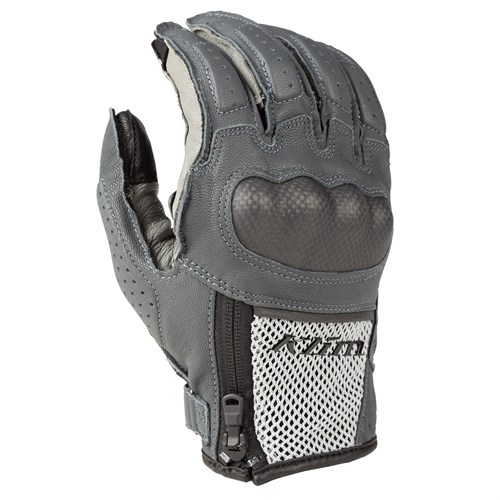 THE KLIM INDUCTION GLOVE
The Induction is an incredibly comfortable, yet highly protective, summer glove. It is made from goat's leather that is extensively perforated to improve airflow. A mesh panel on the wrist adds further ventilation, whilst an accordion stretch panel helps with wrist articulation. On the main knuckle you get a hard carbon protector. And on the fingers and palm you get Poron panels that serve to absorb impacts. What makes the Induction glove particularly comfortable to wear is that the finger seams are externally sewn. The index finger is touchscreen sensitive. It also incorporates a small visor wipe. The gloves fasten by means of a YKK zip and a Velcro strap. These gloves are not inexpensive, but everyone who tries them on loves them. They just seem to work.
£139.00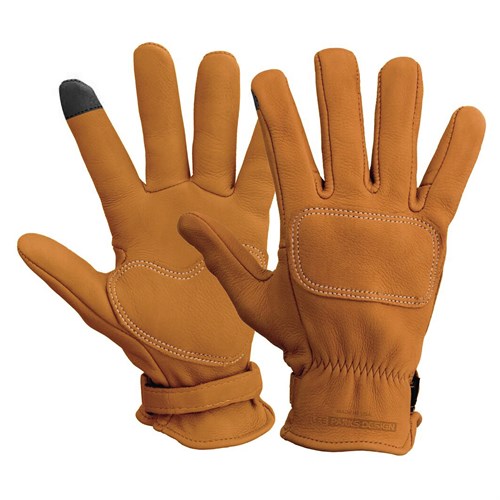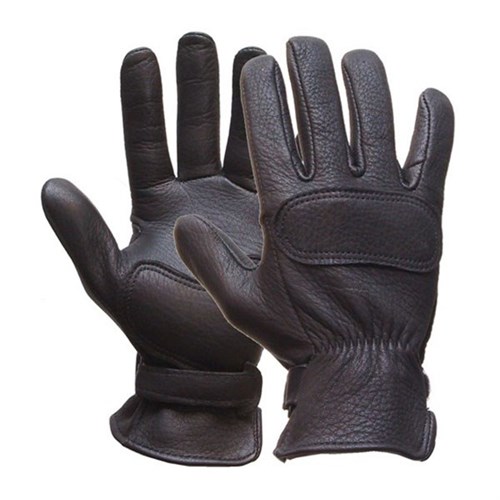 THE LEE PARKS DEER TOURS GLOVE
We love Lee Parks' gloves. They are a modern version of the ropers' gloves used by the cowboys of old. For leather, Lee uses deerskin, which is incredibly tough yet amazingly soft. In fact, deerskin has four times the strength of cowhide. For added abrasion resistance, the gloves are reinforced with elkskin on the knuckles and palm. Elkskin is six times stronger than cowhide. Lee makes his gloves with the minimum number of seams, because it is the seams that are the weak point on any glove. And because he doesn't like seams he has to use huge pieces of hide. This, and the fact that they are entirely hand cut and hand sewn, accounts for the fact that they are not inexpensive. Obviously, you don't get impact protection with these gloves, but you do get a higher level of abrasion resistance than you'll find on almost any glove out there. Buy them tight, and allow them to mould to your hand over time. They will, eventually, become the most comfortable gloves you have ever worn.
£89.99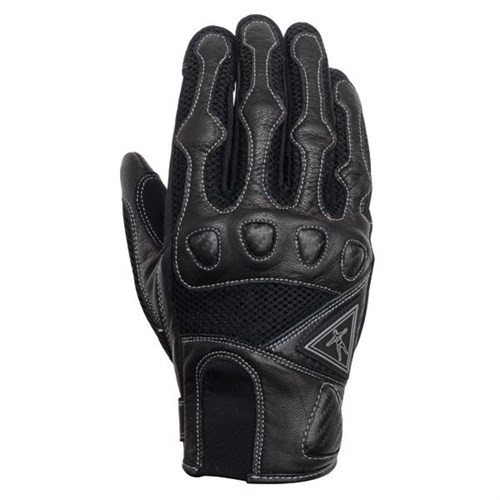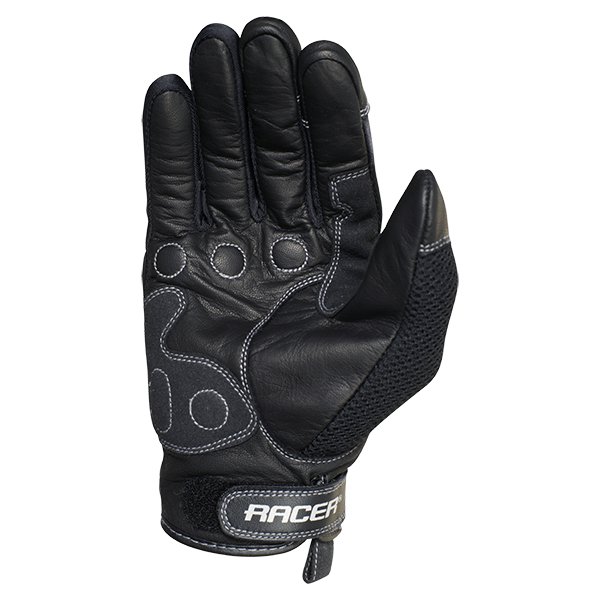 THE RACER WINDY GLOVE
The Windy glove from Austrian motorcycle brand Racer is a summer glove constructed from high quality sheep leather. The glove has anatomically shaped fingers for improved comfort and grip. The large areas of ventilated material will flow huge amounts of air. But with Poron protectors on the knuckles, palm and wrist, these gloves also offer pretty impressive levels of impact protection. There's no doubt about it, Racer's gloves are beautifully designed and constructed. This a real summer glove. It's going to be no use to man or beast in the cold, but on a hot day it's going to be as good as almost anything else. The price is also quite reasonable.
£59.99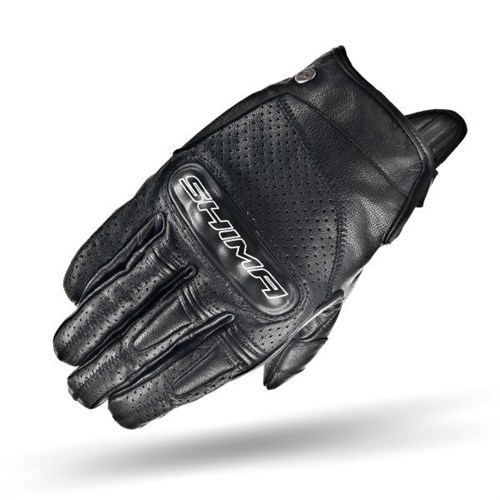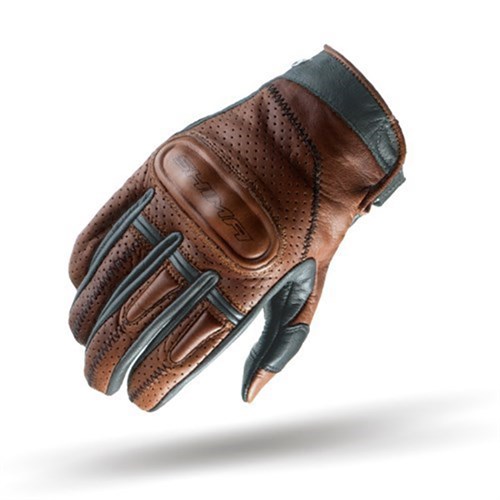 THE SHIMA CALIBER GLOVE
Shima demonstrates our entire approach to motorcycle apparel. We came across this glove at one of the big, international trade shows a few years ago. Truth be told, the Shima range is huge, but we were only interested in this one glove. And that's because it is rather special. It's about as summery as a summer glove gets. It's made from a perforated cowhide for a perfect combination of protection and airflow. But what makes it so special is that it fits so well. It's a short glove, but the detailing is lovely, with small accordion stretch panels in three fingers. The knuckles are protected with a hard protector. And you get extra layers of leather for added abrasion resistance in all the areas where you might need it. It also has a great look that will work on any kind of cool bike.
£59.99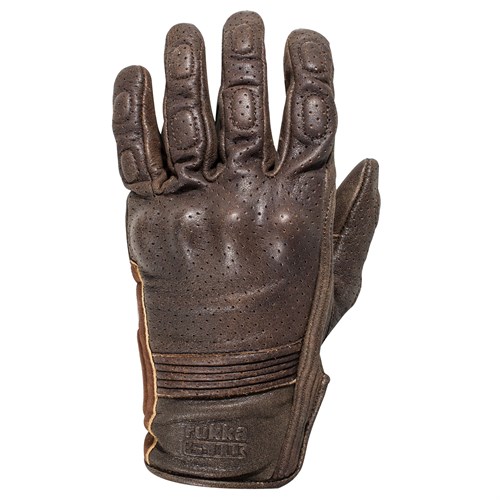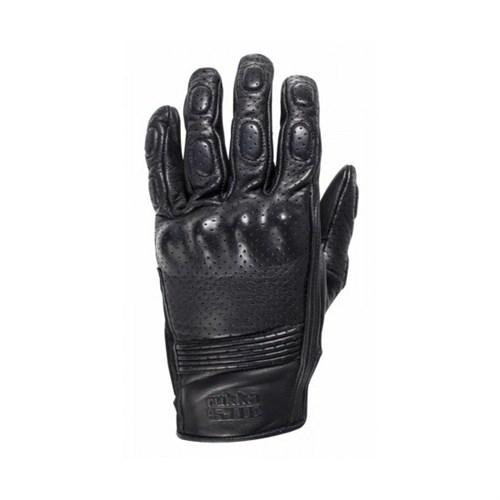 THE RUKKA BINGHAM GLOVE
Rukka has recently introduced a couple of lightweight, retro, leather gloves. This model, the Bingham, has an extra short cuff with accordion stretch panelling on the back of the hand. They fasten with a Velcro strap. For protection, the gloves have hard knuckle inserts. There's a slider for the scaphoid, and you get extra soft padding on the fingers. The gloves are pre-shaped for riding. But most importantly, of course, they are made by Rukka, so the quality can pretty much be taken for granted.
£84.99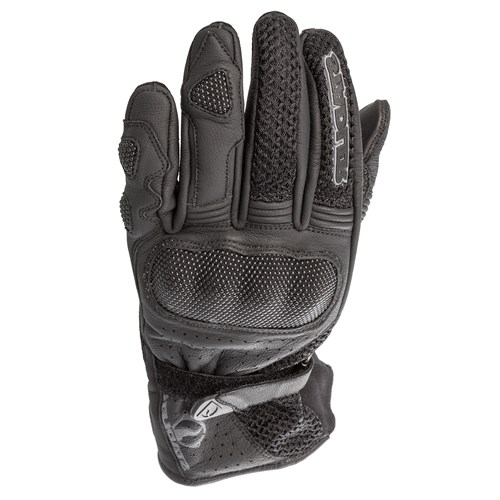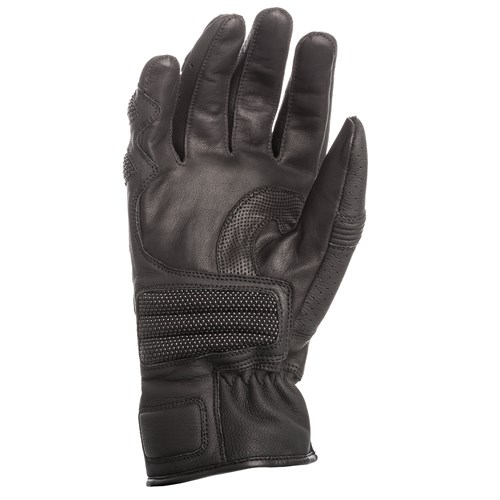 THE STADLER VENT GLOVE
Stadler is a class act. They make what is the most protective, touring and commuting suit money can buy, in our estimation. They supply riding gear to every single German police force and, with a 10 year warranty on all its riding outfits, you can be sure that you're buying gear that you can rely on. Well their summer, vented glove that is called, quite unimaginatively, the Vent, is probably the most protective, vented glove you'll ever find. It's made from cow and kangaroo hide, has a Kevlar lining on the back, and comes plastered with panels of Superfabric for added abrasion resistance. But, despite all this, it's really well vented, with perforated leather and web mesh panels on two fingers and the thumb. We reckon that it sits somewhere between BKS's Police glove, and the Rukka Forsair. It won't flow air quite as well as the Forsair, but it is a more robust glove. In terms of protection, it's pretty comparable to the Police glove but, obviously, it will flow the air much better. If you're looking for a supremely protective glove that provides reasonable levels of cooling, then the Vent is worth a look. It's really comfortable to wear and, as you would expect of Stadler, it's beautifully put together.
£119.00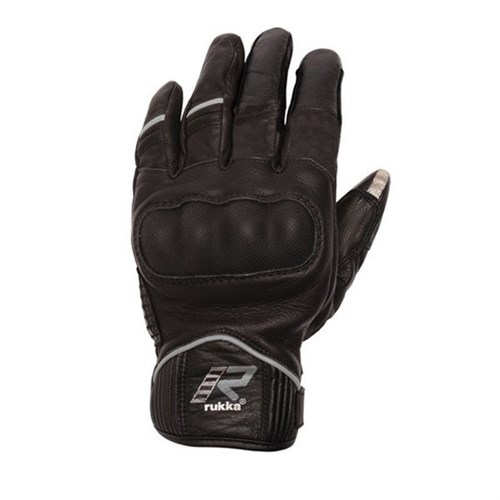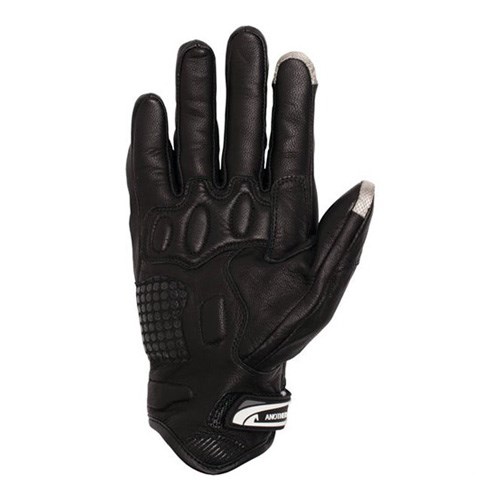 THE RUKKA RYTMI GLOVE
Most people Know Rukka as a high-end, technical maker of some of the very best touring and commuting suits that money can buy. But the Finnish brand also makes some pretty impressive gloves, including an amazing all-rounder called the Virium. The Rytmi is not quite so technical. It's a simple, lightweight, summer glove. But the leather is of the very highest quality, and the fit is fantastic. You also get a hard protector on the knuckles, touchscreen-sensitive fingers, accordion-stretch panels for comfort, a scaphoid slider, leather padding in the palm, and a Velcro fastening strap. You want a lovely, supple, summer glove that's also highly protective? Well luckily, Rukka does a really good one.
£114.99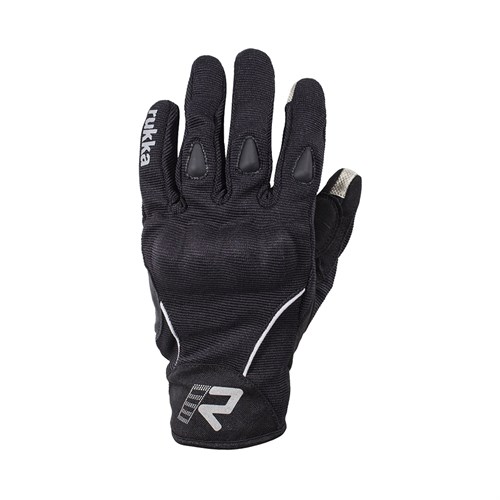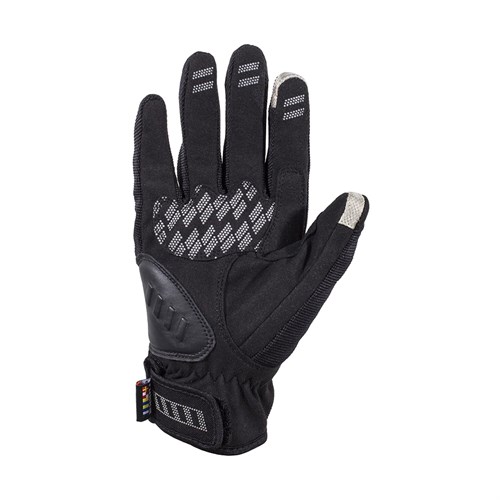 THE RUKKA FORSAIR GLOVE
Declaring a favourite, summer glove is a bit like admitting you have a favourite child. Okay, obviously there is one, but it's tempting fate to admit it. The Forsair is certainly one of our favourite, summer gloves, but it's a glove that only comes into its own when it's really, really hot. And that's because it flows huge amounts of air through its knitted Cordura upper. When it's up in the thirties, this is the glove you want to be wearing. On a chilly morning, not so much perhaps. The fit is a little elasticated, and so the Forsair is incredibly comfortable. The stretch fit means that you can often go down one size on what you normally take. But airflow doesn't come at the expense of safety, so you get a full leather palm, a hard knuckle protector, and a scaphoid slider. There are extra-grip panels on the palm, and the fingers are touchscreen sensitive. The wrist closes by means of a robust Velcro strap.
£84.99


Want some more? Please

click here

to return to our editorial menu.
Share this story