Warm and Safe Product of the Month
Published on: 06/03/2019 11:25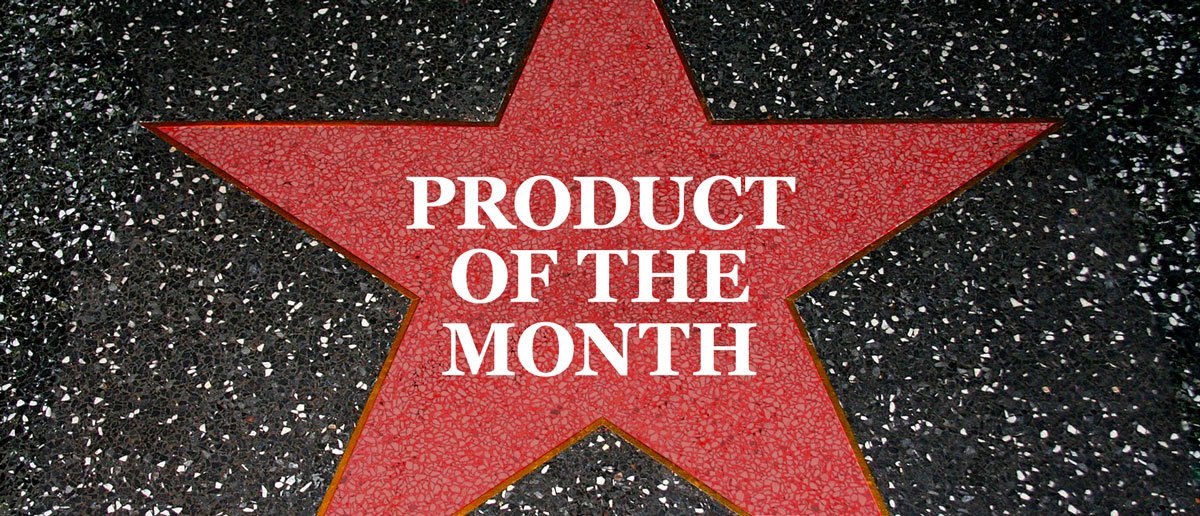 JANUARY
WARM AND SAFE HEATED CLOTHING
Hugely embarrassed as I am to now admit it, I rode motorbikes extensively all over America and Australia well before I had a licence to do so. Protective wear, as such, didn't exist and, being both young and stupid, staying warm never seemed to be a concern. If it was cold, you just shivered a little!
When I did pass my test, my first bike was a Ducati 888. Other sports bikes came and went but, for years, all I ever wore, come rain, shine or sleet, was a one-piece race suit. I knew no better, but I do know that I would have heaped scorn upon any individual who suggested that it might be an idea to wear heated clothing.
But I'm older now, and perhaps even a little wiser. I know how cold you can get on a bike, and I realise just how dangerous a motorcycle can be if you're uncomfortable in the saddle, distracted by attempts to combat numbing temperatures.
Of course, the first course of action these days is always to add layers: base-layers, mid-layers, fleeces, soft-shells, duvet-style jackets and so on. And it's an approach that works up to a point. You can certainly reduce the impact of dropping temperatures and the crippling effects of wind chill.
Base layers will only do so much, however. For a short while the right combination of under garments might even make you feel warm, but if the temperature is low enough, if the journey is long enough, and if progress is swift enough, then it's only a matter of time before you'll start to feel cold again.
The problem for motorcyclists is wind chill. On a bike, there's no escaping it. If you set off from home in a temperature of 0 degrees, at just 30 mph your body will perceive the temperature as -8 Celsius. At -2 degrees at 70 mph, the effective temperature will be -11 Celsius. That's artic cold, and in temperatures of this order, whatever layers you wear, you're eventually going to freeze.
Of course, if you're an occasional weekend rider, you're very rarely going to experience the kind of conditions we're talking about but, if you commute throughout the year, then in the winter months these kinds of temperatures will regularly become part of your daily life.
With good heated gear, feeling cold on the bike really can become a thing of the past. On even the coldest days, you'll feel warm and toasty, leaving you to focus all your attention on the road, taxi drivers, white van men, bus drivers, Uber and Deliveroo riders, and indeed anyone else who is determined to stop you reaching your destination.
But, as you might expect, not all heated clothing is born equal. There are quite a few brands out there. There's Gerbing, Keis and EXO2 to name but three. If the initial ticket price is your prime consideration, then I think even Oxford Products may have some kind of offering.
We know the three main players, and a couple of years ago we tested all their products, but we were never completely convinced by any of them. And then we heard from a few of our customers about a high-end American product that was meant to be far superior to the mainstream European brands.
We did some homework, spoke extensively to the owner of the company, and tried the gear out for ourselves. Ultimately, we came to the same conclusion. Warm and Safe's electrical clothing is the best. It's the warmest, the most reliable and the most wearable. The downside? It's not the most affordable, although we personally don't think it's overpriced.
Like all the best companies, Warm and Safe build a product, and then price it to reflect the costs involved. They do not cut corners merely in order to attain a marketeer's pre-ordained target price. So confident are they of the quality of their manufacturing that they back their wares with a five year warranty.
To a very great extent, Warm and Safe is the innovator in this market. These guys are the boffins of the heated apparel world; they are always striving to improve that way heated gear is made and how it works. But they are a small mid-western enterprise, and they lack the scale and the distribution to capitalise on their inventiveness. Ultimately, the better-known international brands copy Warm and Safe's developments, although, in truth, they are always a generation or two in arrears.
So, even though they are much imitated, Warm and Safe still makes a more technically advanced product. They use higher quality components, they use finer and more advanced heating elements, and they employ state-of-the-art soldering techniques to secure connections instead of the cheaper, less reliable mechanical connectors used by their competitors.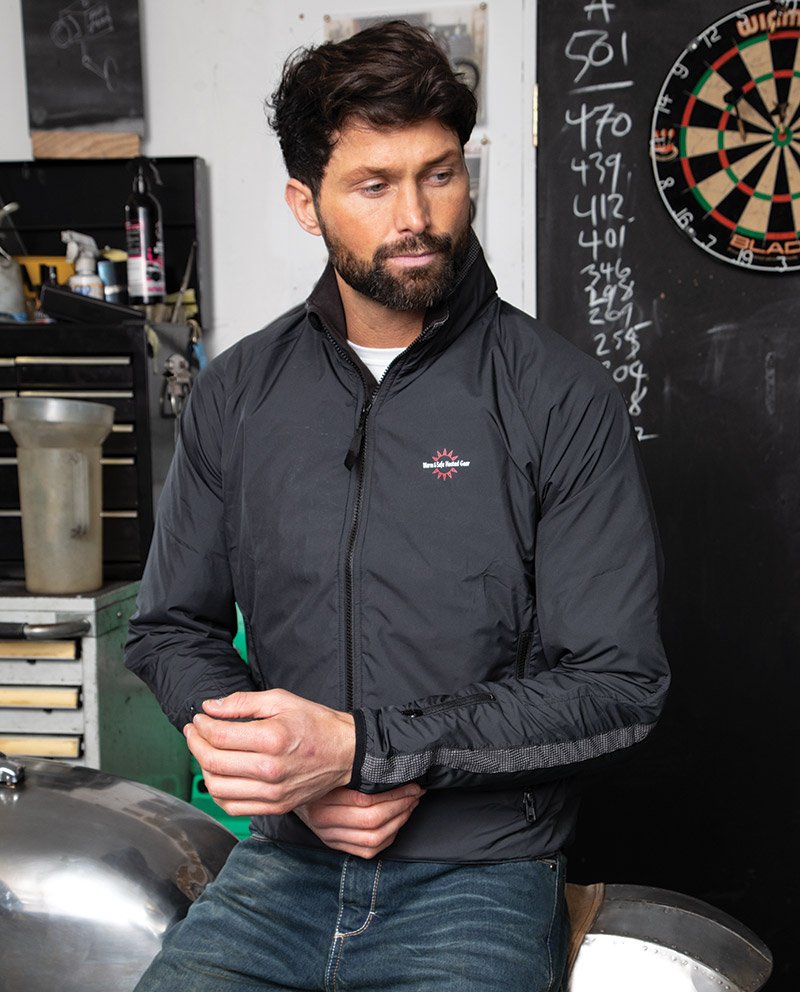 Warm and Safe Heated Gear Generation 4 jacket.
The most popular, and probably our favourite, product in the Warm and Safe range is their 90 Watt, 12 volt, zip-up jacket. The main difference between Warm and Safe's top and those of the other brands is just how light and thin it is. It wears like a summer pullover rather than a winter warmer. Most of the heated jackets on the market are made from a fairly heavy-duty, softshell-type material. And this presents two issues.
First, the heating elements end up heating up the jacket itself rather than the body. The fabric warms up, and a lot of this heat is conducted to the external jacket. Like Warm and Safe's offering, some of these other jackets still generate 90 Watts of heat, although some generate less. However highly rated their power output, though, none transmits its heat to the body as effectively. The Warm and Safe jacket fits close to the body, and much less of the heat is wasted heating the fabric of the garment itself.
The other issue that arises from a heated jacket that is thick and heavy is that you will often need to wear a motorcycle jacket that is at least a size larger than you would need if you were not wearing the heated layer. This, of course, becomes a problem in the summer months when you don't need thermal protection. In those months, because you've had to buy a larger size of jacket you'll end up with an outer jacket that is simply too big for you.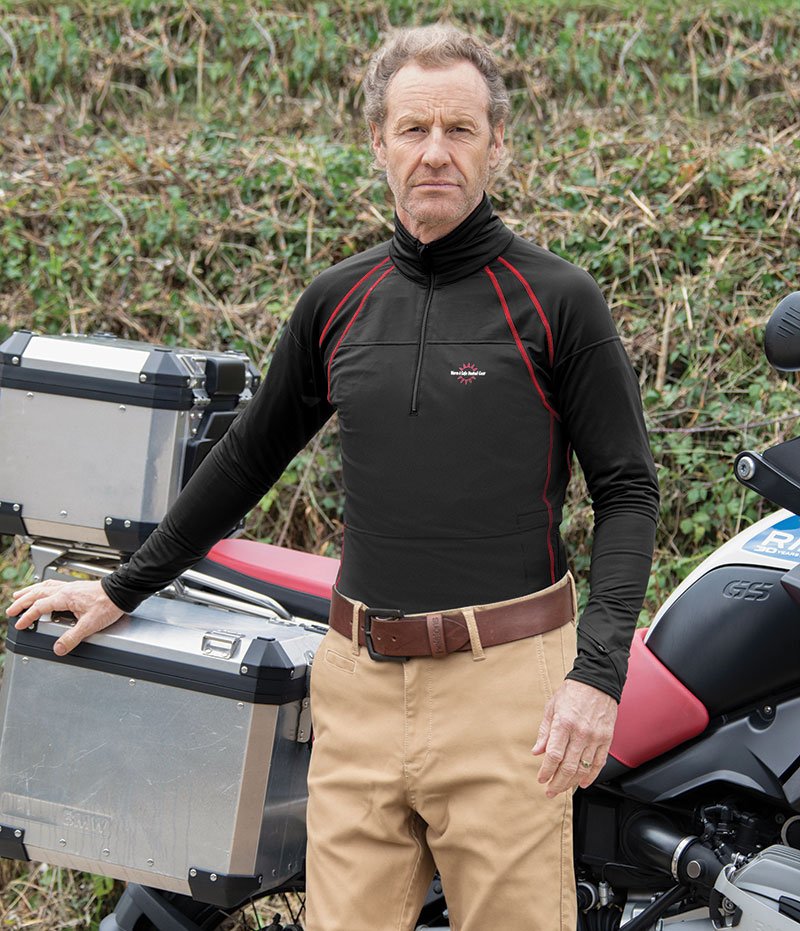 Warm and Safe mens heated base layer.
But the zip-up jacket is not Warm and Safe's only solution to the problem of staying warm on the bike. Late last year the company introduced a heated base layer. This you wear close to the body, like a traditional stretch base-layer. The top incorporates the finest carbon filaments, and uses stretch panels that make them comfortable when they're worn next to the body. The heat is delivered in seven different areas: two on the chest, two in the arms, one in the collar, one on the upper back and one on the lower back. The top wicks moisture, but is also infused with Thinsulate for extra warmth. Because the base layer fits even closer to the body than the jacket, it does not need to generate as much heat. In fact, it develops 70 Watts as opposed to the 90 Watts of the jacket, although in truth it feels warmer than the jacket.
In some ways, the choice of which to go for comes down to the kind of riding you're doing, and what flexibility you need. If you want to be able to take your heated layer off when you reach your destination, you'll want the jacket. But if you're going to be on the bike all day, or if you can change out of your bike gear when you get to your destination, the base layer might be the best option.
The other thing that distinguishes Warm and Safe from its would-be competitors is its take on heated gloves. Now the other players in the market also make heated gloves, but Warm and Safe has adopted a different approach.
Gerbing, Keis, IXO2 et al. all make traditional winter motorcycle gloves, into which they insert an array of heating elements. There are again two problems with this. First, you end up with a very average glove. None of these companies is particularly experienced in protective wear, and no safety-minded biker would take a glove from one of these companies particularly seriously. The second problem is that, as with the jacket, a lot of the heat generated by the heating elements in these gloves will be taken up heating the wadding and insulating material inside the glove, as well as the external surface of the glove that is exposed to the elements.
The Warm and Safe solution to cold hands and fingers is a heated, inner silk glove. This glove is super thin so that you can wear it inside any glove. It incorporates heating elements in between the fingers. And this is where you need the warmth, because it is the comparatively large surface area of the fingers that causes them to lose heat in the first place. The Warm and Safe solution also allows you to wear the gloves that you really want to wear; a Rukka glove, an Eska, a Spidi; whatever you want. It doesn't even have to be a winter glove.
There is, though, one thing you have to do if you want to wear Warm and Safe's gloves. And that is to avail yourself of their dual controller. The heat in a Warm and Safe top is adjusted by means of clever and convenient Bluetooth controller that they call the 'heat-troller'. Being Bluetooth, you keep it on your pocket, and adjust the heat as you need it. And you will need to adjust the heat. You will certainly not want to have the heat turned up fully all the time. On an extremely cold day perhaps, but the heat generated by these tops is such that you risk burning your skin if you cannot turn the heat down.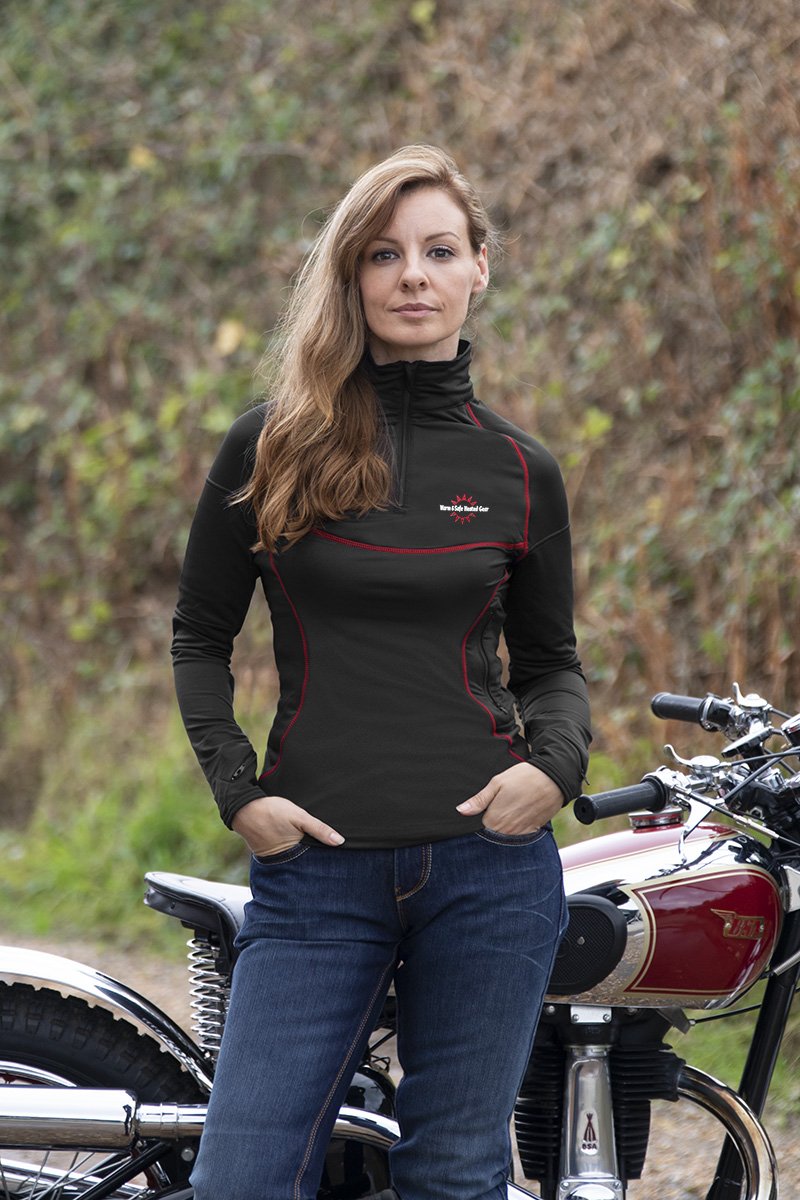 Warm and Safe ladies' heated base layer.
But it's particularly important that you can vary the heat settings separately if you do go for the gloves, because the level of heat that you want on the body will not necessarily be the level of heat you want for your hands. We had a customer last year who felt that a single controller would suffice. After an all-day ride from Edinburgh down to London on a freezing cold day, he ended up with blisters all over his fingers, although he didn't notice it until he got home. Bottom line? You really do need the dual heat-troller if you're going for the gloves.
Clearly, Warm and Safe is the heated clothing brand we prefer. We prefer it not because it is the market leader, nor because the supply logistics are easier, and certainly not because we earn a better margin. Warm and Safe is emphatically not the market leader. Importing their clothing directly from the US is not simple and straightforward, and import taxes and duties ensure that the commercial proposition is not the most attractive.
We offer Warm and Safe for one reason only; and that is that we are convinced that it is by far and away the most comfortable, most advanced, most reliable and most effective heated gear one can buy. It's not the cheapest heated gear on the market, but the best very rarely is the cheapest, and if wanting to stay warm, really warm, is your number one priority, Warm and Safe is in a league of its own.
Come and see us. We'll give you an in-store demonstration. You will be impressed.
Share this page