Best short motorcycle boots 2020
Published on: 25/06/2020 14:49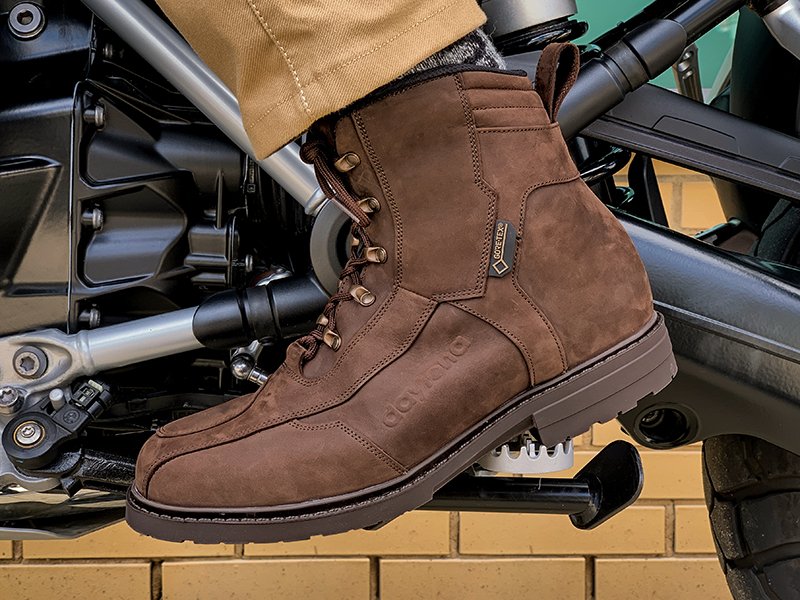 When it comes to short motorcycle boots, there are, in essence, two key varieties. There are those boots that are derived from high-top trainer or basketball-style boots. Now these are the easiest to wear of all motorcycle boots. They are literally as comfortable to wear as a pair of shoes you picked up from Foot Locker. Yet boots fashioned in this image are still very much proper biking boots with all the required protectors and safety components. All the ones we feature here are either waterproof lined or treated. The other style of short boot can be traced back to the traditional work boot; in the vein of something like a Timberland or Caterpillar boot. These boots are perhaps tougher and more rugged. They are still comfortable for walking around in, but perhaps not as comfortable as a trainer-style boot. Here in this review we showcase our favourites from both categories. In the copy we give you the outline of every boot, but every single boot is also subject to its very own video review. We tend, as ever, not to do the cheapest boots on the market, although some of the boots here are very well priced. But, whilst every boot has its own individual strengths, we would say that all the boots we feature here are at the top of their game.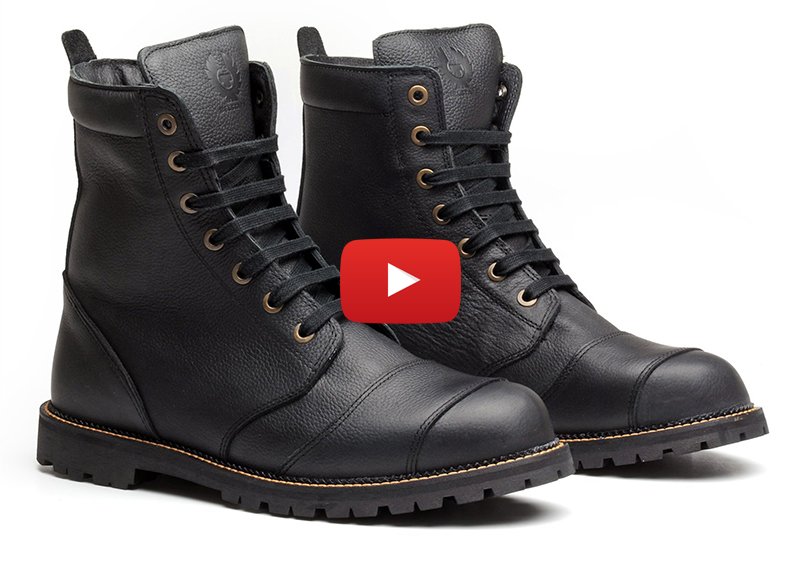 The Belstaff Resolve boot is a short-shaft, motorcycle boot that is made from a water-repellent, full-grain leather that is between 1.8-2.0 mm in thickness. It is lined with a waterproof and breathable membrane. You get protectors on the ankles, on the toes and in the heel. Across the toe there's a gear change pad. The rubber sole is by Vibram. Truth be told, you can probably get a boot that, in terms of its specification, matches the Resolve for less money. But those boots wouldn't be made by Belstaff! They're available in black or brown.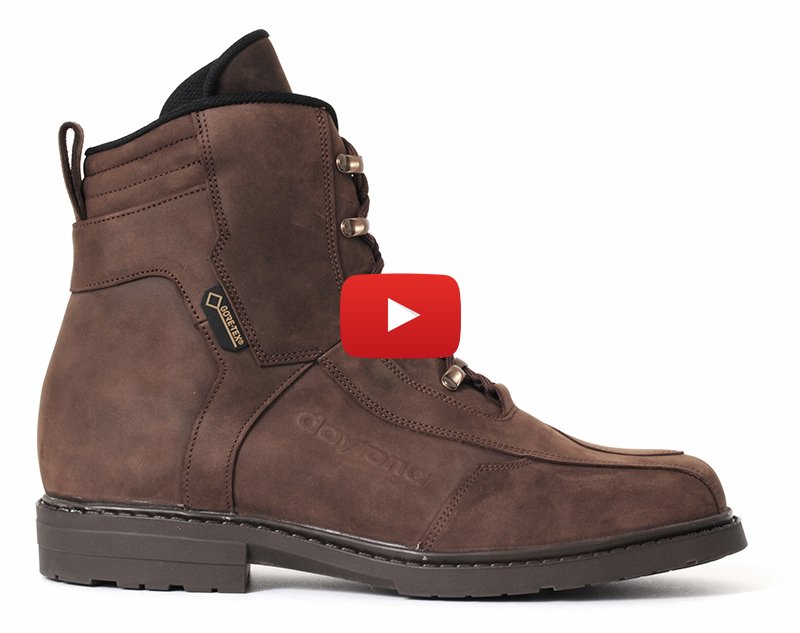 The Daytona AC Classics GTX is Daytona's first classic short boot. It's one of the toughest, most waterproof, and most reliable shorts boot of them all. It both looks and feels like a traditional hiking boot, and is available in both brown and black. The boot is made from high-quality Nubuck leather with a waterproof and breathable GORE-TEX membrane. You get a loop at the back for easy entry, shoelaces and a zipper, elastic throughout and an anatomically shaped air insole. All of which go towards making the Daytona AC Classics GTX a very comfortable boot indeed. Ankle protection and padding is on both sides with a special open-cell foam. And there's a reinforced inner sole with a galvanised steel, torsion-resistant inlay, ensuring your feet are as well protected in the event of an accident. Available in brown or black.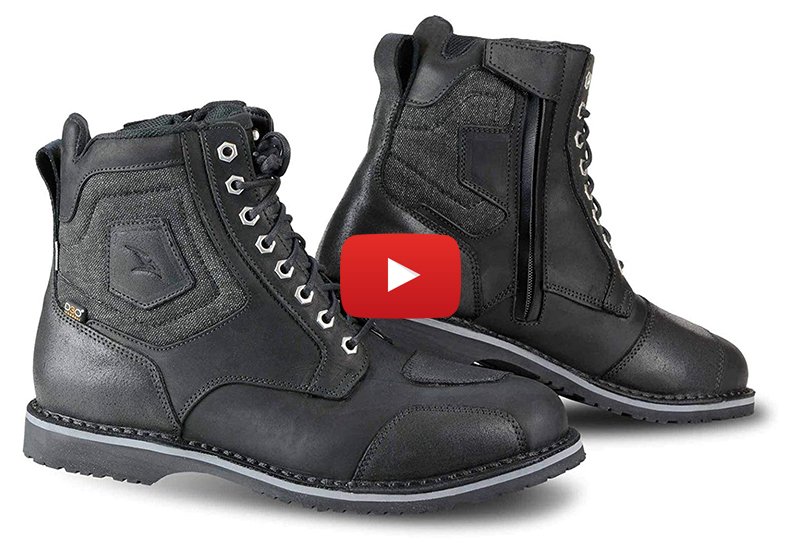 We really like the Falco Ranger boots. They are, it perhaps has to be acknowledged, not the roughest, toughest, most Tonka Toy-like boot on the market but, by reputation, they are just about the most comfortable biking boots you'll ever sink your feet into. The full-grain leather has been oil treated for extra water repellency, but the real waterproofing comes from the waterproof membrane. A full-length zip makes the boots a little easier to get in and out of, but do not forget that the waterproof gusset will mean that you will still probably have to use the laces. One neat touch is a pocket at the top of the tongue, into which you can tuck the laces to keep them out of harm's way. The ankles are protected with D3O inserts and the tough Vibram sole is replaceable. The Ranger doesn't have much of a heel to talk of, so they don't give you much of a raise, but it does mean that they are easy to move about in on the pegs. Available in black or brown.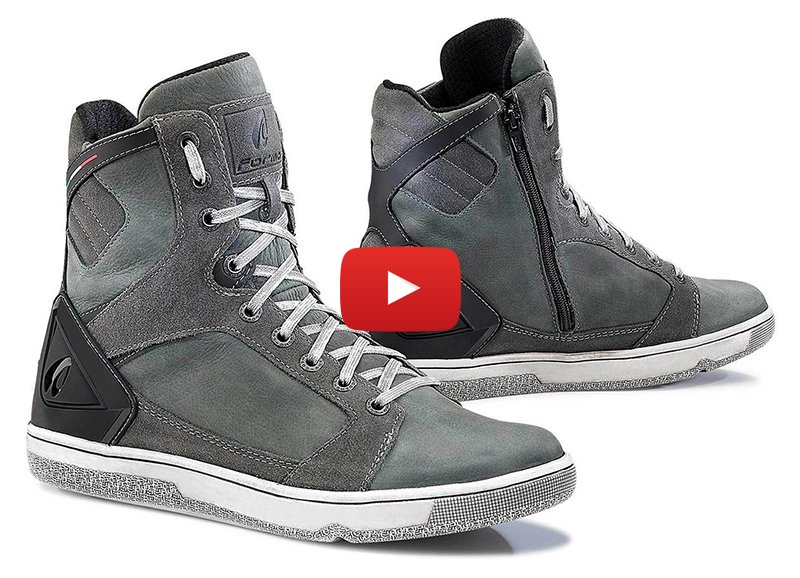 There is no shortage of trainer-style motorcycle boots on the market, but the Forma Hyper boot is a bit taller than most of the ones out there. We particularly like the styling, and the fact that they come with both laces and a zip. They're made from a full-grain leather. They are soft padded, and for extra comfort you get a double-density rubber sole. The boot has a waterproof membrane that is obviously also breathable. For protection, there are protectors in the ankles, heel and toe areas. The inner sole is anti-bacterial and removable. Available in anthracite or brown.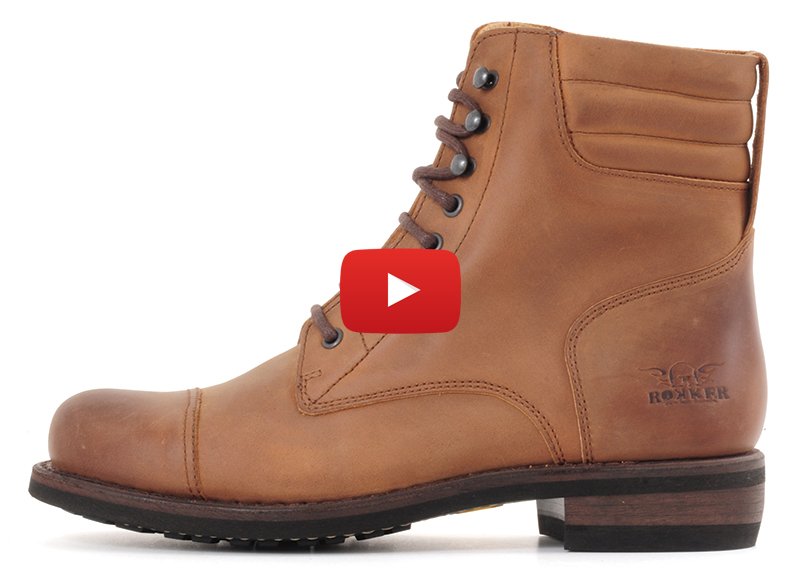 The Rokker Urban Racer boot
This Rokker Urban Racer is not a flimsy boot for moped riders. It's a heavy and solid bit of kit that's going to take a bit of time to wear in. We love the styling, but this is a boot that will look after your feet. The leather is thick. It is treated for waterproofing, but it doesn't have a membrane, so it's going to breathe. There are hard, industrial-quality protectors in the toes and heel, and there's padded protection for the ankles. The Vibram sole is Goodyear welted, and there's a heavy-duty shank in the sole. Also available in suede tan, brown, mahogany or black. We reckon the Urban Racer is just about the toughest short boot out there. After a while they will also prove to be supremely comfortable. Just take your time, and wear them in! Click below to see other colourways.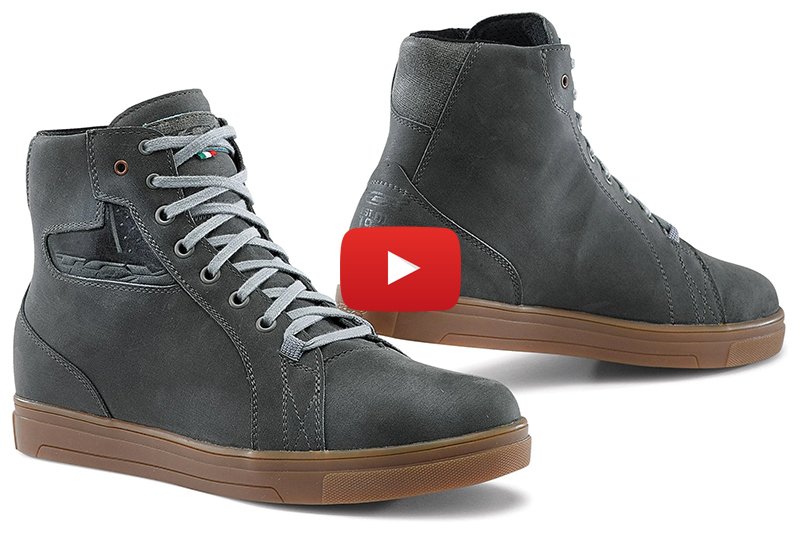 The Street Ace WP is the archetypal, short, trainer-style motorcycling boot. Worn underneath a pair of denim jeans they would pass for a regular, casual boot purchased from a fashion or sportswear store, but the Street Ace is, in every sense, a proper piece of motorcycling footwear. They are made from a treated, full-grain leather that is abrasion, tear and puncture resistant. For protection, the boots are equipped with reinforcing counters in the heel, toe and ankle areas. For comfort, there's an Ortholite footbed inside the boot. The sole itself is oil and wear resistant. Waterproofing comes courtesy of a membrane called T-Dry. Now there is a Gore-Tex version of the Street Ace called the Mood, but in a boot as short as this a Gore-Tex membrane will not make it any more waterproof. It will merely add to the cost, and so we don't see the point. The boots come in other colourways.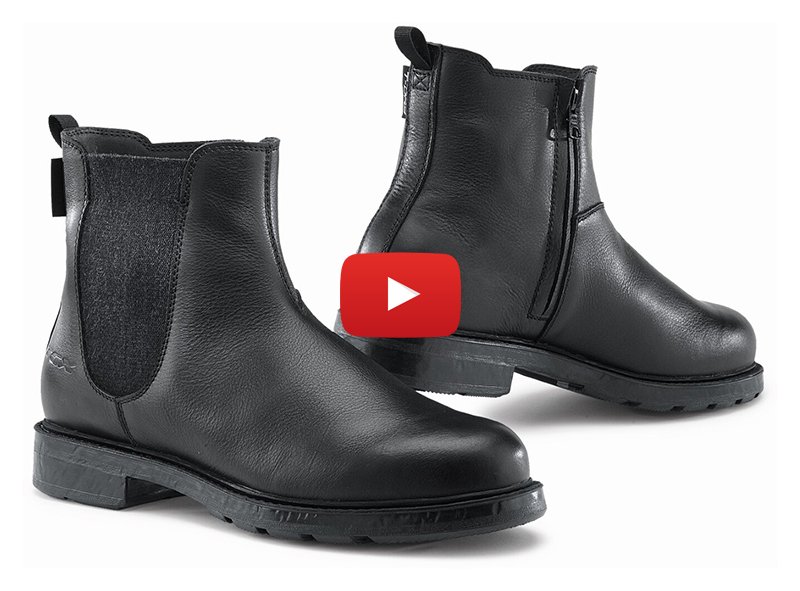 Now the Staten is a unique and clever motorcycling boot that is going to answer the prayers of a lot of bikers. First off, of course, it meets the brief of not looking like a motorcycling boot. And that's a look that a lot of motorcyclists are after. Many bikers like the idea of riding in a classic-looking Chelsea boot, but the problem with any Chelsea boot is that the elasticated panels on the sides mean that they are not properly protective on the bike. The elasticated panels also mean that a Chelsea boot can never be particularly waterproof. Well, that was until TCX created the Staten. The Staten is both a motorcycle boot and a Chelsea boot. It has counters in the heel and toe areas, but TCX has also incorporated protectors into the ankles by sandwiching them inside the elasticated, stretch panels. They have done the same with the waterproof membrane. Those who do not like to have to tie laces on their biking boots will really appreciate the Statens, but a zip up the inner side of the boot will make them even easier to put on and take off. The boots are made with a full-grain leather. And are finished off with a classic, rubber sole.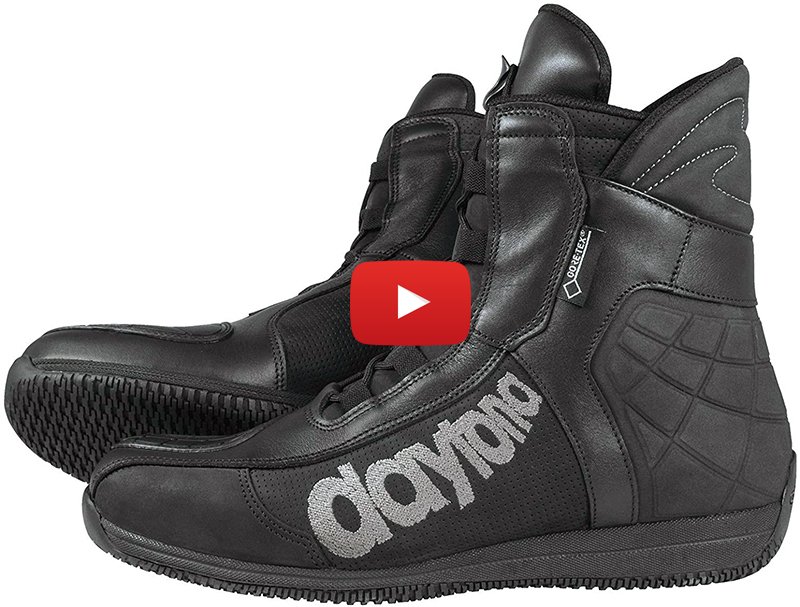 Very few would argue with the assertion that Daytona makes the world's best motorcycle boots. They are made from the finest, hydrophobic leather with all the best components. In the case of the AC Dry, one of those elements is a Gore-Tex membrane. The boot is made from a combination of leathers, including areas of nubuck and perforated leather. The boot has a soft upper, albeit with a gear change pad, and the laces fasten by means of a quick-release mechanism. The heels are protected with hard protectors on the outside, and memory foam on the inside. In the sole, there's galvanised steel shank. The sole is, as you would expect, anti-slip. Daytona call this boot a trainer. Frankly, this is about as close as the German maker's ever going to get to what the rest of the world considers a trainer to be, but one thing you always have to bear in mind when you buy a Daytona is that, in 10 years' time, they'll repair and replace whatever needs to be repaired or replaced.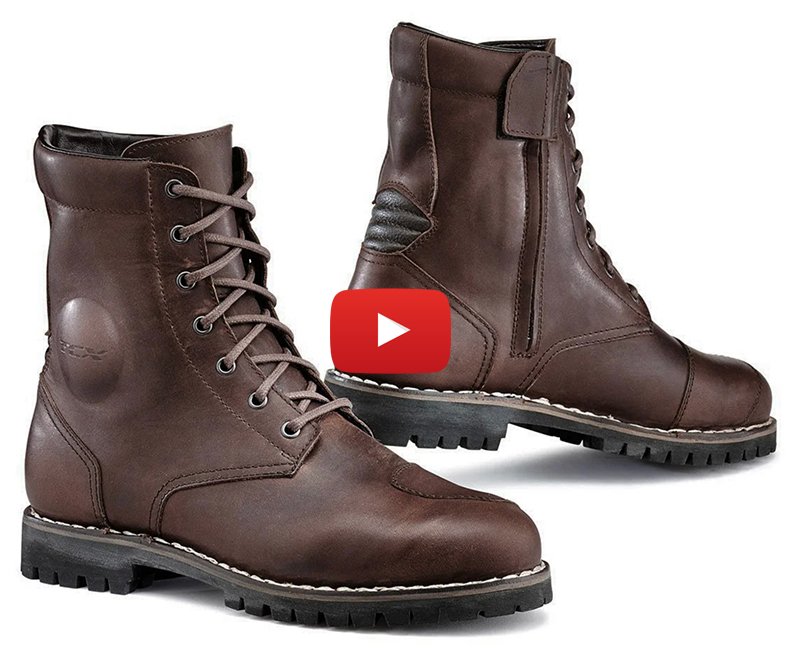 TCX is a brand known for making superb motorcycle boots at affordable prices, and these TCX Hero Waterproof Boots are no exception. With a full grain leather upper, a waterproof lining, and reinforcements on the toe and heel these are great motorcycle boots for all-year-round riding. An anatomic footbed ensures comfort. The lace closure allows easy adjustment for that perfect fit and the vertical zip completes the picture. The Hero boots have a specific tread to offer a superior grip on any terrain. Available in brown or black.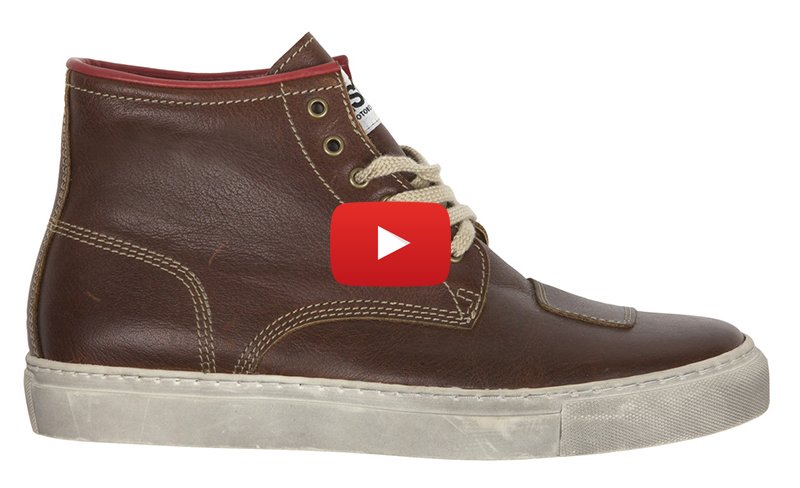 The Helstons Basket C5 boot
The Helstons Basket C5 boot is the kind of fashionable sneaker that you might expect to find on the high street. They are made entirely from calfskin, and are also calfskin lined. These boots feature a waterproof treatment for the leather, but there's no membrane, meaning that they are probably better suited to summer riding. On the toe, you get a gear change pad. There are soft protectors in the ankles, but you also get hard counters in the toe and heel areas. The deep Vans-style sole is grippy and oil resistant. The boots come in several colourways.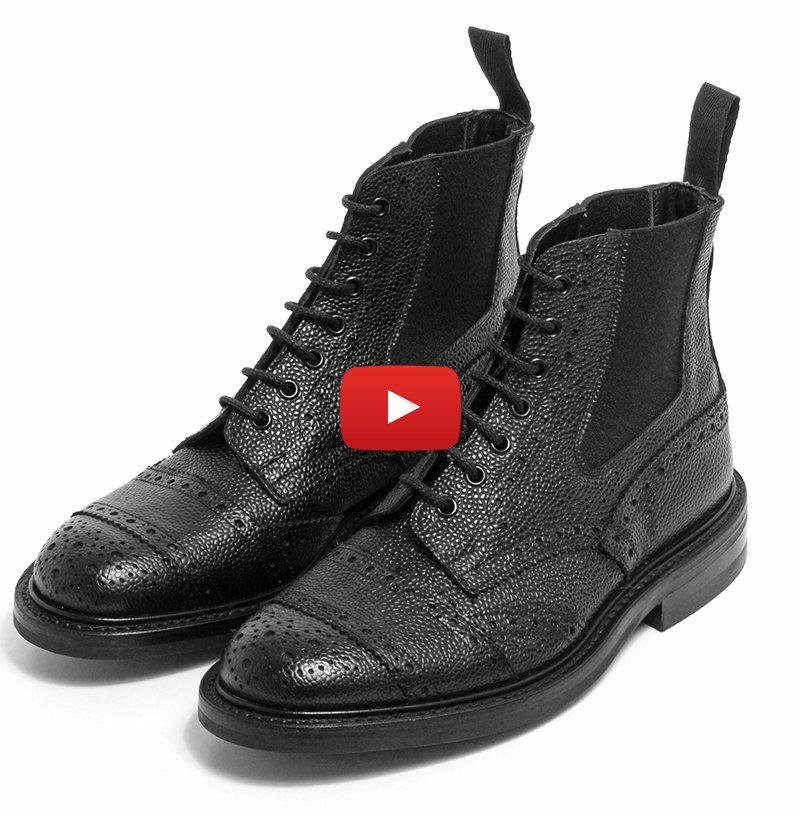 Tricker's for Motolegends
Now, in the past, all of the boots we have worked on with Tricker's have been traditional, seven-eyelet Derbies, but this year we have pushed the boat out a little. We have created a boot that is part Derby and part Chelsea boot. As ever, this is not an outright motorcycle boot. It is not CE approved, although it is tougher, stronger and sturdier than many of the boots we sell that supposedly are proper biking boots. The boots feature counters in the toe and heel areas, and of course there's a gear change pad across the toe. The boots also have a reinforcing shank in the sole to prevent the boot from twisting in an accident. But, self evidently, there's no protection in the ankles, because that's where the elasticated, stretch panels reside. The leather used in our lace-up Chelsea boot is rugged Scotch grain leather. Now this is perhaps the most waterproof of all leathers, but no Chelsea boot is going to be totally waterproof because water will be able to pass through the elasticated side panels. The sole, by the way, is Goodyear welted, and the boots are equipped with a half-bellows tongue. On this brown version, there is a rugged Commando sole. On the black boot, you get a more classic Dainite sole. Now this boot, obviously, is somewhat of a hybrid. And we went down this route because we wanted a boot that offered the security and adjustability of a lace-up boot, but with the ease of ingress and egress that is a characteristic of a Chelsea boot. You can tighten or loosen the laces to adjust the fit to your foot, but although we cannot guarantee that it will work for everybody, some people will find that they can wear the boot like a slip-on. The top three eyelets, by the way, are equipped with speed hooks for faster lacing. What we're going to conclude with is pretty much what we say every year about our Tricker's collaboration. By dint of the tiny numbers we are producing, these boots are very special. They are hand made in Northampton in the time-honoured way that this most traditional of bootmakers employs with all its boots. It is a gentleman's boot designed for gentlemen who like to ride motorcycles. It is not a biking boot, per se. But look after your boots, send them back to the factory every ten years or so for refurbishment, and there's a good chance that you'll be able to pass them on to the next generation when, hopefully many years from now, you do eventually shift your mortal coil! Available in black with a Dainite sole, or brown with a Commando sole.

Want some more? Please

click here

to return to our editorial menu.
Share this page