Top 10 best hot weather motorcycle jackets 2019
Published on: 14/07/2019 13:12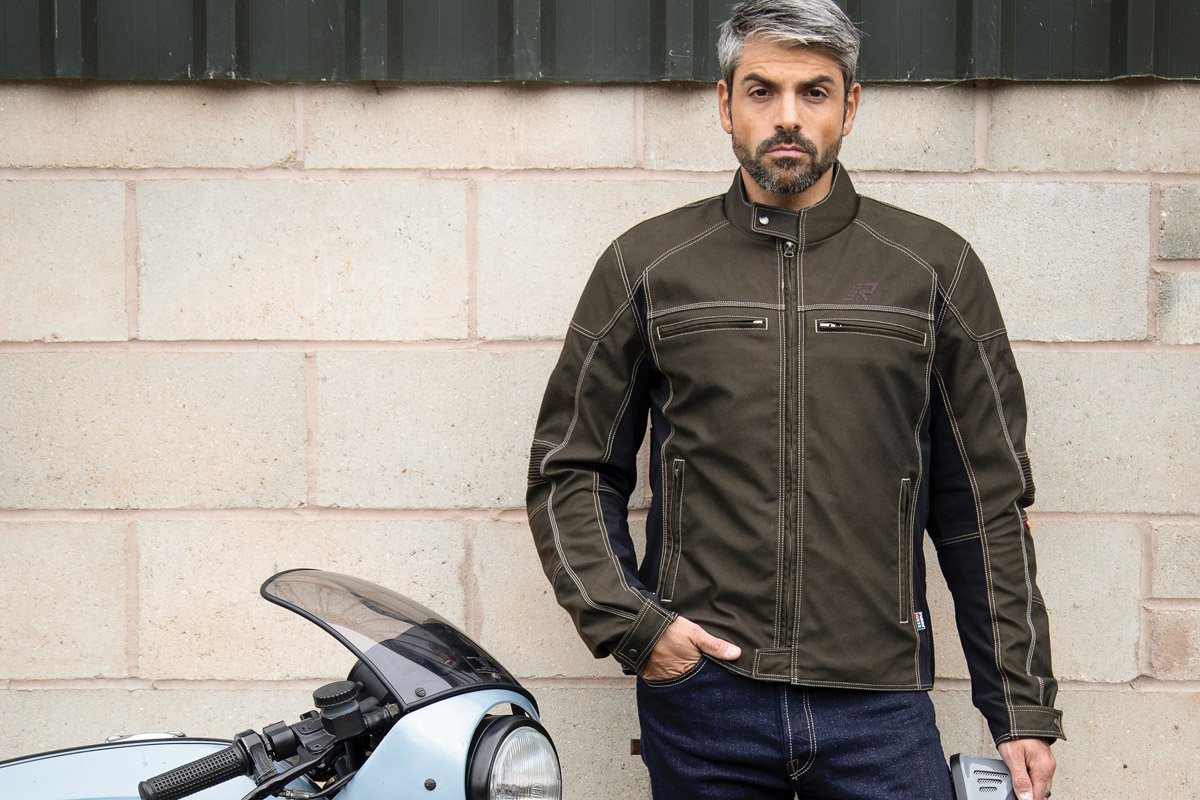 When you're on the bike in really hot weather, in truth, you don't want to wear leather. You can get lightweight leather, but leather is not particularly breathable, so cool air won't reach the body, and warm air won't be able to leave the body. In these conditions, you really want a textile jacket of some sort; something without a waterproof membrane, and obviously something without a thermal jacket. They flow the air, but aren't always super strong. Alternatively, there's a traditional lightweight jacket with good venting. The ultimate air-flow jacket these days is probably Rukka's amazing Forsair range. Nothing flows more air, yet they're incredibly strong. Take a look below at a selction of our favourites. Bear in mind that on chilly days, you will be cold in one of these. And none of them offers much by way of protection from the rain.
When it gets hot, and by hot we're talking about temperatures up in the thirties, there's nothing to beat a proper mesh jacket or something like Rukka's Forsair. But in the UK, it rarely gets that hot. For a British summer, you might, in truth, be better off with a lightweight jacket without a waterproof membrane. And that's basically what the Kenya Evo is. It doesn't look like a bike jacket but, with D3O armour in the shoulders and elbows, it is. You don't get a waterproof membrane, although you do get a DWR treatment on the fabric. And there's no thermal liner. This is a simple, summer jacket, for around town or local riding. On a nice day, it's going to be all you need.
---
Earlier this year, the Forsair Pro jacket, shown in black above, replaced Rukka's previous vented jacket that was simply called the Forsair. Now the original Forsair was an amazing bit of kit. Made from a knitted Cordura called Cordura AFT, the material has the strength of woven Cordura, but almost twice its breathability. This makes for a mesh jacket with the abrasion and tear resistance of a normal motorcycle jacket. But more importantly, unlike most mesh jackets, every single panel of the Forsair flows air. The only problem with the original Forsair was that it lacked structure. As a garment it was a bit limp. It worked, but it didn't wear like a protective jacket. The Forsair Pro jacket is better, and that's largely down to the stretch panels that run up the flanks and down the sleeves, as well as in the back. There are double layers of AFT Cordura® on the shoulders and elbows for extra strength, whilst D30 XTR armour comes as standard in the elbows and shoulders. There's a pocket for a back protector. We really do rate the Forsair concept, but for some people, specifically those with a longer, or a rounder, upper torso, the jacket can come up short, which is why, as a Motolegends exclusive, we now bring in the longer Forsair Long, shown above in grey. It's got a bit of an adventure bike look to it, but because it has side adjusters it fits some people much better. There's also now a ladies version. In hot weather, there's nothing that matches the Forsair for a sensible balance of air flow and protection.
---
Spidi, obviously, is an Italian company, and in the height of summer a jacket like this becomes almost mandatory on all but the shortest of journeys. Obviously, the air flows in and through the mesh, but the Ventamax has a unique honeycomb lining with a piping system that directs the incoming air all around the body of the jacket. It's an extremely effective system, and it's normally only to be found on much more expensive touring jackets. For those occasions when the heavens open, the jacket has a waterproof liner that can be fitted or removed as required. There's CE armour in the shoulders and elbows, and a space for a back protector. The hi-vis panels are also CE certified.
---
The Shelby is a lightweight summer jacket designed for use solely on the hottest of days. The textile outer is abrasion resistant but also very breathable, but even more breathable are the mesh panels up the flanks and in the sleeves. Inside the jacket, you get two zip pockets and a Napoleon pocket for your wallet. The zips, as always with Helstons, are by YKK. On the outside of the jacket there are three zip-up pockets; at the hem there are poppered adjusters for fit. All the armour is CE approved, and it comes fitted in the elbows, shoulders and back. Obviously, the Shelby is not waterproof, but with the jacket comes a second waterproof jacket that can be worn over it. When not in use, this jacket can be stowed in an internal pocket.
---
The Rokker Black Jakket is not a high air flow jacket. What it is is an amazingly lightweight jacket that delivers abrasion resistance that exceeds that of leather, with a degree of waterproofing to boot. Made from a high-tech material called Dynatec that is produced for Rokker by Schoeller Industries. Whilst the fabric is soft to the touch, it is much more abrasion resistant than Cordura. It's also wind resistant and water-repellent. We're not going to claim that the jacket is 100% waterproof, but with its Nanosphere coating, taped seams and waterproof zips, it's going to keep you far drier than you'd ever have a right to expect of a casual jacket. For summer riding, it's also got what's called a Coldblack finish that reflects the UV rays of the sun to stop you over-heating. And, as with most Rokker garments, the Black Jakket comes with D3O body armour; in this case for the elbows, shoulders and back.
---
A mesh jacket, but with Furygan's 'Skin Protect' lining for a degree of abrasion resistance. It comes with D3O in the elbows and shoulders, and a pocket for a back protector. Two external pockets; one inner. Adjusters at wrist, arms and waist. Air extractors in back to allow the free flow of air.
---
The Ellabike is not a ladies' version of a men's jacket. It has been produced from scratch for women, and it shows in the fit. It's a jacket that looks great on, and in this it is helped by strategically-placed adjusters on the waist and hips. The Ellabike is first and foremost a jacket designed for riding in warm weather; or very warm weather. It does come with a lightweight, removable, inner thermal jacket, but the important fact with the Ellabike is that it doesn't come with a waterproof lining. This means that, when it's hot, air will flow freely into and out of the jacket. Not just through the abrasion-resistant Flex Tenax outer fabric, but also through the large, zipped vents that run across the chest and under the arms. There is Level 1 armour in the elbows and shoulders, and there's a pocket for a back protector. Now Spidi can supply an inner waterproof jacket for the Ellabike but, in our view, if it's raining, it makes much more sense to wear a waterproof layer on the outside of the jacket. That way the jacket itself won't get wet. Our stretchy Scott waterproof jacket would be the perfect choice, in our book.
---
The Rukka Raymond jacket, which in the UK is exclusive to Motolegends, is a summer jacket that reflects a new aesthetic from our Finnish friends. It won't be as breathable as their Forsair jacket, but it has no waterproof or thermal lining, so it will still flow air very nicely. The Rukka Raymond jacket also has full-length ventilation zips running up the flanks on both sides. Of course, the Raymond has much more of a street look than the Forsair, so it's going to work much better than the Forsair with a pair of jeans. For more comfort and a better fit, you get stretch panels on the sides, up the sleeves and in the back. There are also accordion stretch panels above the elbows. D30 armour comes as standard in the elbows and shoulders. There's a pocket for a back protector, although it is not included. The bottom line is that this is a good-looking jacket for wearing on really hot days. It looks great, and it's going to be very protective; way more so than your average mesh jacket. Just be aware that, in low temperatures, you will get cold. And if it rains, you will get wet!
---
The main chassis of the jacket is constructed from a tough, highly abrasion-resistant Poly-Nylon fabric. But it is the large areas of mesh, both back and front, that make the Modelo such a delight to wear in hot weather. Inside, the jacket is lined, but again in a highly breathable mesh. On the outside, you get four zip pockets and popper adjusters for fit at the sleeve ends and waist. Armour, as always with Helstons is comprehensive, with CE protectors in the shoulders, elbows and back. The Modelo comes supplied with an emergency waterproof jacket that can be worn inside the jacket.
---
The Marrakesh is a very casual-looking, albeit super-strong, lightweight jacket designed for hot weather riding. It will flow air very easily, although not so easily as Rukka's Forsair with its special knitted Cordura outer. But because it has no waterproof membrane and no thermal liner, it will still be very nice to wear on warm or hot days. Its 1000 denier out shell also ensures that it's a very strong jacket. One thing it does have that the Rukka doesn't is a waterproof coating. It'll only be good enough for a 30 minute dash home but that's still more than you'll get with the Rukka. The Marrakesh comes with D3O armour in the elbows, shoulders, and back. You also get more pockets than you have things to put in them, black Scotchlite reflectors, an array of volume adjusters, and so on.