Warm & Safe Single Remote Control
Warm & Safe Single Remote Control
x
We will beat any UK retailer's discounted price by a full 10%
If any UK retailer is selling anything at a price that is lower than ours, we will beat that price by a full 10%.For terms and conditions, click here.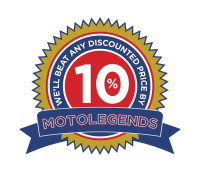 Warm & Safe Single Remote Control Product Information
This is the single Remote Controller 'Heat-Troller' designed to work in conjunction with Warm & Safe's range of heated clothing.

This is the latest Single Remote Heat-troller Version CMB. the Receiver is narrower, the Remote has the 3 blink response to tell you it is working and uses 2 AAA batteries for longer life. Yes it comes with a 32in Battery Harness.
Battery Tender Adapter Set - This is a 2 adapter set of cables to convert the Battery Tender battery harness and Battery Tender device to Coax connection making it easier to use and to make it easier to plug our heated gear into. Everyone knows that for the old style SAE connector to make a good connection it needs to fit tight. Those who have had the experiance knows what a pain it is to unplug the connection. By putting these cables on and leaving them you now have a more efficient connection and yet one that unplugs without damaging your hand or the bike.
Warning: If you are going to do this then swap the fuse in the Tender cable with the one you received with the Heat-troller battery harness, so it will handle the draw. You need at least 15A fuse in the battery harness.
Specification
Electronic, solid state design coupled with analogue control for a full range of heat, with minimum power loss
LED provides visual feedback for On, Off, Power Level & Polarity
Sealed Switch with tactile On/Off with 300 degree rotation, providing heat from 3% to full on!
Heat-troller is waterproof and can be left on the bike in the rain
Solid State, High Tech
Fits comfortably into the palm of the hand or pocket or on the Bike or Scooter or Horse or just about anywhere!
Product Reviews
Reviews
Michael: If only I had known about these before
For years now I have been using keiss heavy duty controllers which work adequately, but as Im a courier, getting on and off my bike upwards of 50 times a day they have not been robust enough to last more than a few months. I happened to see a motolegends video extolling the virtues of warm n safe heated gear, so I decided to get a warm n safe single remote control. What a revelation, it is now so easy to control the heat level of my heated jacket. I mounted the unit on my screen mount and all I have to do now is connect my jacket to the power lead on the bike and then without any fiddling or faffing about just turn the control knob to the desired level, simple. My current jacket is a keiss, and the receiver unit fits in place of the keiss one and I believe it fits other makes too. I highly recommend this unit.
Leave us your review