Warm & Safe heated jacket liner in black
Warm & Safe heated jacket liner in black
x
We will beat any UK retailer's discounted price by a full 10%
If any UK retailer is selling anything at a price that is lower than ours, we will beat that price by a full 10%.For terms and conditions, click here.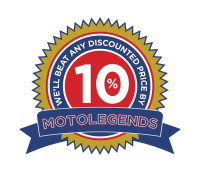 Warm & Safe heated jacket liner in black Product Information
There is heated clothing and then there is heated clothing. Warm & Safe heated gear is made by people who ride... the hardcore globetrotting kind of riding.

Generation 4 utilises soft carbon heating panels (also know as far infrared) instead of the traditional nickel chromium nano wire in the previous generations. W&S labels their heated jackets at 90w (at 12.8v). However, measured at 13.8v, as some heated clothing manufacturers do, will place this heated liner at 110 watts.

As with all Warm & Safe heated jackets, you can hook up a single Heat-Troller to control the jacket and possibly heated gloves hooked up to the sleeve connectors, or you can use a dual Heat-Troller to separate the jacket and gloves into 2 distinct heat zones.
Also available in a longer length (long)
Read our review on Warm and Safe heated clothing.

Read our editorial about how to stay warm on a motorcycle.
Specification
90 Watts of Heat using our NEW Soft Heat Pure Science Heating Method
Reflective "Illuminite" to keep safe at night when wearing it as a jacket (See Photo)
Anti-bacterial Stretch Panels to keep heat against the body
Breathable Shells with Wind Stop and Moisture Block
Locker Hang Loop
Pocket in Pocket Designed for to take the Remote Heat-troller
Single or Dual Controller Functionality
Tall Size is 2 inches (50mm) Longer Body, 1.5 inch (35mm) Longer Sleeves
All Our Heated Gear should be used with an optional Heat-troller
Size Chart
Warm & Safe Jacket Liner size chart: Please note: Sizes available are shown on the product page. Any size that is marked as Long has a 2 inch longer body and 1.5 inch longer sleeves.
| | |
| --- | --- |
| SIZE | (INCHES) |
| XS | 34 - 36 |
| S | 37 - 39 |
| M | 40 - 42 |
| L | 43 - 45 |
| XL | 46 - 49 |
| 2XL | 50 - 53 |
| 3XL | 54 - 56 |
Product Reviews
Reviews
Rick: A game changer
Ok. Ive had heated waistcoats before, and yeah, they were ok, kept you warm, but the faff with all the wires, was, just that, a faff. I preferred a decent layering system and my wardrobe is testament to how many different Skypes Ive tried. Fleece, down, synthetic down, muppet skin fluffy fleece basically, merino..the list is endless. They all worked.to an extent. Now riding a BMW GSA the afore mentioned layers workedchange the bike to a Triumph Scrambler with NO fairing or protection.bloody hell! Ok. Lets go and see what this full heated jacket malarkey is all about. Tried it on in the store. Works, buts its not cold in there is it? Bites the bullet, pulls out credit card and off we go. First off, it fits really nicely. Comfy, 2 way zip , pockets etc. Fits under , Belstaff, Rukka, leather jacket.all good. The remote controller is really cool.Id prefer it to be illuminate so I can see it in the dark, but Easy to connect to bike with one simple single wire. Game changer. I mean PROPER game changer. I literally do not go out on the bike without it. Not the cheapest, but defo the best! A couple of caviats. It wont go under my KNOX shirt .Im sure Mr Paul would suggest I buy a Marrakesh from him ..I would, but life expectancy would be somewhat short If wife found I had ANOTHER bike jacket. And the lead to Optimate connection I was sold doesnt worknot sure that going on there. Other than that, buy one. Now for the gloves.
J H: A Great Way To Keep Warm
Ill admit i was a sceptic of heated gear prior to really looking into it. I opted for this jacket due to the high power of warming the fit. The warming panels work extremely well, and make riding in cold or wet weather much more comfortable. Its now a core part of my riding gear in colder temps to ensure a comfortable ride.
Alan Rainsforth: Warm and Safe XL Jacket
Excellent item. Really warm and simple to use. Very straightforward to connect together all six pieces, Jacket, trousers, socks and gloves. Toasty warm from top to bottom. Gone now are the bulky layers and hello comfort. Excellent service as always from Motolegends.
Jonathan: Phenomenal!
I ride all year round as it is the only mode of transport and work requires it. I avoid snow and ice purely as a safety issue. That said this winter I purchased the Warm Safe from Motolrgends and I have not regretted it in the slightest. I recently did a 600-mile round trip on Feb 17 23 to North Yorkshire Via East Anglia the temperature never made it into double figures the entire trip. It has truly transformed my riding and recovery. The following day I would have been able to repeat the trip. One word is phenomenal!. There is never bad weather just inappropriate clothing Oh! The only bit of advice is Carry a spare set of batteries for the heat troller just in case. They tend to last months.
R Legge: Jacket liner
I would highly recommend this jacket Looked long and hard before spending and to be honest , found this product to be a total game changer for the colder days
Terry: Outstanding
Its taken me a few decades to consider to move over to electrical clothing so I wanted the best. I have no regrets spending out on the best kit and I cannot recommend this jacket and the matching gloves more it transforms winter riding an SO EASY TO FIT AND USE
Lorenzo Madrid: As of today, the best heated gear, a game changer.
I consider myself a smart motorbike rider, mainly because I use heated gear since 2010. I just do not understand how everyone who rides a bike do not use heated gear, unless heshe lives in the Sahara desert, it is such a game changer! I tried I guess almost everything, from different manufacturers, some great gear and some others not so great. The real deal here with Warm Safe is the solution with the inner gloves and the jacket and in my case also the trousers the inner gloves allows you to use your actual real gloves on the heated inner gloves normal heated gloves are usually not real motorbike gloves, people who do heated gear are not usually experts in motorbike gloves, and delivers you an experience unparalleled with other normal heated gloves. Another game changer is the dual control to regulate the temperature, for a number of reasons is the real solution. Yesterday it was cold outside, 2 degrees, and cold in my house heating is very expensive those days, so I decided to go out and had a ride with my bike, to get warm, because with this heated gear solution of Warm Safe, the colder it gets, the more you wanna go ride and have a very enjoyable experience. This can sound odd to anyone who is not blessed with using heated gear, but to the chosen ones who use it...you know!
Barrie Last: Nice warm jacket
Purchased jacket with a set of gloves and very satisfied with the heating performance. Enabled me to use my leather jacket much later into the winter. Having said this if I was purchasing again I would probably select the heated vest which would have enabled me to wear a fleece over the heated layer. I felt a little cold when off the bike and still outside.
Geoff Cadman: Transformation
The service provided by Motolegends is excellent. Their review of this product is accurate. I have used it several times since receiving it a month ago and it makes a huge difference to my rides. It is lightweight, arguably lighter than one of my jackets removable liners. On my first ride with it, I rode 140 miles, my base layers being a short sleeved T shirt and the Warm and Safe. Temperatures on the journey varied from 3 to 7 degrees C along the A14 dual carriageway so the wind chill at 75mph was doing its bad thing. The Bluetooth heat control was easy to use, having been Velcrod to the hbars. The fine control meant I could tune it to the precise point of being unaware of any direct heat, just an overall feeling of comfort and relaxation. The return journey was in temps of about 12 degrees and the jacket was sufficient without engaging the heat. I have since used it with an unlined 3 seasons BMW jacket and the results are the same ie Comfort that you literally stop thinking about - hence the aid to safer riding. I liked it so much I ordered the gloves. This has changed my riding and given me a whole new level of comfort.
David Berman: Much better than originally thought
Picked this up yesterday, good experience at the shop with covid sanctions. Nice friendly service as usual. I had to wait to get home before fitting and my initial tests in the garage I thought the jacket to not be as warm as I thought. However, out early this morning I was proved wrong. At 4c rising I was very comfortable. The neck is super. As the temps got into double numbers I had to turn it down. There is no denying this is an expensive solution but it is certainly fit for purpose and I like the flexibility of the jacket which looks ok off the bike too.
Chris: Doesnt work for me
This jacket is good quality, has better heat distribution compared to a Gerbing, fits nicely and is quite thin so doesnt bulk you up. Also the glove connection cables hidden in the sleeves are a decent length, unlike Gerbing, so hooking up my heated gloves is easier. However the internal cables not the heating panels for the upper back are quite stiff with soldered joints which lie directly underneath the jacket back protector between my shoulder blades. This is quite uncomfortable for me so I have had to return it unfortunately, which is a shame as other than that its a good product.
Gary Clark: Mr
Absolutely fantastic, can't believe how good the jacket is. As has been said, you won't need to set it too high. Service at Motolegends was as usual great. Collected a set of inner gloves as well, not used yet as I got them to fit under new waterproof gloves. Have used my Gerbing gloves, work perfectly with the dual remote.
Jason Ahl: Mr
If you are in two minds, don't be. This product is fantastic. I wear mine under a Rukka Nivala Jacket. It is simply amazing. No cold spots down my sides and loads of controllable heat. Went out yesterday in 5 degrees and it felt like spring! Well worth every penny and the customer service and approachability of the team at Motolegends is second to none. Just do it!
Gareth Evans: Great Jacket
My first heated clothing, so nothing to compare it to, but it's really comfortable to wear. I've used it instead of my jackets original liner in all sorts of inclement weathers and never had to use it's full output. Very happy.
Paul Evans: Life Saver.
Wonderfully effective and easy to use, every day's a Summer day! Less bulky than a walking waterproof so easy to stash. Brilliant!
Terry Fellowes: Brilliant heated jacket
great heated jacket with an easily placed controller so you can change the heat whilst riding much better than some of the opposition. Another great product from Motolegends
Alasdair Denton-Miller: Top Notch Heated Jacket Liner
This is simply the best heated jacket liner out there. I did a lot of research before buying this and am happy I did, otherwise I would have bought Gerbings. These jackets liners are meant to fit snugly, which means they will fit under even fairly tight jackets with no issue. They heat up really fast keep you extremely warm even in sub-zero conditions. The jacket also packs away fairly small not it's own stuff sack. Get the dual remote Heat-troller as well so you can control the jacket liner and a pair of gloves seperately. It's a super product and can be mounted on the bars with no wires. I have a set of Gerbing heated gloves and they are fully compatible with this jacket liner.....but I think I may buy a pair of the W&S glove liners to wear under my Rukka gloves as I am not really happy with the bulk of the Gerbings gloves. In summary - excellent gear, highly recommended.
Derek Wiltshire: Mr.
This jacket is much better than the Gerbing jacket which I used throughout last winter. It's thinner lighter and closer fitting. The remote Controller has better knobs on it and the batteries are replaceable. For those that already have a full set of Gerbing heated clothing, this stuff is plug'n play compatible Only wish Motolegends imported the shirt and pant liner as well
Derek Wiltshire: Mr.
This jacket is much better than the Gerbing jacket which I used throughout last winter. It's thinner lighter and closer fitting. The remote Controller has better knobs on it and the batteries are replaceable. Only wish Motolegends imported the shirt and pant liner as well
Leave us your review