Klim Marrakesh jacket in cool grey
Klim Marrakesh jacket in cool grey
x
We will beat any UK retailer's discounted price by a full 10%
If any UK retailer is selling anything at a price that is lower than ours, we will beat that price by a full 10%.For terms and conditions, click here.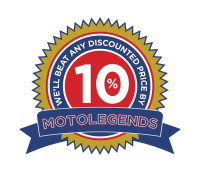 Klim Marrakesh jacket in cool grey Product Information
New for 2023, this is an updated version of the Klim Marrakesh jacket which has become our favourite summer jacket here at Motolegends. For us this might just be the ultimate, lightweight, summer jacket. In concept, it is similar to the Rukka Forsair, but it betters it in a number of areas. The outer fabric of the Marrakesh is a 1000 denier woven Cordura. The fact that it does not have a waterproof membrane means that it will flow large volumes of air although, in the margin, we would have to suggest that the knitted Cordura of the Forsair will flow more. But made of stronger material, we would expect the Klim jacket to be more abrasion resistant and, with its four-way stretch, probably more comfortable to wear too. Unlike the Forsair, the Marrakesh does have a get-you-home, waterproof coating. This new version of the Marrakesh now has D30 Ghost armour in the elbows, shoulders and a level 1 D30 protector fitted as standard in the back. All the rest is really detail. We're talking about pockets, reflective panels, comfort linings, and so on. Obviously, if it rains, you'll need a waterproof, but on a hot day this jacket is going to take some beating. We have always felt that there were perhaps slightly too few sizes on the Marrakesh and on occasion people would fall in between those sizes. This year, Klim has added a waist adjuster cord which should help solve this issue.
Specification
•
1000d Cordura® fabric construction
•
Stretch woven material fully porous for airflow
•
Hydrophobic coating repels water and dries fast
•
YKK® zips with Hypalon zipper garages
•
D3O® CE Ghost level 1 elbow armour
•
D3O® CE Ghost level 1 shoulder armour
•
D3O® CE level 1 back protector
•
4 external pockets
•
1 inner chest pocket
•
Carbon black 3M® Scotchlite® reflective material
•
Entire jacket is highly breathable
•
Stretch woven material fully porous for airflow
•
Zipped wind guard
•
Compatible with all Klim® base layers and street clothes
•
Brushed micro polyester comfort collar and cuffs
•
Forearm adjustment straps
•
Zipped wrist gusset
•
Backpack compatible
•
Moisture-wicking mesh liner
•
Elastic cord waist adjustment
Product Reviews
Reviews
HB: The complete jacket
This jacket every motorcyclist must have. End of story. I have more than 10 jackets. This is the most comfortable jacket i have ever wear . You can wear it in summer and winter with the layering system, Chris talking about .
Richard Tayor: Klim Marrakesh good but not best
Hit a patch of diesel recently, fell off wearing a favourite old light Revit mesh jacket - armour moved on elbows, elbows badly scarped. Bought a Klim Marrakesh - very good but does not flow as much auir as I had hoped - I live in the south of Spain where temps are now 35-40 degrees C. In this heat I wear a Knox Urbane Pro armoured shirt - it is mesh, AA rated - excellent armour - and needs nothing on top of it. It flows air better than the Marrakesh - but I will be weraing the Marrakesh when temps drop to mid-20s in the autumn.
Martin: Fantastic Jacket
The performance on this jacket is great, upgraded to D30 armour as well. The jacket is super comfortable to wear, on the hot days when we get them, it flows air so well. Sorry to everyone as its like getting the BBQ out, buy getting this it looks like Ive caused the recent typical rubbish British weather.
Fabio: Excellent
Game changer for my summer riding. Nothing I had made me feel as comfortable and cooled as this jacket. Finish is fantastic and practical all round. Will definitely consider the layering recommendation for when the temperatures start dropping
Leave us your review
Finance Options