Klim Marrakesh jacket in petrol blue
Klim Marrakesh jacket in petrol blue
x
We will beat any UK retailer's discounted price by a full 10%
If any UK retailer is selling anything at a price that is lower than ours, we will beat that price by a full 10%.For terms and conditions, click here.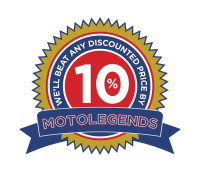 Klim Marrakesh jacket in petrol blue Product Information
New for 2023, this is an updated version of the Klim Marrakesh jacket which has become our favourite summer jacket here at Motolegends. For us this might just be the ultimate, lightweight, summer jacket. In concept, it is similar to the Rukka Forsair, but it betters it in a number of areas. The outer fabric of the Marrakesh is a 1000 denier woven Cordura. The fact that it does not have a waterproof membrane means that it will flow large volumes of air although, in the margin, we would have to suggest that the knitted Cordura of the Forsair will flow more. But made of stronger material, we would expect the Klim jacket to be more abrasion resistant and, with its four-way stretch, probably more comfortable to wear too. Unlike the Forsair, the Marrakesh does have a get-you-home, waterproof coating. This new version of the Marrakesh now has D30 Ghost armour in the elbows, shoulders and a level 1 D30 protector fitted as standard in the back. All the rest is really detail. We're talking about pockets, reflective panels, comfort linings, and so on. Obviously, if it rains, you'll need a waterproof, but on a hot day this jacket is going to take some beating. We have always felt that there were perhaps slightly too few sizes on the Marrakesh and on occasion people would fall in between those sizes. This year, Klim has added a waist adjuster cord which should help solve this issue.
Specification
•
1000d Cordura® fabric construction
•
Stretch woven material fully porous for airflow
•
Hydrophobic coating repels water and dries fast
•
YKK® zips with Hypalon zipper garages
•
D3O® CE Ghost level 1 elbow armour
•
D3O® CE Ghost level 1 shoulder armour
•
D3O® CE level 1 back protector
•
4 external pockets
•
1 inner chest pocket
•
Carbon black 3M® Scotchlite® reflective material
•
Entire jacket is highly breathable
•
Stretch woven material fully porous for airflow
•
Zipped wind guard
•
Compatible with all Klim® base layers and street clothes
•
Brushed micro polyester comfort collar and cuffs
•
Forearm adjustment straps
•
Zipped wrist gusset
•
Backpack compatible
•
Moisture-wicking mesh liner
•
Elastic cord waist adjustment
Product Reviews
Reviews
John: Most comfortable jacket
The most comfortable bike jacket I have ever worn, good protection without weight and excellent breathing. Using with Icebreaker merino top, Klim Zephyr, Belstaff long way up down jacket and Tucano waterproof, so usable in most conditions. Next working day delivery by Motolegends, great service as usual
Findlay: Worth the investment
Took the plunge and ordered this from Motolegends and this is a game changer as far as Im concerned with bike jackets. You would hardly know you are wearing it as it is so light and flexible and ideal when the temperature gets into the high teens, under that then layering is required and i went the full Klim route with the Maverick and Zepher layers. waterproof jacket is taken care of by Scott. So far Ive only used the kit in the summer months and its stayed dry and all Ive required is the Zepher wind stopper under the Marrakesh jacket So far very impressive kit however you do lose on storage compared to a conventional textile jacket but otherwise there is nothing to complain about
John: Second to none ...
Klim is what Klim is what Klim is. We all know how good their gear is. The jacket is great, lives up to the hype and praise and the video on this site. Now my go to Summer jacket and an integral part of my layering system. This review is more for the service which, was and is second to none. Notwithstanding the fact that the shop had several customers, I was made to feel like I was the only one in there. The staff didnt just listen, they heard and advised. No hard sell. My go to place from now on. A thoroughly enjoyable experience.
Jim Williams: Klim Marrakesh Jacket
Very nice and comfortable jacket in petrol blue. Looks the part on an adventure-style bike. Good quality and appears robust. It does not flow as much air as the Rukka Forsair Pro, which I also have, but it is warmer when the weather is a bit cooler. The sizes are overly large I am normally an XL but had to replace it for a L and this allows for layering. I can comfortably wear a base layer, Rukka down jacket underneath without any restrictions and if it gets wet, then my Scotts on top. Overall, Im very impressed.
Paul: Most comfortable jacket in 45yrs of motorcycling
I took the plunge and bought this jacket as part of Motolegends recommended layering system with the Klim Zephyr wind proof shirt and the Scott waterproof jacket. Having returned from a trip around Belgium and France as the first true test of my new gear I also bought the Stadler 4All Pro pants I can say the system works. 5hr ride in continual rain, no problem. Chilly day, no problem with my heated jacket underneath. Warm day, I can honestly say that this is the most comfortable jacket, whilst still giving good protection, that I have owned in 45yrs of motorcycling! I always thought my BMW GS jacket was well vented but the Marrakesh is another level of airflow. Worth every penny, thanks Motolegends!
Leave us your review
Finance Options