Klim Marrakesh jacket in teak brown
Klim Marrakesh jacket in teak brown
x
We will beat any UK retailer's discounted price by a full 10%
If any UK retailer is selling anything at a price that is lower than ours, we will beat that price by a full 10%.For terms and conditions, click here.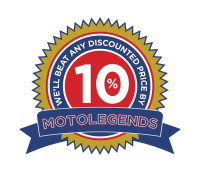 Klim Marrakesh jacket in teak brown Product Information
New for 2023, this is an updated version of the Klim Marrakesh jacket which has become our favourite summer jacket here at Motolegends. For us this might just be the ultimate, lightweight, summer jacket. In concept, it is similar to the Rukka Forsair, but it betters it in a number of areas. The outer fabric of the Marrakesh is a 1000 denier woven Cordura. The fact that it does not have a waterproof membrane means that it will flow large volumes of air although, in the margin, we would have to suggest that the knitted Cordura of the Forsair will flow more. But made of stronger material, we would expect the Klim jacket to be more abrasion resistant and, with its four-way stretch, probably more comfortable to wear too. Unlike the Forsair, the Marrakesh does have a get-you-home, waterproof coating. This new version of the Marrakesh now has D30 Ghost armour in the elbows, shoulders and a level 1 D30 protector fitted as standard in the back. All the rest is really detail. We're talking about pockets, reflective panels, comfort linings, and so on. Obviously, if it rains, you'll need a waterproof, but on a hot day this jacket is going to take some beating. We have always felt that there were perhaps slightly too few sizes on the Marrakesh and on occasion people would fall in between those sizes. This year, Klim has added a waist adjuster cord which should help solve this issue.
Specification
•
1000d Cordura® fabric construction
•
Stretch woven material fully porous for airflow
•
Hydrophobic coating repels water and dries fast
•
YKK® zips with Hypalon zipper garages
•
D3O® CE Ghost level 1 elbow armour
•
D3O® CE Ghost level 1 shoulder armour
•
D3O® CE level 1 back protector
•
4 external pockets
•
1 inner chest pocket
•
Carbon black 3M® Scotchlite® reflective material
•
Entire jacket is highly breathable
•
Stretch woven material fully porous for airflow
•
Zipped wind guard
•
Compatible with all Klim® base layers and street clothes
•
Brushed micro polyester comfort collar and cuffs
•
Forearm adjustment straps
•
Zipped wrist gusset
•
Backpack compatible
•
Moisture-wicking mesh liner
•
Elastic cord waist adjustment
Product Reviews
Reviews
Torsten: Chris didnt exaggerate...
...when he called this probably the best jacket in the world. It is super comfortable to wear, lightweight, flows a lot of air, has all the features you need and nothing more. We are currently experiencing temperatures of 32 C plus here in Switzerland, and while it would of course be even nicer to ride in a T-shirt only, this is the second best solution - and the best if you care for protection on the bike. Im 184 cm and 90 kilos and the large fits perfectly. Itll still allow you to layer with a windbreaker andor a down jacket.
Graham H: The best jacket I have worn
I have had many good jackets over the past 30 years, both drop liners and laminated but the Klim Marrakesh is far and away the most comfortable and stylish too. I used to think that a vented laminated jacket was the best option as you could ride in any weather and need not stop when it rained - but in hot weather ended up feeling as if I had been boiled in a bag. Now I see the wisdom of a good layering system and the Klim Marrakesh is the heart of what I believe is the best. Combined with the Klim Zephyr or Klim Maverick and Scott waterproof I can stay comfortable whatever the weather - great for touring in Europe and the Alps. Super service and sound experienced advice from Motolegends.
Chris: Extremley comfortable quality jacket
Reviewing this jacker after 8 days in Spain at 30C + degrees. This jacket is spectacular in comfort, noticeable every time and beats my drop liner adventure jacket hands down. Light and stretchy material. Easier to pack down if camping. Superb. Venting is better than the adventure. Not by a huge ammount in volume but even flow over the whole jacket. Pockets are smaller but ok. Sleeve pocket great for toll tickets No flapping at speed. Size, I generally float between large and medium. Klim medium is perfect. Motolegends review is spot on. Extremely pleased with this jacket and considering the strides too.
Paul: Miuch improved
The original Marrakesh was a great summer jacket, actually a great three seasons four if you didnt mind the inconvenience of layering up, but despite more adjustability than the new, it always seemed to appear quite a baggy fit and was worse when you used the many pockets. The new jacket foregoes some pockets external ones, but they do seem to have made a much finer-tailored garment that for me fits perfectly. The colour choices are much improved too olive for me I bought a medium and this fits larger than most mediums but is perfect for getting an airbag vest under. Great jacket that will even keep a shower of rain off, but as I found out last week, not more than a shower.
DaveW: The Best Summer Jacket You Can Buy!
I bought the Klim Marrakesh jacket in the teak colour, which, surprisingly, is a lot darker in the flesh! I also went for the upgraded level two D3O Ghost armour deal 4mm thicker. Ive been wearing the jacket for a while now, and on a good few hot days this springsummer. There havent been any 30+ degrees as yet, but mid-to-high 20s in direct sun, and its been excellent. When comparing the Marrakesh to my old Icon Anthem 2 mesh jacket, the Anthem doesnt get a look in. The Anthem was really hot to wear due to its liner, it had D3O armour, but it was the older type, and has now been banished to the wardrobe! The Marrakesh has a liner, with an inner pocket, but the air flow is excellent, plus it seems to vent all over. You really notice how good it is when you get home, and youre not covered in sweat! I bought the Zephyr wind shirt to go with it, Ive managed to wear it once at the beginning of spring, and it really does work. Im also thinking about purchasing the Klim Maverick down jacket for winter, Ive thought about the option of the Warm Safe heated kit, but I dont do really long rides. Furthermore, Ive got heated grips, and the Maverick down jacket would be a much simpler solution. I prefer the layering approach when it comes to motorcycle gear, plus I dont need an expensive, stiff laminated jacket. Ive never felt so free, and less restricted, when wearing this new Klim layering system with the D3O Ghost armour on a motorcycle. Not only that, but I have a Held Rainblock waterproof jacket and pant waiting in the wings, good job, because heavy rain is forecast for my next ride out. So, hopefully, its goodbye to heavy motorcycle kit. Theres another benefit of having a separate light-weight layering system, take the armour out, and it wouldnt be out of place in the pub! Overall, the Klim Marrakesh is probably the best summer jacket you can buy. Klim gear is expensive, but its top quality, and it just works. Highly recommended.
Alex: Great Kit Great Service
Order 1 size down from my size in most other bike jackets but even that was too big sent back on Tuesday got the smaller one back Saturday well done DPD and Motolegends that was a 900 mile round trip. Ooh and the jacket is brilliant too
Michaele: Great All Rounder
Definitely the best all round motorcycle jacket ever and by far the most comfortable! If you dont ride in extremes of temperature then this would be the only jacket you ever need, especially when combined with a Zephyr windproof shirt Scott jacket. When the temperatur gets into the late 20s then a Klim Latitude will flow more air.
Tony: Klim Marrakesh
this has to be the most comfortable jacket there is for summer riding, i have other summer jackets which provide good protection but are very tight and not pleasant to wear. I have only just baught this jacket and worn it coming to work this morning, what a game changer and the service from motolegends was top notch.
Leave us your review
Finance Options