Klim Hardanger suit in grey
Klim Hardanger suit in grey
x
We will beat any UK retailer's discounted price by a full 10%
If any UK retailer is selling anything at a price that is lower than ours, we will beat that price by a full 10%.For terms and conditions, click here.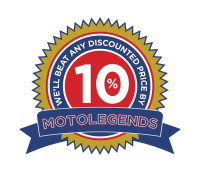 Klim Hardanger suit in grey Product Information
With its GORE-TEX® 3-layer, Pro-shell outer fabric, the Klim Hardanger suit takes the one-piece concept to a new level. Designed to be worn over your casual or business clothing, it takes just seconds to get in to and out of the suit, using a full-length zip that runs down from the neck to the left foot. Because you will nearly always be wearing clothing underneath, a suit like this needs to be well vented. And with no less than 14 separate vents it is. It is almost as well endowed with pockets. For anti-abrasion protection, the Hardanger is made from heavy-duty, 750 dernier, full-fat Grey Cordura. For impact protection you get the latest, vented, D30 armour in the shoulders, elbows, hips, knees and back. Adjusters abound on the Hardanger; there's almost no area that cannot be adjusted. What the Hardanger will not do is keep you warm. It is very much a shell garment. If you want to raise the temperature in the Hardanger, you will need to layer up and, of course, there are many ways to do this. For many years, we at Motolegends have sought a modern, more technical version of the Aerostich suit. Others have tried and failed, but to us it is clear that Klim has cracked it. It's a brilliant suit; a future classic.
Read our review of the Klim Hardanger suit
Specification
One-piece suit
10-second entry time
Volume adjusters on arms, waist, calves and leg bottoms
Lots of pockets for various functions, i

ncluding hand-warmer pockets

Zip and Velcro sleeve ends
Adjustable neck collar with elastic cord
Gusset behind the shoulders for ease of movement
Hi-vis panels throughout
Multiple cooling vents
Size Chart
Men's Klim clothing size chart. Please note: Sizes available are shown on the product page.
| SIZE - NUMERIC | 28 | 30 | 32 | 34 | 36 | 38 | 40 | 42 |
| --- | --- | --- | --- | --- | --- | --- | --- | --- |
| HIP | 36-37 | 38-39 | 40-41 | 42-43 | 44-45 | 46-47 | 48-49 | 50-51 |
| INSEAM - SHORT | 29 | 29 | 30 | 30 | 30 | 30 | 31 | 31 |
| INSEAM - REGULAR | 31 | 31 | 32 | 32 | 32 | 32 | 33 | 33 |
| INSEAM - TALL | 34 | 34 | 35 | 35 | 35 | 35 | 36 | 36 |
| | | | | | | | | |
| SIZE - ALPHA | SM | MD | LG | XL | 2XL | 3XL | 4XL | 5XL |
| CHEST | 34-36 | 38-40 | 42-44 | 46-48 | 50-52 | 54-56 | 58-60 | 62-64 |
| WAIST | 31-33 | 35-37 | 39-41 | 43-45 | 47-49 | 51-53 | 55-57 | 59-61 |
| HIP | 34-36 | 38-40 | 42-44 | 46-48 | 50-52 | 54-56 | 58-60 | 62-64 |
| SLEEVE | 27-28 | 29-30 | 31-32 | 33-34 | 35-36 | 35-36 | 33-34 | 33-34 |
| INSEAM - SHORT | 28 | 29 | 30 | 31 | 31 | 31 | 31 | 31 |
| INSEAM - REGULAR | 30 | 31 | 32 | 33 | 33 | 33 | 33 | 33 |
| INSEAM - TALL | 33 | 34 | 35 | 36 | 36 | 36 | 36 | 36 |
Product Reviews
Finance Options