Klim Marrakesh jacket in black
Klim Marrakesh jacket in black
x
We will beat any UK retailer's discounted price by a full 10%
If any UK retailer is selling anything at a price that is lower than ours, we will beat that price by a full 10%.For terms and conditions, click here.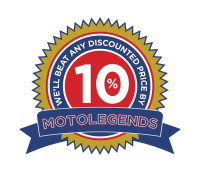 Klim Marrakesh jacket in black Product Information
New for 2023, this is an updated version of the Klim Marrakesh jacket which has become our favourite summer jacket here at Motolegends. For us this might just be the ultimate, lightweight, summer jacket. In concept, it is similar to the Rukka Forsair, but it betters it in a number of areas. The outer fabric of the Marrakesh is a 1000 denier woven Cordura. The fact that it does not have a waterproof membrane means that it will flow large volumes of air although, in the margin, we would have to suggest that the knitted Cordura of the Forsair will flow more. But made of stronger material, we would expect the Klim jacket to be more abrasion resistant and, with its four-way stretch, probably more comfortable to wear too. Unlike the Forsair, the Marrakesh does have a get-you-home, waterproof coating. This new version of the Marrakesh now has D30 Ghost armour in the elbows, shoulders and a level 1 D30 protector fitted as standard in the back. All the rest is really detail. We're talking about pockets, reflective panels, comfort linings, and so on. Obviously, if it rains, you'll need a waterproof, but on a hot day this jacket is going to take some beating. We have always felt that there were perhaps slightly too few sizes on the Marrakesh and on occasion people would fall in between those sizes. This year, Klim has added a waist adjuster cord which should help solve this issue.
Specification
•
1000d Cordura® fabric construction
•
Stretch woven material fully porous for airflow
•
Hydrophobic coating repels water and dries fast
•
YKK® zips with Hypalon zipper garages
•
D3O® CE Ghost level 1 elbow armour
•
D3O® CE Ghost level 1 shoulder armour
•
D3O® CE level 1 back protector
•
4 external pockets
•
1 inner chest pocket
•
Carbon black 3M® Scotchlite® reflective material
•
Entire jacket is highly breathable
•
Stretch woven material fully porous for airflow
•
Zipped wind guard
•
Compatible with all Klim® base layers and street clothes
•
Brushed micro polyester comfort collar and cuffs
•
Forearm adjustment straps
•
Zipped wrist gusset
•
Backpack compatible
•
Moisture-wicking mesh liner
•
Elastic cord waist adjustment
Size Chart
Please note the Marrakesh jacket is generously sized. These measurements allow for fitting a warmth layer underneath.
S to fit chest 35" to 38"
M to fit chest 38" to 41"
L to fit chest 42" to 46"
XL to fit chest 46" to 49"
2XL to fit chest 50" to 53"
3XL to fit chest 54" to 57"
Product Reviews
Reviews
KevinG: Brilliant
Best jacket I have bought and so much lighter than the others. Very easy to wear and am now embracing the Motolegends layering solution with the Marakesh and Scotts waterproofs - All work well and are so comfortable to wear. I wish I had done this before!
Steve B: Simply brilliant!
This is the best summer jacket ever!! I appreciate that the team at Motolegends will say it is far more than a summer jacket when you factor in the various layers you can add but on its own this jacket is just perfect for the hot weather. It is ridiculously comfortable yet still gives a great level of confidence, looks great and has plenty of pockets. Be careful as this new model comes up big so I had to go down a size - I am 6ft and 44 chest and swapped a large for a medium which is now perfect. I genuinely enjoy wearing this as you can hardly notice it. I have the Klim Zephyr that I take out with me just in case but I have nothing but respect for the quality of their kit. As always the service from the store was outstanding!
MVW: Brave new world - that has such wonders in it
WOW. I bought a bike, after 20+ years, my old leather still fitted, sort of, though it seem to have shrunk. Then I found out just how much kit had changed! I bought this and the other 3 jackets you need to go with it, Zephyr, Maverick and Scott waterproof. Firstly - go with the size advice - they all stretch and you can wear them in practically any combination - well leave the Scott for the outer layer. This jacket and combo wont work for everyone, it all depends on the type of rider you are and the kind of riding you do. Im fair-weather, weekends, hope to do some long summer rides, Ive done my time on commutes in all weather and stupidly early hours, no need to do anymore. This jacket is great for me. So think about what you want to spend and if this fits the way you ride, buy it. I did upgrade the amour, seem daft not to. The fit of the jacket is good and its very comfortable. My one issue is that old curse of mine, arm length. If they made this in a long sleeve version my happiness would be complete, but they dont, so Ill just have to stick with being chuffed.
Andy H: The Dogs.
Bought this along with the wind stopper. Ive kept the Level 1 back protector in a trade off between comfort and safety, but my, what a jacket. Really well made out of tough Cordura , this does not feel like wearing a motorcycle jacket. No more rushing to get moving on a hot day, stay nice and cool. In the early morning 6.00 am, I use the windstopper underneath, then stow it in a pocket or my tail bag. I wasnt sure about buying this, but if your budget runs to a decent summer jacket, this will not disappoint you. It really is the dogs bllcks.
Sully: More Quality from Slim and Motolegends
Long post alert! I am a big-time researcher of all my biking purchases and this is another reason for dealing with Motolegends as their reviews and video content is second to none when comparing and deciding on new kit. On to the jacket - all of the claims made by ML regarding the Marrakesh are imho totally correct. I was pleasantly surprised by the reassuring heft of the 1000 denier Cordura and having opted for the level 2 Ghost upgrade I have total confidence in this jacket. Further, the comfort level is simply stunning. The Sizing advice was well taken and the stretch is amazing in such an obviously protective garment. The look is excellent and on its debut 50 mile ride it was like I had been wearing it for years. Outstanding. The airflow is nothing short of sorcery. Ill be getting a Zephyr to compliment this soon, and likely a Maverick even though I already have a MkII Rukka down jacket. The Scott waterproof suit is already on the shopping list. I now own several items from Klim and they are the equal of any of my Rukka, Held and Daytona gear. I really do rate them at the top of the biking tree. Thanks to ML and Kim for my new favourite piece of biking gear!
Leave us your review
Finance Options